There's no use or sense arguing over "Best Beer State," just as the polls of yesteryear in which but a handful of American cities were deemed "Best Beer Town." Yet, clearly for every city that was bestowed the crown, a dozen worthy contenders were denied.
It's no secret that Michigan, with nearly 350 craft breweries, is perennially mentioned as a primary destination for beercations. It's usually Grand Rapids and its 40 or so craft breweries that puts it at the fore. Bell's in Kalamazoo is not just beloved statewide, but it's a national institution. Short's (in Bellaire to the north), New Holland (in Holland to the west), and Jolly Pumpkin (in Ann Arbor to the southeast) are merely a few more that make Michigan a top-tier destination for craft beer lovers. So it's a bit of a head-scratcher that the Great Lakes State's most populous city — Detroit — isn't mentioned in the same breath.
(VISIT: Find a U.S. Brewery)
Craft Beer Art Sprouting Up
Detroit keeps finding a way to live up to the slogan written in 1805, which is, "Speramus meliora; resurget cineribus." It means "We hope for better things; it shall arise from the ashes." The Motor City is famous for its auto-industry industrial past. Michigan remains the top state for auto manufacturing and assembly. The state has also been known for artistry. Motown Records put Detroit's musical arts on the map in the 60s. And the Detroit Institute of Art (DIA) was founded in 1885 and remains integral today. Just as many of the city's wall-to-wall murals welcome you to this neighborhood or that, purveyors of the craft beer arts are sprouting up.
Suburban Detroit's Beer Scene
Though the brewery population is only in the single-digits within city limits, it has long been a metropolis where denizens spread out to the suburbs. So it's here where we'll start exploring Detroit's beer scene. Baffin Brewing in St. Clair Shores and Dearborn Brewing, though 25 miles apart, both greet customers with equally jaw-dropping displays of Mug Club mugs.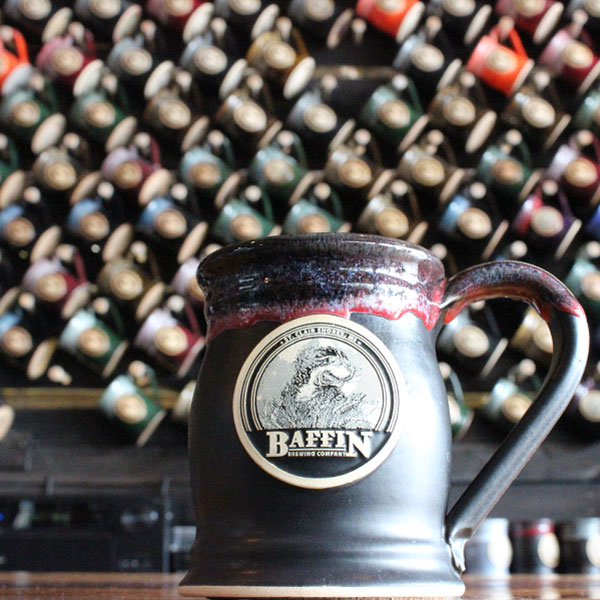 Since opening in 2015, 902 people have joined Baffin's mug club. The only way to earn one of the ceramic mugs that meticulously line the room is to drink your way in. On your 150th pint, you're automatically part of the club whose members include Detroit Red Wings hockey players. You can bling your own mug or have a local artist custom paint it. Odds are good one of those 150 pints was fruited IPA Mango Unchained, their best-seller. Baffin's taplist has several fruit beers — mostly Michigan grown fruit and complemented by Michigan hops. But visit around Fat Tuesday as I did and you can try their once-a-year pączki stout. Pączki are Polish jelly doughnuts, pre-Lenten cultural touchstones for Michiganders. And yes, the beer is made with 40 pounds of mushed up pączki — from New Palace Bakery in neighboring Hamtramck — in the mash.
(CRAFT BEER ROAD TRIP: Michigan Breweries Along I-94)
Mug Club Galore
The cost of joining Dearborn's mug club is $200. Considering it includes a hand-blown glass tankard from Dearborn's Glass Academy, which sells for $175, it's no wonder hundreds have opted in. The glasses are wildly distinctive and range in volumes (generally 18-22 ounces) so choose wisely. Equally exceptional are the beers that fill them such as SMaSHmere pale ale. It's a single malt/single hop beer using citrusy, melony, Michigan-grown Cashmere hops. There's also Dirty Mimosa, a double IPA fermented with white wine yeast. The Chardonnay flavors give brut IPAs a run for their money. Since they don't serve food, and given that Dearborn's population has become 40 percent Arab, bringing in food from nearby Lebanese or Yemeni restaurants is a great option. Model IPA would go great with kafka (spiced lamb), and manakish (think herb topped flatbread) calls for a glass of Norwegie Board, a kveik yeast farmhouse ale.
Hardware Store Turned Brewery
Also outside Detroit proper in Warren is Kuhnhenn Brewing, established in 1998 inside a hardware store. As hardware sales slumped, the Kuhnhenn brothers who ran the shop added homebrewing equipment and supplies. They don't have to worry about that now since the brewery has become a destination. Beers like DRIPA, a double rice IPA which once garnered gold at the World Beer Cup, keep 'em coming back. Strong beers are the order. And if among their 20 taps they have Cherry Eisbock (a fruit lager that tops 15% ABV), don't miss the opportunity.
While Kuhnhenn's success came organically, over in Ferndale, Urbanrest Brewing has served its community since 2015 by brewing organic beers. Instead of Detroit's famous coney island hot dogs or the local style of pizza (it's square), hungry patrons can expect modern, healthy fare from mobile caterers. Circa 2010, an IPA that's a throwback to decades past, is popular; Urbanrest's Dry Hopped Saison is made using locally grown Saaz and Crystal hops. And it is fragrant and spicy enough to please ardent IPA-only folks.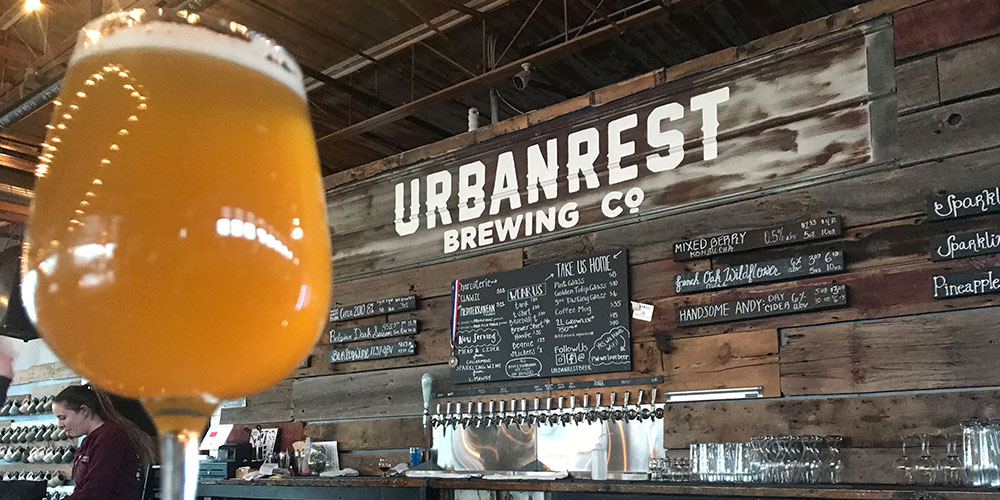 Detroit's Beer Scene is Thriving
As far as Detroit's beer scene in the city proper, Atwater is by far the largest producing and will soon open a tasting room at the airport should you neglect to visit the actual brewery while in town. Rare is the brewery that can have a Vanilla Java Porter as its flagship. But for a brewery founded in 1997 with the intent to deliver the type of Bohemian Pilsner the city lost when it lost the Stroh's brewery, it quickly adapted to produce the types of beers local beer drinkers wanted. Atwater is heavily involved in charitable work, too, working with several nonprofits that largely tie to Detroit's next generation such as Detroit PAL, Cornerstone Schools and Kids on the Go, promoting education and sports for citywide youths. It doesn't hurt that Atwater also has amassed four Great American Beer Festival medals.
Smaller Scale Scenes
On a much smaller scale, Batch Brewing in the Corktown neighborhood — so named for the number of Irish immigrants from County Cork — makes delicious, small batch beer — and food. Since launching in 2015 as a giant step up from homebrewing, Batch brews a range of beers that appeals to drinkers across the style spectrum as well as the generations, from Grandpa Beer (a cream ale) to Rainbow Colors Blended (a double milkshake IPA with mango and passion fruit) to an English-style porter brewed exclusively for the hotel neighbor, Trumbull & Porter.
A new Funk Room for wild ales is opening soon. But what also put Batch on the map is the creation of the Feelgood Tap. Designed to have breweries and beer bars — three dozen across the whole state so far including Eastern Market Brewing in Detroit's Eastern Market neighborhood plus nearby Dragonmead Microbrewery — raise the price of any given tap by a buck for a month and then give those collective dollars to Michigan nonprofits benefiting community, culture and wellness. To go the extra mile, Batch's Feelgood tap beer of the month donates $2 per pint.
(GUIDE: Breweries with Hotels, Inns, Campgrounds and More)
Breweries Named for the Motor City
Concluding with a trio of Detroit-named breweries, beer travelers will want to check out Detroit Beer Co., Motor City Brewing Works and Brew Detroit. Detroit Beer Co. opened in 2003. It benefits by being a short walk from home games for the Lions, Tigers, Pistons and Red Wings. Though it has a sports pub vibe, customers walk past the sunken level brewhouse upon entering. In addition to the popular cream ale and altbiers (responsible for three of their five GABF honors) and a series of IPAs, they also brew a peach gose. And they have been known to put experimental gruits on tap.
Motor City Brewing Works, the city's oldest operating craft brewery, opened its doors in Midtown's Cass Corridor in 1994. It's morphed into a posh destination for many things Made in Detroit. Shoppers can leaf through vinyl or catch a show at Jack White's Third Man Records, pick up bespoke watches and bags at Shinola, or, oh yeah, enjoy some of the sour and farmhouse ales made famous by Jolly Pumpkin at this Detroit outpost, each within a stone's throw of each other. Motor City Brewing is charming inside and out with a beer garden in the front and two-level pizza-centric pub indoors. There are seasonals and experimental batches galore. But beers such as Ghetto Blaster, probably the only 3.8% ABV English-style mild ale among any American brewery's list of flagships, are so popular that it's additionally brewed and canned under its alternating-proprietorship at Brew Detroit back near Batch.
"It's a Michigan Thing"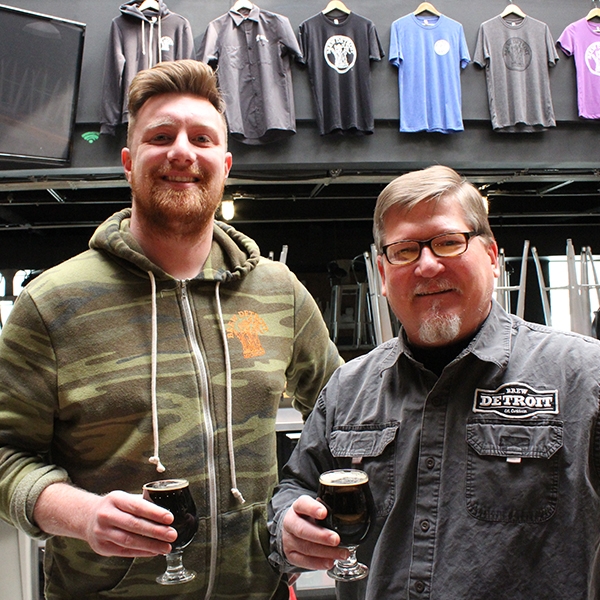 Founded as a contract brewery with just one customer in 2014, Brew Detroit is a 100-barrel brewery. It has a bunch of fermenters up to 400 barrels in size and also features a tasting room on site. No slouch, this is the Detroit brewery that medaled at last year's GABF with their Mexican-style (well, International-style Pilsner) Cerveza Delray. Joe Thorner is the man at the helm. He is a brewmaster with more than 40 years experience beginning with Detroit's once-mighty Stroh's. Owner Pabst has resurrected that brand. But Stroh's Bohemian Pilsner today is brewed under contract by Thorner and his crew. All manner of lagers and ales can be found in the spacious taproom replete with arcade and classic pub games. But to really get the local flavor, get there on the first Thursday of each month to play in the euchre tournament. It's a Michigan thing.
CraftBeer.com is fully dedicated to small and independent U.S. breweries. We are published by the Brewers Association, the not-for-profit trade group dedicated to promoting and protecting America's small and independent craft brewers. Stories and opinions shared on CraftBeer.com do not imply endorsement by or positions taken by the Brewers Association or its members.