If there's one thing we craft beer lovers enjoy more than a day at the brewery, it's an overnight stay at one. Having a bed to crash in after a day of sipping beers is one thing – but in many cases, breweries that offer lodging are also giving guests the chance to have an immersive experience that's all about the beer. From brewery hotels to campgrounds, quirky Airbnbs to luxurious resorts, this is your all-inclusive guide to planning your craft beer weekend getaway – and pretty much every beer vacation to come.
Rooms with a Brew: Brewery Hotels and Inns
Beer lovers in Columbus, Ohio, loved the idea of a brewery hotel so much, they crowdfunded one. BrewDog's DogHouse features 32 rooms that have their own draft beer on tap and beer fridges in the showers. You can wake up to a beer-paired breakfast and then learn all about brews at the Craft Beer Museum. It's no wonder they met 70 percent of their funding goal in less than 24 hours!
The Dogfish Head Inn in Lewes, Delaware, gives the DogHouse a run for the money when it comes to carrying out the beer theme. From in-room growlers and barley coffee all the way to the beer-infused soap, they've covered every base. Guests can also get VIP tours of the brewery and VIP seating at two of the brewery's restaurants.
(More: What to Expect When Your Spouse is Expecting a Brewery)
In Denver, a new hotel and brewery partnership is the stuff of beer lovers' dreams. New Belgium has opened a brewery on the ground floor of the Source Hotel. We're talking 2,000 square feet of brewery, including 50 oak barrels for on-site aging of delicious sour beers. And this brewery-plus-hotel combo is not the only one Colorado has to offer – just a couple hours' drive from The Source Hotel, in Glenwood Springs, you can find Glenwood Canyon Brewing Co. at Hotel Denver.
In Oregon, McMenamins offers a number of hotels that have breweries on site. One of the most notable is the Edgefield Hotel, which has a golf course, movie theatre and quite the package for travelers who are looking to enjoy a few beers. Their Beer 101 Package includes lodging for two, two brewery taster trays to try out six McMenamins ales, and a growler of whichever of those you like best.
If you're more the adventurous type, the Woodstock Inn Brewery in North Woodstock, New Hampshire, has seasonal events, zipline and ski packages. They also offer a memorable Brewer's Weekend that includes a two-night stay, a collaboration with the brewers to brew a new beer, breakfast each morning, and more.
Turkey Hill Brewing Co. also offers a Brewer's Weekend Experience. "It was the dream of the owner's grandfather to have a brewery or distillery on the property, which has been in Andrew Pruden's family since the early 1900s," Nebel says. "There just so happened to be an old bank barn on the property. The two-story, 10,000-square-foot brewpub rests atop the footprint of the original 1839 bank barn, but an entirely new structure that does have some pieces and materials from the barn."
Pruden met local homebrewer Donny Abraczinskas at a party, and the rest is history. Now, the inn offers beer packages and add-ons. "You can have our beer waiting in your room for when ya check in," Nebel says. "The Brew Pub offers 13 different styles on tap including a beer engine for cask beer and two specialty taps for our barrel-aged and sour programs. There are year-round staples like our Revelation Pale Ale and Barn Dance Blonde, plus an always rotating selection of four-to-five different IPAs and a stout or porter on nitrogen."
Bed, Breakfast and Beer
There are myriad bed-and-breakfast locations across the U.S. to give you a side of charm with your beer. Hopkins Ordinary Bed and Breakfast in Sperryville, Virginia, is a great example: the restored property from the 1820s is listed on the National Register of Historic Places and hosts a nano-brewery in the cellar that uses local barley.
At Fredericksburg Brewing Company's Bed & Brew, guests get a free pint for each night's stay at the old, restored 1890s building. The brewery has 11 rooms above the restaurant and one on ground level, so there's plenty of room (and beer!) to go around.
(More: Allagash Brewing Founder Rob Tod Wins James Beard Award)
And that's not the only Bed & Brew – Pals Brewing Company in North Platte, Nebraska, offers not just a growler but discounted food as well to those staying at their bed-and-breakfast. "We will soon have an add-on option for private brewery tours and a brew with the brewers day where you brew a beer with us," says Paul Oettinger, head of manufacturing and QA at Pals.
Beer-centric Airbnbs
Breweries across the country are tapping into the Airbnb trend with brilliant rentals just steps away from a pint glass full of bliss. The Brewers Quarters at Sandy Springs Brewing started as a way to make a space that was inviting for travelers. The studio-style room full of exposed brick harkens to the taproom – and best of all, visitors get a full growler of any Sandy Springs beer installed on a kegerator in their room.
Over in Pagosa Springs, Colorado, Riff Raff Brewing Company's "Got Beer?" Airbnb listing is right above the brewery. Flagstaff, Arizona's Historic Brewing Company has a similar setup with their "Craft Beer Getaway," where guests can enjoy over 20 craft beer options on tap as well as a full pub menu at the brewery below. T
The Stones Throw Brewery Guest House in Bellingham, Washington, is one of the more unique brewery Airbnbs. The house has a micro-brewery housed in shipping containers right in the back yard, while the detached garage houses the taproom.
(More: Thor and an IPA: How Craft Beer Caught Marvel's Attention)
For a little more space, Oxbow Brewery's 3-bedroom farmhouse is for rent in Newcastle, Maine. There you can explore the 18-acre property and top it all off with a farmhouse ale. And in Maurertown, Virginia, the Little Ridge Farmstead and Brewery also offers space to hang out on their farm in the Shenandoah Valley.
In the case of Stable Craft Brewing at Hermitage Hill Farm, the farm came first and the brewery later. Owner Craig Nargi recounts the story of how the Waynesboro, Virginia, farm went from horses to hops: "My career as a chef, restaurateur and now farmer was a crash course on agriculture. That crash course included witnessing the birth of one our horses, raising a Clydesdale stallion, learning everything about farm equipment, pasture management, water conservation and construction," Nargi says. "But farming, tending to horses and generally operating the farm was too much. Someone came along and suggested we grow hops. We gave it shot with 100 plants for the first three years. Now we have upward of 800 hop plants and the growing season down to a science."
In 2018, the farm opened its four renovated employee residences as Airbnb rentals for overnight guests. It's a hop enthusiast's dream to see all those hop plants in action. "AgriTourism is not only educational, it's rewarding to share with people how we do it and why we do things the way do," Nargi says.
(More: Seek the Independent Craft Brewer Seal)
"We could easily access the taproom from our two-bedroom suite," Brittany Wilmoth, a recent guest at Stable Craft, says. "Not only was the food and beer amazing, but we were able to sit on the porch and see the luxurious Blue Ridge Mountains which included relaxing and breathtaking views."
The list of Airbnb breweries doesn't stop here. Check the map above for the full rundown!
Brewery Resorts Fit for Royalty
For a truly relaxing resort vacation, look no further than Blackberry Farm in Walland, Tennessee. An unforgettable food menu paired with a brewery tour is the ideal way for a craft beer-loving foodie to spend a weekend.
"Our farm and destination resort in the Foothills of the Smoky Mountain National Park have been in operation since 1976," Blackberry Farm's founder Roy Milner says. "Guests come from all over the world to experience our unique setting and brand of hospitality." Blackberry Farm's epic culinary and wine program laid the foundation for their brewery program, which makes a stay at this resort all the more appealing.
(More: Stories Behind 10 Strange Beer Names)
"We offer a full selection of our beers at both of our hotel properties, while also operating the original brewery for small batch projects and our production brewery in Maryville," Milner says. "Our Barrel House & Taproom opened in January 2019 to offer a place for all to come experience our beers and purchase items to take home."
Travel up the East Coast to the Von Trapp Family Lodge for a different kind of unforgettable family vacation. The lodge has its own brewery whose beers will have you hearing the sound of music – because, yes, it's the same Von Trapp family that was featured in the classic movie!
At the Northern Outdoors Adventure Resort in The Forks, Maine, guests can enjoy craft beer on tap at the Kennebec River Pub & Brewery. "We launched our brewery in 1996 because a few of our river guides were beer fans crafting home brews, and we had the perfect setting for a microbrewery on site," the brewery's website reads. "Our handcrafted beers are extra tasty after a day rafting, hiking, ATVing or snowmobiling."
Lagers at Lodges, Cabins & Cottages
Overlooking Seneca Lake in the Finger Lakes region of Upstate New York, family-friendly and dog-friendly Grist Iron Brewing Co. is centrally located on the Seneca Lake Wine and Beer Trails. The brewery purchased the land and the lodge with the goal to create the perfect vacation spot.
"Our team's main goal was to create a relaxing, fun atmosphere and provide a little bit of everything our guests would need: beer, food, entertainment, and a place to sleep it all off. It just made total sense to have a lodging facility on property to help cater to the future guests of the brewery," Grist Iron's guest relations and marketing manager Kate Fuller says. Both the brewery and the lodge have fueled the success of the other, but while the lodge offers a relaxing getaway, the real attraction is the beer.
(Learn: CraftBeer.com Beer Styles)
"We want people to love craft beer as much as we do, so we feature a 10-tap system and brew a variety of year-round, seasonal, and specialty small batch beers on site to appeal to every type of drinker," Fuller says. "We have an in-house kitchen that turns out a seasonal menu of casual pub-style food that perfectly pairs with all our brews."
And that's not all. Grist Iron is 100 percent committed to becoming a beer lover's paradise.
"We're also excited to announce that we're nearing the end of a major renovation of our onsite lodging facility and, once complete, will offer a 'beer-centric' lodge with nine modern rooms located less than 100 yards away from the brewery," Fuller says. "Each guest will receive a free beer when they check in at our reception bar, enjoy a daily continental breakfast, and have canned Grist Iron beer available 24/7 in their in-room mini fridge."
Boothbay Craft Brewery's cottages are the essence of a Maine vacation.
Cheers to Camping & Glamping
If you're looking to connect even more with nature, there are plenty of options for the outdoorsy beer lover, whether you prefer hammock camping or kicking back in a yurt.
"On the farm we have horses-winter greenhouses and a yurt," says Paul Lorrain, co-founder of Funky Bow Brewing, just outside of Portland, Maine. The brewery is conveniently situated on local snowmobile trails, so it only made sense that they open a brewery. "My wife and I came up with the idea for the yurt together as we have four bands [playing] every weekend and people were always asking if we had campsites. We have been renting the yurt for three years now and are very busy on the weekends. We have guests from all corners of the earth," Lorrain says.
(Near Me: US Brewery Finder)
"We had a wonderful time in the yurt," recent guests Clare and Alissa wrote in the guestbook. "We especially enjoyed sitting by the fire and enjoying a few of your delicious brews!"
If you want to completely unplug and go off the grid, pack up your camping gear and head over to the Lilly Pad campground in the woods of Morgan County, Tennessee. There you'll find log cabins, campsites and plenty of beer.
"Hiking, primitive camping, climbing, whitewater boating, photo opportunities, the peace that comes from being in nature – almost all the encouragement an outdoor enthusiast would need to find themselves in the woods," Suzi Sutton, manager for the Lilly Pad Hopyard Brewery, says. "The twist in this story is that not only can you find those things but there is also a micro-craft brewery as well!"
Before it was a campsite, the Lilly Pad was a little house in the middle of nowhere owned by Del and Marte Scruggs, next to the Obed Wild & Scenic River National Park. A college friend of theirs needed a place to stay after climbing at the Obed. Twenty years later, this diamond in the rough is becoming ever more popular, especially since it started serving craft beer in 2016.
"Del had always enjoyed brewing his own beer and decided to turn one of the rooms in the newly acquired house trailer into a brew room," Sutton says. "He only did it for the love of the process and the final product, he was just so good at it that his friends and guests kept drinking all the beer!"
A community fire pit, lawn games and a food trailer that serves pulled pork that Del smokes himself make this campsite more like a home than a place to string a hammock. Last year, they built a stage for monthly live music events, and the campground has hosted "craft-ivity" nights and fundraisers. Even more incredible, the Lilly Pad will soon have its first bath house, complete with three flushing toilets.
"The beers are always good, with eight rotating taps it is hard for a beer lover to not find one they like," Sutton says. "Blondes to browns and wheats to stouts, always a good IPA or APA on tap, every now and then we get a seasonal surprise brew like a shandy or honey rye ale. The brewers are having fun; it shows in the product and they are always happy to talk brewing with people."
(More: A Beer Geek's Travel Checklist)
Can't decide between a campsite or an inn? Whetstone Station in Brattleboro, Vermont, offers it all: an inn, campground and even an Airstream with a shuttle to take guests to the brewery a few miles down the road. All of these options come to no surprise to anyone who knows the owners.
"We started our hospitality and beer career in lodging," owner Tim Brady says. "My wife and I purchased an old home in Brattleboro in 2006 and built out a hip boutique inn with a small craft beer bar. Ultimately the success of that small beer bar led to our bier garten, then the restaurant and finally the brewery!"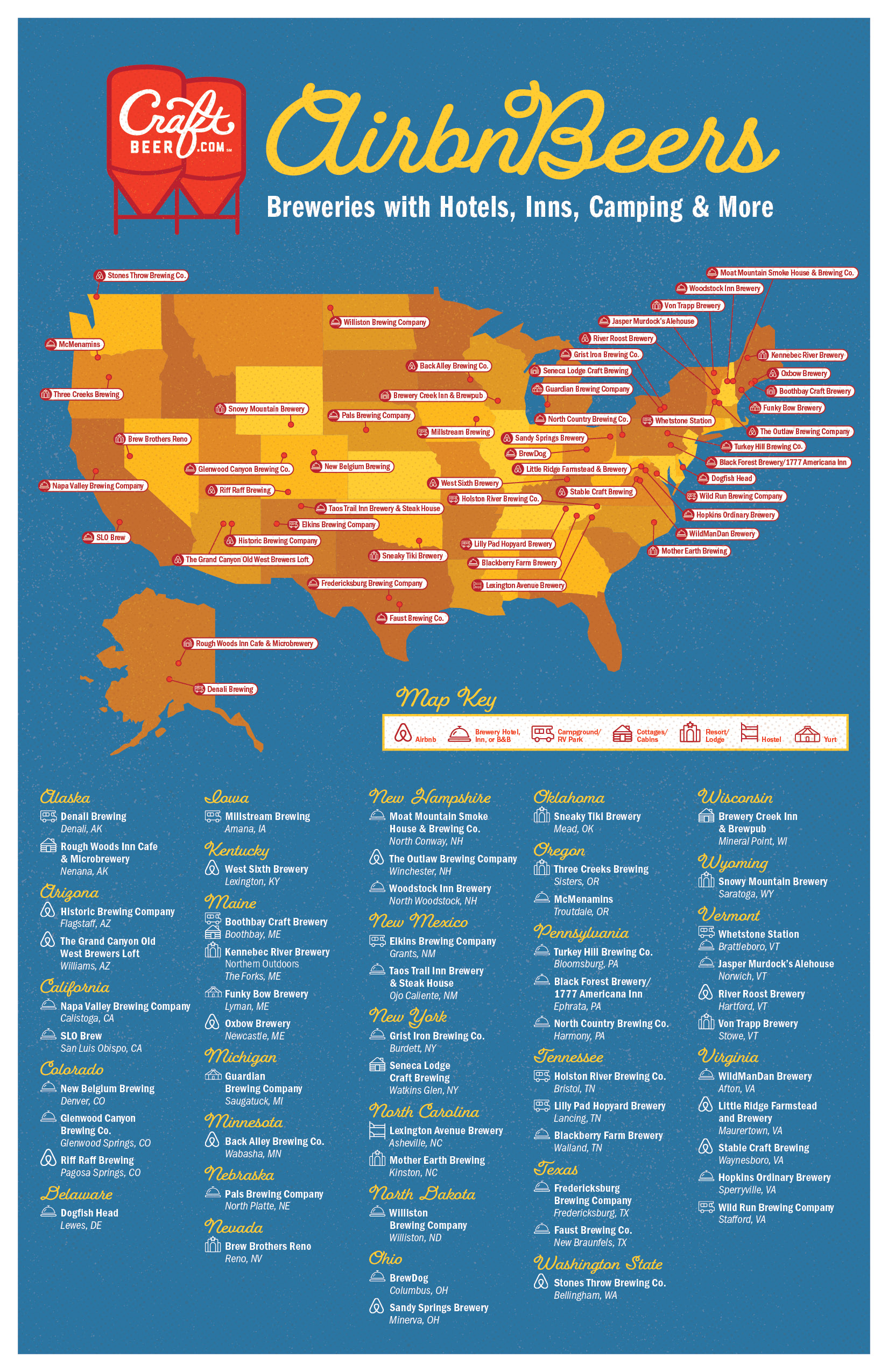 We know a lot of love goes into crafting a tasty beer, but just as much love goes into the temporary homes these breweries have created for their guests. We can write about them all day, but the best way to truly experience the hops and hospitality at these brewery hotels is to pack your bags and see for yourself. You can download and save the entire guide below to help you plan your brewery getaway.
CraftBeer.com is fully dedicated to small and independent U.S. breweries. We are published by the Brewers Association, the not-for-profit trade group dedicated to promoting and protecting America's small and independent craft brewers. Stories and opinions shared on CraftBeer.com do not imply endorsement by or positions taken by the Brewers Association or its members.