Last February, over 75 people filled a small taproom in Sharpsburg, Pennsylvania. Dancing Gnome Beer, a small independently owned brewery just outside of Pittsburgh, was having its first comedy night featuring mostly local comedians. Even as someone who has been performing for nearly a decade, I have trouble describing the energy in the room that night. A city had come out in mass to support its local creatives in both local beer and in comedy. Comics riffed on beer names like "Spy Dolphin" and "Lustra" as audience members sampled beer and ordered pint after pint. It was a night of pure joy, all made easier with great comedy and amazing beer.
A few months later, I found myself in Chicago at On Tour Brewing for another first-time comedy show. Once again, a palpable energy filled the taproom as nearly 100 people came out to support a show comprised of local talent. At the time, On Tour was less than a year old so it was no surprise that when a comic asked, "Who's been here before?" nearly three-fourths of the audience raised their hands. Once again, these people were seeing a great comedy show paired with fantastic beer — and it was simply wonderful.
(READ: A Common Thread Binds Brewing and Comedy)
For decades, seeing a quality stand-up comedy show meant getting fancied up, going to a local comedy club, seeing a nationally touring headliner and buying at least two menu items. Over the past few years, more and more opportunities to see quality local comedy talent have popped up, and craft breweries have played a huge role.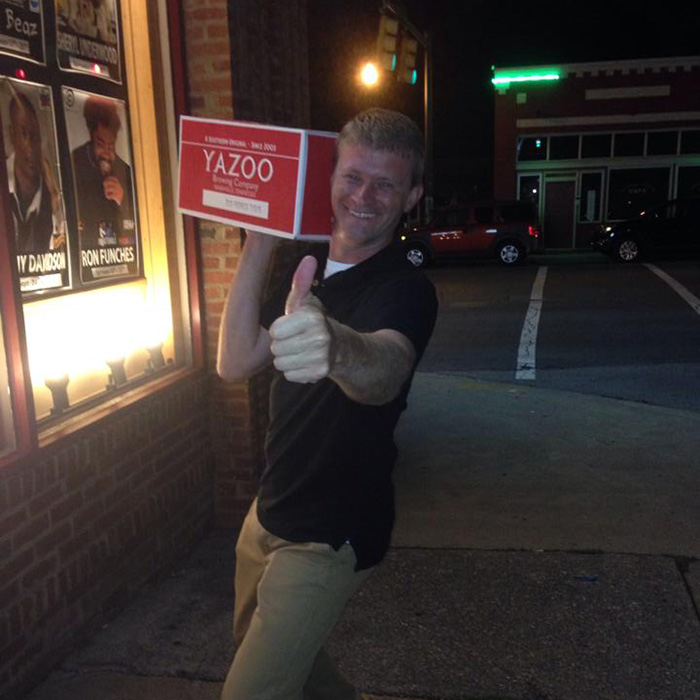 All over the country, breweries are getting involved in their local comedy scenes by putting on, promoting or sponsoring D.I.Y comedy shows. Lucy Sinsheimer produces shows at major comedy clubs in Nashville and Huntsville that are sponsored by local breweries. Her show in Nashville, "Comedy out the Yazoo," is sponsored by Yazoo Brewing and the comic who puts on the best set of the night walks away with an entire case of Yazoo's finest brews. Beer is also provided for the comics by Yazoo — something you see at independent shows but is a bit of a rarity at major comedy clubs. She also produces "Funny as Ale" in Huntsville, sponsored by Straight to Ale Brewing where the comics are also treated like rock stars.
I interviewed comics and show producers behind some of the best brewery comedy shows around the country to get an inside look as to why this pairing works so well.
(READ: 2018 SAVOR Breweries Announced)
Atlanta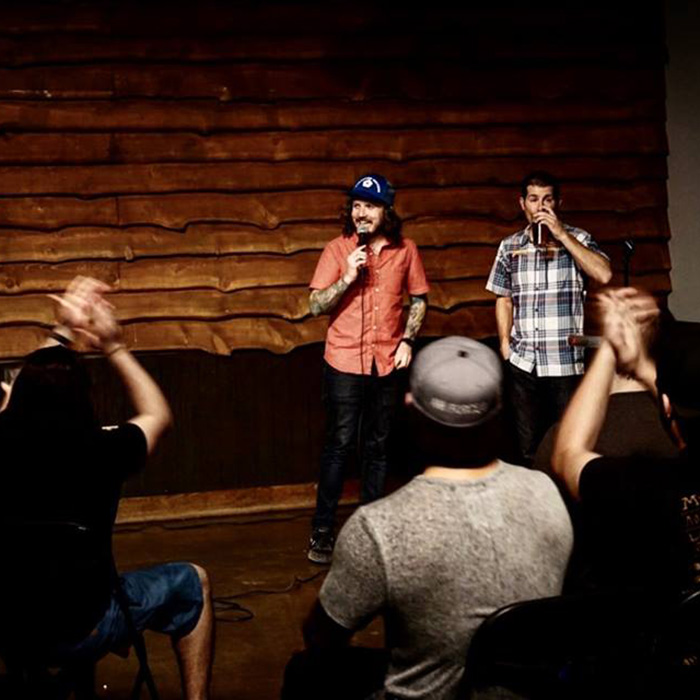 When it comes to comedy in a brewery, the first person I had to talk to is Joe Pettis out of Atlanta. Joe has been running his show "Beer and Comedy" at SweetWater Brewing Co. for seven years and is among the first people to run a comedy show in a brewery. Full Disclosure: Joe downplays the significance of his show, but I've done it three times and it is simply and objectively one of the best shows in the country.
Me: What are three words that describe the vibe of SweetWater?
Joe: Don't Float the Mainstream (sorry that is four words)
Me: Why does comedy work at Sweetwater?
Joe: Every other Monday, we bring in some of the best comics from all over the country. The brewery is normally closed on Mondays, so they basically let us come and turn it into a comedy club for the night.
Me: What's the best show memory you have?
Joe: Each and every one gets better and better! But from an audience perspective, probably the last time Ron White dropped it. We keep all the comics on the show a secret, so when someone of his caliber drops in the audience freaks out.
Me: Seven years is a long time. I'm sure there are crazy stories.
Joe: One time a crazy storm came through and the electricity went out for an hour leading right up to show time. We were about to cancel when it finally came back on. There are probably crazier stories, but I don't want to incriminate myself.
Beer and Comedy Night runs every other Monday at SweetWater Brewery.
(TRAVEL: Themed Beer Festivals)
Milwaukee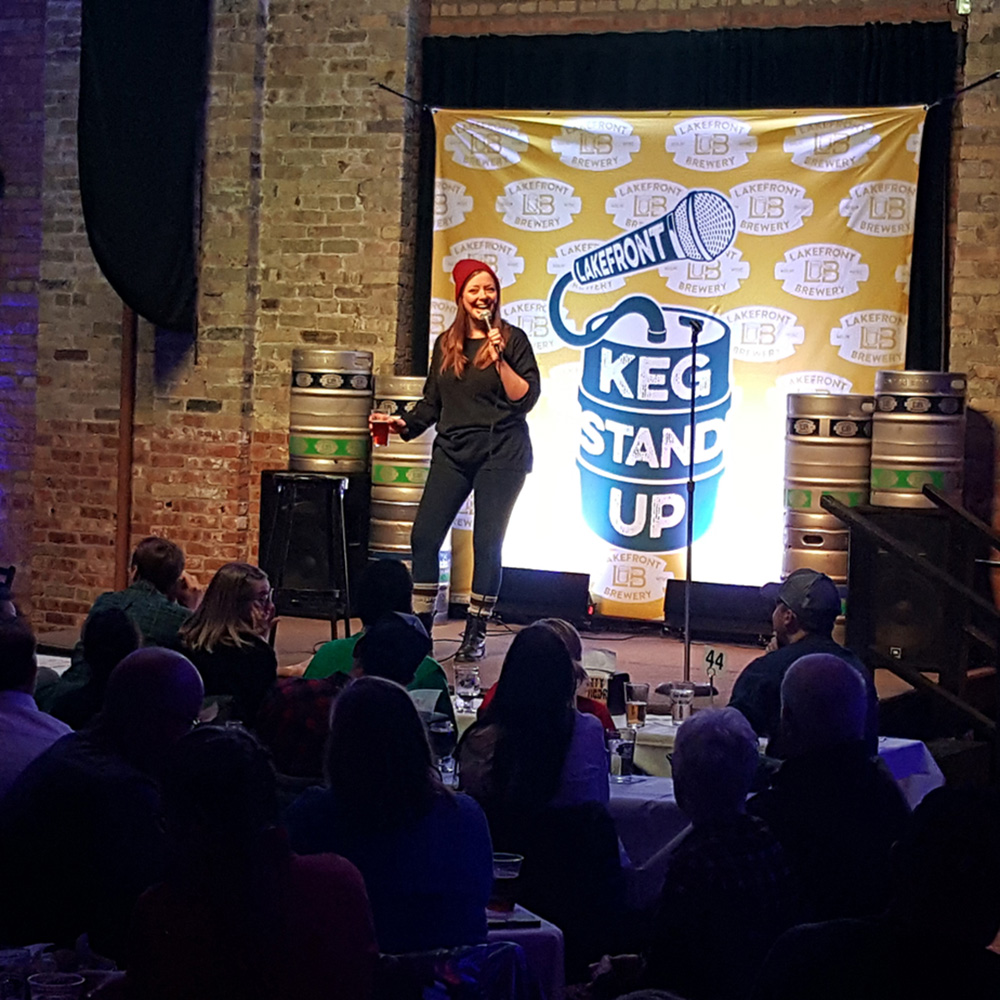 Lakefront Brewery, an iconic mainstay in Wisconsin's craft beer scene, sits on the Milwaukee River. Lakefront has been in business for the last 25 years, and for the last two have produced the best comedy show in Milwaukee. "Keg Stand Up," run by Creative Producer Matt Kemple, has seen crowds of over 250 people and is quickly becoming a must-stop for touring comedians. Matt describes the atmosphere at Lakefront as energetic, welcoming and just plain fun.
Me: Why does comedy work at Lakefront?
Matt: The atmosphere of Lakefront is a real draw. It's a large German-style beer hall and attracts a lot of people year round. But on top of that the staff is friendly and attentive, and everyone from the folks that make the beer to the people that mop the floors enjoy working there. It really shows during our comedy events how much customer service can affect the experience for everyone involved. The comics get treated really well, the audience is having a great time and the staff all want to be there — and that makes the show so successful. We are very fortunate to have a great relationship with Lakefront Brewery.
Me: I'm an IPA guy. What's your favorite beer at Lakefront and what would you recommend?
Matt: The Lakefront IPA is definitely my favorite, but Lakefront has been experimenting with some small batches that I always enjoy trying. Let's be honest, I usually have one of each!
Me: What's the best show memory you have?
Matt: Wisconsin is a huge sports state. With the show being on Sunday nights, it's tough to schedule around Green Bay Packer games, but the first time we sold a show out on a Packer Sunday was a very big moment for the comedy scene as a whole. That just doesn't happen!
Me: What are some of your challenges of having comedy in a brewery?
Matt: The brew-hall is a large space and audio has been an issue from the beginning. Lakefront and my company Milwaukee Comedy have invested in new speakers, sound dampening, etc. It's become a much better space for events but is still an ongoing project to reduce the echo of a large room without taking away the atmosphere.
Keg Stand Up at Lakefront Brewery runs monthly.
(VISIT: Find a U.S. Brewery)
Denver
To experts in their respective fields, there are two things that Denver does really well: make beer and develop comedians. It is no surprise that the shows at Ratio Beerworks are simply fantastic. Ratio is "all about beer" but prides itself on supporting all of the artistic scenes that are so vibrant in Denver. Comedian Ian Douglas Terry is directly involved with the comedy shows that happen at Ratio.
Me: Gotta talk about beer first. What's your go-to at Ratio?
Ian: Domestica. It's the standard ale, nothing fancy or too hoppy.
Me: Ratio is a little different in that it produces multiple shows throughout the week. What is Ratio Comedy?
Ian: Ratio Comedy is the umbrella that all of the weekly shows fall under. We try and mix it up with different formats, from Doom Room (comedians doing sets based off of whatever pops up on a screen) to Dirty Laundry Dating Show (think a version of The Dating Show) to Fresh AF (an all comedians of color show).
Me: Why does comedy work at Ratio?
Ian: There is a separate back room at Ratio, which is a huge bonus. They've also invested a lot into lighting, seating, and promotion. Denver keeps growing every week leading to lots of people looking for something to do, so you have to be pretty bad at putting shows on if you aren't getting crowds.
Me: Any challenges of having comedy in a brewery?
Ian: Dealing with noise from the front of the house was an issue, so we invested in more speakers. Also, people bring their dogs all the time and try to cram them into the back room which is loud and full of people which just seems cruel.
Me: What's the best show memory you have?
Ian: Al Madrigal dropped in one night, which was wild. It's good to build something up and have the reputation attract bigger and bigger comedians.
Ratio Comedy has comedy shows every Wednesday starting at 8 p.m.
(READ: Offbeat Places to Drink Craft Beer)
Indianapolis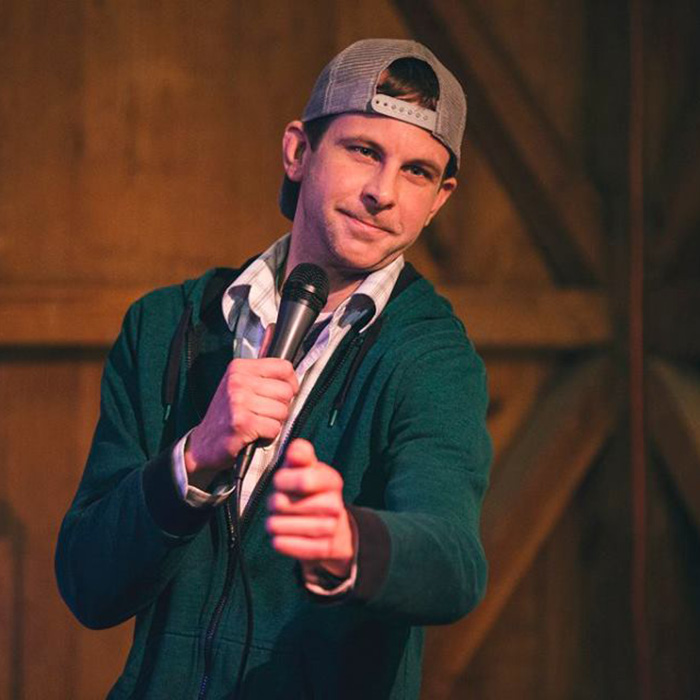 For the past four years, Indianapolis comedy collective Rocketship Comedy and Flat12 Bierwerks have produced some of the most notable shows in the city. As Ian and Joe both mentioned, it's a game changer when a nationally touring headliner comes in and does a set at an independent brewery show. Being from Indianapolis myself, it's been great to see so many amazing shows in such a short time frame. Rocketship Comedy Quarterback Cam O' Connor and Flat12 Marketing and Events Director Valerie Green discuss why they've been able to keep things going for so long.
Me: Why does comedy work at Flat12?
Cam: Comedy works great at Flat12. The sound in the room is surprisingly good. The quiets are quiet and the louds are loud — if that makes sense. But mostly it works because of the wonderful staff. Valerie has always been an incredible champion for us, and everyone else follows along and agrees with her passion for our shows. Kyle Kruse the manager has always been a steady force as well. We are treated like royalty on show nights. It's truly a great thing when a venue and staff appreciate comedy and the show.
Valerie: It's been described in the past as the "party barn," and I think that sums it up. It's warm, cozy and inviting with awesome craft beer. It's a nontraditional venue, but so much entertainment in Indy is happening in breweries right now. People love the environment. We've become a destination for comedy, not the stuffy antiquated style of comedy venue with a two-drink minimum, where bachelor/ette parties come in or perhaps people off the street who don't know how to behave. Comics choose to come here over other bigger venues because they love the audience. Comedy fans seek us out and are fully engaged in the show.
Me: Last time I was in, I tried the Downtown Tinker Brown Coffee Ale. It was great! What's your go-to?
Valerie: We have a variety of styles I love, but I'd say my year-round go-to beer is the Dan Patch Wit. It's a Belgian style witbier with orange zest, coriander and chamomile. Other than that, I love all of our fruited barrel-aged sour beers.
Cam: My go-to beer is the Walkabout. That's what I always drink there. All night. I don't really even know what kind of beer it is. But it is always perfect for me.
Me: What are some of the challenges of running a show in a brewery?
Valerie: It's actually been fairly natural to set up these shows at the brewery. We did have some challenges early on because we don't have a professional stage or lighting for performance, and the taproom wasn't necessarily designed to host comedy shows, but we've figured it out and it works. The capacity is about 85, so the shows are intimate. We don't have a "backstage" but have set up a makeshift green room where the comics get to lounge among barrels and grain bags, and they seem to enjoy the laid-back ambience. Plus they get free beer, so they stay happy.
Me: What's your favorite show memory?
Cam: Honestly, there have been so many great nights and shows. My favorite memory is the overall incredible way we have been welcomed in there. Anytime Stewart Huff comes through is special. We've had some anniversary shows that were amazing.
Valerie: Wow, so many. I really do feel that every show we've hosted here kills. Cam consistently books some of the best up-and-coming local, regional, and nationally touring comics around. He's so connected and such a pro with the flow and mix of comics on the lineup. Some standouts have been Sean Patton of course, one of the best working comics out there now, Matt Braunger was a big one for us — that guy is the real deal and brought the house down. Other than that, I love seeing local comics develop and sadly for us, move on to bigger scenes, but it's great that we're nurturing talent and giving these great local kids a place to get improve their stand-up. We miss them when they leave!
Check out more details on shows from Rocketship Comedy and Flat12.
(LEARN: Beer 101 Online Course)
In 2018, no matter where you live, there is more than likely a comedy night in a brewery near you. From coast to coast, we are able to enjoy a well-crafted local pint and take in a professional level show. It's now easier than ever to support local comedy as well as support a local brewery. So let's grab a beer and share a laugh. Who doesn't love beer and comedy?
CraftBeer.com is fully dedicated to small and independent U.S. breweries. We are published by the Brewers Association, the not-for-profit trade group dedicated to promoting and protecting America's small and independent craft brewers. Stories and opinions shared on CraftBeer.com do not imply endorsement by or positions taken by the Brewers Association or its members.