A shift is happening in the world of beer merchandise: the options for women, created by women, are growing.
The beer-making community is working to kick the stigma that it's only for bearded dudes in flannel. The beer merch world has traditionally reflected that male clientele. With the exception of the odd fitted women's tank here or there, the selection was generally geared toward men.
But as the beer world expands to be more diverse, so does its merch. The clothing and accessories you can wear to proclaim your love of beer are more varied than ever before, courtesy of visionary women building brands and contributing their talents to the beer merch arena.
Girls In Craft Sparks Female-Focused Beer Merch Movement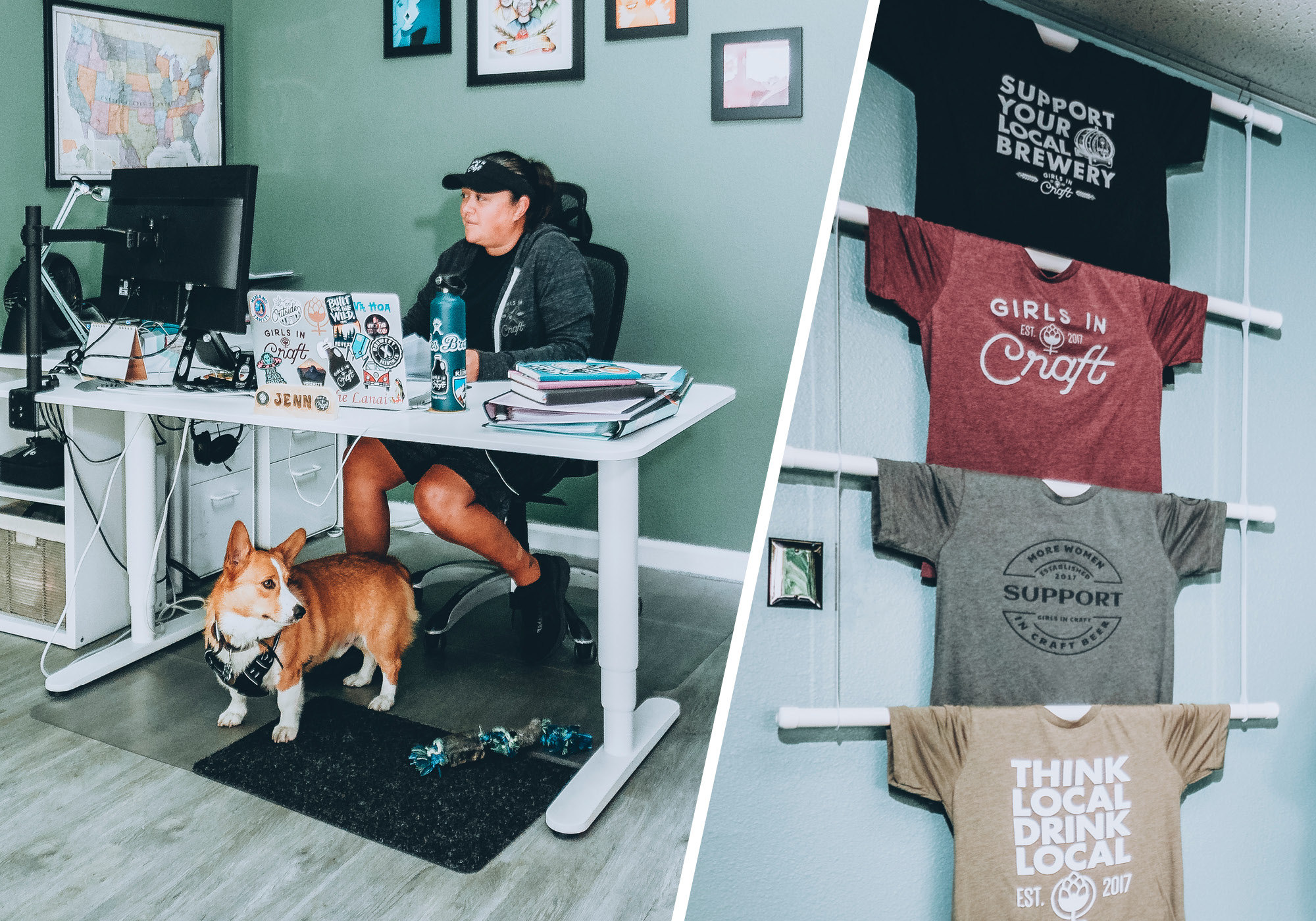 One of the trailblazers of the female-focused beer merch movement is Jenn Suarez, who established Girls In Craft in 2017. The company is growing quickly. Its selection of products currently ranges from tanks, tees and hoodies to sweatpants, jackets, hats, patches, phone accessories, luggage tags, bottle share bags and a tulip glass that appears quite frequently in any scroll of the craft beer corner of Instagram.
Jenn is the brand manager for a high-volume screen printing shop in Southern California. Since she was 15, she's worked her way from retail to manufacturing to branding in the action sports world and then branding for action sports apparel companies.
(More: Lady Justice Brewing Dreams Big, Supports Women-Based Causes)
Her knowledge and experience in merchandising can be seen in Girls In Craft's thoughtful product range. Jenn's brand caters to items women want, like comfortable clothes for running errands and sturdy, high-quality mugs. She puts careful thought into how the products are made, paying special attention to detail on fits made for women, and researching the best materials.
Girls In Craft was born from Jenn wanting to see more inclusive options in beer merchandise.
"I love buying craft beer merch, I have a ton of brewery merch … it lets someone know you went and tried that beer, you had that experience," she says. "Most of the merch I saw was catered toward men. T-shirts were thicker, heavier, not as soft. Being from the apparel industry, I'm very picky about t-shirts. I wanted something softer, flowy, not cotton but tri-blends."
Jenn wanted Girls In Craft to create products for a variety of women, recognizing the majority of female beer drinkers want things that fit them and feel good, as well as selections that fall between the bedazzled beer merch she sometimes saw for women and the made-for-men tees.
As part of her mission to offer choice to the spectrum of female beer drinkers, Jenn makes sure her clothing runs from size small to 2x or 3x and features different shapes and silhouettes.
"Our girl is every girl," she says. "It's the one thing I want to be known for. We do not exclude any type of woman. From shape and size to gender, transgender, gay—it's a place where everyone can be."
If Girls In Craft's online community is any indication, women are indeed feeling seen by the brand. The brand's Instagram feed is full of loving comments and praise, and there are ambassadors who love the clothing and accessories so much that they've incorporated it into their own content. The fans illustrate the success of Jenn's inclusivity mission—yes, even men can be spotted rocking Girls In Craft hats and tees.
The community spirit filters into a focus on collaborations that Jenn is looking to build upon. In addition to spreading the word about Girls In Craft organically through ambassadors, Suarez has already started working with artist Emily Gilberg of adoodleandabeer, printing Emily's designs on Girls In Craft clothing.
The goal, Jenn says, is to feature lots of different collaborations. In addition to adoodleandabeer, there would be partnerships with creators Jessica Walsh of HopHeart, Sabrina Rain Grimes of Boozy Craft Corner, and other artists and artisans.
Girls In Craft will give these creators "a broader marketplace to be seen," Jenn says, bringing together exciting new female-focused designs, and giving talented creators a platform.
Creating Beer-focused Drawings and Designs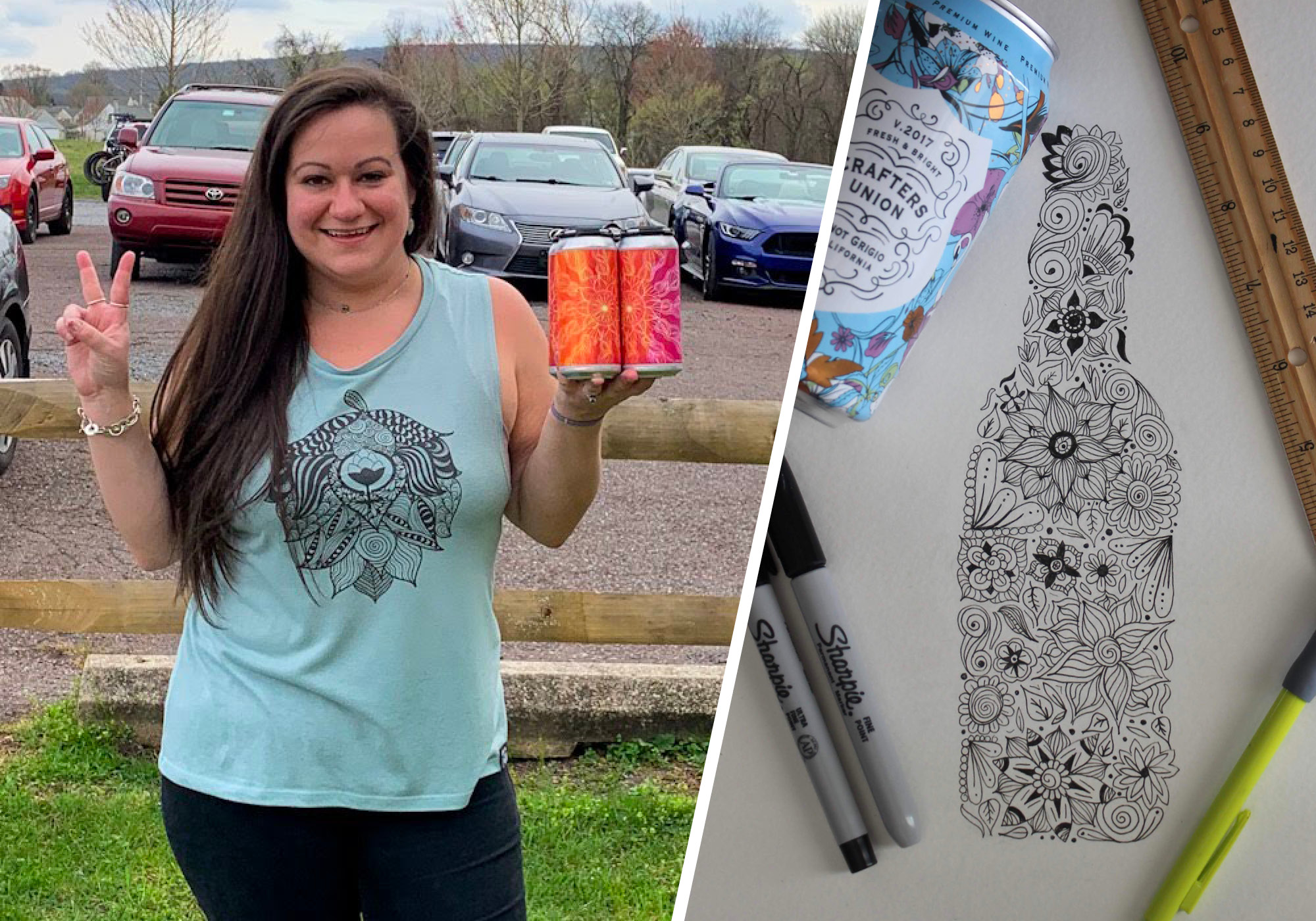 Emily Gilberg's adoodleandabeer started when she decided to combine her two passions, craft beer and drawing, into one dedicated Instagram account about two years ago. Her posts and videos quickly started garnering a fanbase.
The self-taught artist had been drawing her whole life. She got into beer by attending can and bottle releases with her husband and loving the familial atmosphere, explaining, "Beer is more of a community than anything; that's what drew me into it."
Since her Instagram took off and her partnership with Girls In Craft began, Emily has found different opportunities to make her mark in the visual aspect of beer. Breweries have commissioned labels by her and other brands have come to her for artwork and logos. Some Instagram users even contact her for tattoo designs.
The artist has loved seeing how women are helping breathe new life into the beer scene by expanding on what beer merch means and the different kinds of art that can cover cans and represent craft brews.
"It kind of blows me away," Emily says. "Beer is an art platform; it's evolved into this thing where the beer inside is special but people also chase after it for the label as much as what's inside. Women play a huge role in all of that … they bring a lot to the table. It's like, let's change it up; it's not just, 'Here's my double IPA.' They bring a lot of flair and expertise."
(Related: PHOTOS: Celebrating Women in Beer at 2019 Beer With(out) Beards Festival)
HopHeart Founder Creates Beer-themed Accessories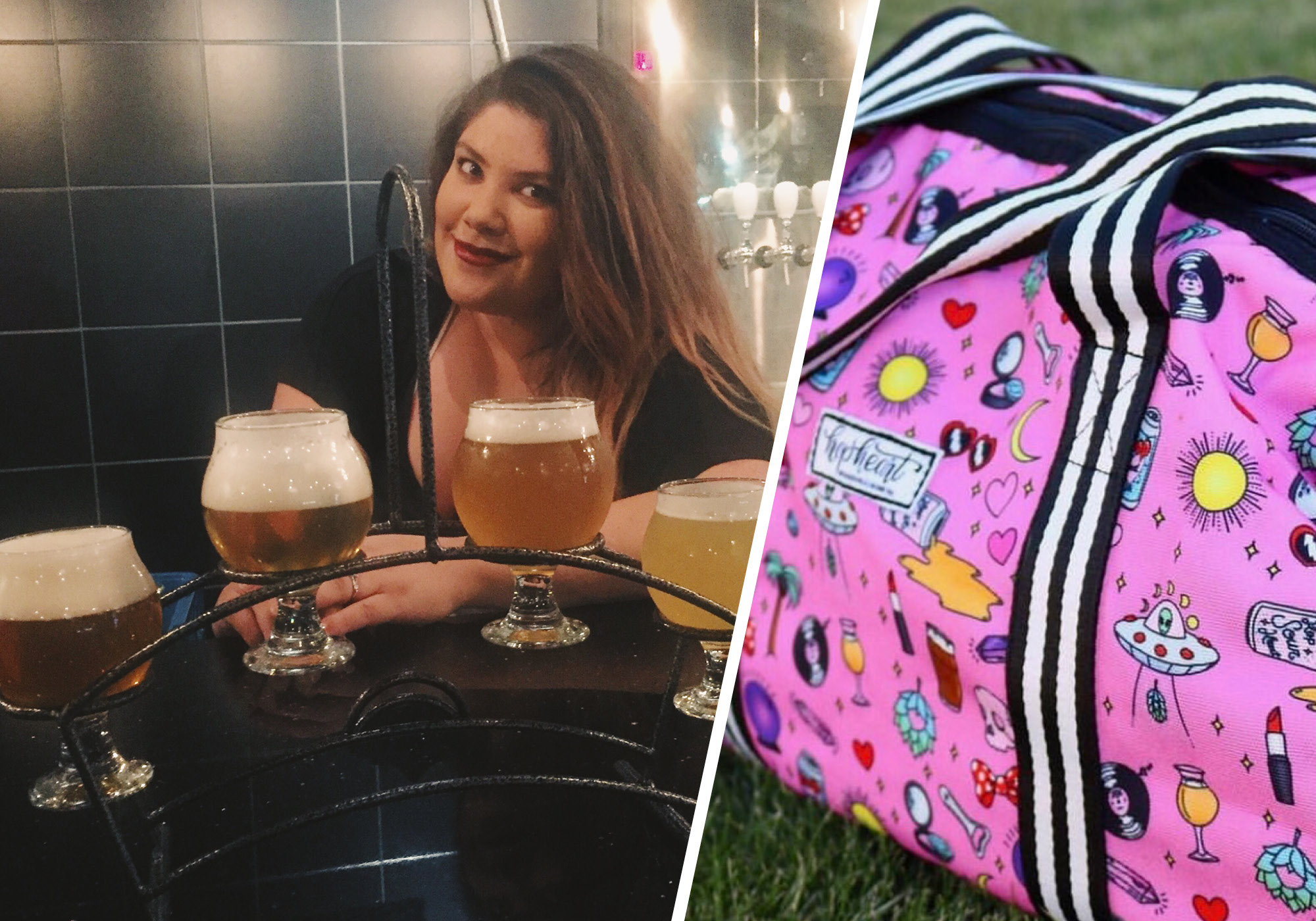 HopHeart's Jessica Walsh brings her flair and expertise to weekender bags, jewelry, tanks, patches, pins, hats, glassware and more. The entrepreneur has just sold the taproom she owned with her husband in California in order to focus on their next venture–opening a brewery.
She finds time to channel her creative energy and lifelong love of drawing, painting and scrapbooking into her brand that celebrates the girly-girl in beer lovers—Jessica says she is a fan of bright colors and bold pinks and patterns; the HopHeart weekender has "serious Betsey Johnson vibes."
She started HopHeart after wanting beer-themed accessories but only finding apparel (usually men's apparel) at breweries.
"The venture started out as a very selfish project," Jessica says. "I wanted stuff that wasn't there."
She points out that it's still not common to find too much merchandise outside of apparel at breweries, but Jessica is helping change that with HopHeart's range of products that, like Girls In Craft's, are designed to bring one's love of beer into all different parts of life, from working out to traveling. HopHeart is as much about community as it is about the products, if not more.
"I wanted to cultivate a community so that females, girly or not, could come together and talk about beer without being cut off, judged, or manipulated," Jessica says. "I wanted to connect with other girls in the community and connect them with others, as well."
The HopHeart community is so important to Jessica that she doesn't call the people who buy her creations "customers," but friends. She loves hearing stories from them like how one woman spotted another woman wearing a HopHeart tank from across the pool on a cruise and they ended up becoming pals. She's received photos from two other women who met at a brewery and started chatting when they realized they were both wearing HopHeart bracelets. Jessica feels this kind of camaraderie is especially vital now for women in beer.
"As of late, there's been some bullying against females in craft beer online, and I want to keep combating that," she says in an email.
Jessica collaborated with Hop Culture's Beer With(out) Beards festival celebrating women in beer by creating pins for the event, and has created a bangle for Left Hand Brewing. She's currently gearing up to roll out some new products and work with Girls In Craft.
(Related: Brewers Association Releases Brewery Employee Diversity Data for the First Time)
Illustrator Behind "Boozy Craft Corner" Celebrates Women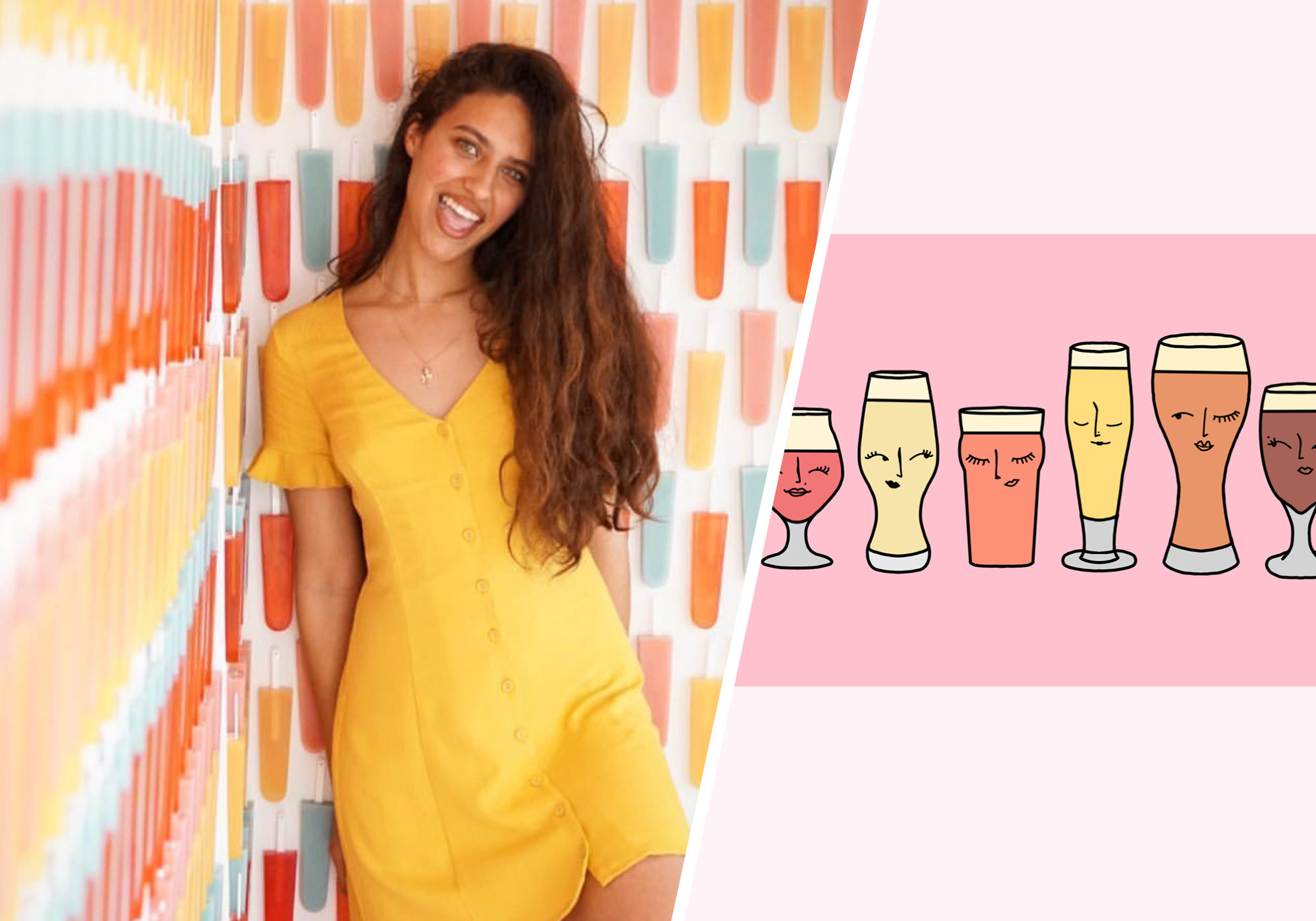 It's the infinite range of different beer fans that is at the center of Sabrina Rain Grimes's Boozy Craft Corner. On her Instagram, the artist illustrates posts made by women in the craft beer community, highlighting the scene's diversity.
When Sabrina illustrates characters of her own making, it's an entire slideshow in all different skin tones. She depicts different body types, adds body hair and honors a very beautiful kind of reality in her bright, whimsical designs.
On her Etsy page, you can find the artist's playful take on craft beer life in the form of prints — gumball machines with hop leaves instead of gumballs, an array of different beer glasses with faces to portray diversity — as well as tees and beer-themed planner stickers.
When explaining how Boozy Craft Corner got started, Sabrina echoes her fellow female-focused beer merch makers sentiment: she couldn't find beer merch that felt like her when she shopped at breweries.
"Me and my best friend, Hayley, every time we went to a brewery and would look at t-shirts, we'd get upset that there weren't cute girls' tees."
Sabrina says her friend is her "silent partner in crime" for Boozy Craft Corner, and that the two set out to give the beer world merchandise that makes women feel seen.
"I wanted something brighter and more open for women to look at and smile and be happy they're doing what they're doing, and not think, 'I can't drink beer because I'm a girl.'"
(More: Hot Experimental Hops Create Compelling Flavors)
Sabrina says she draws women of all backgrounds because she never wants anyone to feel left out in her work. As for her overarching color scheme of pink and blue, she explains that she wanted to take the two colors traditionally linked to the two different genders and unite them so they're always together and not seen separately.
Like adoodleandabeer and HopHeart, part of Boozy Craft Corner's future will play out through collaborating with Girls In Craft. In addition to putting her own influential stamp on beer merchandise, Jenn Suarez is bringing together the women offering their own female-focused unique creations to form one united front. Like the beer community, itself, this united front has a lot of different looks and approaches, but the common goal is to celebrate beer and every one of its fans.
CraftBeer.com is fully dedicated to small and independent U.S. breweries. We are published by the Brewers Association, the not-for-profit trade group dedicated to promoting and protecting America's small and independent craft brewers. Stories and opinions shared on CraftBeer.com do not imply endorsement by or positions taken by the Brewers Association or its members.