Sitting down for a cup of coffee with Jeff Duggan from Portola Coffee Roasters isn't your average coffee talk. He's got the brain of a mad scientist, the nose of a master sommelier, and the instincts of a beer brewer. A few sips into any coffee beer and his analytical side kicks into high gear, precisely breaking it down into its molecular parts, where he can then go a step further by sketching out a list of source ingredients, a specific roasting technique, and method to introduce coffee into that beer that can go on to woo beer judges near and far.
We know this because Jeff's Portola Coffee has been used in 13 Great American Beer Festival and World Beer Cup-winning coffee beers since 2010. Portola Coffee beers have nabbed 21 medals in total including the San Diego International Beer Festival competition and California Craft Brewers Cup by collaborating with four breweries: Pizza Port, Beachwood BBQ & Brewing, Tustin Brewing, and Gamecraft Brewing–all local breweries to Portola Coffee in sunny Southern California.
I sat down with Jeff and some award-winning craft brewers that use his beans to see what makes a great coffee beer.
(VOTE NOW: Great American Beer Bars 2020)
Q: How does one craft a great coffee beer?
Jeff Duggan, Portola: Just like a brewer wouldn't just order hops off of a shelf, they shouldn't do that for coffee. The key is to strategize. A brewer is very good at sourcing their grains, their yeast, their hops, but most of them don't know coffee…they may drink it, but they may not understand the chemistry, solubility, extraction efficiency–or how beer is a solvent and what it's doing to pull the flavors out to create what they want. It's not just a great brewer and a great coffee roaster coming together, because there's already a lot of that going on out there. It's always a conversation with me.
Julian Shrago, Beachwood Brewing: I have a very cerebral understanding of his signature flavor profile. There's a thread that runs through all his coffees, which is primarily an intense fruitiness and his roast profiles create sustained flavors when they're in beer. Irrespective of beer style, I treat everything as an ingredient, and treat nothing as an additive. So, with a beer like Mocha Machine, which has done really well in competition, the base beer doesn't exist as some other beer on its own. If you tried it without coffee, it might come across as some weird doppelbock. It's super fruit-forward with restrained roast as the coffee brings roast, it brings bitterness, it brings a different type of acidity to the finished product.
(READ: American Brewers Fall for Spicy Amburana Wood)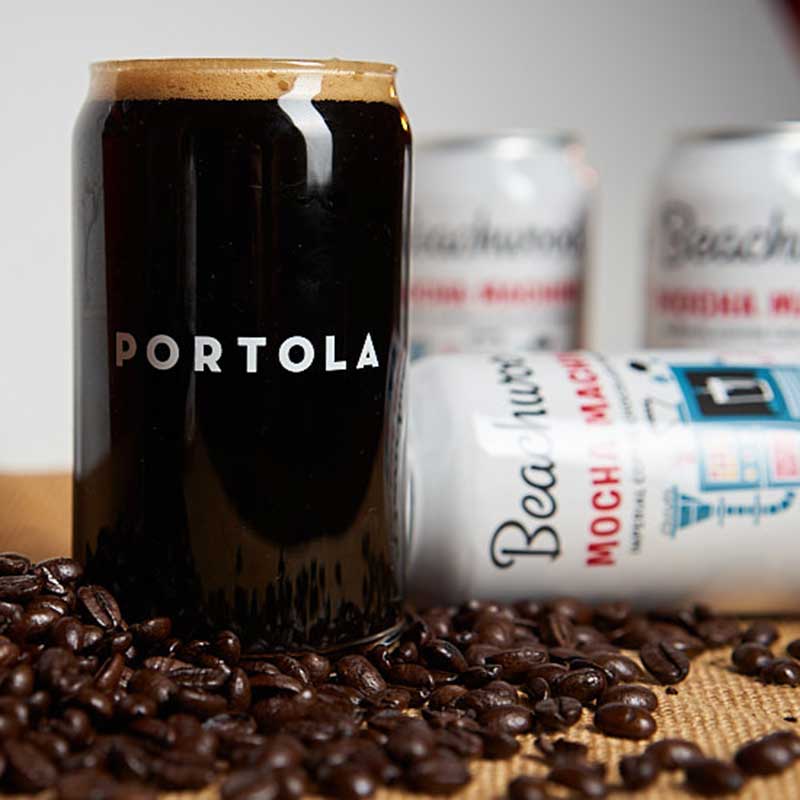 Q: Why so many medals in competition?
Jeff Duggan, Portola: I'm 100 percent convinced that a significant factor in our success is based on sourcing quality beans. We source coffees that are unique, rare, and some have never been exported to the U.S. before. We go through great lengths to hand-select our coffees because they taste amazing. So if you're not starting with quality coffee, forget an award. The same way a brewer is selecting the finest hops and malts, coffee's also up there.
Q: How are hops similar, or different, from coffee in a beer?
Jeff Duggan, Portola: What makes both great are their volatile aromatics. Most of what we taste is what we smell, so both hoppy beer and coffee beers should be consumed fresh as they're both subject to oxidation. Both are agricultural products and can change from year to year as well, which can pose different problems for the brewer or roaster to adjust their process for consistency. Coffee is different from hops as I'm not just delivering green beans to the brewer. I have a very specific roasting technique just for coffee beers.
Q: How big of a role does the origin of coffee play in a beer?
Jeff Duggan, Portola: Origin doesn't play as big of a role, to be honest. Like someone may say they love Guatemalan coffee, where I can appreciate that, they essentially just had a good Guatemalan coffee… There's nothing about that country that will make it categorically better than a Costa Rican or Ethiopian coffee. It all has to do with the varietal selection, the health of the trees, the microclimate, the processing, all that stuff is really what makes that bean what it is.
Julian Shrago, Beachwood Brewing: Mocha Machine has medaled with three different coffee origins–not only that, three different continents. It's kind of like medaling with the same hop varietals grown in Washington, Oregon, or Idaho. As long as you know what characteristics you're going for, you can achieve predictable results.
(READ: Musings on Utopias)
Q: What's the best way to introduce coffee in beer?
Jeff Duggan, Portola: Cold steeped grounds post-fermentation prior to carbonation is the best. We've done it every way…we've pulled shots of espresso, added cold brew, in the whirlpool, and you just don't get the intensity of flavor as cold steeped grounds.
Q: What about the dreaded green bell pepper off flavor that's common in coffee beers?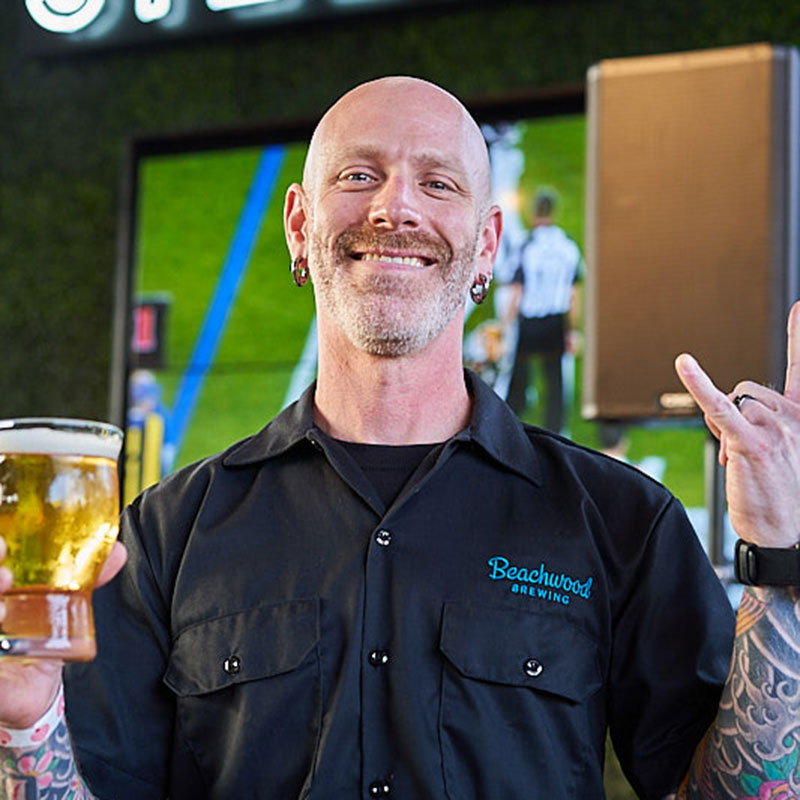 Jeff Duggan, Portola: We adjusted our roast profile based on that flaw. Not only that, we have a separate roast curve for coffee beers in general from our standard roast profile for drinking coffee. The reason we did that was to adjust for the bell pepper issue. We've developed a curve that we've successfully volatilized whatever compound caused it. Nobody knows what causes it. Here's the thing, green bell pepper notes are time-dependent because we certainly didn't taste it when the beer was a couple of months old. There's something happening over time, and we don't know that it's oxidation…it may not be. If we're going to be scientific about it, it may not even be the coffee that causes the flavor, but rather something with the coffee compounds that are causing the conversion of that flavor in the beer. We don't know.
Julian Shrago, Beachwood Brewing: We did have an older batch of Tovarish Stout that trended toward that green bell pepper after a couple months, which was fine early on. So Jeff created this new roast profile that still captured all the signature profiles we were looking for, but he was able to drive off all that raw green vegetable characteristic. So if you were to grab a year-old coffee beer of ours now, it might not be as dynamic of a beer due to age, but it won't have that green bell pepper note.
(READ: The Lighter, Brighter Side of Coffee Beers)
Q: What's that moment like when you're tasting a finished beer for the first time with your coffee in it?
Jeff Duggan, Portola: I'm always breaking it down. I'm OCD and always striving to be the best, but of course, I enjoy it, but I'm analytical about it. If it's not as good as I'd hoped I'm bummed. If I know a beer that I've collabbed on gets submitted to competition and it doesn't win, we'll get together and change it up. Like Tustin's Portola Breakfast Stout is probably on its fourth or fifth year and it just started winning. That beer is a culmination of tweaking, where one year we got close to winning, so adjustments were made.
Jerrod Larsen, Tustin Brewing: I just let Jeff do whatever with my beers. It's a true collaboration where I hand him the base beer and he'll taste it and decide what needs to happen on the coffee side. I do the beer I want and he does the coffee side. It's great. Early on I wasn't getting anything at GABF for a few years, but we started adding dosing with more coffee and that's what tipped Portola Breakfast Stout over the edge.
Julian Shrago, Beachwood Brewing: When Jeff tastes one of our beers with his coffee, he's able to dig out the full expression of his coffee in the beer.
Q: Aside from porters and stouts, what are some other beers that marry well with coffee?
Jeff Duggan, Portola: Name a beer style and I think we've done it. Recently we did something new with Eagle Rock in LA with a hazy coffee IPA; I introduced a method we've never used before. Firstly, I didn't want coffee to dominate with typical coffee flavors, so in this case, I wanted to pull off the things that come off the quickest and easiest, and that's the coffee acids. So we did whole bean introduced on the hot side in the whirlpool, and we pre-soaked the beans with hot water so when we went to dump it in, we wanted the beans to give everything they have on contact. It turned out great!
With so much pure soul-awakening coffee aromatics bursting out of Jeff's Portola Coffee beer collaborations, there's a case to be made that coffee beers are basically breakfast IPAs. Sure, coffee beers will never overtake the IPA in popularity, but if you're ever jet-lagged around Orange County, California, there's a solid cuppa beer waiting to jolt whatever ails you.
CraftBeer.com is fully dedicated to small and independent U.S. breweries. We are published by the Brewers Association, the not-for-profit trade group dedicated to promoting and protecting America's small and independent craft brewers. Stories and opinions shared on CraftBeer.com do not imply endorsement by or positions taken by the Brewers Association or its members.