Chocolate originated in Central America, and its history dates back to well-before Columbus sailed the ocean blue. Originally, native cultures like the Mayans and Aztecs consumed chocolate as a drink, and softened the intense bitterness of cacao with spices like vanilla and peppers (there's even some evidence the drink contained alcohol). When the Europeans arrived and brought sugar with them, chocolate transitioned into its modern form.
Many craft brewers are honoring chocolate's liquid ancestry by brewing Mexican hot chocolate-inspired beers with cacao, vanilla, peppers, cinnamon and other spices. Since many beer styles brewed with dark malts already have some chocolate flavors (as well as complementary flavors like caramel or coffee), styles like porter and stout can beautifully evoke this ancient beverage's appeal while adding further complexity.
American Imperial Stout is most often employed because of its dessert-like decadence and ability to stand up to strong spices. But with a careful touch, lower strength dark styles like a robust porter and American Stout can also receive the south-of-the-border chocolate treatment.
(READ: Bed & Brew: U.S. Beer and Brewery Hotels)
11 Mexican Hot Chocolate-Inspired Beers to Try
Mexican Hot Chocolate | Aslin Beer Co. | Herndon, VA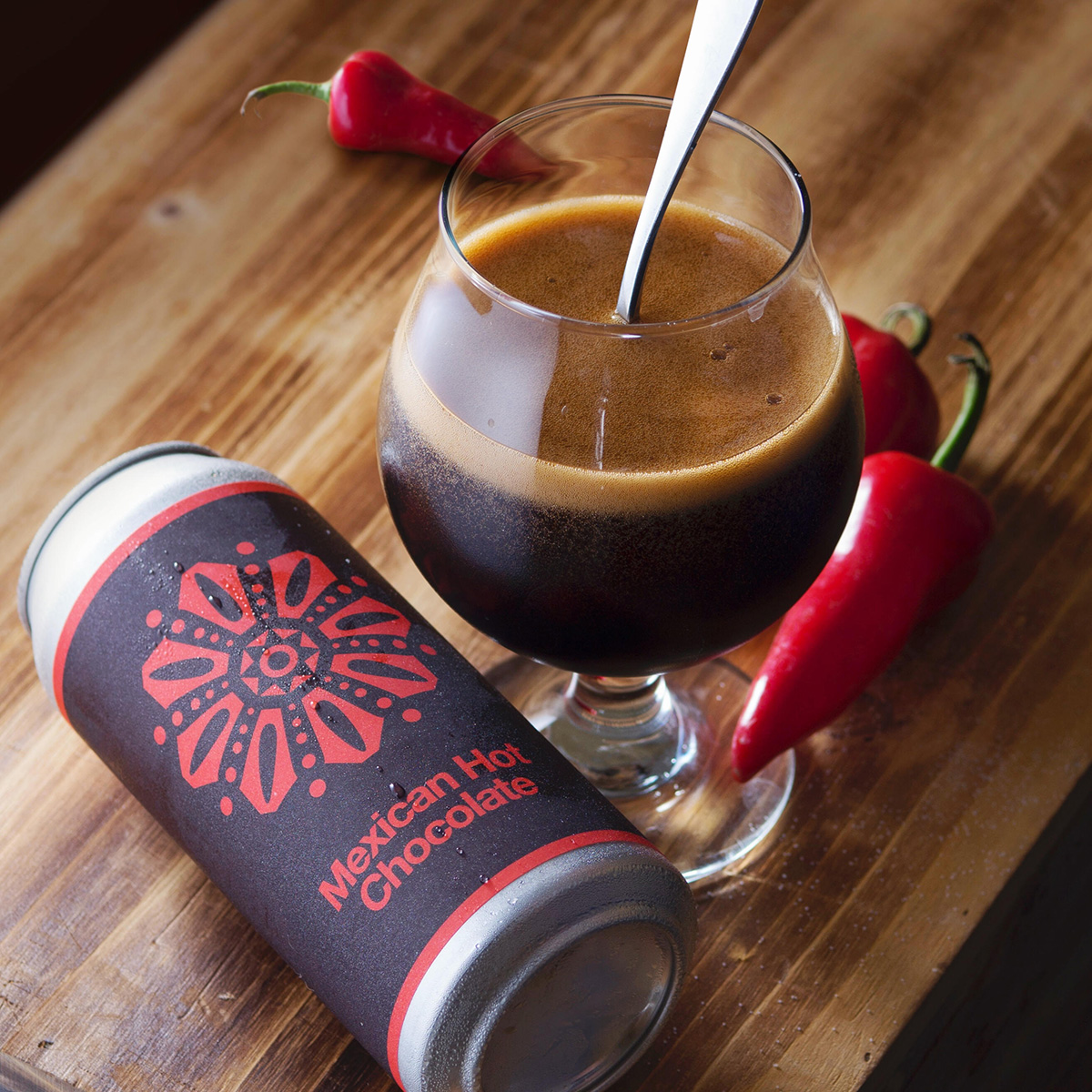 "The idea of Mexican Hot Chocolate came from one of Richard's favorite cakes to make during the holiday season," says Aslin Beer co-owner Andrew Kelley of co-owner Richard Thompson. Kelley, Thompson, and third partner Kai Leszkowski homebrewed the dessert-inspired beer first, and their successful experiment turned into their Mexican Hot Chocolate Imperial Stout. Aslin, which is named for the maiden name of the three sisters the partners are married to (brownie points, boys), conditions this big beer with Madagascar vanilla beans, cinnamon, nutmeg and three different kinds of chili peppers. "All of this is balanced by the sweetness and roast of our 10 percent base state," says Kelley.
Mayan Sunrise | Latitude 42 Brewing Co. | Portage, MI
Latitude 42 brewer Scott Freitas tasted a few Mexican chocolate-inspired beers at the Great American Beer Festival years ago and knew he wanted to brew one at his Michigan brewery. He settled on brewing a 7% ABV American Stout for the base, and added Ancho, Guajillo, and Habanero peppers and cinnamon bark to get the perfect level of spice and complexity.
"What makes this beer unique is the balance of all the peppers," says Freitas. "You don't want it to be too hot, or not spicy enough. It's a delicate line."
Aztec Gold | Gizmo Brew Works | Raleigh, NC
Gizmo Brew Works is known for quirky, small-batch beers, and their 9.2% Aztec Gold Imperial Chocolate Stout got its start as an extremely small batch indeed–the beer was the winner of a homebrewing contest between employees. The beer became the first in the brewery's Inventor Series, a group of 12 high gravity beers that Gizmo rotates through on a monthly basis. Aztec Gold is brewed with local cacao nibs and Madagascar vanilla beans, and is named in honor of the belief that cocoa was so prized in Aztec culture that it was sometimes used as currency.
(VISIT: Find a U.S. Brewery)
Mexican Chocolate Stout | Copper Kettle Brewing Co. | Denver, CO
Copper Kettle owner and head brewer Jeremy Gobien speaks with obvious reverence of his beer he says is inspired by the cacao drinks used in sacred Mayan religious ceremonies. "Unlike other chocolate-themed dark beers, we intentionally created a beer with a relatively dry body," says Gobien. "To this starting canvas, we added layers of spices including cassia cinnamon and a blend of three Central American chili peppers including Ancho, Guajillo and habanero, and then finish with high-quality cacao. The resulting experience is complex and layered." While cinnamon is prevalent when you first sip this 7% ABV stout, Gobien says the chili heat soon kicks in. "After a few seconds, the subtle burn on the habanero begins to blossom and combine with the cinnamon flavors." Gobien explains this beer is "designed for beer lovers looking to challenge their definition of what beer is."
(READ: 9 Smoke Beers to Light Your Fire)
Xocoveza | Stone Brewing | Escondido, CA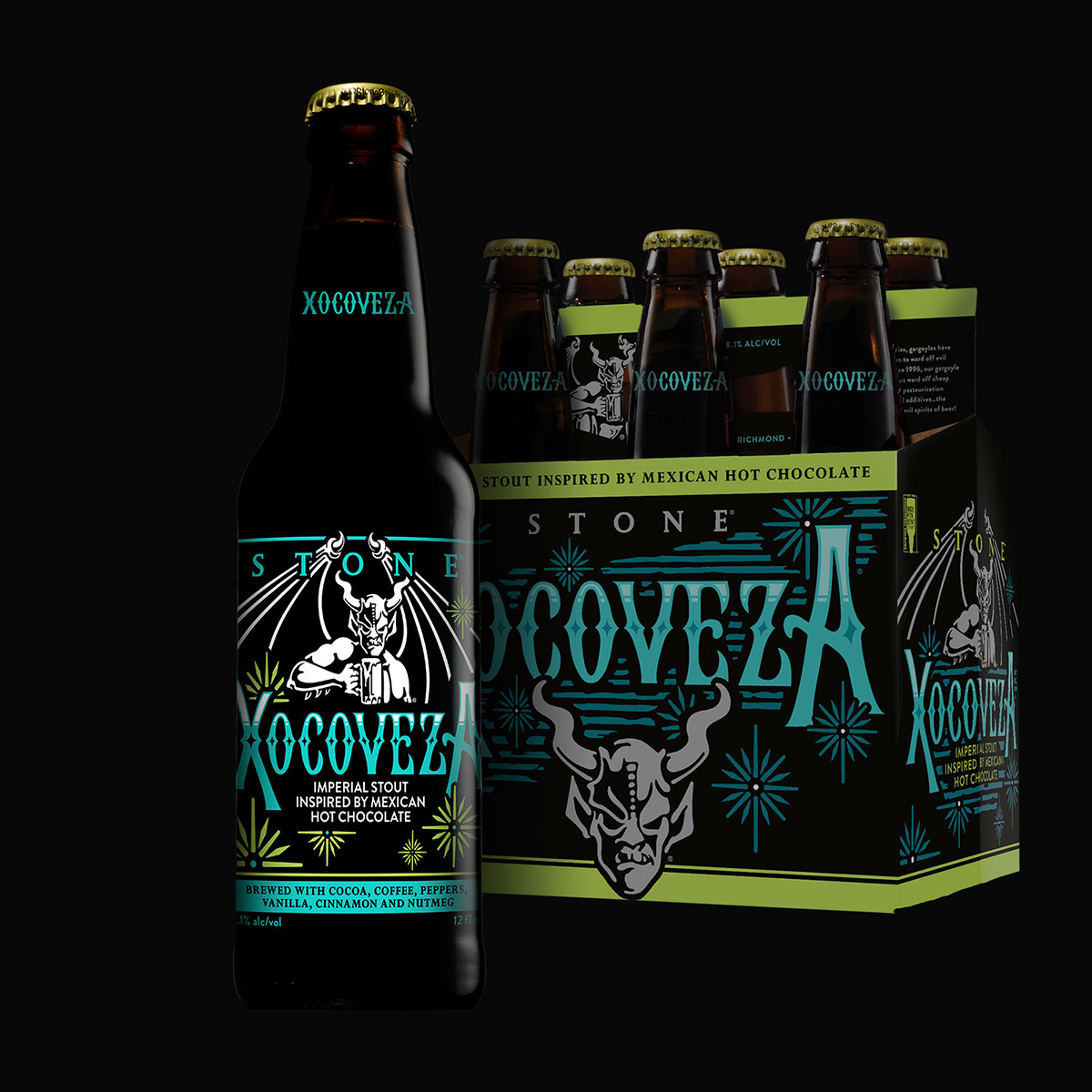 Stone Brewing's coveted Xocoveza stout was never intended to be part of the brewery's permanent rotation of seasonal beers, but beer lovers wouldn't take "No" for an answer. The beer was first brewed after winning the popular California brewery's homebrew competition in 2014. While it was meant to be a one-time specialty brew, the beer proved so popular, the brewery decided to add it to their annual line-up as a winter release. The beer's name is a portmanteau of the "xocolatl," the word for the Aztec cacao drink on which the beer is based, and "cerveza," the Spanish word for beer. In addition to the usual cocoa, vanilla, cinnamon, and peppers, Xocoveza's complex flavor is aided by coffee and nutmeg. And as if the drink wasn't legit enough as is, Stone even sources organic cocoa beans to make their own 100 percent cacao bars to use in the brewing process!
Mexican Cake | Westbrook Brewing | Mount Pleasant, SC
While Westbrook Brewing is perhaps best known for low alcohol, esoteric European beer styles like Grätzer, Lichtenhainer, and especially gose (not to mention a solid IPA), they also released one of the first Mexican hot chocolate-inspired imperial stouts to gain cult status. Mexican Cake was released for the brewery's first anniversary in 2012, and has become one of the most coveted beers in the country. Brewed with cacao nibs, cinnamon sticks, vanilla beans, and habanero peppers, a small batch of this 10.5% ABV beer even makes it into rare Pappy Van Winkle bourbon barrels.
(READ: Brewery Offers Free Weddings for Valentine's Day)
Hunahpu's Imperial Stout | Cigar City Brewing | Tampa, FL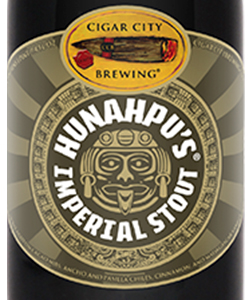 If you're reading this site, you probably don't need me to tell you what Hunahpu is. The legendary spiced imperial stout from Tampa's Cigar City is released once a year on Hunahpu's Day in March, a celebratory festival held at the brewery. This 11% ABV behemoth brewed with cacao nibs, Madagascar vanilla, cinnamon, and two different peppers takes its name from Mayan mythology. The Hunahpu family of heroes overcame great odds to "defeat the Dark Lords," according to the brewery's website. Read into that rivalry what you will.
Mayan Mocha Stout | Odd Side Ales | Grand Haven, MI
While the Odd Side Ales folks make imperial and barrel-aged versions of their Mayan Mocha Stout, it's nice to be able to add a (somewhat) session strength beer to this list. At 6.5% ABV, Mayan Mocha is brewed with Dutch chocolate, coffee, cinnamon, nutmeg, and habaneros to achieve a smooth beer that balances dessert flavors with subtle heat. Not every Mexican chocolate beer has to hit you like a luchador wrestler, and Mayan Mocha proves it.
(COOK WITH BEER: Find Hundreds of Recipes)
Mexican Morning | Conclave Brewing | Raritan Twp., NJ
Conclave Brewing takes this concept even further down the ABV scale. Mexican Morning is only 5.9% ABV, and since it's based on the brewery's Espresso Milk Stout, it could be the perfect brunch beer. Spiced with the usual potpourri of cinnamon, cacao, vanilla, and arbol peppers, Mexican Morning would go well with fried chorizo and eggs and a chocolate concha for the perfect Mexican breakfast.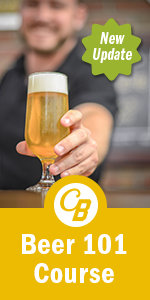 Mexican Achromatic | Weldwerks Brewing Co. | Greeley, CO
Steampunk-themed Weldwerks Brewing Co. has been on a hot streak recently, picking up medals at the World Beer Cup, Great American Beer Festival, and Festival of Wood and Barrel-Aged Beer in the last 18 months. But whereas many Mexican chocolate-inspired stouts aim for heat as well, this brewery's 10% ABV Mexican Achromatic eschews peppers for a complex blend of earthier spices, including Vietnamese and Mexican cinnamon sticks, Indonesian cassia bark, Madagascar vanilla beans, and Ghanan cacao nibs. A healthy proportion of oats in the mash and an extended boil make this stout chewy, full-bodied, and unbelievably smooth.
Oaxaca Mole Milk Stout | Benchtop Brewing | Norfolk, VA
Inspired by local restaurant's version of the popular Mexican mole dish, the folks at Benchtop Brewing crafted a unique take on this substyle of beer by seeking to evoke the flavors of the savory chocolate entrée rather than liquid cocoa. The brewing team added piloncillo sugar, star anise, toasted almonds, cinnamon, cacao nibs, and Ancho, Guajillo, and mulato peppers to their 4.8% milk stout to create a sessionable mole-inspired beer that is smooth, full-flavored, and complex.
CraftBeer.com is fully dedicated to small and independent U.S. breweries. We are published by the Brewers Association, the not-for-profit trade group dedicated to promoting and protecting America's small and independent craft brewers. Stories and opinions shared on CraftBeer.com do not imply endorsement by or positions taken by the Brewers Association or its members.