You may think that plants growing in the sidewalk cracks are annoying weeds but to some homebrewers and professional brewers they are sought after ingredients. Yarrow is one. It's used as a bittering substitute for hops. Dandelions and pineapple weeds are a couple of other "weeds." As the inimitable comedian George Carlin once said "I like it when a flower or a little tuft of grass grows through a crack in the concrete. It's so fu**in' heroic!" Another frequently found and popular bittering plant is mugwort. These are some historic brewing bases and part of lost knowledge brewers are rediscovering. They are the way libations were made long before the Industrial Revolution, often by women as part of their home chores.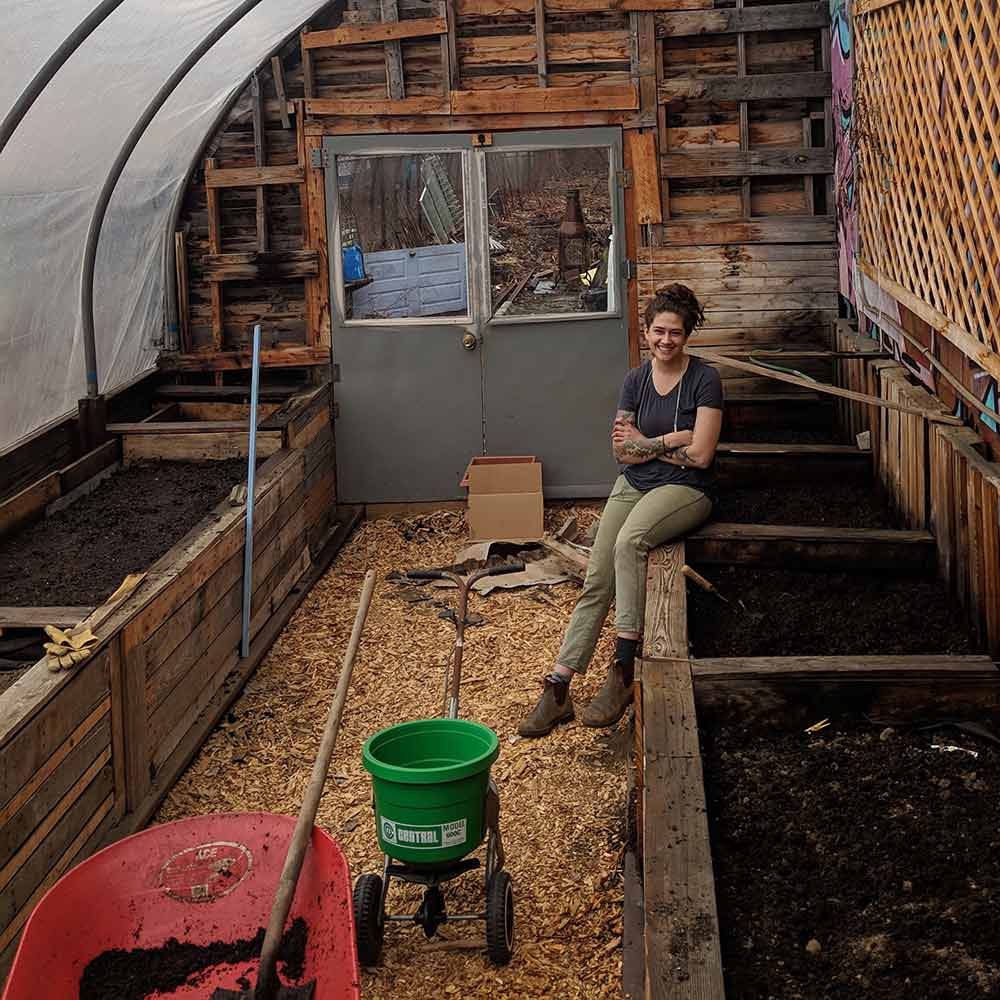 In the Middle Ages people used hundreds of herbs for flavoring, bitterness and as preservatives to make their gruit, the popular beer-like drink before the protracted use of hops for flavoring and preserving. Mugwort and yarrow, among other plants, also are preservatives. Plants we see in our lives that were used then and now by foragers include Sumac, Chamomile, Lemongrass, Bee Balm, Spruce, Lavender, a variety of flowers, and wild hops.
These botanicals are used not only by brewers in rural areas and also in urban settings from coast to coast, from the West Coast in Los Angeles to the East Coast of Durham, North Carolina, and from the far South of Austin, Texas, to the far North of Rochester, Minnesota. Why do these urban brewers forage when Borderlands Brewing in Tucson, Arizona, and Desert Edge Brewing in Salt Lake City report that they have abandoned foraging because "It's too labor intensive."
Durham's Fullsteam Brewing's Chief Executive Optimist Sean Wilson notes "Beer is agriculture." He also reflects that "Our mission is to connect to the land and the community."
"Our mission is to connect to the land and the community." Sean Lilly Wilson, Fullsteam Brewing
Bob Kunz started Highland Park Brewing in Los Angeles, the second most populous city in the country. He is "Driven by curiosity. I'm a tactile person and fascinated by plants. It's so interesting to add flavors. I'm excited by where we live."
Perhaps the best answer is from Jeff Zeitler, the co-founder of Minneapolis' Urban Forage Winery and Cider House who relates that "There's lots of stuff out there. Using it is more work than buying it but I really enjoy going out and picking." He clearly is not alone.
Austin Jevne, the head brewer and co-founder of Forager Brewery in Rochester, Minnesota, echoes the feelings of several brewers that "Being outside for me is at a spiritual level."
(Related: Small Brewers Recreate Beer Recipes Lost to Time)
Eric Steen is founder of the Beers Made By Walking organization in Portland, Oregon, which invites homebrewers and professionals to make beer inspired by nature hikes and urban walks.  Steen says "Each beer is a portrait of that landscape and a learning experience about nature and the local environment." On a canoe trip in Yukon Territory the guide mentioned "I wonder what that would taste like in beer." The "Aha!" bright light came on for Steen, an avid homebrewer, and has dramatically changed his life. Steen says that conducting his foraging walks since 2011 is "…my labor of love."
Foraging in urban areas for brewing is not only alive and well but thriving. For instance Eli Cayer, the owner and fermenter of Portland, Maine's Urban Farm Fermentory, is considering franchising his concept and has had inquiries from Minnesota, Texas, Illinois and North Carolina, among other states. His Fermentory, a term he coined melding fermenting and factory, puts foraged ingredients into its beers, meads, ciders, and gruits.
Urban Foraging Through a Diverse Network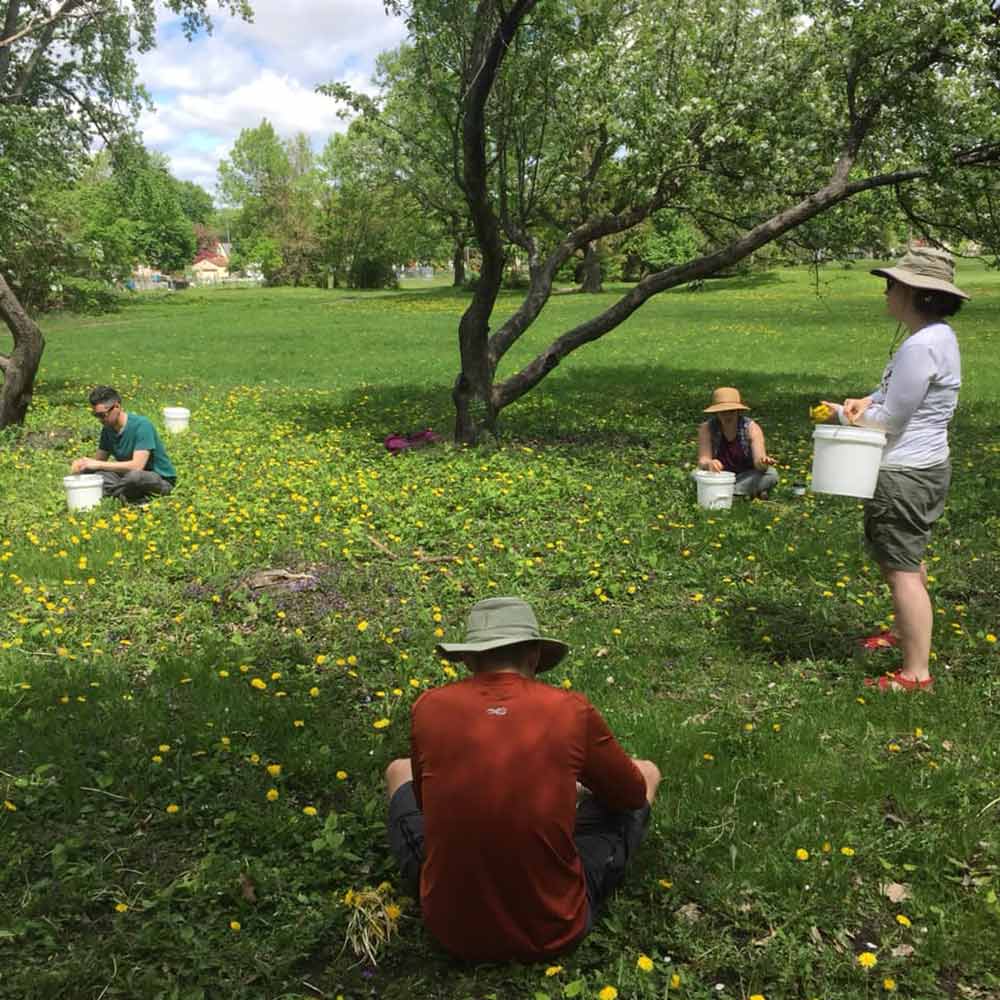 Urban foraging often is not a one-person activity but a diverse interactive network which can include foragers themselves, brewery staff, private foragers, protectors of parks and gardens, the local community, and even farmers.
Somewhat surprising, foraging in people's yards and lawns is not only permitted by the owners but frequently welcomed. Many homes have trees and plants that produce so abundantly that they become a nuisance, dropping their largesse on lawns, yards, cars, and sidewalks while making messes and attracting nature's unwanted foragers and biters. The enthusiastic homeowners are separately described by several brewers as being "Thrilled!" with the help.
(More: Southwest Florida's Beer Scene is as Sunny as its Forecast)
When Highland Park's Kunz was foraging near the brewery he spotted a Meyer lemon tree in the yard of a home with a branch overhanging the sidewalk weighed down by juicy lemons. While plucking the pair of fruits the eyeful homeowner called out "You need more? Please take." The yard held a variety of citrus trees and the homeowner helped Kunz fill several bags. Kunz notes that "It's amazing in Los Angeles how much citrus goes to waste."
Forager Brewing's Jevne relates a similar experience about a woman with black raspberries who was so tired of them falling in her yard that she yelled "Take what you want." Zeitler says that in his neighborhood "People can't wait to get rid of fruits."
Jevne finds that spent flowers are often available including irises, lilacs and roses. It seems that owners adore their beautiful flowers until they lose their luster and then the homeowners too are happy to be rid of them. He has made a lovely strawberry/iris beer from such bounty. The list of foraged ingredients brewers are using includes: persimmons which turn from bitter to luscious after the first frost, several basil varieties whose flavors evolve throughout the season, rhubarb, the first culinary use for Osage Orange, hood cherries which can be found by following the birds after the cherries ripen, black limes that are more intense than standard limes, pine needles which taste like orange citrus in the winter, Paw Paw that are the largest edible fruit in our country, and homegrown and wild hops. Brewers have even brewed with sticks and stones (but probably not broken bones).
Seasons for Foraging for Beer Ingredients
As Pete Seeger wrote in the song "Turn! Turn! Turn!": "To every thing (turn, turn, turn) there is a season  (turn, turn, turn) and a time to every purpose under heaven."
For foragers there's a basic rhythm for plants and even flavor changes in some plants flavors over time and as the growing season evolves. The growing season varies, depending on where you live, from May through November in Minneapolis, about nine months in New York, and most of the year in Los Angeles.
(More: Seek the Independent Craft Brewer Seal)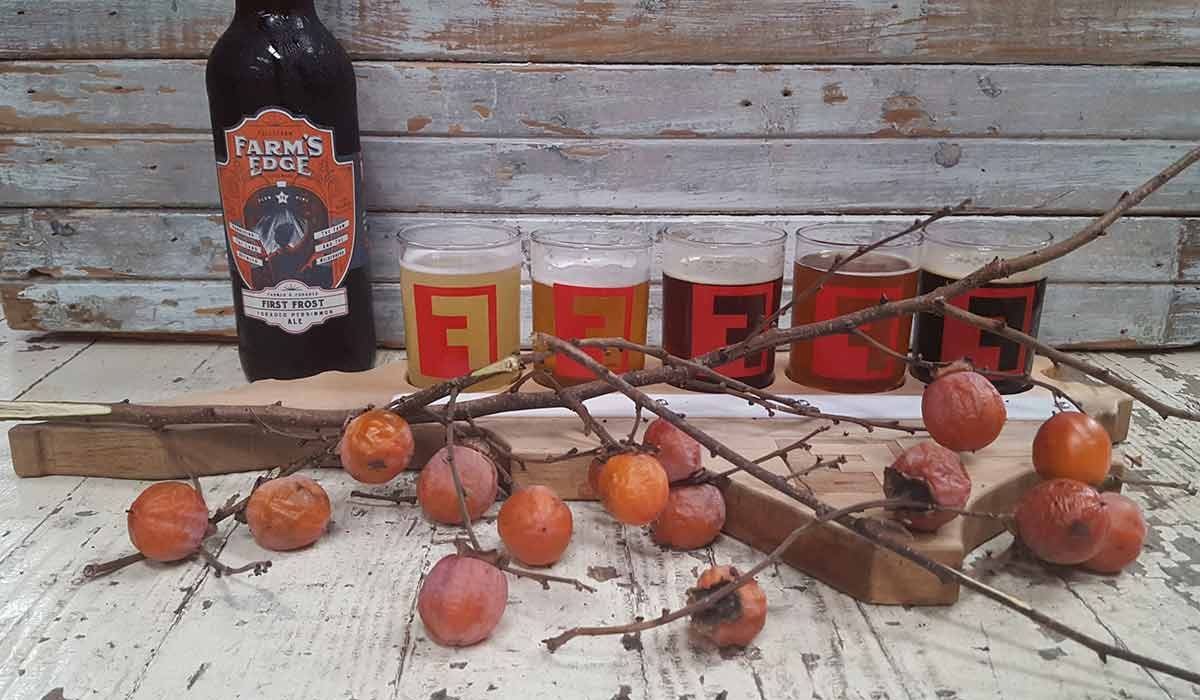 Cayer forages whatever is available but his timeline starts with sap running and moves to lilacs, dandelions, rose petals, and then fruits. In the spring and fall he gathers various roots. For Zeitler the growing season starts in May with dandelions, segues to several varieties of tart cherries in June, apricots and plums in the summer and apples and pears starting in August. He describes it as "the rhythm of produce."
Along with the evolving seasons comes usual or unusual weather and that raises the issue of predictability. Jevne reports that "I've had good blackberries seasons where rain caused a fungus which killed them. On the other hand I've had three years with no wild plums and then there were tons."  He adds "You've got to go with the flow. It's in Mother Nature's hand."
Fullsteam's Wilson has a similar experience noting that "Some years there is not a persimmon harvest," which really crimps making his award-winning persimmon winter warmer called First Frost. His approach comes from experience: "I've been at it for nine years. You know what ingredients you want, the seasons, and where to go. There are limits to being spontaneous."
Highland Park's Kunz, on the other hand, enjoys the challenge and says "Unpredictability is part of the fun."
Favorite Places for Urban Foragers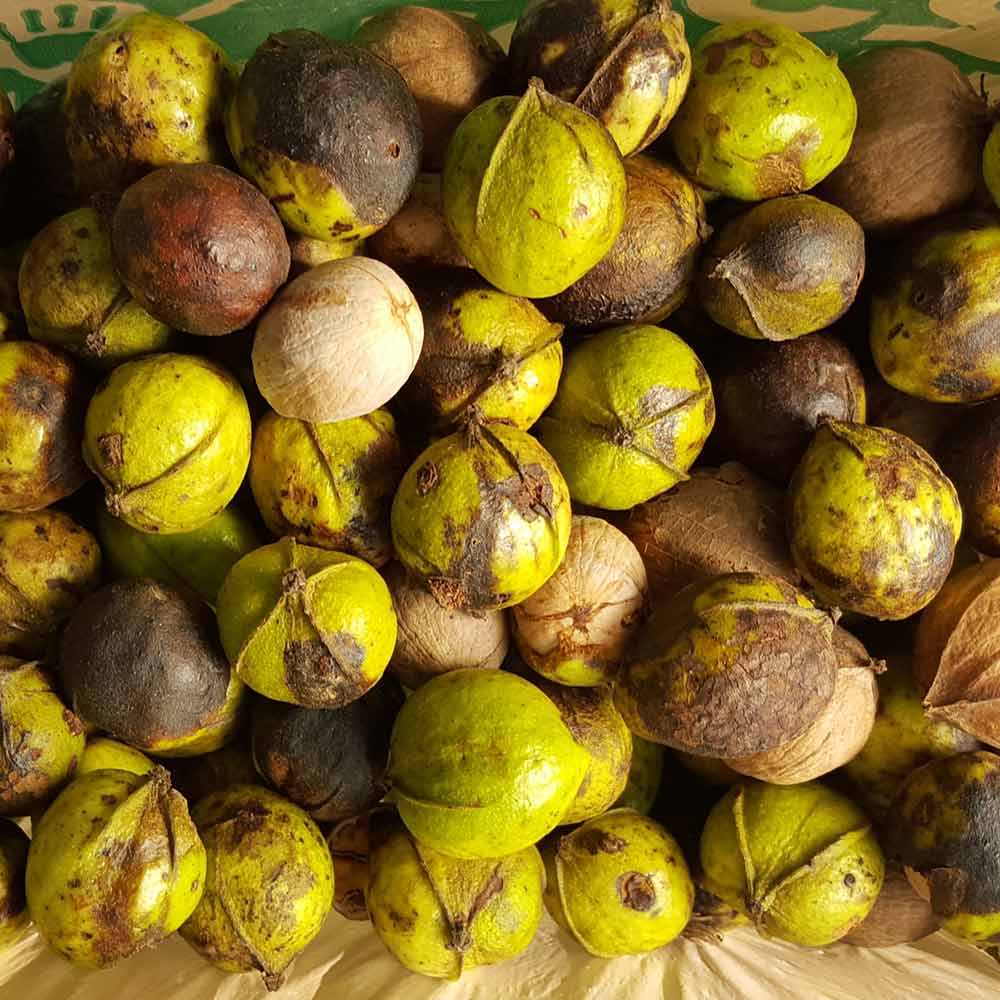 Where Wilson forages depends on the ingredients and the season. Wilson says some foraging is in the neighborhood and the furthest he ventures is only 20 minutes away. The mostly balmy Los Angeles weather helps Kunz of course, but he also is happy brewing just with leaves from the lemon gum tree, mugwort, and camphor tree, many of which he finds in his neighborhood. Among the Hollyleaf Cherry bush planted along the roads to stop erosion he finds their sweet cherries.
Zeitler forages in concentric circles around his downtown Minneapolis dispensary. His first circle is in the neighborhood in South Minneapolis, then the rest of Minneapolis, then St. Paul, then suburbs and then towns nearby. He finds most of his stash within 1.5 miles and then three to four miles from the brewery.
(More: Tales from an Old Army Fort: Oozlefinch Brewing)
The community is another good source. Zeitler reaches out to them using emails, Facebook, Instagram, and neighborhood networks. Anything to cast the net for ingredients and involve the neighborhood. Scandinavian immigrants planted a great deal of rhubarb at their Minneapolis homes and subsequent owners have much less need for the virtual cornucopia of rhubarb.
Jevne found the same thing in Rochester, Minnesota, and made a fine rhubarb pear beer which he reports was like eating a cobbler. A side benefit of the fruits of the community's efforts (sorry about the pun but we could not resist) the neighborhood folks are very proud of their contributions and they come to the brewery bringing their friends and telling them "The beer is made from ingredients from my back yard."
Cayer has taken this involvement one step further and does crop mobbing five to six times a year. He conducts a workshop class about the featured plant by sending out emails. "I only do it for easy, safe things like dandelions. Each of the five to 20 participants become a sales force as well as better educated about the plant world."
The participants all get a glass of the beverage when it becomes available in a week or two.
(Related: Gruit Ales: Beer Before Hops)
Community and social media foraging participants are remunerated in a variety of ways. Beer often works. One brewery gives beer or a gift card at their restaurant. Another offers growler fills. Several have transitioned from beer to "the great equalizer, cold hard cash," paying the market rate for sought ingredients.
Brewers also work with organizations like the Triangle Land Conservancy where Wilson picks the sweet/tart berries of the Autumn Olive shrub, an invasive plant that removing helps the Conservancy maintain the facility. Andrew Holzhauer, the director of operations for Madison, Wisconsin's Funk Factory Guezeria relates that they obtain Osage Oranges from the horticulturist at the University of Wisconsin's Longenecker Horticultural Gardens, a mile away from the brewery. This strange fruit normally is used for hedges or strong wood, but the Guezeria finds it to be "very floral, slightly citric and Jasmine-like."  The brewery's award-winning Arboretum Osage Orange beer is a sour meerts, a style of lambic beer made from the second runnings of a lambic mash.
In his immediate neighborhood in Portland, Maine, Cayer has found a peach orchard where he was able to get 400 pounds of peaches last year.
(More: Educational Resources)
Farmers are another useful source. Jevne reports that apple maggots burrow into some of the local apples, but when the maggots turn to flies they leave unsightly apples which are unsalable for retail but the farmer sells them to the brewery, a win-win situation for both. Another farmer was "happy to give surplus produce for a beer trade but only if they brought a case of Budweiser." Jevne was flexible and the trade was consummated.
Wilson has worked with a sweet potato farmer whose potatoes typically are partly mis-sorted in the field. Those sweet potatoes, which otherwise would become hog feed, are pureed and become the foundation for Fullsteam Sweet Potato Lager, another win-win event.
The Art of Foraging
Experienced foragers provide some guidance for people wishing to undertake a first foraging adventure. The primary suggestion is to first learn as much as you can by reading, taking classes, and/or going with a forager or environmental group. A popular book is Stan Hieronymus' "Brewing Local" which has sections on foraging for beer and yeast, and other chapters detailing characteristics of grains, trees, plants, roots, mushrooms and chiles plus over 40 recipes from breweries. Another is Scratch Brewing's "The Homebrewer's Almanac: A Seasonal Guide to Making Your Own Beer from Scratch."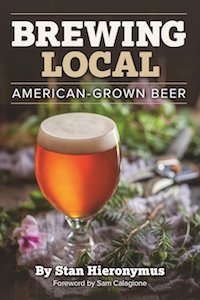 Steen learned by going out with foragers and biologists and his Beer Made By Walking now offers the same for others. Highland Park Brewing's Kunz went with Los Angeles' foraging expert Pascal Baudar. In New York City there are "Wildman" Steve Brill and others. Yes, foraging can be done in the wilds of New York City's Central Park and Prospect Park.
Some homebrewers clubs have taken advantage of foragers like Hieronymus, Steen and Baudar to sponsor programs for learning more about their local world and then conducting tastings and creative foraging competitions within the club.
In foraging remember that safety is paramount. There are toxins in some plants. Jester King's Jeff Stuffings warns that "Some plants even have both an edible and also a toxic component." Foragers have to know and be careful. Mushrooms and carrots are to be particularly avoided by the neophyte.
Cayer succinctly puts the advice of others in "We have to be thoughtful. Do not take all of anything. Pick what is ripe and ready to drop. Creatures need these things too. Some mushrooms take years to grow. Harvest to protect the plants and animals for the future."
"It's great fun and a wonderful way to get outside." Eli Cayer, Urban Farm Fermentory
Stuffings also advises that there is an ethical picking hierarchy whenever possible: first is invasive plants and second is native plants.
Frequent foragers warn to always ask permission if you are in the city or country, in somebody's yard, farm or in parks. If nobody is home Zeitler leaves a half page colorful flyer and usually gets an email reply that day or the next. He knows that "if you don't ask permission in these days of social media your reputation goes quickly."
A few other recommendations from the brewers: Holzhauer reminds everyone "Don't limit what you are comfortable with." Kunz suggests "Don't be afraid. Curiosity is a good thing. Innovate.  You can pull a leaf, break a twig." All echo Cayer who opines "It's great fun and a wonderful way to get outside."
CraftBeer.com is fully dedicated to small and independent U.S. breweries. We are published by the Brewers Association, the not-for-profit trade group dedicated to promoting and protecting America's small and independent craft brewers. Stories and opinions shared on CraftBeer.com do not imply endorsement by or positions taken by the Brewers Association or its members.