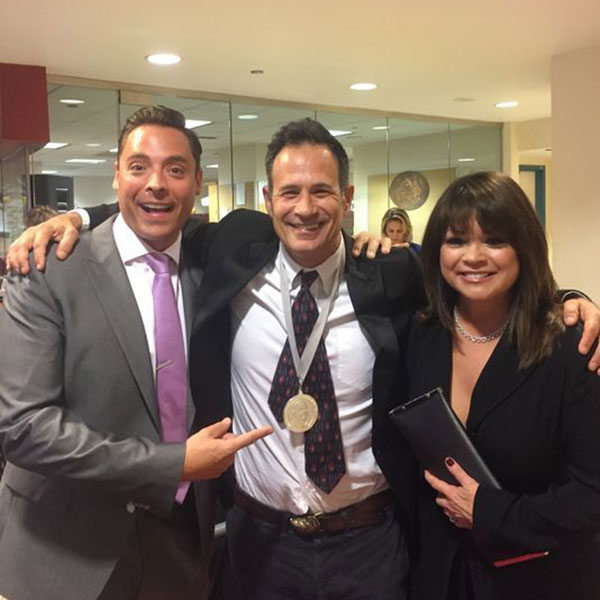 Sam Calagione of Dogfish Head Craft Brewing is Now a James Beard Award Winner
Sam Calagione, founder and CEO of Dogfish Head Craft Brewing, has done a lot of things in his career in craft beer — and now he can add another accolade: James Beard Award winner.
The annual James Beard Award ceremony was held Monday, May 1, in Manhattan. Calagione took top honors as the Outstanding Wine, Spirits or Beer Professional of the Year.
(MORE: Major National Recognition for the Owners of Maui Brewing)
"It's a tremendous honor to receive this nod from our peers as we celebrate our 22nd year in business at Dogfish Head," Calagione said in a blog post on the brewery's website. "We're also humbled and excited that James Beard recognized our innovative, culinary-inspired bar program as it combines our love for our two favorite maritime regions into one delicious restaurant concept."
He had been nominated in the category seven consecutive years.
Dogfish Head ranks 14th on the Brewers Association's list of Top 50 U.S. Craft Brewers in terms of volume. Calagione and his wife and business partner, Mariah, originally founded the Milton, Delaware, brewery in 1995. The business has grown to include a brewpub, the Dogfish Inn, a distillery and the new Chesapeake & Main, a seafood restaurant in Rehoboth Beach.
"I celebrate this award with my wife and business partner, Mariah, and our 200-plus co-workers who work hard to make our off-centered company tick," Calagione said.
The James Beard Foundation's mission is to celebrate and honor culinary culture in America. Over the last 15 years, the foundation has embraced the work of small and independent craft brewers as part of that culinary culture. Fritz Maytag III won two James Beard Awards for his leadership at San Francisco's Anchor Brewing Co. (2003 and 2008) and Garrett Oliver, Brewmaster at Brooklyn Brewery won the James Beard Award for Outstanding Wine, Beer or Spirits Professional in 2014. In April, the Brewers Association's Executive Chef (and contributor to CraftBeer.com), Adam Dulye, was among craft beer industry professionals who participated in a National Beer Day dinner at the James Beard House in New York City.
CraftBeer.com is fully dedicated to small and independent U.S. breweries. We are published by the Brewers Association, the not-for-profit trade group dedicated to promoting and protecting America's small and independent craft brewers. Stories and opinions shared on CraftBeer.com do not imply endorsement by or positions taken by the Brewers Association or its members.