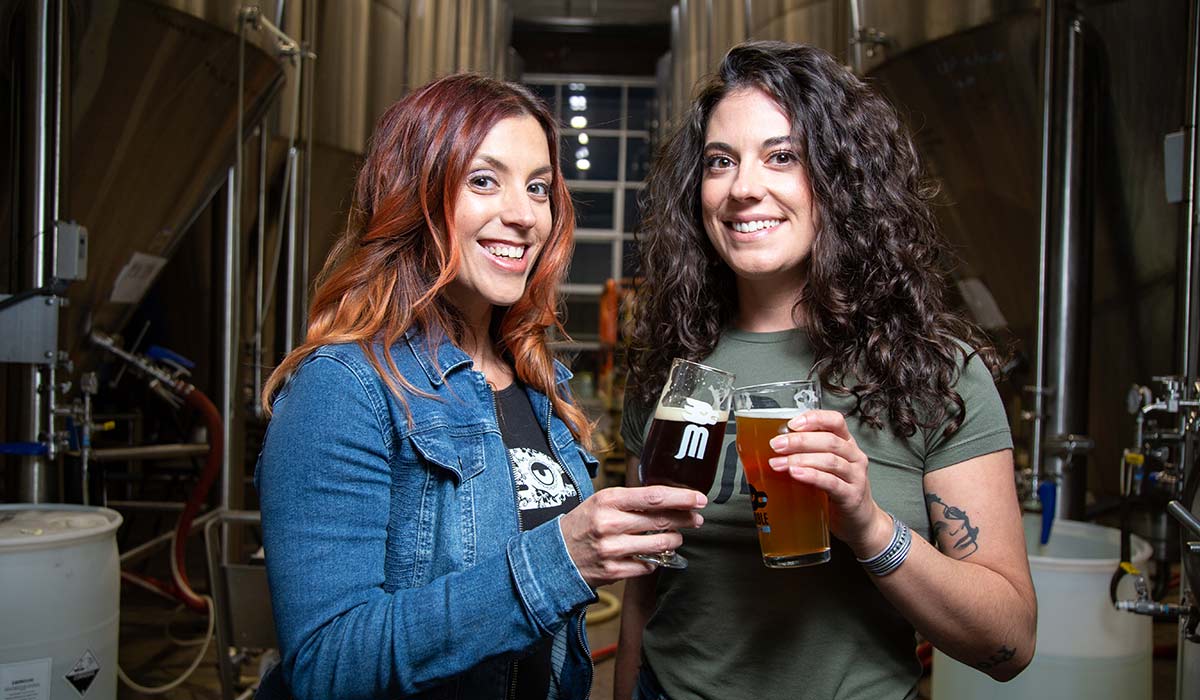 A Bond Built on Creativity at Marble Brewery
To the average beer lover, Marble Brewery events seem to just happen. When this brewery hosts a street party, the splendor of community and delicious beer is front and center. The place gets packed with locals ready to have a good time. As live bands jam out on the patio, hundreds of beer lovers gather to connect and imbibe.
Barbie Gonzales and Geraldine Lucero can assure you a lot goes into making the events seem effortless. Gonzales and Lucero are key players on Marble's team and they absolutely love it. These two women have their eyes on the future successes of the brewery and they are cultivating a team that is grounded in community-based values.
(MORE: The Precarious Future of Wild Hops of the American West)
Call Her 'Mama Marble'
For Gonzales, it all started six years ago when she was looking in a new direction for her career. She was contemplating returning to school when she got a position at Marble Brewery as a bartender. After a few weeks of working there, she was hooked.
"I realized that this culture, craft beer, Marble, there's so much potential behind it and I really wanted the opportunity to grow and learn within this company," Gonzales said in a one-on-one interview.
(RELATED: Meet You Upstairs: Great Brewery Rooftops)
Gonzales vocalized her ambitions to Marble's leadership and saw that Marble could really take the brewery scene in New Mexico to a whole new level. Now, she is the director of taproom operations and is responsible for everything that doesn't involve brewing or distributing the beer.
"From a basic level, I'm definitely managing all three locations, building those teams, setting and implementing policies and procedures," Gonzales said. "But beyond that too, I am managing the marketing department, the merchandise department and social media."
Since her role encompasses such a wide scope of management and coordination, Gonzales has earned the nickname "Mama-Marble."
A Bond Built on Comradery and Creativity
Lucero, Marble's onsite event coordinator, got started at the brewery as a bartender as well. She and Gonzales quickly bonded and built a comradery based on creative ambition.
"She knew that I wanted to do more with the craft beer industry and that I wanted to get out from behind the bar and just kind of express myself and help the company wherever I could," Lucero said.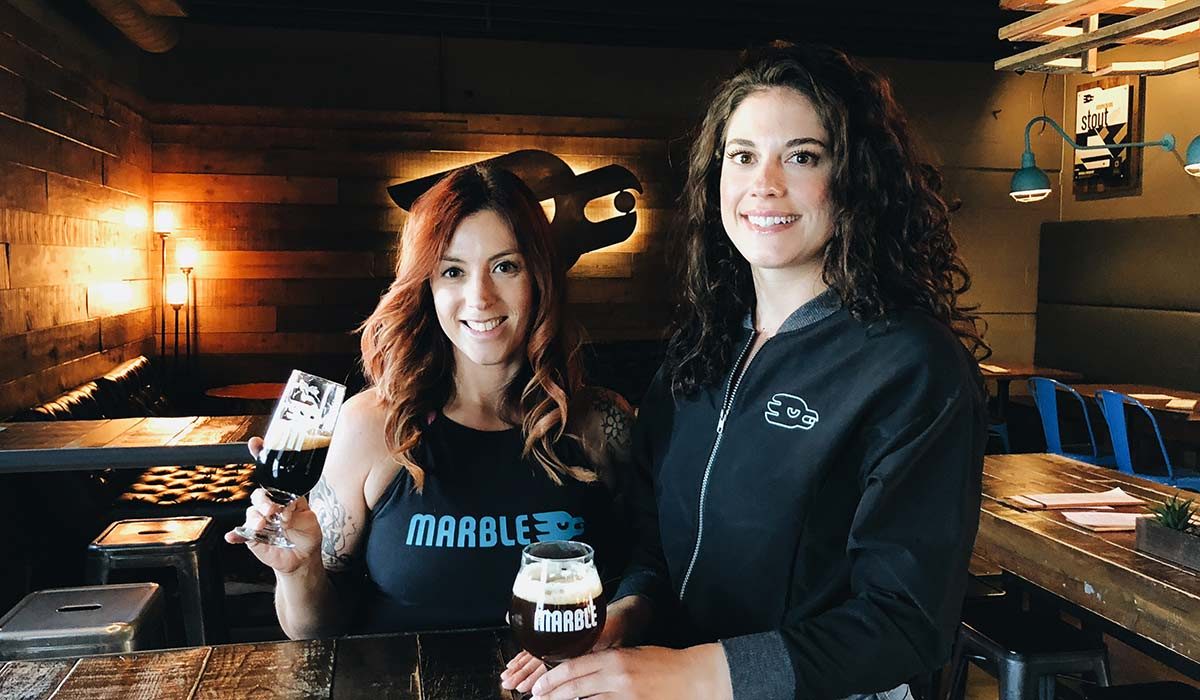 (MORE: Epic Route 66 Craft Brewery Road Trip)
Lucero eventually held a marketing position and said that, with Gonzales' mentorship, she was able to grow and be confident in her new role as event coordinator. Lucero is responsible for planning and executing events at all three Marble locations. She also specializes in food and beer pairings.
"We do pop-up dinners in the fermentation hall, and complimentary food pairings with new beer releases. I help coordinate that with local chefs," Lucero said. "I schedule food trucks for all the locations and I handle donations for the community too."
Both Gonzales and Lucero attribute their success within the independent craft brewery to the strength of the entire Marble team. By building a team with creative freedom in mind, Marble has set the standard for how to treat team members from the bottom up.
(RELATED: A Beer Lover's Guide to Albuquerque's Wells Park Breweries)
"We work very close together. And, in working close together, it's allowing people to flex their muscles and allowing the different departments to have ideas and then execute those ideas the way they want to," Gonzales said. "I think that's what makes where we work very special."
"There are a lot of men that 'dominate' this industry (by numbers)," Lucero said. "But I feel empowered in my position and empowered by the women around me so, I don't feel intimidated at all by it."
Gonzales agrees. She said no position at Marble is more important than another. The team thrives off knowing they have a strong support system at work.
"We have so many beautiful, strong women and men that work at Marble. They're intelligent. They're creative." Gonzales said.
Engaging and Educating Albuquerque's Beer Community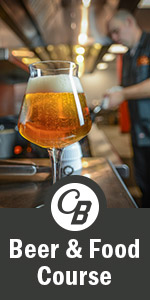 Another facet to Marble's success is strong community engagement. The success of most breweries isn't only dependent on perfectly brewed beer, but also the brewery's ability to educate their consumer base. When the public understands the brewing processes and how different beers taste, that knowledge naturally spreads throughout the community. Ted Rice, president and master brewer at Marble, agrees with this sentiment
(VISIT: Find a U.S. Brewery Near You)
"It's one of the ways we can all grow," Rice said. "Education, for me, is really important for sustaining our clientele's entertainment and bringing in new customers."
With three consistently-busy locations and a strong canning and distribution system, Marble Brewery is attracting Albuquerque's beer lovers. But there's more to the success of this business. Lucero said the constant drive to keep asking '"What's next?" is what keeps Marble humming.
"We're always thinking what's different? What's fresh? What's new?" Lucero said.
The team at Marble also looks to other, more established, out-of-state breweries to see what's working for them. With Colorado to the north, there are plenty of examples. For Marble Brewery, part of innovation is being able to recognize what is working and what will transcend the business.
"We want to see how they (other breweries) are able to be different and still be successful," Lucero said. "We look up to them a little bit. But I feel like in New Mexico, Marble is that brewery."
CraftBeer.com is fully dedicated to small and independent U.S. breweries. We are published by the Brewers Association, the not-for-profit trade group dedicated to promoting and protecting America's small and independent craft brewers. Stories and opinions shared on CraftBeer.com do not imply endorsement by or positions taken by the Brewers Association or its members.