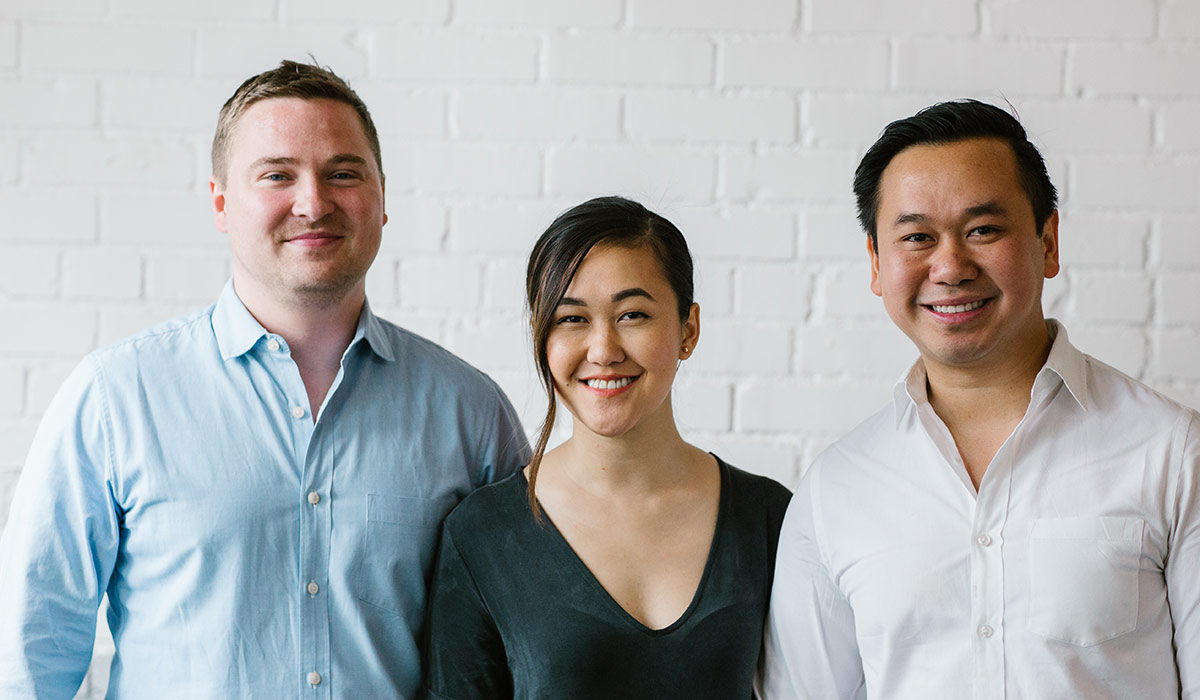 Cultivating Community with Brewery Bhavana
Vansana Nolintha gets a little choked up when he talks about his deep belief in the power of hospitality.
"We talk a lot about hospitality and what it means to meet people where they are," says Vansana. "I think really welcoming them as if we are hosting a gathering. The way growing up in Laos there were always travelers coming through the house and there was good food on the table — I think it really gets back to that basic idea of why we host. The possibility of empathy when we really host and share. All of that is only possible because there's an invitation."
And that kind of hospitality is central to Brewery Bhavana, which he co-founded in early 2017 in Raleigh, North Carolina, with his sister, Vanvisa, and close friend Patrick Woodson.
"I think I'm getting way too emotional," he says with a chuckle.
(READ: This Brewery Will Serve You a Tarantula Burger — But Only If You're Lucky)
Brewery Bhavana is such an unexpected amalgam of ideas that it seems impossible it could work as a business until you've met the people behind it. Bhavana is a Belgian-style focused brewery, a dim sum restaurant, a fresh flower boutique and a bookstore.
A Community Living Room
More than anything else, though, it's a community living room. It's a space where Vansana and his team show uncommon warmth to locals and travelers alike.
"We believe in our offerings. We believe in Patrick's beer. It's really emotional and personal and important to why we do what we do," Vansana explains. "Our dim sums are made with so much love, and they carry stories. That is the backbone of why we believe in this experience."
Vansana and Vanvisa also run Bida Manda, a Laotian restaurant next door to Bhavana.
When Patrick Woodson and his wife, Aubrey, returned to Raleigh in 2013 after two years overseas in the Peace Corps ("We call it our two-year honeymoon without power and water," he jokes), they didn't expect to find an authentic Laotian restaurant in this southern city. They made a point to visit.
(TRAVEL: Plan Your Next Beercation)
Their last stop on their travels had been in Luang Prabang, the Laotian town where the Nolinthas had grown up. After meeting and sharing stories that first evening at Bida Manda, a friendship developed. Soon the daydreams about starting a brewery and restaurant together became a reality.
Unexpected Beer and Food Pairings
Dim sum might not be the first food you think of when you think of beer and food pairings, but the small bites and comforting flavors are a natural expression of Bhavana's welcoming spirit. The dumplings originated in China's history, along the Silk Road, an ancient network of trade routes. As travelers and merchants would pass through small towns, residents would prepare welcoming snacks. Eventually this cuisine spread to bordering Laos.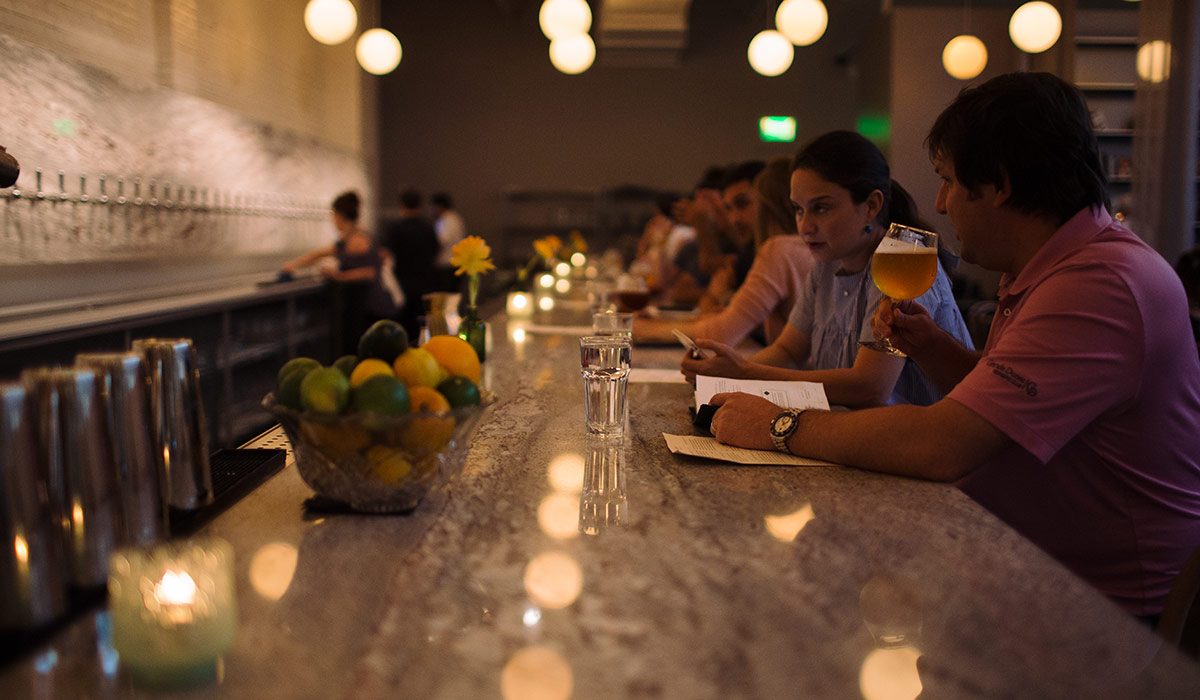 "Dim sum surfaces randomly because of people traveling and moving," explains Vansana. "When we were thinking about the menu at Bhavana, we realized we needed to make sure the food component is as sacred and special to me as beer is to Patrick."
"We felt it was important that everything we offer here was a true expression of who we are as people. Dim sum represents a moment in time where people for a lot of reasons happened to coexist in one place. That's exactly where Raleigh is right now," he says.
(VISIT: Find a U.S. Brewery)
"That's where creativity and empathy and relationships blossom, even though we are so different. If we are really attempting to make Bhavana a living room for this community, that invitation is important," Vansana adds.
Brewery Bhavana's Careful Cultivation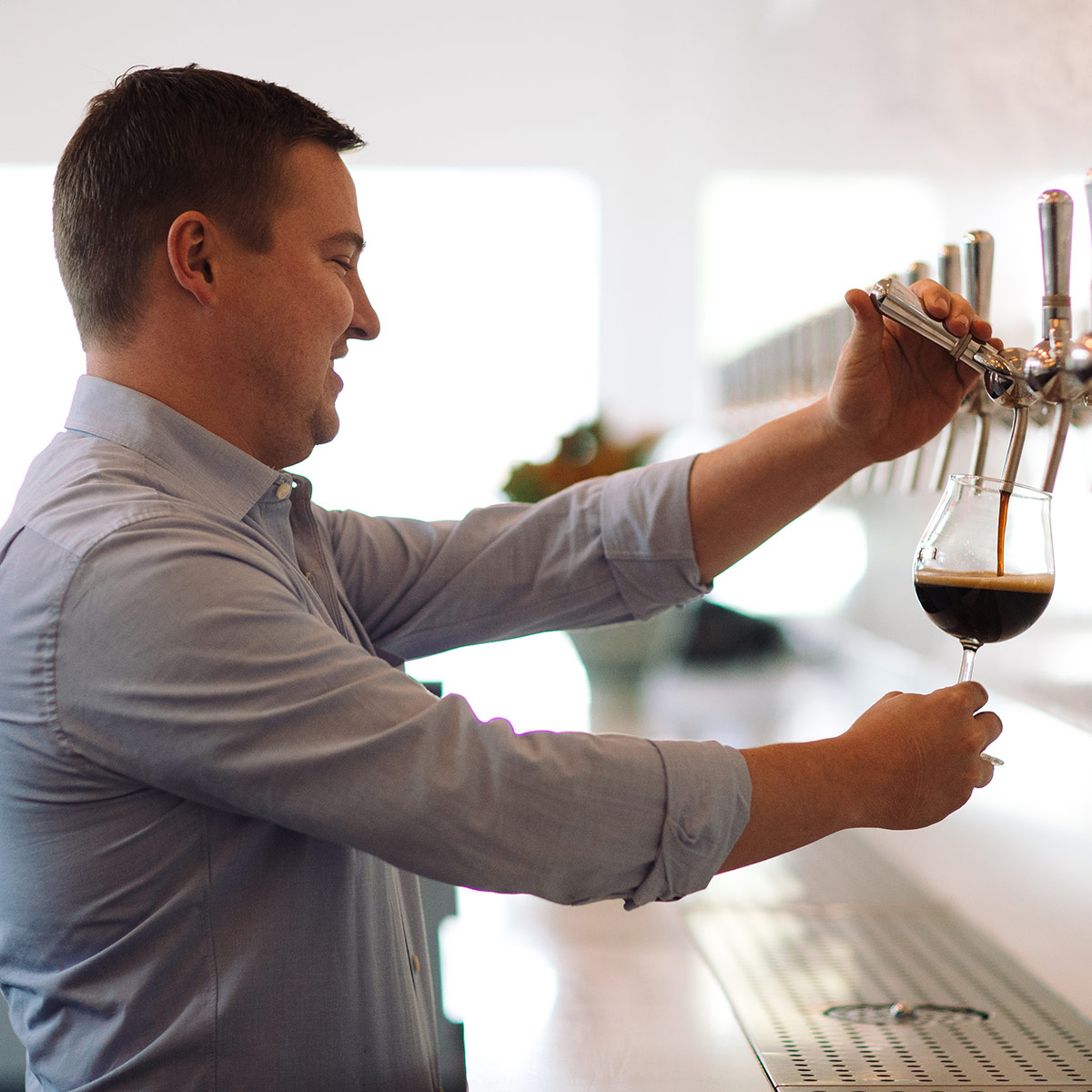 Dim sum is characterized by delicate subtlety, a quality echoed in the nuance of Bhavana's beers. The brewery produces the full roster of Belgian-style beers, an array of farmhouse beers that often incorporate botanical ingredients, a few sours, and new wave craft favorites like double IPA. Every beer displays a restraint and a reverence for craft belying the brewery's age.
Patrick Woodson's beers live at the intersection of tradition and innovation.
Each beer bears an agricultural name — Till, Sow, Bloom. The patience it takes to bring life out of the soil — Bhavana is Sanskrit for "cultivating" — is evoked in the complex flavors Woodson and his team coax from their tanks, barrels and foeders.
Brewery Bhavana has the largest independent cooperage in North Carolina, featuring 170 wine barrels, 40 bourbon barrels, and four large foeders at the brewery's production facility about a mile from the restaurant.
"Wide Gamut of Options"
Bhavana's large downtown "living room" is gently divided into three sections: a chic but inviting bar with a marble backsplash and sleek chrome tap handles, a sun-dappled space for the bookshop and flower boutique and a bustling but comfortable dining room with tarnished brass tables and low lighting.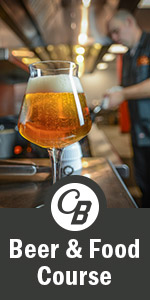 When my wife and I dined with friends one evening, our server took the time to walk us through the somewhat intimidating dim sum menu. The small bites are ordered like sushi rolls, with the intent to share. Their delicate textures and flavors wed perfectly with Woodson's multi-faceted beers.
"We try to focus on balance and nuance," explains Woodson, who holds a degree in fermentation science from Purdue University. "When we talk about a lot of the options we have with dim sum, not a lot of them are aggressively spiced. It's about the hand of the maker in creating the same beautiful thing every day. We don't push to say, 'This beer goes with this dish.' We want to have a wide gamut of options."
The Bhavana team has created something rare and enticing in this space — the chance to connect with others instead of merely brushing shoulders in close quarters as in so many taprooms.
"We get asked a lot about why this concept happened, but there never was a concept," Vansana says as he tries to explain what Bhavana means to him and the people he works with. "It was about responding to relationships and the things we loved."
CraftBeer.com is fully dedicated to small and independent U.S. breweries. We are published by the Brewers Association, the not-for-profit trade group dedicated to promoting and protecting America's small and independent craft brewers. Stories and opinions shared on CraftBeer.com do not imply endorsement by or positions taken by the Brewers Association or its members.