On the night of July 10, 2014, lightning struck a 19th century barn on the rural Conrad homestead near Minerva, Ohio, and burned the historic structure to the ground. Andy and Amanda Conrad were the fifth generation of Andy's family to live on the farm (their daughter is now the sixth), and they had planned to open a craft brewery in the barn. In fact, they'd received building approval just days earlier.
[newsletter_signup_box]
After the fire trucks left, Amanda and her mother-in-law spent all night putting the remaining flames out with a garden hose and dragging salvageable barn wood from the ruins.
"Coming home from work every day and seeing a big pile of rubble was so heartbreaking," says Amanda. "We forgot about the brewery for a while."
It took a few years longer than planned, but the Conrads eventually opened Sandy Springs Brewing Co. in a storied building in the small town of Minerva in November 2017.
(More: Jobs, Stable Growth Headline 2018 Craft Beer Growth Report)
Salvaged barn wood, much of it scorched from the fire, decorates the taproom. It's become the gathering place for this rural town.
The Brewers Quarters at Sandy Springs Brewing
Not everyone who steps inside Sandy Springs Brewing is from the area, however, and Andy and Amanda want to make their space inviting for travelers. So they started a hotel, and it's right upstairs.
The Brewers Quarters is a studio-style hotel room listed on Airbnb. The "BQ" features exposed brick and warm wood surfaces, much like the taproom. Visitors get a full growler of any Sandy Springs beer installed on a kegerator in the room when they check in (after showing a valid ID, of course).
The Conrads, along with business partners Ross and Renae Blair, purchased and restored the upper floor of a building adjacent to their taproom so visitors could enjoy an evening of drinking beer in the taproom without worrying about the ride home.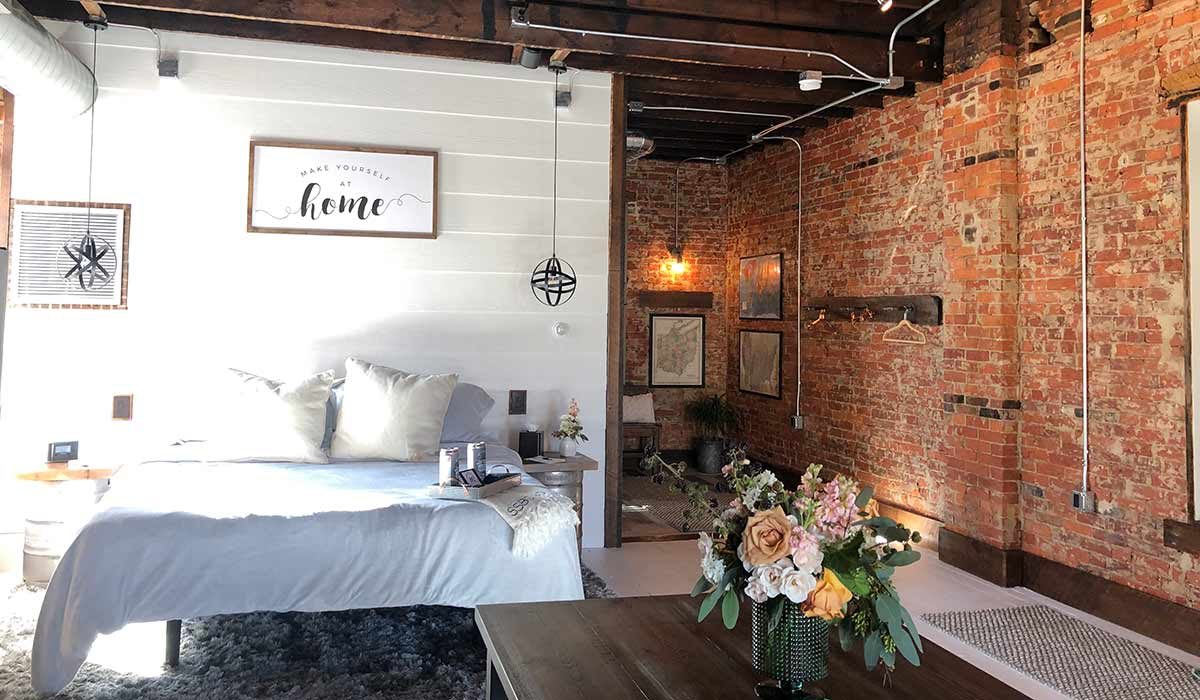 (More: New York Farm Breweries are About Local Agriculture, Not Location)
The idea came to Andy and Amanda while they were traveling around the West in their RV after graduating college. The pair headed west to look for work in a dilapidated 1998 Chateau motorhome they'd bought purchased cheap.
"We were poor like all college students," jokes Amanda. "We got a flat tire that first night. The side panel ripped off while we were driving down the highway."
Still, Amanda says they wouldn't do anything differently about the three years they spent on the road.
"We went to any small town and brewery along the way. We loved how those breweries revitalized those towns," she recalls. "A lot of the places we went out west we never had to worry about drinking and driving. At Rogue in Oregon, the campground is by their parking lot."
Gummy Worm Pale Ale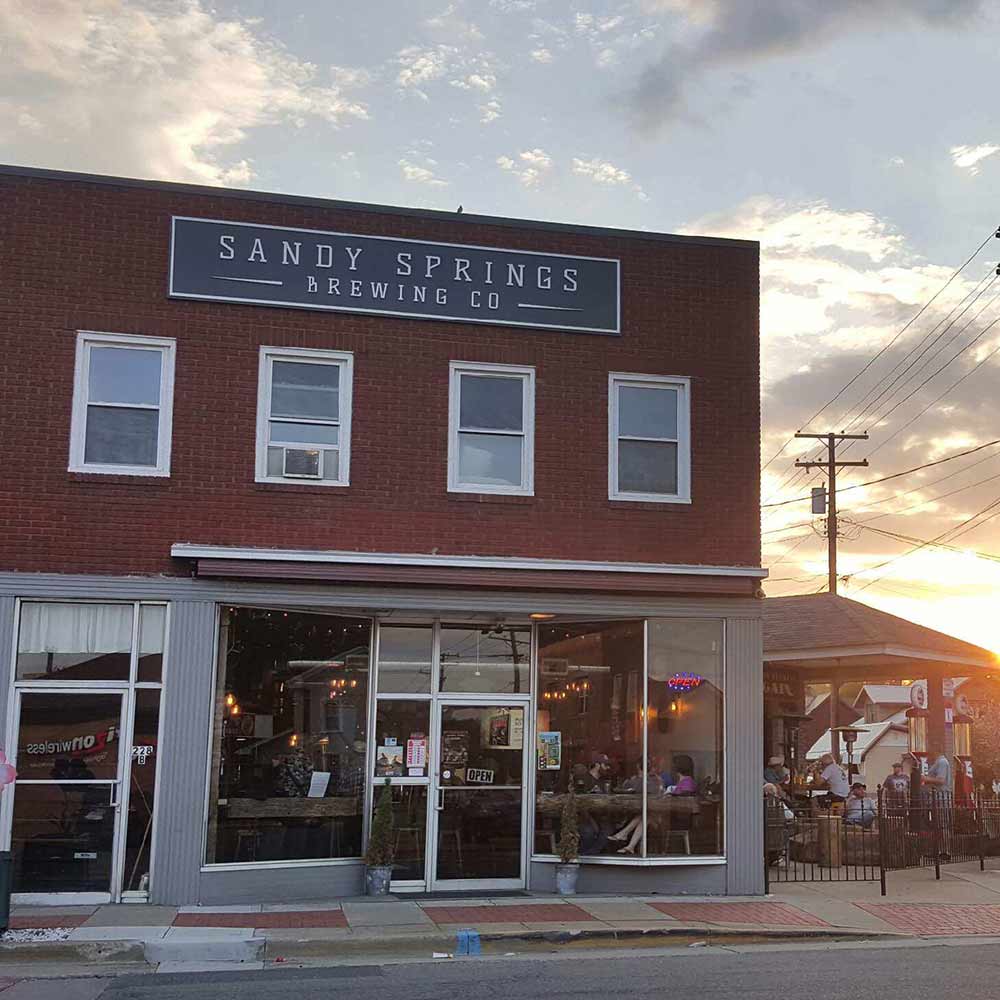 The Conrads brew on a 5-barrel system inside a building that once housed Minerva's first gas station. No theme organizes the brewery's beer offerings, which range from the regionally popular cream ale style to imperial stouts, IPAs, Belgian blondes, German-style lagers and more. The taproom seats around 50 people.
(Map: Find a Brewery Near Me)
A small kitchen provides an eclectic list of sandwiches, flatbreads, and other light dishes, and 16 house beers are kept on draft. The bar also has an infusion tower, with a different beer and flavor addition weekly, like chili peppers or fresh roasted coffee. They even take customer requests.
"When we ran our pale ale through gummy worms, we had a line out the door," laughs Amanda.
The top seller is Lost Gold, an easy-drinking pre-Prohibition cream ale named after a local legend of treasure buried by retreating French troops in the 18th century.
"It goes back to younger days when we were just starting to drink beer," explains Andy of the gateway style popular throughout the state. "Cream ale was one of my earliest memories of trying a beer that was different."
(Style Spotlight: American Cream Ale)
Meet Virginia, an 11% ABV imperial stout with dark chocolate, is a big beer named for a taproom regular with an equally big personality.
"She's 75, and she's so outspoken," explains Amanda. "People will come in and she'll be at the bar, and she'll say something to them that can sometimes catch them really off guard. We'll laugh and say, 'Meet Virginia.' We love her to pieces."
Virginia is an ordained minister who used to preach at Andy's childhood church. She comes in every Friday with her best friend, an atheist.
"She's a celebrity now," says Amanda with obvious affection.
While breweries in hip urban neighborhoods tend to get a lot of attention, craft beer is establishing itself in small towns across America as a vital part of those communities as well. Sandy Springs Brewing has brought hazy IPAs, imperial stouts, and gummy worm pale ales to Minerva, and the locals can't get enough. If you make the trip to this tiny town, the Conrads will have the Brewers Quarters ready for you, and their eclectic cast of taproom regulars will make you feel right at home.
CraftBeer.com is fully dedicated to small and independent U.S. breweries. We are published by the Brewers Association, the not-for-profit trade group dedicated to promoting and protecting America's small and independent craft brewers. Stories and opinions shared on CraftBeer.com do not imply endorsement by or positions taken by the Brewers Association or its members.