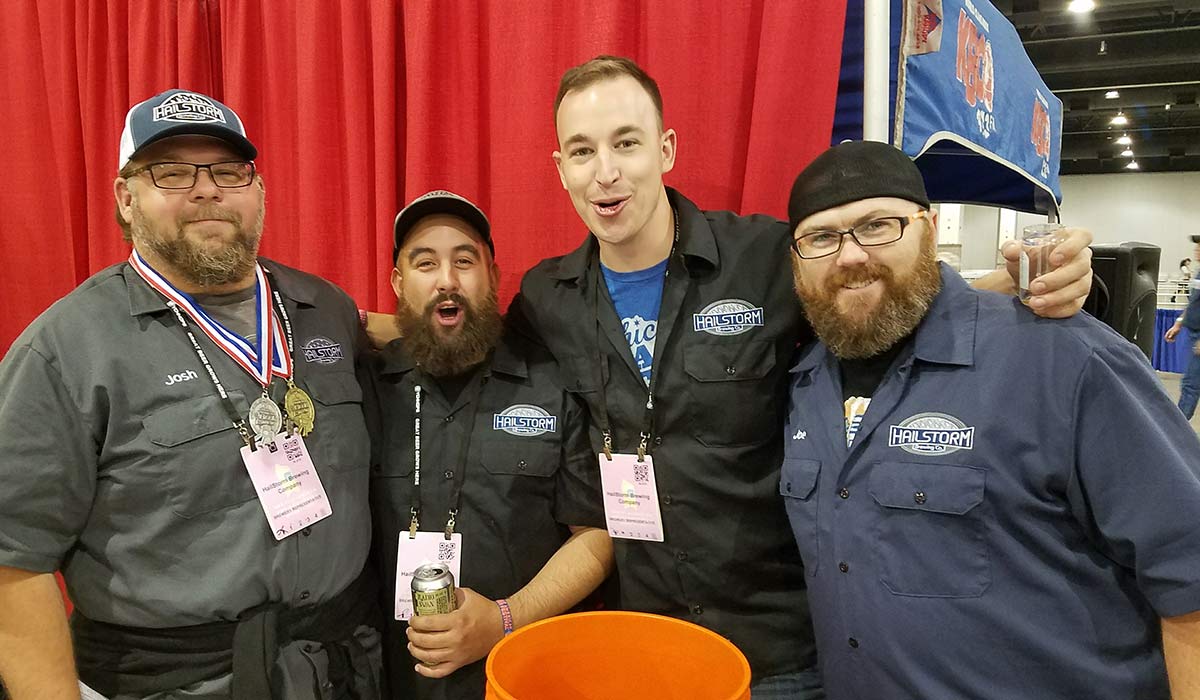 Hailstorm Brewing: Inside a GABF IPA Gold Medal Winning Brewery
Suburban Chicago's Hailstorm Brewing gained notoriety with its 2017 Great American Beer Festival (GABF) gold-medal winning IPA, besting more than 400 beers entered into the category. However, while national recognition is nice, Hailstorm Brewing exists as the quintessential community brewery in Tinley Park, Illinois.
The story of Hailstorm Brewing begins generations ago and on another continent. Brandon Banbury, owner and head brewer, explains, "My grandfather was from Hungry, and he was a barrel cooper. When he moved over here, he brought some barrels with him, and he grew grapes in his backyard. He and my dad made wine together. My dad also homebrewed."
Well, as they say, the hop doesn't fall too far from the vine. Banbury took up homebrewing while also amassing eight years experience in food and beverage plant systems and civil engineering.
(TRAVEL: Craft Breweries Worth a Detour)
Hailstorm Brewing a Hobby Turned Profession
In 2014, Branbury and fellow homebrewer Chris Schiller decided to turn a brewing hobby into a profession by opening Hailstorm Brewing.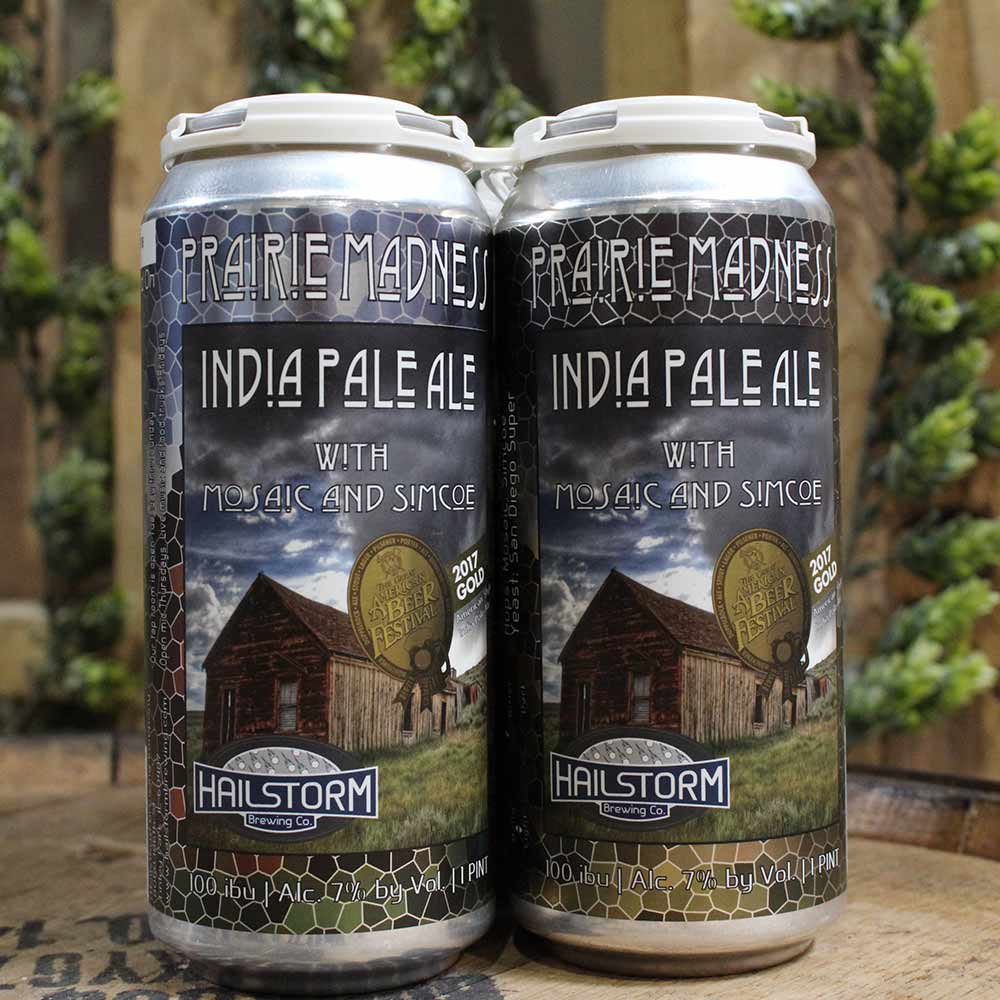 Not unlike severe thunderstorms that start as unimposing, fluffy white clouds, Hailstorm Brewing developed slowly.
"I was in here seven days a week," Banbury says, "I didn't brew every day, but I worked the taproom, I did deliveries, I did sales. I used to do everything."
Now barely into its fifth year of operation, Hailstorm has grown into a household name in the Chicago area. It has expanded its operations, notably by grafting adjacent office spaces into its original office-park taproom space. The extra square footage will allow Hailstorm to soon add a kitchen, patio area and a beer hall that plays on the German Biergarten model.
The Hailstorm expansion does not entail mass-distribution models or opening new locations. Instead, it focuses on enhancing its taproom experience, including offering more beer.
(TRAVEL: 5 Epic Craft Beer Road Trips)
With viniculture, coopering and brewing in its DNA, it's not surprising that Hailstorm's production includes an array of barrel-aged brews. Visitors to the taproom will discover a floor-to-ceiling wall of barrels alongside its rows of towering shiny, silver brewing tanks.
In fact, Banbury ended his discussion of the expansion as only a brewer would discuss the matter. "I might put the sours in that space (pointing in one direction) and the barrels over there (pointing to another direction). I'll have to think about it," he says.
Beer Menu Growing
Barrels are not the only new items customers are discovering on the Hailstorm menu these days, either. The Hailstorm Brewing portfolio has grown substantially, including adding a trifecta of New England-style IPAs to the mix.
"It's kinda funny," Banbury says, "I was against it to start. When we first opened … I would be upset if somebody went in there and pumped a keg and it was cloudy. I never thought I'd be doing them."
A great attribute of craft brewing involves the sharing of brewing ideas. Banbury's visit to the 2016 Craft Beer Conference in Philadelphia is case in point. While there, he ventured over to Tired Hands Brewing to sample a collection of its hazy IPAs. Those beers inspired him to research the style. And Hailstorm Cirrus, Stratus and Nimbus NE IPAs were born.
(VISIT: Find a U.S. Brewery)
In addition to its cloud-named NE IPA series, Hailstorm collaborated with Michigan's Transient Ales to create "Boat Socks" in spring 2018. The beer is a double-dry-hopped Northeast Double IPA (8.0% ABV). They describe as so good it will "knock your socks off."
The New England or Northeast beer style is one of many Banbury never imagined brewing when Hailstorm Brewing opened.
"It has evolved. We brew so many different styles now. I never thought I'd be doing this many lagers," he says.
One of those lagers, Hailstorm Brewing Rock Out with Maibock Out, twice won silver in the bock category at GABF, so he must be on to something.
"When we first started out … we thought we would mostly do off-the-wall stuff," Banbury says.
Unique Collaborations with Breweries 
That mentality to brew unique beer is evident in its annual, popular collaboration with nearby 350 Brewing — also in Tinley Park — called, "Howdy Neighbor," a strawberry-lemon Kolsch-Style ale. It was so popular, in fact, Banbury brewed 180 barrels of it in 2017, and the two breweries re-released it in April 2018.
The aforementioned collaborations are two of many for Hailstorm, which is fitting for a brewer who also serves on the board for the Illinois Craft Brewers Guild, and one whose No.1 desire is to operate as a great community brewery.
"I don't need to be like … other big brewers," Banbury says. "I like what we are doing here."
Hailstorm continues to self-distribute and self-market. Banbury's wife, Emily, can regularly be seen at events and the taproom. The two of them, and the hard-working staff, remain laid back, humble and personable.
All told, to walk into Hailstorm is to step into the essence of craft brewing, an industry focused on the idea of "drink local."
CraftBeer.com is fully dedicated to small and independent U.S. breweries. We are published by the Brewers Association, the not-for-profit trade group dedicated to promoting and protecting America's small and independent craft brewers. Stories and opinions shared on CraftBeer.com do not imply endorsement by or positions taken by the Brewers Association or its members.