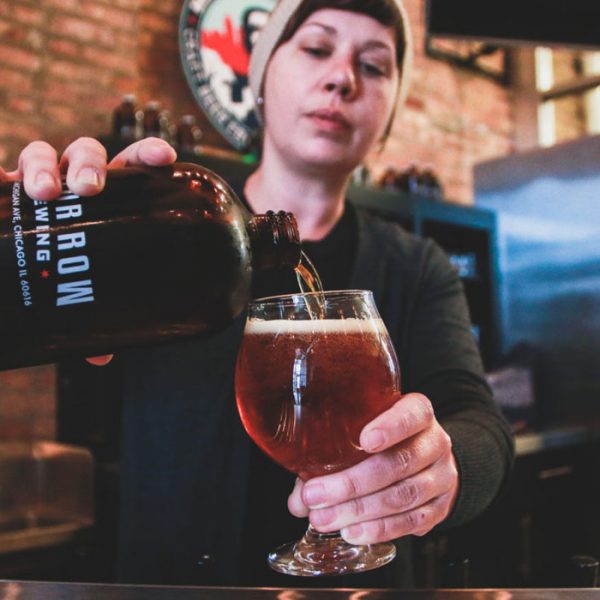 Reviving Chicago's Historic Motor Row District through Craft Beer and Music
Located just south of Chicago's majestic skyline inside a historic building, Motor Row Brewing embodies the notion of community and history, a cornerstone of the craft brewing industry. The brewery restored a landmark building and subsequently helped rejuvenate a historic district.
Co-owned by Bob Lassandrello and his son Frank, Motor Row Brewing is located in the historic Motor Row District that's listed on the National Register of Historic Places. The name alludes to the 116 showrooms that once lined the city streets, but most of them vacated the area during the 1930s. Filling that void were people streaming northward from the American South as part of the Great Migration, which helped give birth to Chicago Blues and Chess Records where artists such as Muddy Waters, Bo Diddley, Chuck Berry, Willie Dixon and the Rolling Stones recorded music. Nearly two years ago, Motor Row Brewing's emergence, along with nearby Willie Dixon's Blues Heaven foundation, helped breathe new life into that vibrant music culture. On most Thursdays, Chicagoans and visitors can soothe their souls at Motor Row when the two come together for Blues and Brews.
(MORE: Don't Eat Your Veggies. Drink Them!)
Restoring a Piece of Chicago History
Bob, a former trader at Chicago's Mercantile Exchange, fell in love with the Motor Row District in 2007 and purchased the building where the brewery now sits.
It wasn't easy restoring a landmark building within a historic district. Each step of the renovation required approval and that meant Bob and the Motor Row team had to remain patient, but their patience was rewarded. In 2015 Motor Row won the Chicago Landmark Preservation Award and, in 2016, the U.S. Green Building Council declared Motor Row as Silver LEED (Leadership in Energy & Environmental Design) business. Bob says, "It was really a surprise, but we are so proud of that."
The frequent blues performances hosted by Motor Row offer an opportunity for local artists and fans to enjoy an American musical craft that's near and dear to the hearts of many Chicagoans. You can enjoy all that history and culture while sipping on European-style beer made popular in the city during its first beer boom of the late 19th and early 20th centuries.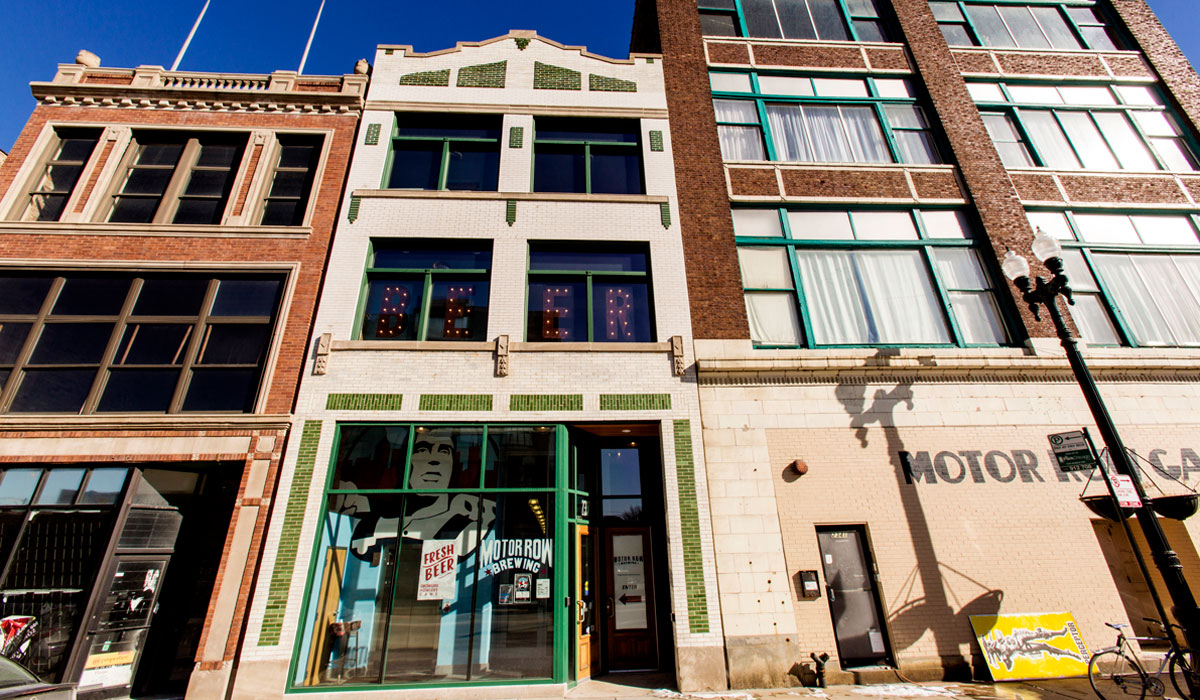 Mayor Rahm Emanuel arrived for the brewery's opening to celebrate the arrival of Motor Row and the district's local alderman, Pat Dowell, is a frequent visitor and supporter.
(MORE: U.S. Brewpub Wins Monumental Michelin Star Award)
Infusing the Brewery with Experience
Music and history aside, a prerequisite for any brewery involves crafting flavorful beer. Bob's son Frank is a Siebel Institute graduate with a long brewing resume that includes Vermont's Otter Creek and Milwaukee's Lakefront Brewery.
"When I brew, I like to stay in my sweet spot," Frank explains. "I was trained on European styles; it's what I know, and it's what I love to brew. We [at Motor Row] like to do more sessionable beers … it's nice to have more than one."
Frank isn't afraid to be innovative — another cornerstone of craft brewers. An example of his creations includes a black lager that's single hopped with Celeia from Rojnik Farms in Slovenia.
"The Rojnik family — 75 years in hop farm business — visited here. They had the beers I used their hops in, and it was really cool."
Beyond his strong background in brewing, production, quality control, and everything in between, Frank's personality makes him a perfect fit for an up-and-coming brewery. You can find him doing anything to help: driving a forklift, working at events, involved with sales, and even unclogging the taproom's ice machine if necessary — and he fully appreciates how the brewery has been part of the community's revival.
"We are very proud to be associated with the neighborhood," Frank says. "We take pride in our beer just as any large industry would. We like to focus that we only sell here. Our regulars and visitors can get a unique beer you can't get anywhere else."
In truth, that's been the case in that neighborhood for more than a century. Motor Row is keeping that tradition of community alive, brick by brick, note by note, pint by pint.
CraftBeer.com is fully dedicated to small and independent U.S. breweries. We are published by the Brewers Association, the not-for-profit trade group dedicated to promoting and protecting America's small and independent craft brewers. Stories and opinions shared on CraftBeer.com do not imply endorsement by or positions taken by the Brewers Association or its members.