Since 1939, when the Baseball Hall of Fame opened in Cooperstown, New York, the small town 75 miles west of Albany has seen its fair share of visitors. Flash forward 80 years, and the love of baseball continues to make Cooperstown a huge draw, particularly during the summers.
"Cooperstown goes from 1,200 people to 20,000 in the summer. Weekly," says Suzanne Olson, the self-professed "Lady Boss" at Red Shed Brewery in Cooperstown.
[newsletter_signup_box]
From June to Labor Day, the green hills are packed with Little League baseball players, who practice and compete against teams from all over the country in a 22-diamond complex called Cooperstown Dreams Park. The tournaments attract more than 100 teams each week.
Because of this influx of tourism each summer, Suzanne seeks to curate the experience at Red Shed Brewing for these visiting families, who take their summer vacations to Cooperstown, sporting their team's jersey with pride.
"In between games, they are looking for things to do. It's a bonding experience. They wanna have something great to write home about," she says. Plus, the parents can enjoy a hard-earned locally brewed beer after spending hours in the stands.
(VISIT: Find a Brewery)
Family-Run Brewery
In 2017, Suzanne's father Jack Hasbrouck decided to transform his homebrewing hobby into a full-fledged business, and build Red Shed in an old milk barn in the hills of Cherry Valley, New York.
Suzanne moved from Pittsburgh with her young family to get her father's brewery off the ground. With a background in retail marketing and consumer experience working for the supermarket chain Giant Eagle, Suzanne's focus is on people and fostering an inviting culture. So at the taproom in Cooperstown, you can enjoy a pint of XO Sour, while your child enjoys the "I'm Not Hungry Hamburger" and plays a board game.
With so many visitors, there's usually one person in the average (adult) group who wants to have a local craft beer.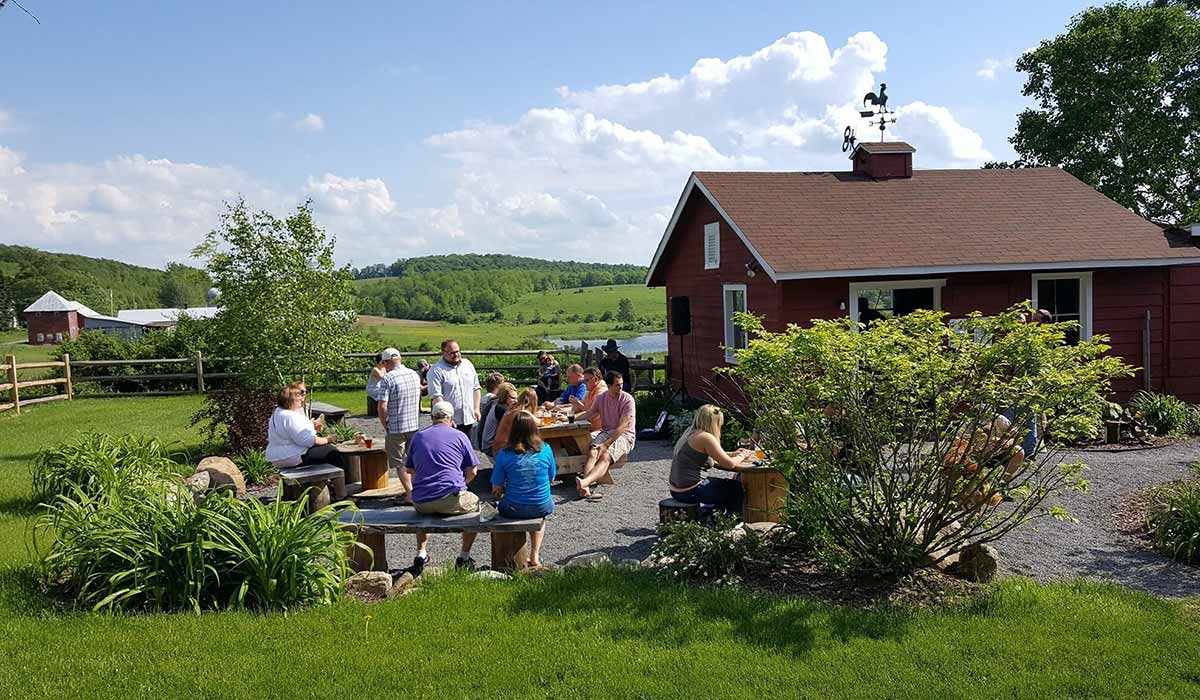 "We definitely cater to the craft beer enthusiasts, but really, that's not our first audience. Our customers are local people, and baseball families," she explains.
The challenge? Exposing those adults who aren't already familiar with craft beer to new beer styles for the first time. Red Shed's top seller, by far, is the Otsego Golden Ale, a beer that the brewery says is easily embraced by drinkers familiar with American light lagers. Plus, it's a great summer beer.
(GRAPHIC: Gold Medal IPAS from 1989 to 2018)
Red Shed Celebrates New York Agriculture and Beer History
Red Shed is a licensed New York State Farm Brewery, a designation for breweries who use at least 60 percent of New York State-grown ingredients in their beers (according to the 2019 regulations). Red Shed exceeds those minimums by brewing with more than 90 percent of state-grown ingredients, offering subtleties of fresh flavor, a sort of je ne sais quois terroir. One of these beers includes Jessica's Red Ale, for which Red Shed celebrated a silver medal win in the Amber/Red Ale Category at the New York State Craft Beer Competition this past April.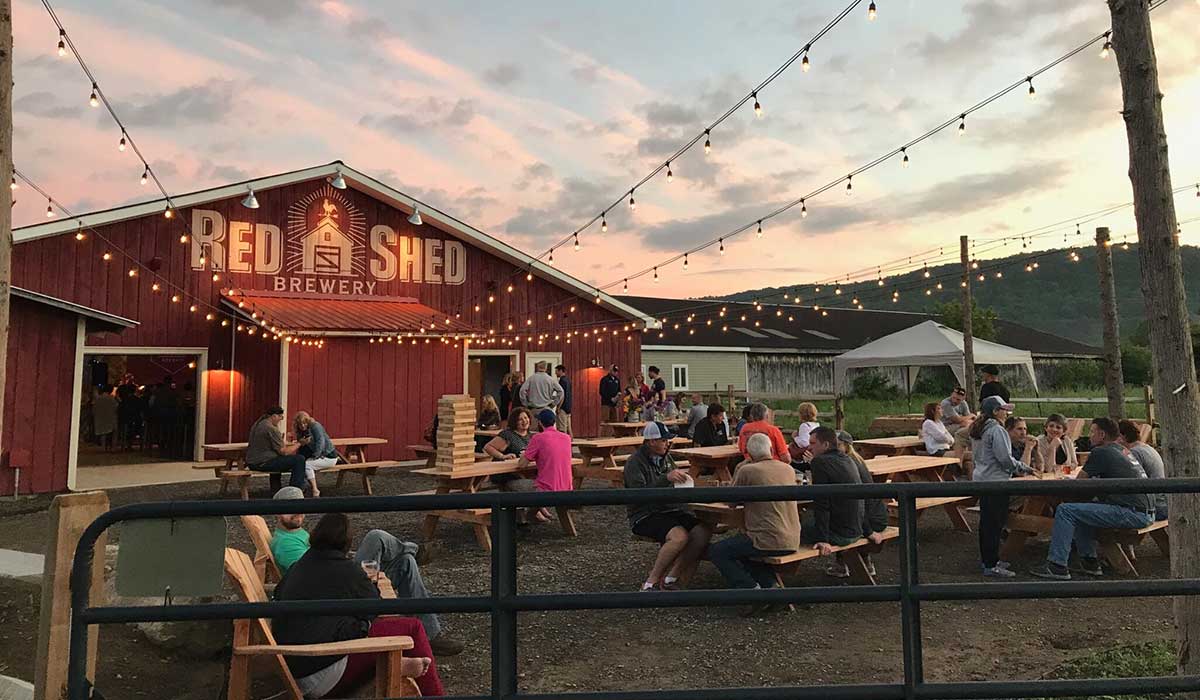 Red Shed works with Alta Vista Farm Hops, a Central New York hop farm, as one of its primary suppliers. For the brewery's Cherry Valley Smoked Porter, nearby maltster New York Craft Malt creates an exclusive cherry wood smoked 2-row malt to go into the grist.
The brewery's H. Clausen & Son beer series honors Otsego County's long, hoppy history. It was nearly 100 years ago when Prohibition began, and nearly wiped out New York State's hop-growing traditions. Before Prohibition, H. Clausen & Son Brewery was the ninth-largest brewery in the country.
(TRAVEL: Plan a Beercation)
Red Shed is collaborating with the owners of nearby Clausen Farms–Henry Clausen's old estate that's been renovated–to create small-batch beers inspired by beer labels and recipes from the latter 1800's, when the farmland and old brewery were thriving.
Here in its pockets of hills by Otsego Lake in Central New York, Red Shed offers a distinct experience. There is something for everyone: for baseball parents, for the siblings who have to tag along, for the beer and agricultural nerds who visit the Farmer's Museum or the Cooperstown Beverage Trail. The rich regional pride of both beer and baseball is palpable on a sunny summer afternoon at Red Shed beer garden.
CraftBeer.com is fully dedicated to small and independent U.S. breweries. We are published by the Brewers Association, the not-for-profit trade group dedicated to promoting and protecting America's small and independent craft brewers. Stories and opinions shared on CraftBeer.com do not imply endorsement by or positions taken by the Brewers Association or its members.