Who is the most influential person in your life? If you take a moment to think about this question, you may get an overwhelming feeling of gratitude and love for someone that has helped shape you into the person you are today. That feeling may even make you want to put that name down in history for all to remember.
Ben Mayer and Brian Bogstad, owners of Rusty Bull Brewing Company in North Charleston, South Carolina, did just that. Once a pastor and a mechanic, Ben and Brian are now full-time brewers making a splash on the Charleston beer scene, all in the name of the two people who were most influential in their lives.
(READ: 9 Weird Brewery Names and the Stories Behind Them)
Starting a Brewery in North Charleston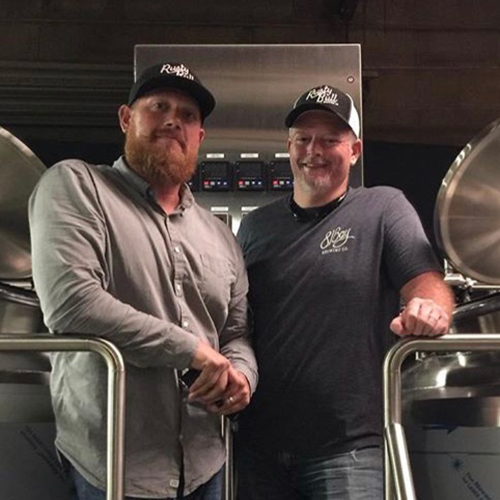 An ode to the two most influential men in these friends' lives sparked a name that now adorns stickers, mugs, t-shirts, and a building set along Montague Avenue in North Charleston; a name that a Charleston local wore when she won the women's division of the Beer Mile 2016 World Championships in December, before the brewery had even opened its door.
After slipping into Rusty Bull Brewing in the middle of a deluge, Brian's wife kindly offered my husband and I a clean towel to dry off while we took comfort from the storm.
As we ordered up a flight, Ben popped over to see how we were doing and what we thought of the beer. His charisma is what continues to draw us to the craft beer world. To be able to walk into an independent brewery and chat with the owner/brewer right away is a testament to our love for craft beer and the people who encompass it.
Ben proceeded to describe Rusty Bull's vision, brewing style and a little bit of their background.
How Rusty Bull Got Its Name
As he began to dive deeper to explain their beginnings, the conversation solemnly turned to his father; a man he loved dearly but who had since passed away. During this time of grief, Ben came to the realization of what he should do with his own life: make beer. Using the gold his father had left behind, Ben purchased some brewing equipment. It wasn't long after that he and Brian found themselves at an Irish pub discussing plans for their brewery and the ever important name.
It was with a single question and a moment of fruition they picked the name. Ben's father was clearly his most influential person. And though as a child his dad hated being called Rusty, I am sure he'd be proud of the name and his son.
Brian's influential name was an easy pick. Without much thought, he responded to Ben's question with, "My uncle Bull."
And there you have it — Rusty Bull Brewing was granted a worthy name.
Belgian Beer Styles with American Brewing Influence 
Rusty Bull Brewing is a 1,600-square-foot open concept taproom with a 15-barrel brew system. The building was once a piano warehouse. With the help of friends and family, Ben and Brian transformed the location by hand. From the tables, to the lights, to the bar, to even the couches that Ben's mom purchased, Rusty Bull Brewing is a dream turned reality through hard work, love of family and friends and a passion for beer. The brewery also boasts an outdoor beer garden, private event space, and food truck parking right out front.
(COOK WITH BEER: Belgian Chicken Waterzooi)
Irish roots and a love of Belgian beer is at the center of Rusty Bull's philosophy and their brewing. The brewery's eagerness to support the local economy has already earned them a following in their first few weeks of opening by hosting Paint and Pint Nights, yoga, food trucks, and local music three nights a week. Ben spoke of all that Guinness Brewing had done for the people of Ireland, uniting them in joy around a tasty pint. Even as a small craft brewery, Ben aspires to do similar things for North Charleston.
Belgian beer styles are the core inspiration in their brewing but even their Dubbel Trouble, a Belgian-style Dubbel, has American brewing influences. These two friends are personable and passionate brewers who are working to create another beloved neighborhood brewery in the Charleston area. They are most excited to be a part of North Charleston's revitalization.
CraftBeer.com is fully dedicated to small and independent U.S. breweries. We are published by the Brewers Association, the not-for-profit trade group dedicated to promoting and protecting America's small and independent craft brewers. Stories and opinions shared on CraftBeer.com do not imply endorsement by or positions taken by the Brewers Association or its members.