Breweries across the U.S. spend a lot of time thinking about water resources, which may come as no surprise, considering that the industry average water use ratio is 7:1. Water concerns ranging from the availability and quality of clean water to the costs and environmental regulations associated with discharging process water are top of mind for breweries of all sizes. They must proactively manage their resources from startup to reduce costs and ensure sustainable growth, while remaining good stewards of their communities and the environment.
Recognizing this, Seismic Brewing Company, based in Santa Rosa, California, has a mission: to brew uniquely flavorful craft beer, while rewriting the books on sustainable brewing. Brainchild of Christopher Jackson, Patrick Delves and Andy Hooper, the brewery invested in resources to mitigate their environmental impact from day one.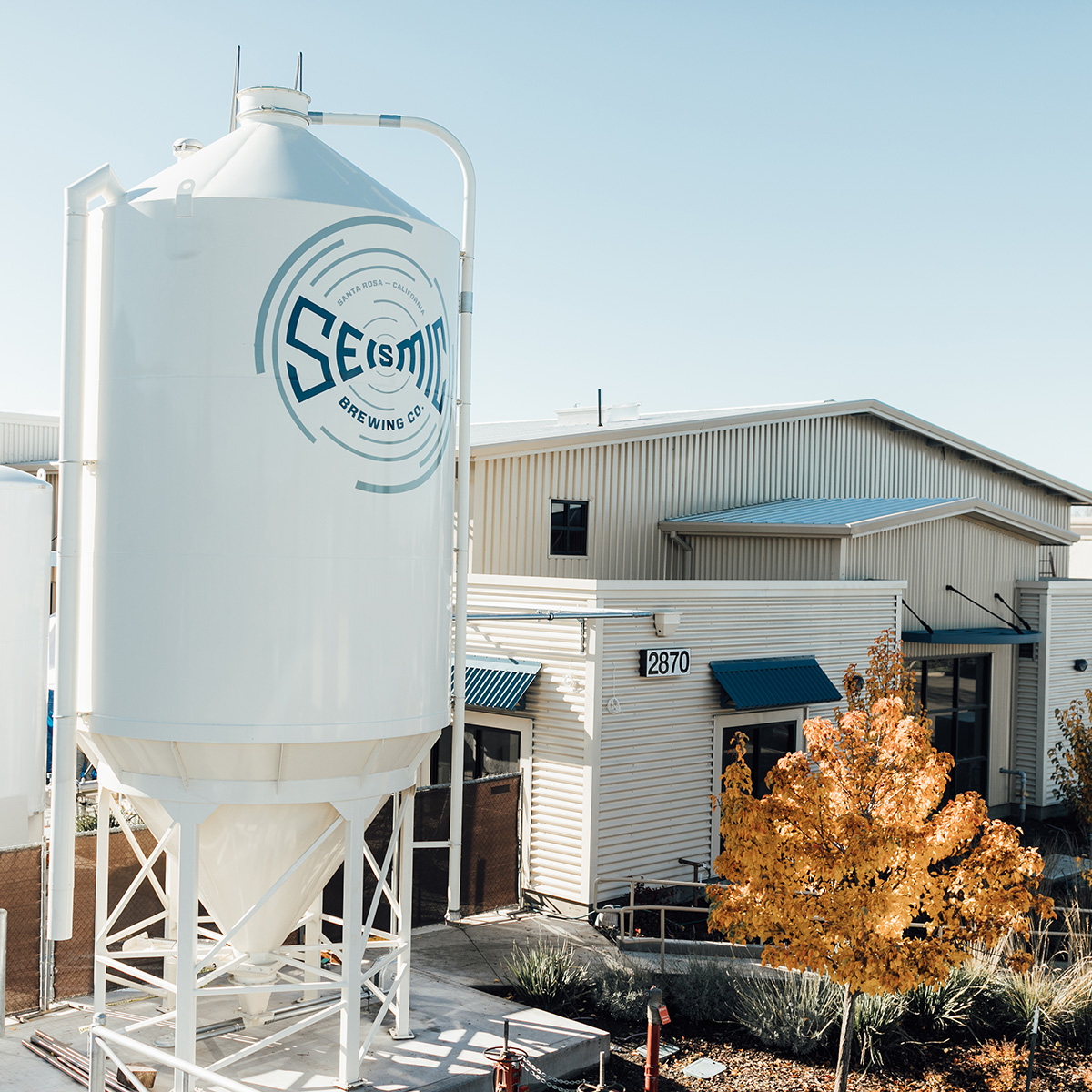 "My background in the wine industry instilled in me a focus on quality, innovation and sustainability," says Christopher Jackson, Seismic's president and founder. "We decided to carry these principles over to the brewery and they guide every decision we make."
(READ: The Mirror Twin Who Brews 'Twin' Beers)
The 13,000-square-foot brewery was designed to maximize efficiency and sustainability. The team is using new technologies, including an energy-efficient steam condenser and heat exchanger, high-efficiency CO2 vaporizer, 100 percent locally-generated renewable power, and industry best practices to help achieve their goal of establishing new industry benchmarks.
As with many other breweries, particularly in California, water is a main focus of Seismic's sustainability program. "We started thinking about our water use ratio before we even broke ground on the brewery, and set an aggressive goal for the brewery," says Pat Delves, director of sustainability and logistics. "We believe that by combining innovative technologies and industry best practices, we can achieve an unprecedented 2:1 water use ratio. We recognize that this is a tall order, but believe that we can hit this goal and help other breweries do the same."
One of the technologies implemented to support this goal was the EcoVolt MINI, a complete, containerized treatment and reuse system provided by Cambrian Innovation. The latest addition to Cambrian's suite of EcoVolt products, which have been deployed at breweries and wineries across the country, the EcoVolt MINI uses an anaerobic-aerobic process to efficiently treat and polish high-strength process water, enabling reuse in a compact footprint.
(READ: Craft Beer in 2017: Brewers Association Releases Midyear Report)
Seismic's treatment and reuse system, a 53'x8.5′ shipping-container tank that sits in a corner of their lot, was one of the first EcoVolt MINIs to be deployed. It efficiently removes over 99 percent of contaminants from the brewery's process water, and is followed by high-recovery reverse osmosis (RO) and UV disinfection. The combined reuse system recovers up to 95 percent of Seismic's process water for onsite reuse, producing recycled water that is cleaner than their incoming city water.
The brewery typically uses the recycled water — totaling over 215,000 gallons since production started in May — for cleaning and boiler feed. They have even poured the water at local events in an effort to educate consumers about water recycling and reuse.
Taking Reuse to the Next Level: Brewing with Recycled Water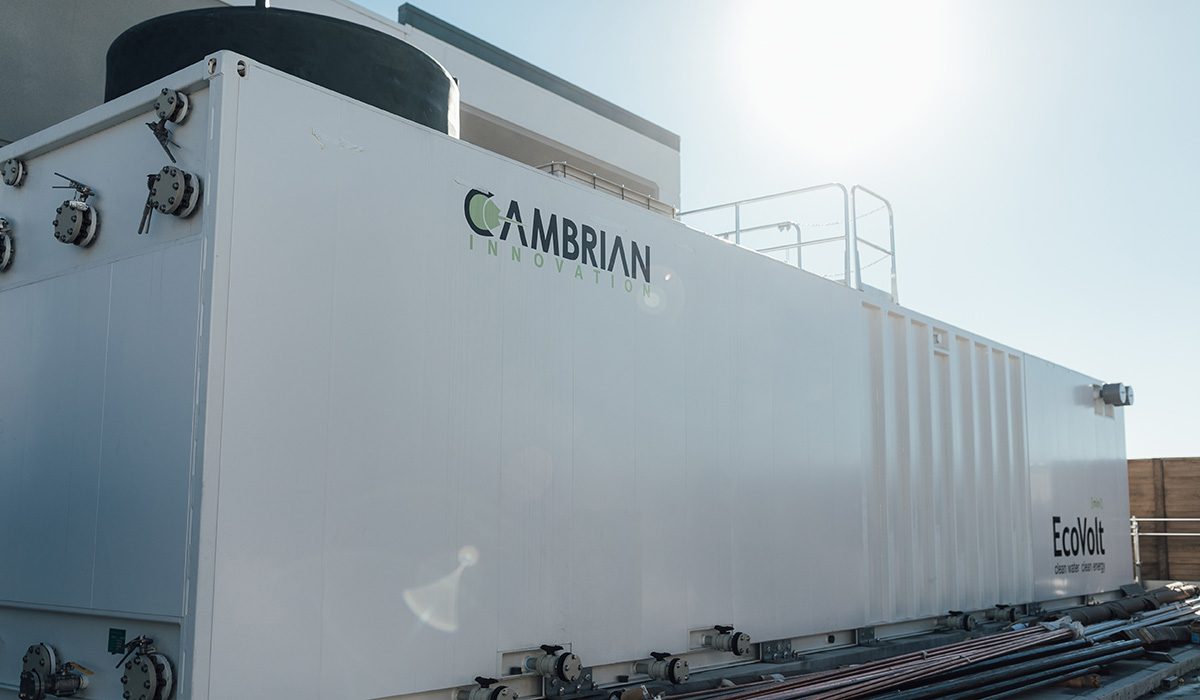 Since beginning production in May, Seismic has already achieved a 4:1 water use ratio, an impressive feat for a brand new brewery. But they recognize that they still have a way to go before reaching their 2:1 goal.
One way to achieve it? Brew beer with recycled process water.
For the recent California Craft Beer Summit & Festival in Sacramento, California, Seismic did just that. In collaboration with Barrel Brothers Brewing Company and Cambrian Innovation, they released two beers brewed to advance the discussion around brewing with recycled process water. The two beers use the same recipe, with one major difference: the first, Water is the Essence of Wetness, was brewed with city water, and the second, Wetness is the Essence of Beer, was brewed with recycled process water from the EcoVolt MINI.
Seismic had been talking about the possibility of brewing a beer with recycled water for a while, and the Summit proved to be the perfect opportunity to showcase the beer. The two beers, hybrids of a traditional Helles Style Lager and an American Pale Lager, were poured side by side for both members of the craft beer industry and consumers. Asked which beer they preferred, a strong majority of tasters chose the one brewed with recycled process water.
"There's still a bit of an 'ick factor' associated with water recycling and reuse, but the quality of the recycled water coming out of the EcoVolt MINI and reuse system is actually on par with, if not better than, the water we receive from the city," says Andy Hooper, Seismic's brewmaster and director of operations. "That's saying something, because our city water is already very clean! The recycled water is completely free of pathogens, organics, and solids, and provides a great base for brewing."
(READ: Craft Brewers Put Wastewater to Better Use)
In fact, with the "ick factor" removed, brewers may prefer to brew with recycled water in the future. Many brewers already strip city water of minerals before beginning the brewing process, re-adding them in very specific quantities depending on the style of beer. Recycled water could offer brewers even more precision. It's about as close to a clean slate as you can get, and cost-effective and environmentally responsible to boot.
For now, beers brewed with recycled water are only poured for demonstration purposes; industrial water recycling is a regulatory gray zone. To date, no brewery has tried to market and sell a beer brewed with recycled water. But feedback from the Summit says that the craft beer industry expects that to change in the foreseeable future.
Seismic intends to do their part by educating both brewers and consumers, and lobbying state officials to allow recycled water in beer.
"Based on the feedback we received from the California Craft Beer Summit & Festival, I think we are going to start seeing more of a dialogue forming around industrial water recycling and reuse in the coming years," says Pat Delves. "Other breweries have already brewed with recycled water, and we are hoping to help further the conversation and push for legislation."
CraftBeer.com is fully dedicated to small and independent U.S. breweries. We are published by the Brewers Association, the not-for-profit trade group dedicated to promoting and protecting America's small and independent craft brewers. Stories and opinions shared on CraftBeer.com do not imply endorsement by or positions taken by the Brewers Association or its members.