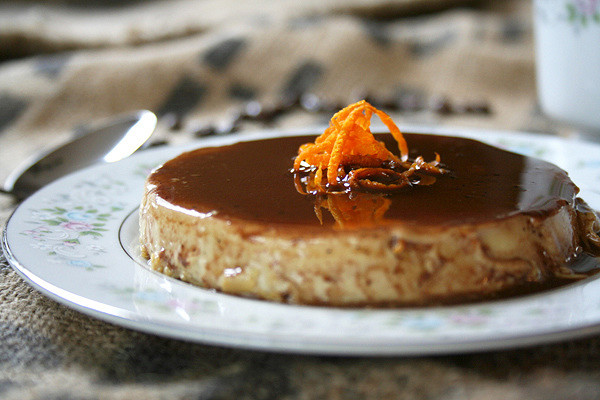 As a first generation American, Diana shares her family's traditional Spanish and Mexican recipes in her blog A Little Bit of Spain in Iowa. In this recipe, Diana uses an English-style mild to create a beautiful chocolate flan.
Ingredients
Caramel
2 bottles English-style mild
3 Tbsp ground coffee
2 Tbsp unsweetened cocoa
zest of 1 orange
1/2 cup real maple syrup
Custard
3 cups whole fresh milk
2 tsp pure vanilla extract
2 farm fresh eggs
6 farm fresh egg yolks
1/2 cup real maple syrup
zest of one orange
---
Directions
Caramel

In a deep pan, bring the English-style mild, ground coffee, cocoa, maple syrup and orange zest to a boil.
Reduce the heat and simmer over medium-low, stirring often to prevent from burning. You want to reduce the mixture by about half until you are left with a thick syrup that coats the back of a spoon. Depending on your heat, this can take anywhere from 30-60 minutes.
Once the syrup has reduced, strain through a cheesecloth. This will leave you with a smooth syrup void of any coffee grains or orange zest. Do this right away as the mixture will thicken as it cools.
Once you have strained the syrup, add enough to the bottom of your flan molds to coat the bottom.

Custard

Preheat the oven to 300°F.
In a pan, bring the milk and vanilla extract just to a boil. Do not scorch the milk.
While the milk is coming to a boil, in a bowl, beat the eggs, egg yolks and maple syrup.
Once the milk has come to a boil, turn off the heat, and gradually stir in the hot milk to the egg mixture.
Pour into the flan molds.
Put the individual molds into a baking dish or roasting pan and pour in enough hot water until it reaches halfway up the sides of the molds.
Bake for 50 minutes or until a knife inserted comes out clean.
Remove the individual molds from the baking dish or roasting pan and let cool.
Chill in the refrigerator for at least two hours before serving.
Turn onto a dish and serve.