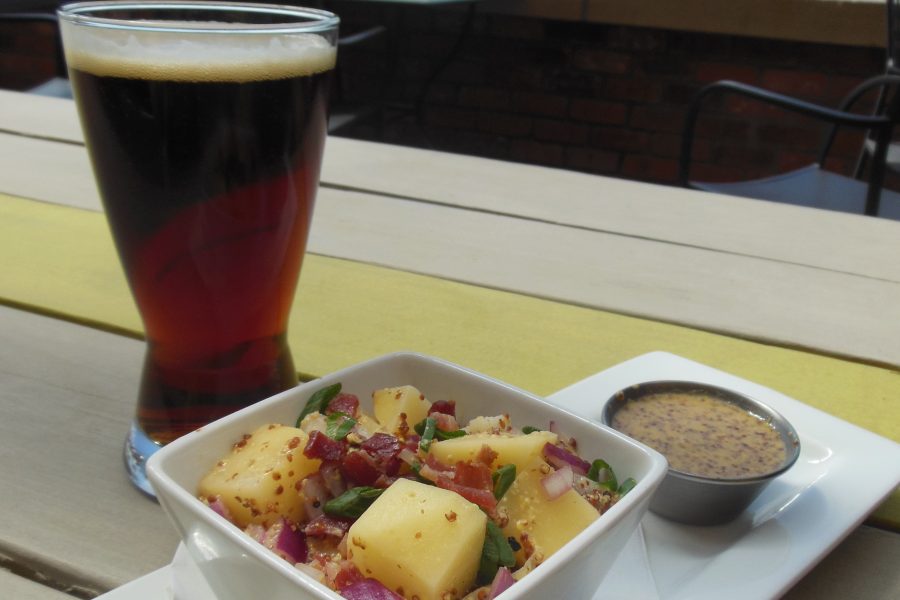 This potato salad with a special mustard made with Fort Collins Brewery's Red Banshee (or your favor red ale), makes the perfect side dish for your next summer cookout or picnic.
Ingredients
Red Banshee Mustard
2 cups whole mustard
2 tsp dijon mustard
2 tsp chili sauce
1/4 cup honey
12 ounces Red Banshee (or your favor red ale)
1 Tbsp salt
4th of July Potato Salad
2.5 lbs Yukon Gold Potatoes, large diced
1 cup red onion, diced
1/2 cup cooked bacon, chopped
1/4 cup Red Banshee mustard
1/3 cup green onion, sliced thin
6 Tbsp rice wine vinegar
5 Tbsp sugar
1/4 tsp celery salt
1/4 tsp ground black pepper
1/3 tsp iodized salt
---
Directions
Red Banshee Mustard
Combine all ingredients, including red ale, in a large mixing bowl. To ensure even taste throughout, blend together.
Refrigerate and store extra mustard for future use.
Makes approximately three cups.
4th of July Potato Salad
In a large, add water, salt and diced potatoes. Cook until tender. Cool and place aside.
In a large mixing bowl, combine red onion, cooked bacon, green onion, rice wine vinegar, sugar, celery salt, black pepper and salt. Mix together thoroughly.
Once mixed, add potatoes and Red Banshee mustard and mix together.
Adjust salt and pepper as needed to taste. Place in serving bowl or storage container.