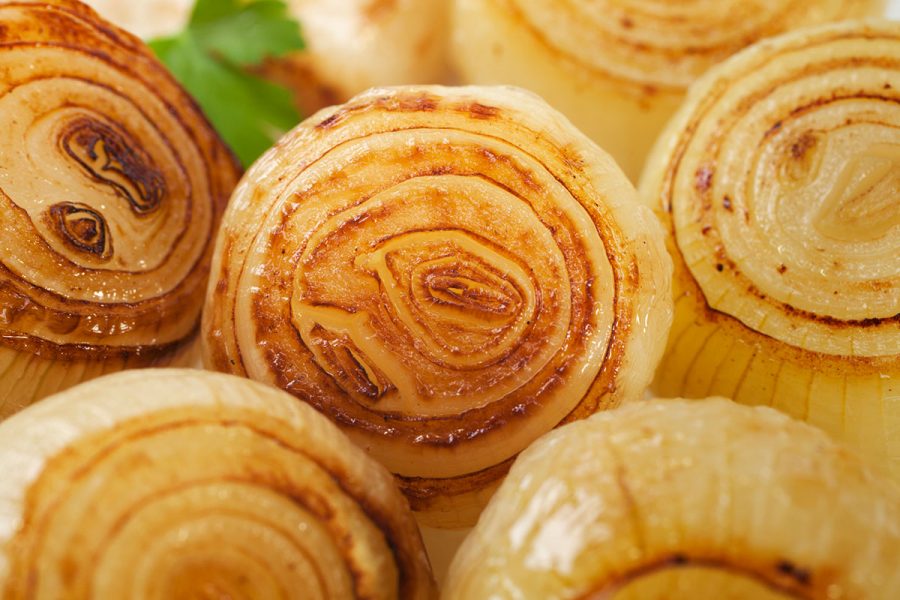 A favorite meal to pair with a liter of Rauchbier is the Bamberg Stuffed Onion. These smoked beers add the perfect hardy backbone to the rue for this dish.
Ingredients
4 sweet Vidalia onions
1 pound of ground pork
1/4 pound smoked sausage (crumbled)
1/4 tsp mace
1/2 tsp oregano
1/2 tsp parsley
Salt and pepper to taste
3 eggs
1 cup breadcrumbs
1 cup beef stock, 2 tbsp reserved
4 slices smoked bacon
6 ounces smoked beer (one that makes your eyes water)
---
Directions
Like many recipes I develop, the Bamberg Stuffed Onion comes from my travels. Bamberg, Germany is the model many American cities are emulating as the craft beer movement sweeps across the country. The town of 70,000 boasts nine breweries, and the surrounding countryside is the home to over 400. Brewery count aside, the beer that puts Bamberg on the map is Rauchbier—the smoky little devil that represents campfire and bacon in a glass.
A favorite meal to pair with a liter of Rauchbier is the Bamberg Stuffed Onion (which uses Rauchbier in the gravy). For years, we tried to emulate the hearty dish in our kitchen with an American smoked beer, but none were ever smoky enough. Finally, breweries are starting to put out smokestacks in a glass, and we've been able to recreate the Bamberg onion. Of course, we had to adjust a few ingredients, replacing what we couldn't find locally with a few Southern-bred ingredients.
Cut the root (hairy) end off the onions so they sit flat and then peel the onion. Cut off the cap of the onion and scoop out the insides so that the sides of the onion are a quarter inch thick. Finely chop half of the scooped onion and discard the rest. Sauté until soft.
Mix the cooked onion, ground meat, eggs, breadcrumbs, sausage and spices in a large bowl. Fill the onions with the meat mixture and place in a casserole dish, pouring enough meat stock to cover the bottom. Bake at 400°F for 45 minutes. Add more stock as necessary.
While the onions are cooking, cut the bacon into quarter inch pieces and fry. When the onions are done, remove them from the casserole dish. Pour the drippings from the casserole into a skillet and whisk in the flour. Once you have a rue, whisk in the stock and smoked beer, simmering until you have a thick gravy.
Served with mashed potatoes, sauerkraut and a beer that has you burping smoke like a dragon.