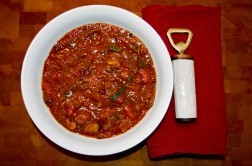 Beer is a great ingredient for chili. The malty flavors complement the heat from the peppers and savoriness of the meat. For this recipe, Drew Long used Lagunitas Cappuccino Stout, which also adds hints of coffee flavor to the chili.
Ingredients
1 lb. lamb stew meat (or whatever cuts are on sale), cubed
1 lb. beef (eye of round or stew meat), cubed
4 slices of bacon
1 green bell pepper, diced
4 poblano peppers, diced
2 red onions, diced
4 cloves of garlic, finely diced
3 jalapeño peppers (fresh), diced
3 serrano peppers (fresh), diced
1 habanero chili (fresh), finely diced
2 (16 oz.) cans of stewed, diced tomatoes
1 (15 oz.) can of tomato sauce
2 (8 oz.) cans of tomato paste
12 oz. of beer (stout, porter or brown ale)
1 (15 oz.) can of kidney beans, drained
1 (15 oz.) can of black beans, drained
1/4 cup of chili powder
3 tsp black pepper (or to taste)
3 tsp of kosher salt (or to taste)
2 tsp cayenne pepper (or to taste)
---
Directions
To make this stout chili, in a large pot, fry the bacon over medium-high heat. Remove the bacon and add the red onions, bell pepper, poblano peppers and garlic. Cook until the onions are translucent, about five minutes. Add the lamb and beef, and cook for five minutes.
Stir in the tomato sauce, tomato paste and stewed tomatoes. Then add the chili powder, salt, black pepper, cayenne, jalapeños, habanero, and stout (porter or brown ale). Put the lid on the pot and reduce the heat to low. Allow the chili to simmer for an hour, stirring occasionally.
After an hour, crumble the bacon and add it, as well as the kidney and black beans to the chili. Taste and adjust the heat and seasoning to your liking. Cover the pot and allow it to simmer another two hours, stirring occasionally.
At this point, the chili is ready, but two more hours of simmering will make it taste even better.