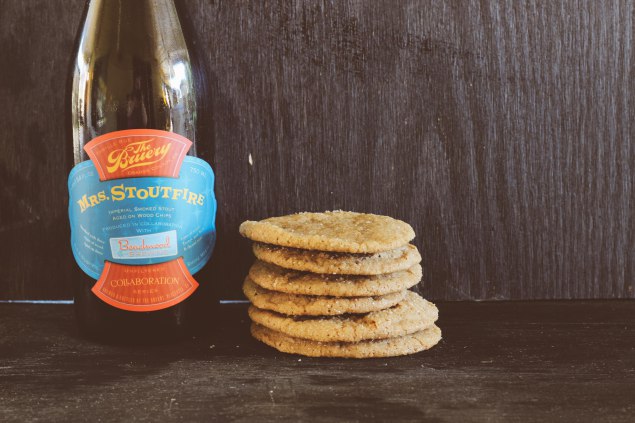 These crinkle cookies by Beer & Baking are made with Mrs. Stoutfire Imperial Smoked Stout, a collaboration between The Bruery and Beachwood Brewing.
Ingredients
Beer Syrup
1 cup beer
1/2 cup granulated sugar
Beer Brown Sugar
1 cup white granulated sugar
1 tablespoon of the cooled beer syrup
Beer Crinkle Cookies
1 stick of unsalted butter
1 cup of beer brown sugar
1/2 cup of granulated white sugar
2 large eggs
1/2 cup of beer syrup
2 tablespoons of vegetable oil
1 teaspoon baking soda
1 teaspoon ground cinnamon
1/4 teaspoon ground ginger
1/2 teaspoon ground allspice
1/2 teaspoon ground nutmeg
1/2 teaspoon salt
---
Directions
Beer Syrup

Heat the stout and sugar in a non-stick skillet on low to medium heat until the mixture has almost reduced by half. You can test the consistency by running your finger on the back of your spoon or spatula.If the syrup doesn't run back into the finger mark then it's ready.
Set the syrup aside to cool.

Beer Brown Sugar

Mix the sugar and beer syrup together in a mixing bowl with a fork or electric hand mixer until combined. Set aside to use, or place in a plastic bag for future use. The brown sugar stays good for about a month.

Beer Crinkle Cookies

Beat the butter, brown sugar and white sugar in an electric mixer with the paddle attachment. Mix on low to medium until smooth. Mix in eggs, one at a time until combined. Then mix in the beer syrup and vegetable oil. In a separate bowl; whisk together the flour, baking soda, cinnamon, ginger, nutmeg, baking soda, allspice and salt.
Reduce the speed of the mixer to low and slowly add the flour mixture. Once the cookie dough is just combined, remove from the mixture and transfer to a separate bowl. Cover with plastic wrap and place in the fridge for at least an hour or overnight.
Heat your oven to 325°F. Scoop out about a quarter-sized ball of dough and roll in granulated sugar. Bake at least 3 inches apart, these cookies will spread.
Bake for about 20 minutes, rotating once during the baking process. If you make smaller balls, you would want to reduce your baking time. I recommend baking for 15 minutes, and checking on them. Let cool on the baking sheet for at least 10 minutes, then transfer to a wire rack to cool.
These cookies are super crunchy and have a fantastic snap to them. They would make fantastic ice cream sandwiches. Salted caramel ice cream in between these cookies…oh my!