Ingredients
French Toast
1 loaf crusty Italian bread (sliced into 1in. thick pieces)
1 cup stout
1/2 cup milk
A good splash of heavy cream
1/4 cup sugar
4 eggs
2-3 tsp vanilla
1/4 tsp cinnamon
Pinch of nutmeg
2-3 Tbsp butter (more as needed)
Whipped cream cheese
Powdered sugar
Maple syrup
Blueberry Stout Compote
2 cups frozen blueberries
1/4 cup stout
1/4 cup sugar
Pinch of cinnamon
Juice of 1 lemon
---
Directions
Beer and breakfast in the morning? Sure, why not!? Pair this warm, sweet french toast with a good coffee stout.
To start, break out a small saucepan and place on range on medium heat. Add 1 cup blueberries, stout, sugar, cinnamon and lemon juice. Stir and cook for 10 minutes. Add in the other cup of blueberries. Stir and cook another 10 minutes. Reduce heat to low and keep warm.
In meantime, heat oven to 200°F and set a casserole dish inside. Place a large skillet on medium-high on range. In a shallow dish mix the stout, milk, cream, sugar, eggs, vanilla, cinnamon and nutmeg.
Place the sliced bread in the dish to soak up the batter/custard. Flip and coat other side. Melt butter in the hot skillet. Place bread in skillet, cooking in batches, and cook 2-3 minutes per side. Place the cooked french toast in the dish in the oven to keep warm while attending to the rest.
To assemble, place one slice of toast on the plate. Spread some whipped cream cheese on top. Place another piece of toast on top of that. Spoon the blueberry stout compote over the top. Dust with a little powdered sugar and have some maple syrup ready if wanted.
---
Suggested Recipes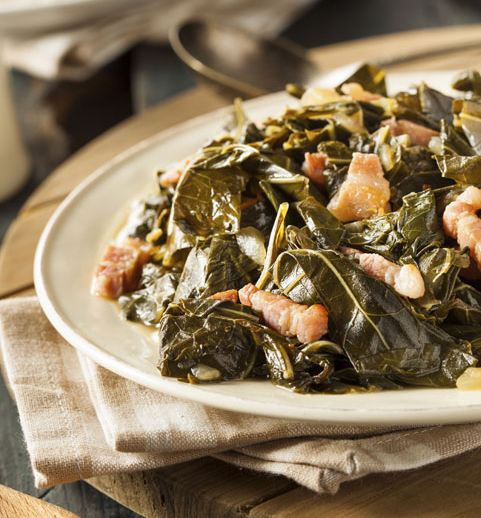 Side Dish
March 2, 2016
March 2, 2016
I often have a debate with my foodie friends down here in the South not about which BBQ joint makes the best pulled pork, but which one makes the best collard greens. Opinions and styles very widely. Some like theirs with a heavy dose of peppery heat. Others prefer lots of vinegar. Then there are those who prefer collards studded with meaty chunks of ham or bacon. A fourth camp would rather have the earthy flavors of the greens shine. This recipe is the perfect marriage of them all. Why? Because the stout blends the heat, vinegar, and bacon in a hearty earthiness.
Read More