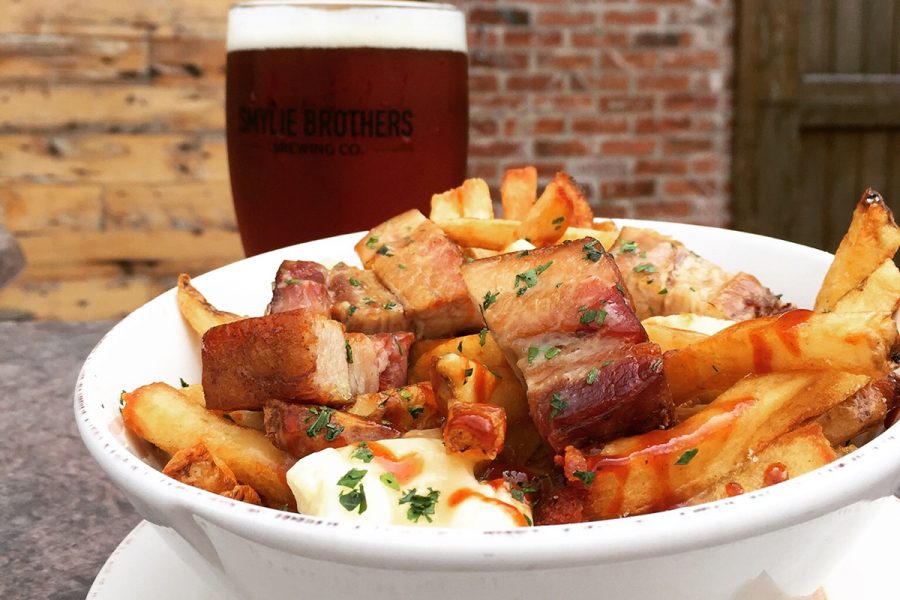 In the Smylie Brothers kitchen we primarily use our flagship beers in our dishes. We use the Cali common in the braising liquid for the pork belly in addition to chicken stock, then after the bellies are tender we add more beer and thicken the liquid to create a rich gravy. As we make everything from scratch, we treat our raw ingredients with a lot of care and respect. The pork belly that we get from George Rasmussen at Swan Creek Farm in Colon, Michigan, is a good example of this. George takes our spent grain from the brewing process back to feed his pigs and we buy that pork from him.
Ingredients
Cure & Smoke
3 lbs pork belly, skin off
2 T fennel seed
1 1/2 T whole black pepper
2 ea whole cloves
2 T whole coriander
2 ea whole cinnamon sticks
2 T whole cumin
1/2 cup kosher salt
1/2 cup dark brown sugar
Braise
1.5 QTs chicken stock
6 oz Cali Common from Smylie Brothers
1 carrot chopped
1/2 onion chopped
2 stalks celery chopped
1 T black peppercorns
1 sprig fresh thyme
1 fresh bay leaf
---
Directions
The pork belly is first cured for 24 hours, then rinsed and smoked before being braised. This is just one component of our pork belly poutine. It's delicious on its own but can be seared and served on a sandwich or slider, over rice, with grilled vegetables or just about anything else you can think of.
Toast spices in a skillet over medium heat until fragrant, then let cool. Transfer to a spice grinder and grind until fine. Mix spices, salt and sugar. Rub pork belly thoroughly with cure, refrigerate 24-48 hrs. Rinse cure off pork belly and dry well.
Set up a smoker with applewood chips at a temperature of 200-250 degrees and smoke pork belly for 1 hour.
Place meat and braising ingredients in a dutch oven, cover and cook at 300 degrees for 2.5-3 hours or until tender. It's best to allow the meat to cool completely in the braising liquid before slicing so it doesn't fall apart. It can then be seared, grilled, broiled or fried.