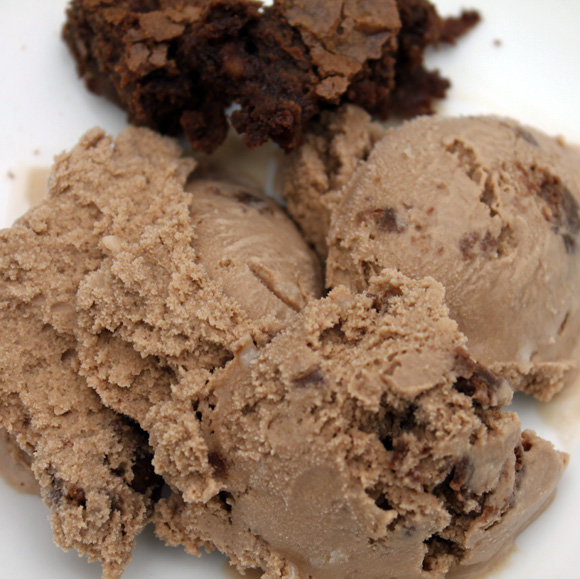 The Beerista busts out the ice cream maker for a delicious boozy beer ice cream. This to die for chocolate ice cream has espresso, walnut, brownie bits and coconut mixed in.
Ingredients
1 1/2 cups + 2 Tbsp whole milk
1 1/2 Tbsp cornstarch
3 Tbsp cream cheese, softened
1/8 tsp salt
1 1/4 cups heavy cream
2/3 cup sugar
3 Tbsp light corn syrup
1/2 cup unsweetened cocoa powder
1 cup beer with chocolate/coffee notes (author used New Belgium Brewing Co.'s 1554 Enlightened Black Ale.)
3/4 cup brownie bits (Once cooled, cut into small bits to mix-in. Author used an espresso brownie w/walnuts.)
1/2 cup coconut (optional)
---
Directions
Bownies

Start by making your brownies. They will need to be completely cool before you add them to the ice cream, which will take some time. You can put the pieces in the fridge for a bit to chill before adding them to the ice cream maker.
Follow whatever recipe you choose and leave them out to cool when they are done.
When they are cool, cut some of the pan into bite sized pieces to put into the ice cream.

Beer Ice Cream

For the beer ice cream, mix 2 Tbsp of the whole milk with the cornstarch in a small bowl. It is important to make sure the cornstarch is completely dissolved to make a slurry, so mix well! Set that aside.
In a new bowl, incorporate the cream cheese and salt together in a large bowl (you'll be adding a lot more to it later and need the room). Set that aside. Now comes the important part, making the custard.
Combine 1.5 cups whole milk, 1.25 cups heavy cream, 2/3 cups sugar, 3 Tbsp corn syrup and 1/2 cup cocoa powered in a large sauce pan.
Bring the mixture to a rolling boil for 4 minutes (Be careful not to have the heat on full blast. Let it come up to a boil gently or you will scold the milk).
After about 4 minutes of boiling time, remove the pot from the heat and slowly whisk in the cornstarch slurry you made earlier. Turn the heat back on the pot and let it come to a boil for about 3 minutes, until it has thickened slightly. Stir the mixture with a rubber spatula the whole time.
Remove the pot from the heat and slowly pour the hot mixture into the bowl with the cream cheese while whisking. Whisk the cream cheese/custard vigorously for a few minutes until you have worked in all of the cream cheese and it is smooth.
Next, pour in the Belgian-style dark ale! Whisk some more until it's all incorporated. The hard part's done and it's all about being patient from this point on (which for some may actually prove to be the hard part).
Now you need to cool the ice cream base. You can do this however works best for you. I poured it into a gallon freezer bag and plunged that into an ice bath (ice and water in a big bowl), then let it chill out in the fridge for about an hour. You could also just put the bowl into an ice bath and cover the mixture with some plastic wrap. Whatever works for you. The freezer bag/ice bath set up worked well. You should let it cool for at least an hour. This will result in a much smoother end product.
Once your ice cream base is cold, add it to your ice cream maker and follow the manufacturer's instructions (which usually means turning it on and walking away).
Let it churn for about 25 minutes, and then add in the brownie bites and coconut if using. You should add them in when the ice cream looks pretty much done. Use the add spout on the ice cream maker and add them in while it is still churning. Let it go for another 5 minutes or so, and then turn off the machine.
Scoop the ice cream into a freezer safe container and let it set for 4 hours or more in the freezer. After that, it should be ready to go. Scoop and enjoy!