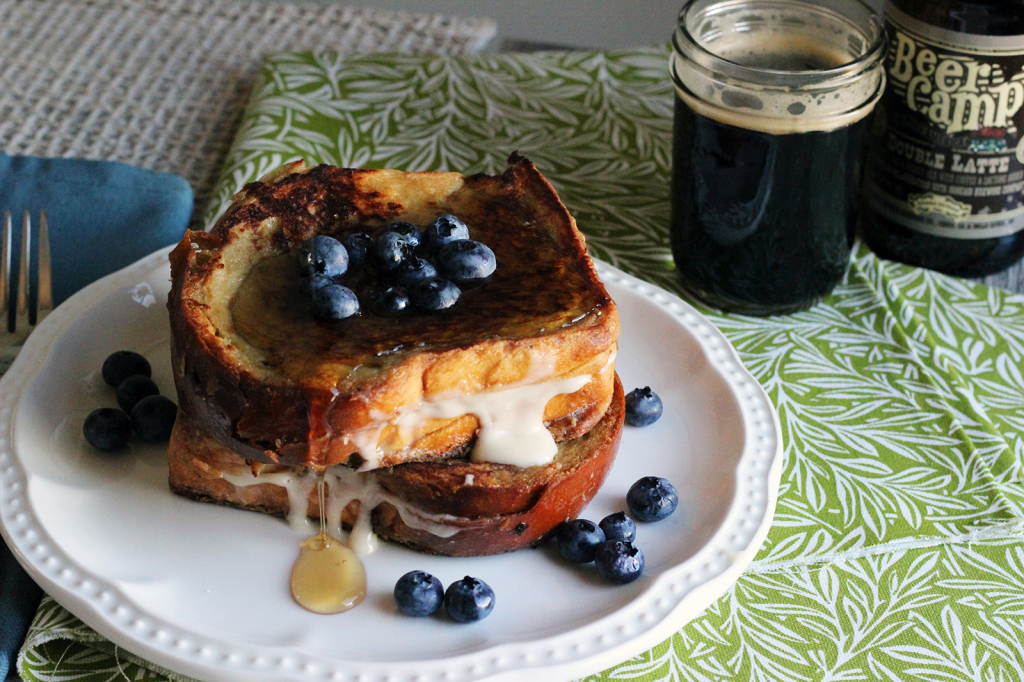 Recipe for French Toast made with your favorite breakfast stout custard batter and stuffed with cream cheese frosting spiked with bourbon.
Ingredients
Egg Batter
1/2 cup cream
1/2 cup breakfast stout
3 large eggs
1 Tbsp melted butter
1 Tbsp brown sugar
2 tsp pure vanilla extract
For a pumpkin variation, add 2 Tbsp pumpkin puree and 1/2 tsp cinnamon; skip the vanilla extract
Bourbon Cream Cheese Filling
6 ounces cream cheese, softened
6 Tbsp unsalted butter, softened
1 1/2 cup powdered sugar
1 1/2 ounces bourbon
1/4 tsp salt
Can substitute bourbon with vanilla extract, pumpkin puree, or stout
Toast and Toppings
1 loaf braided challah bread cut into 1 1/2" slices
butter for cooking
maple syrup
chocolate chips, blueberries, or blackberries to garnish
---
Directions
Cream Cheese Filling
Beat cream cheese, butter and salt in a stand mixer on medium speed until smooth. Add bourbon and mix until well combined.
Reduce speed to low; add 1 1/2 cups powdered sugar and mix until fully incorporated.
If mixture feels a bit loose or if a sweeter filling is desired, add an additional tablespoon of powdered sugar at a time until a spreadable frosting consistency is reached.
If preparing in advance, or if there happens to be leftovers, cover with plastic wrap and store in the refrigerator for up to a week.
Breakfast Stout French Toast
Create a pocket in each slice of bread by using a paring knife to cut horizontally into the bottom or side crust.
Carefully fill each bread pocket with 2 tablespoons or so of cream cheese filling. I like to use a pastry bag or Ziploc with the corner cut off, but a butter knife also works well.
In a baking dish or pie pan, thoroughly whisk together all batter ingredients. Place each slice in egg batter, allowing to soak for 10 seconds per side.
Melt 2 tablespoons butter in a large, heavy bottomed skillet over medium heat. Working in batches, place prepared slices into skillet to brown.
Cook 4 to 5 minutes per side, adjusting heat as needed, until golden brown. Transfer to a baking sheet in a 200°F oven to keep warm while cooking remaining slices.
Serve warm, topped with maple syrup and berries, alongside a breakfast stout.