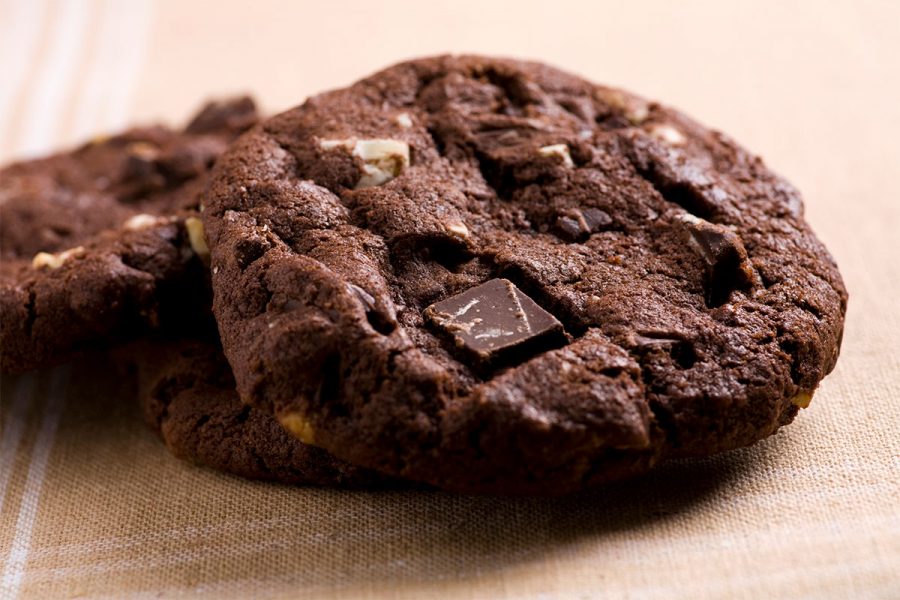 Lauren Wiersma, production team member at Left Hand Brewing Company, has created the perfect combination of sweet, salty and spicy with her chocolate chip cookies made with Left Hand's Milk Stout.
Ingredients
2 1/4 cups flour
1/2 cup unsweetened cocoa powder
2 tsp cream of tartar
1 tsp baking soda
1/2 tsp coarse salt
2 tsp cinnamon
1 - 2 tsp cayenne, depending on preferred spiciness
1 cup unsalted butter at room temperature
1 1/4 cups sugar
1/2 cup brown sugar
1 tsp vanilla extract
2 large eggs
1 package dark chocolate morsels
6 slices of bacon, cooked and coarsely chopped
2 Tbsp milk stout
---
Directions
To make these oozy goozy chocolate chip cookies, pre-heat oven to 350°F.
In a medium bowl, sift together flour, cocoa powder, cream of tartar, baking soda, salt, cinnamon and cayenne.
In a large bowl, use an electric mixer on medium to beat butter and two sugars for about two minutes, until light and fluffy. Add eggs and vanilla, and beat to combine.
With mixer on low, add the milk stout and then add the flour mixture and beat until combined.
Fold in dark chocolate morsels.
Drop half tablespoon-size dough onto un-greased cookie sheet, leaving about 2 to 3 inches between each.
Sprinkle tops with bacon pieces.
Bake on center rack of oven for 8 - 10 minutes.