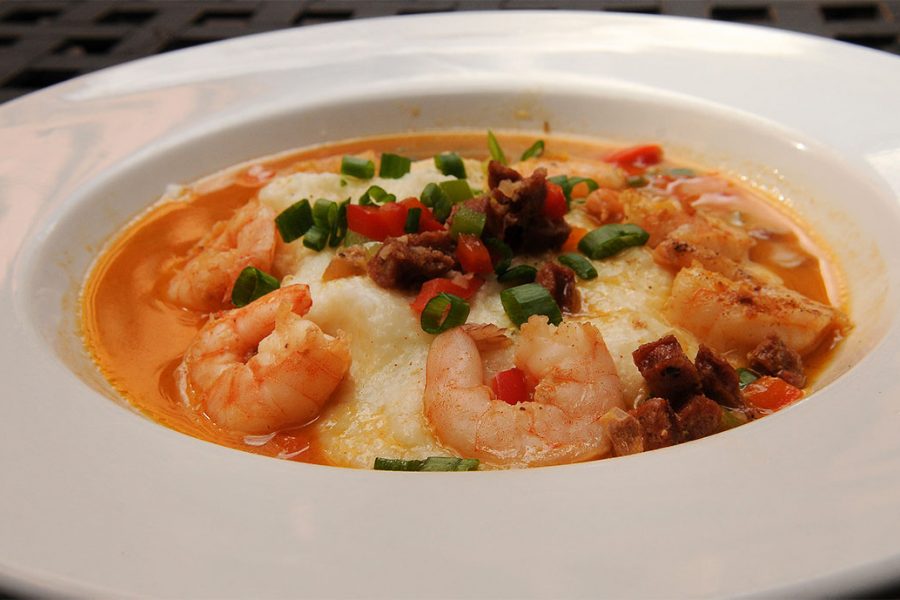 Recipe for Southern style barbecue shrimp and grits made with Abita Turbo Dog (or your favorite amber ale) served with Andouille sausage.
Ingredients
Grits
1 cup grits (I use instant, but use what you like)
1 yellow onion, minced
1 jalapeno, partially seeded and minced
4 cloves garlic, minced finely
2 andouille sausages, diced
2 Tbsp butter at room temperature
Sea salt and pepper to taste
Shrimp
2 lbs. large fresh (not frozen) shrimp, completely shelled (tails and all)
1 Tbsp vegetable oil
1 large head of garlic, minced
2 large stems of fresh rosemary, left whole, but bruised with the back of your knife
3 Tbsp Worcestershire sauce
3 Tbsp Tabasco sauce, or to taste
1 large lemon, juiced and quartered
1/3 cup beer (I like Abita Turbodog)
1 tsp dried basil
1 tsp dried oregano
1 tsp dried thyme
2 tsp cayenne pepper
2 tsp paprika
8 tbs butter (one stick) at room temperature
Sea salt and pepper to taste
---
Directions
For the best results when making shrimp and grits, knock the grits out first. Allowing the grits to warm on the stove while you cook the barbecue shrimp won't hurt them in the least.

Grits

Over a medium high heat, melt one tablespoon of butter and toss in the onion, garlic, jalapeño, and salt and pepper to taste.
Sauté the vegetables for a minute or two and add the Andouille sausage.
Sauté for another 5 minutes, or until the sausage begins to sweat, and then add water and cook the grits according to the instructions on the box they came in.
When the grits are cooked, add the remaining butter and taste the grits to make sure you've added enough salt and pepper.
Cover the pot and set on low heat while you take care of the shrimp.

Shrimp

In a large skillet over medium high heat, add the tablespoon of vegetable oil.
When the oil begins to smoke, add the garlic and stir so the garlic browns, not burns.
After a minute or so, add the shrimp, Worcestershire sauce, whole rosemary, oregano, thyme, paprika, cayenne, basil, hot sauce, lemon juice, lemon quarters and salt and pepper to taste.
Cook for a minute or two.
Add the Turbodog and deglaze the pan by scraping off any bits that are sticking to the bottom.
Finish cooking the shrimp for another two to three minutes and then add the eight tablespoons of butter piece by piece, stirring them into the sauce.
Once the butter is fully incorporated, taste the sauce to ensure it's seasoned to your liking.
Remove the lemon quarters and rosemary stems.
When the shrimp are pink and begin to curl, pull the pan off the heat, fill a few bowls with grits and ladle the barbecue shrimp on top.