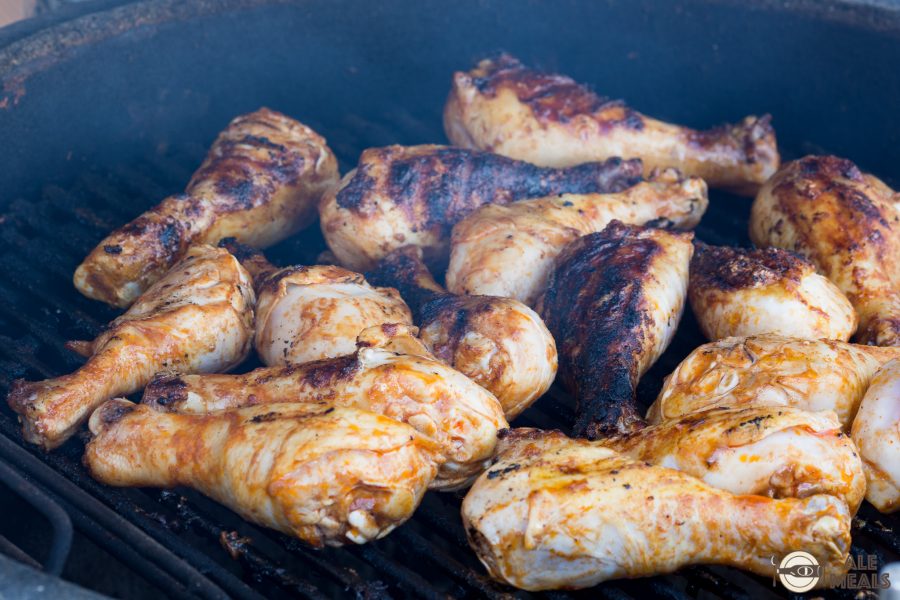 Buffalo Wings? No, Porter Buffalo Chicken Drumsticks! All kinds of spicy and succulent down to the bone.
Ingredients
Porter Buffalo Chicken Legs
16 chicken legs
8 oz. Deschutes Black Butte Porter
12 oz. Frank's Hot Sauce
2 Tbsp Tapatio Hot Sauce
1 stick butter
1 Tbsp cayenne
2 Tbsp chili powder
1 Tbsp garlic powder
2 cups buttermilk
For Porter Gorgonzola Sauce
12 oz. gorgonzola
4 oz. Deschutes Black Butte Porter
8 oz. cream cheese
3 Tbsp sour cream
2 Tbsp Tapatio Hot Sauce
1 Tbsp garlic powder
---
Directions
Porter Buffalo Chicken Drumbsicks
Melt butter in a large sauce pan. Add Frank's Hot Sauce, Tapatio Hot Sauce, cayenne, chili powder, garlic powder and Deschutes Black Butte Porter to melted butter.
Place chicken legs into sauce over super-low heat. Allow to sit for one hour in sauce. Place legs into freezer bags and refrigerate for at least two hours. Bring remaining sauce to simmer and reduce by 1/3, reserve.
Heat Big Green Egg or other grill to 350°F. Drench legs in sauce, and arrange legs on grill. Cook until the start of char on the outside.
Now the big secret, mix buttermilk into the used freezer bag. Dunk the hot legs into buttermilk mixture and flash on the grill.
Porter Gorgonzola Sauce
Blend all ingredients with immersion blender until smooth. Melt over very low heat, stirring often. Serve platter style with dipping sauce in the center.