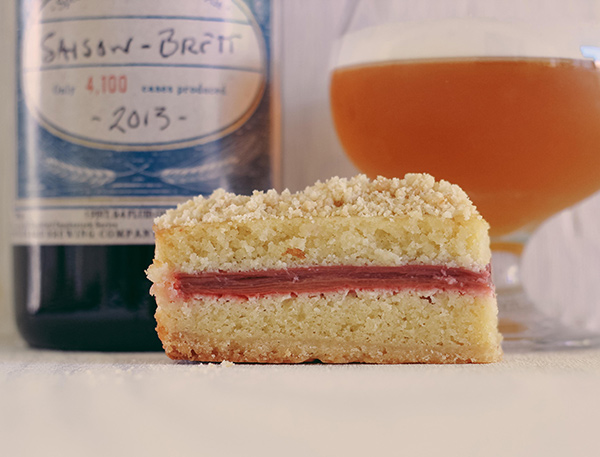 This recipe called for rhubarb to be soaked in grenadine and sugar for at least 24 hours. Beer and Baking opted to substitute the grenadine for Boulevard Brewing Company's Saison-Brett to add the distinctive flavor profile of brettanomyces yeast, and cranberry bitters were added for color.
Ingredients
Rhubarb
6-8 rhubarb stalks, trimmed to the size of the pan
1/2 cup granulated sugar
1/2 cup of Saison-Brett
4 dashes of cranberry bitters (or any red bitters). You can use food coloring or grenadine to achieve the red color)
Crust
2 2/3 cups AP flour
1/4 cup + 2 1/2 Tbsp of powdered sugar
3/4 cup + 1 Tbsp of powdered sugar (second addition)
1/4 cup + 3 Tbsp of almond flour
8 oz of unsalted butter (room temp)
1 vanilla bean
3 1/2 tablespoons of eggs (beat a few eggs together and take the tablespoons from that)
Tart Filling
1/2 cup + 3 Tbsp of almond glour
1/2 cup + 1 1/2 tsp AP flour
1/2 cup + 1 1/2 Tbsp eggs
1 cup + 1 Tbsp of granulated sugar
1/4 cup + 2 tsp of whole milk
1/4 cup + 1 Tbsp of heavy cream
3/4 cup + 1 Tbsp of brown butter
Toasted Almond Streusel Topping
3/4 cup + 2 Tbsp AP flour
1 cup + 1 Tbsp almond flour
1/2 cup + 1 1/2 Tbsp granulated sugar
1/4 tsp sea salt
4 oz cold unsalted butter cut into pieces
---
Directions
Rhubarb

Let the trimmed stalks sit in Boulevard Brewing Co.'s Saison-Brett for 24-48 hours. Try and rotate every eight hours or so. When you are ready to assemble, pat dry on paper towels and discard the liquid.

Crust

Sift the AP flour, almond flour and powdered sugar (1/4 cup + 2 1/2 Tbsp) into a bowl. Be sure and break-up any lumps.
Beat butter in a stand mixer with the paddle attachment for at least 2-3 minutes, or until creamy. Sift in the powdered sugar (3/4 cup + 1 tbsp) and mix until fluffy.
Scrape down the sides of the bowl with a spatula. Take the vanilla bean and split it down the middle and scrape the seeds out and add them to the butter mixture. Mix for a few seconds to distribute.
Add the dry ingredients in two additions and only allow 15-30 seconds to incorporate each time. Add the eggs and mix for another 15 seconds.
Transfer the dough to a work surface with flour and a Silpat.
Using the heel of your hand, press the dough and drag your hand to smear the dough. This will create a smooth dough that is well incorporated instead of kneading the dough like bread.
Divide the dough in half and place in the fridge for at least two hours to firm. I opted to keep mine refrigerated for 24 hours and froze the second half of the dough. It can stay good in the freezer for about a month.

Tart Filling

Preheat the oven to 350°F. Roll-out your tart dough to about 1/2 – 1/4 inch thickness. Line an 8X8 square brownie pan with parchment paper, ensuring the edges sticking up and out of the pan.
Place the tart dough on the bottom of the pan on the parchment paper in an even layer. If you failed to get it in there in once piece like I did, just patch it as best as you can.
Cook for about 15 minutes and then rotate the pan and then cook for another 5-10 minutes, until browned on the edges and hard to the touch. Set aside to cool.
Place your butter in a non-stick skillet and cook until browned but not burnt. Set aside to cool then strain using a cheesecloth to remove and debris.
Whisk together the almond flour and AP flour in a bowl. Combine the eggs and sugar in a stand mixer with the whisk attachment. Mix on medium for about two minutes. Slowly add the milk and cream to the egg mixture.
Add the dry ingredients and mix until just combined. Add the brown butter.
Using an off-set spatula, spread a small but even layer of the filling on the crust. Place the rhubarb (u shape facing up, curve side down) in the pan in the same direction filling the pan.
Spread the rest of the filling to cover the rhubarb and make sure all gaps are filled.
Bake for 40 minutes at 350°F then reduce oven to 325°F and continue to bake for another 10-15 minutes. Set on a cooling rack and allow to cool completely before removing.

Toasted Almond Streusel

Combine all the ingredients except the butter in a bowl and whisk to combine. Add the butter and mix with a pastry cutter or your hands to incorporate. Make sure the butter gets broken into little pieces.
Put in the fridge for at least two hours to get cold, otherwise it can be frozen for up to one month.
Spread cold streusel onto a baking sheet and bake at 350°F for about 15 minutes or until golden brown. Sprinkle the top of the rhubarb tart as desired.
Lift the tart out of the pan by the parchment paper and cup into long rectangle bars. Cut in the same direction the rhubarb was placed in the pan so you have a long strip of rhubarb not many little pieces.