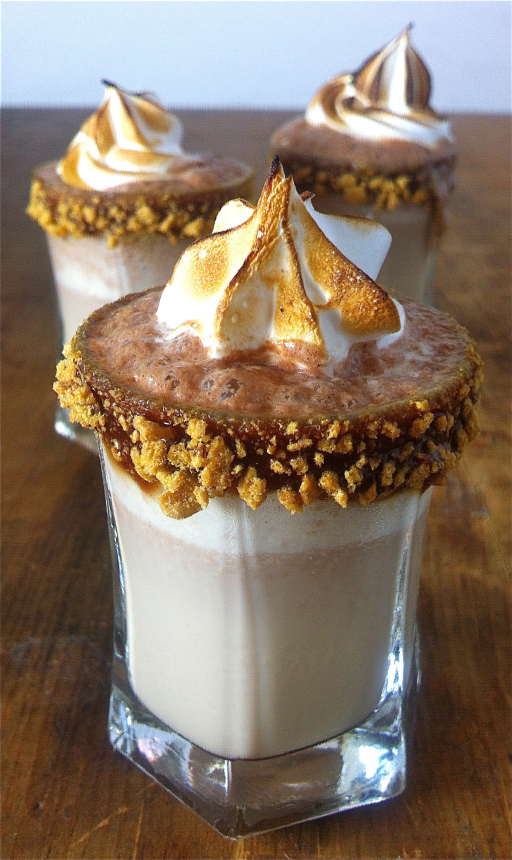 Everything you love about a s'more all combined into a shake made with your favorite chocolate stout. These s'more shakes absolutely need to make an appearance at your next dinner party! Hint, this recipe for marshmallow makes a ton, and is delicious de-fluffed on ice cream, pretzels, or other sweet treats.
Ingredients
Shake
4 scoops vanilla bean ice cream
1 cup chocolate stout, very cold
1/2 cup whole milk
2 Tbsp good quality chocolate syrup
1 tsp vanilla extract
pinch salt
Marshmallow Frosting
4 large egg whites, room temperature
1 cup superfine sugar
1/4 tsp cream of tartar
1 tsp vanilla extract
S'more Shake
Shakes
Marshmallow frosting
1 Tbsp chocolate syrup
3 Tbsp Golden Grahams, crushed
---
Directions
Chocolate Shake
Add all ingredients to blender and blend until smooth.
Marshmallow Frosting
In the heatproof bowl of an electric mixer, add egg whites, sugar and cream of tartar. Set over a saucepan with simmering water.
Whisk constantly until sugar is dissolved and whites are warm to the touch, 3 to 4 minutes.
Transfer bowl to electric mixer fitted with the whisk attachment and beat, starting on low speed, gradually increasing to high, until stiff, glossy peaks form, 5 to 7 minutes.
Add vanilla, and mix until combined.
S'more Shake
Put chocolate syrup on small plate, and crushed grahams on separate plate.
Dip glasses in syrup, then in grahams.
Pour shake into each glass.
Pipe marshmallow topping on shakes.
Toast marshmallow with small kitchen torch. Enjoy!