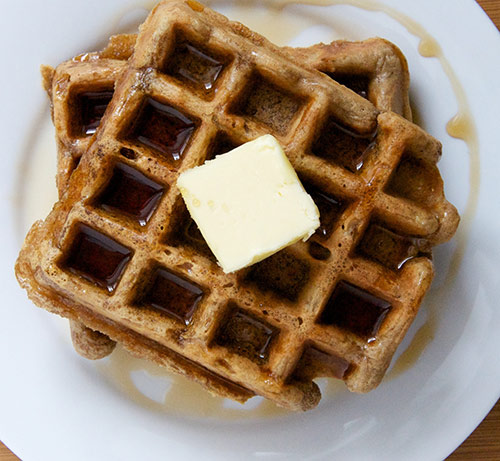 Dula Notes uses Bell's Double Cream Stout, one of her favorite local beers, to add spice and character to homemade stout waffles. Beer is for breakfast!
Ingredients
4 Tbsp unsalted butter, plus extra for greasing the waffle maker
1 cup buttermilk or milk
1 cup stout
2 1/4 cup all-purpose flour
3/4 tsp sea salt
4 tsp baking powder
1 1/4 tsp baking soda
2 Tbsp sugar
1 1/2 tsp cinnamon
1/8 tsp cardamom
2 eggs
1 1/2 tsp vanilla
---
Directions
To make these stout waffles, melt butter in a medium pot over low heat. Add buttermilk and Bell's Double Cream Stout, stir and heat until warm. Turn off the heat.
In a large bowl, add flour, sea salt, baking powder, baking soda, sugar, cinnamon and cardamom. Whisk to combine.
In another large bowl, whisk eggs until well beaten. Add vanilla and whisk to combine. Pour about one cup of the butter/buttermilk/beer mixture into the eggs and whisk vigorously to combine. Pour the rest of the warm butter/buttermilk/beer mixture into the bowl while whisking constantly.
Add the liquid mixture to the dry mixture and stir with a wooden spoon until the flour disappears, but the batter is still a little lumpy. Take care not over mix, but make sure the flour is incorporated. Let the batter sit as your waffle iron heats up.
Spread a thin coat of butter on the preheated waffle iron to prevent the waffles from sticking. Pour batter into the waffle iron and cook until waffles are golden brown. Serve immediately with real maple syrup.