Ohio loves beer, and beer loves Ohio. The country's seventh most populous state was fourth in craft beer production in 2018 according to the Brewers Association. There are now over 300 independent breweries in the Buckeye state, with dozens more in the planning stages.
On top of all that, Ohio is beautiful. Rows of crops hem in country roads in the summer months, and in fall and winter, the harvested fields open up views that stretch to the horizon. One entire border runs along Lake Erie, and another runs along the Ohio River, the second largest river in the country by volume. Our streams, forests, and state parks provide varied and beautiful scenery for a driving tour.
Combining Ohio's brewed treasures with its natural wonders makes for a fantastic road trip (with a designated driver, of course). I've lived in Ohio for nearly 30 years and been drinking beer for half of them, and I am still discovering new things to love about this state. Hop in the car, pick some tunes, and take in Ohio through these 18 craft beers.
Dayton
I live near Dayton in southwest Ohio, and I firmly believe we have one of the most underrated beer scenes in the country. The Dayton metro area of about 900,000 people has around 20 breweries with more in planning, and the best beer coming out of the Gem City is awesome. We'll start our Ohio tour with one of Dayton's newest and most exciting breweries.
Branch & Bone Artisan Ales | Violet Perception
Branch & Bone burst onto the Dayton scene in June 2018, and are already brewing some of the best and most exciting beers in the state. They specialize in new wave IPAs, mixed-fermentation barrel- or foeder-aged sours, fruited session sours, and silky smooth stouts and coffee beers. One of the first beers they offered when they opened but the visually stunning Violet Perception, a Berliner-style weisse made with butterfly pea blossoms, ginger, and lime. This purple brew is tart, tropical, and crisp, and offers the perfect way to ease into the brewery's esoteric but impeccable lineup. Grab a table in the small but smart taproom (they fill up quickly on weekends) and enjoy these beers in perfect tasting glassware (even flights come in tall, fluted tulips).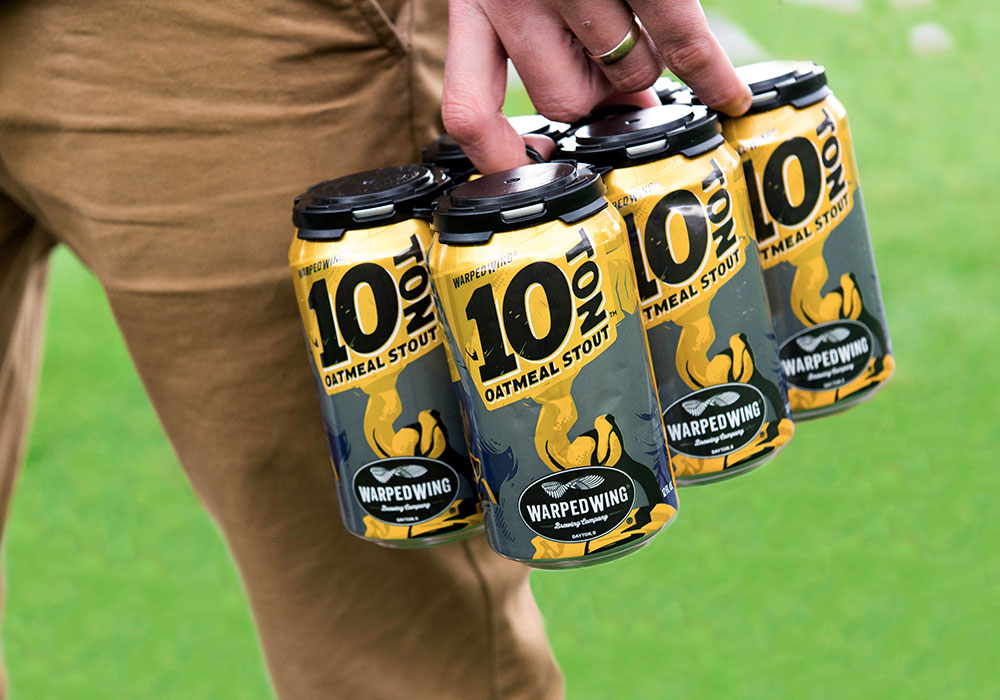 Warped Wing Brewing Company | 10 Ton Oatmeal Stout
Dayton's biggest brewery is also one of its best, with seasoned brewmaster John Haggerty turning out a mix of standards that disappear by the pint and barrel-aged rarities to be savored in snifters. While the latter might garner more buzz (and are certainly excellent), one of Warped Wing's finest beers is available year round. 10 Ton Oatmeal Stout is named for the gigantic industrial crane that still spans the brewery interior from the building's former life as an iron foundry. This 7% ABV seducer is bigger than old school oatmeal stouts, but soft and gentle, with subtle fruitiness from the English ale yeast and golden naked oats.
Yellow Springs Brewery | Handsome Brown Ale
Just east of Dayton is the eclectic small town of Yellow Springs, and the eponymous brewery produces an array of unique and worthwhile beers. Brown ales don't get a lot of buzz these days, but Handsome is just about a perfect offering in the style. Roast and hoppiness are slightly elevated, but balance each other out. The smoked version of this beer earned the brewery a Great American Beer Festival medal in their first year of operation, and if you're lucky enough to find it on tap while you're there, certainly grab it. Take your pint to the leafy back patio along the Little Miami Scenic Trail and enjoy the Ohio weather (which will likely change while you're sitting there).
Other Dayton-area beers to try: Carillon Coriander Ale, Mother Stewart's Witbier, Dayton Beer Company Jalapeño Face, Eudora Le Cheval Magique, Fifth Street Jo Jo's Midnight Stout
(Related: 12 Craft Beers That Taste Like … Beer!)
Columbus
A one-hour car ride east from Dayton along I-70 will land you in the state's capital. The bustling city has more than 50 breweries and numerous fun little neighborhoods. Here are the highlights.
Columbus Brewing Company | Bodhi
Did you know some of the best double IPAs in the country come out of a 30-year-old brewery in central Ohio? Columbus Bodhi won bronze at the Great American Beer Festival in 2014, and its big brother Creeper won gold the same year. Bodhi is likely the better known of the two, appearing on numerous national best-of lists over the years. The Citra-hopped wonder is big, juicy, and smooth, belying its hefty strength. After being a production brewery decades, CBC recently opened a taproom just west of downtown. Head in and try these amazing IPAs.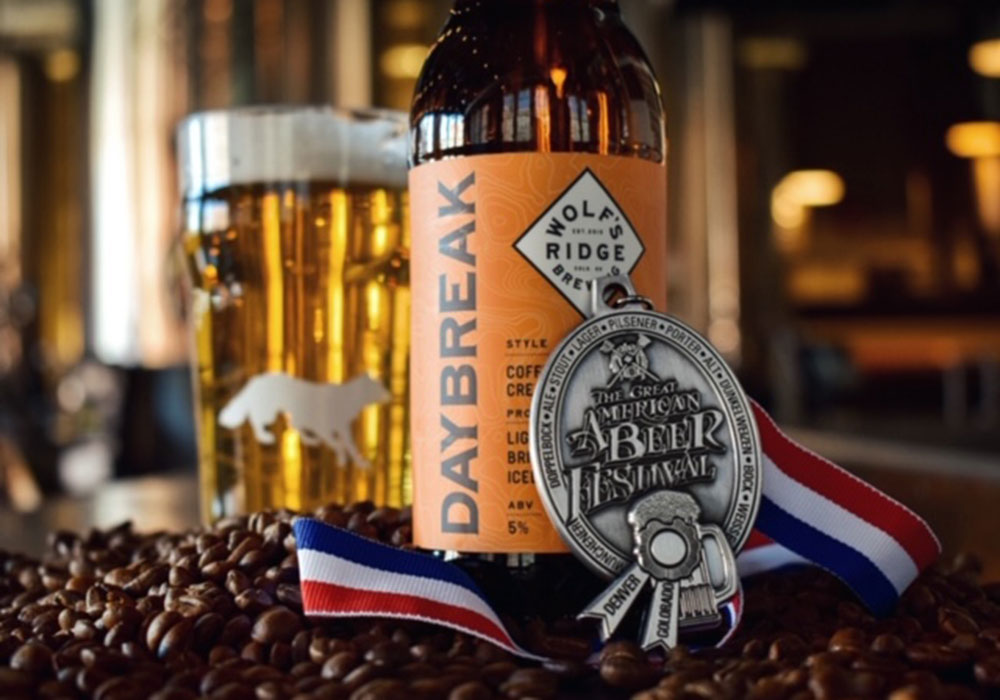 Wolf's Ridge Brewing | Clear Sky Daybreak
Thankfully, the days of coffee beers all being 10% ABV stouts are over. Wolf's Ridge makes one of the best pale, lower-alcohol coffee beers to be found with Clear Sky Daybreak. Based on the cream ale style popular as a gateway beer for craft brewers around the state, Clear Sky Daybreak uses coffee from Columbus roaster One Line, and has an incredibly fresh coffee aroma in a light, 5% ABV package. While you're there, be sure to dine in their wonderful restaurant, and try their elegant Red Legacy Flanders red ale.
Pretentious Barrel House | Magnanimous
Pretentious Barrel House exclusively produces barrel-aged sour ales, and they do a damn fine job of it. Founder Joshua Martinez has a gift for blending, and Magnanimous is a masterpiece. This beer won Best In Show at the Ohio Craft Brewers Cup in 2019. The brewery's base dark sour ale spends 13 months in red wine barrels and has a fascinating balance of bright citrus, cherry, oak, chocolate, red wine, and perfectly calibrated acidity. If you make beer this good, you're allowed to be a little pretentious.
Other Columbus-area beers to try: North High Cover Crop Beer, Land-Grant 1862 Kölsch, Seventh Son Humulus Nimbus
(Related: Feel at Home In This Ohio Brewery's Airbnb)
Southeast & East
The rolling hills of rural eastern and southeastern Ohio serve as the western gateway of the Appalachian mountains. Tucked into the valleys and draped over the rises of this vibrant stretch of land are numerous small town and rural breweries producing beers both rustic and refined. While you're in the area, be sure to do some hiking in Hocking Hills State Park and enjoy the region's natural beauty.
Rockmill Brewery | Petite Saison
Rockmill Brewery brews what I hold to be among the best Belgian-style beers this side of the Atlantic, and they brew them in one of the most gorgeous brewery settings I've ever seen. A half-hour southeast of Columbus, their restored 18th century horse farm draped over a hilly property outside Lancaster is as idyllic as they come, with ample shade, a pond, and plenty of grassy spots to lay out a picnic blanket and drink their incredible beers. The brewery's Petite Saison is the platonic ideal of a table saison; it's dry, spritzy, and peppery, with subtle stone fruit esters. Drink glass after glass and watch the Ohio sun cross the sky. Just be sure to be down by the pond for sunset, with beer in hand.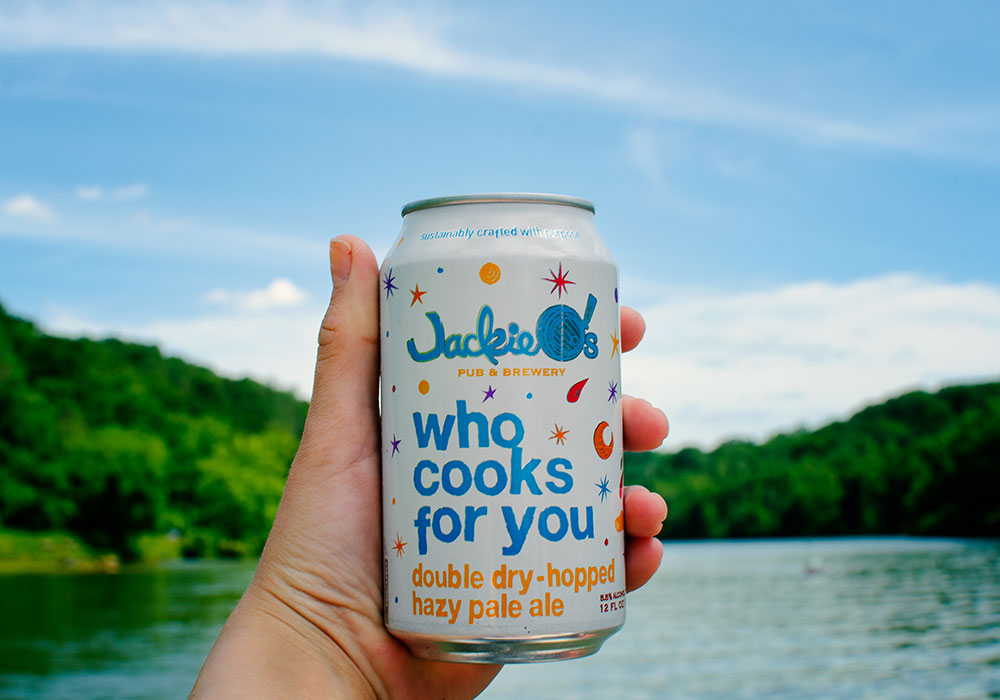 Jackie O's Brewery | Who Cooks For You?
Name a beer style, and Jackie O's probably brews it. This incredibly prolific Ohio brewery in the charming college town of Athens makes IPAs, mixed-fermentation sours, barrel-aged behemoths, sessionable craft classics, and just about everything else, and does them all well. Who Cooks For You? (named after the onomatopoeia for the call of the barred owl) proves an established brewery can beat the new kids at their own game. This hazy pale ale is…well, it's perfect. The body is soft and fluffy but defined, and the citrus and tropical hop flavor is held in the ideal center by malt sweetness and hop bitterness. Try this beauty and countless others at either of Jackie O's three pub locations around Athens.
(More: How Do You Build a Strong Brewery? Jackie O's Focuses on Home)
Little Fish Brewing Company | Smoked Helles
On a hillside property along the frayed, green hem of Athens sits one of the best brewers of mixed-fermentation beers in the country. Little Fish makes more excellent foeder-aged beers than I can list, and they've installed a koelschip as well. My favorite beer from them, however, couldn't be farther from those flavor profiles. Their Smoked Helles is one of the best smoke beers I've ever tasted. It's like a late summer campfire on the beach, the cool sand beneath you, the kiss of dry driftwood smoke in the air. Get a pint, settle in on the brewery's beer garden overlooking the Kanawha River Railroad and a verdant pond, and enjoy the perfect August night inside your glass.
Wooly Pig Farm Brewery | Rustic Helles
Nestled on a ragged hillside near the Tuscarawas River, Wooly Pig Farm Brewery is modeled after the rural lager breweries of Franconia and northern Bavaria in Germany, where founder and brewmaster Kevin Ely has spent time. His rustic lagers are some of the best you'll ever taste without a plane ticket to Germany, and sipping on large mugs of unfiltered helles, schwarzbier, or Pilsner straight from the lagering tanks while wandering the working farm property is like being transported to the Continent without leaving the state. Be sure to say hello to the namesake Mangalitsa pigs while you're there!
Other eastern and southeastern Ohio beers to try: Portsmouth Brewing Company Red Bird Ale, Sandy Springs Meet Virginia, Lockport Gateway Cream Ale, JAFB Wooster New Stout
(More: Change is a Constant for Breweries That Stand the Test of Time)
Cleveland
This industrial powerhouse on the shore of Lake Erie hosts Ohio's oldest and largest independent craft brewery (more on that below) and dozens of more recent additions pumping out fantastic beer. You'll start your tour just southwest of the city, and then head to the historic Ohio City neighborhood in the heart of Cleveland.
Fat Head's Brewery | Alpenglow
The most award-winning brewery in Ohio just can't seem to do anything wrong. Fat Head's continued their medal-grabbing ways at the Great American Beer Festival in October, winning three medals. You should definitely try those beers, along with their legendary Head Hunter IPA and Hop JuJu Imperial IPA, but my favorite of their beers didn't win at GABF in 2019. That's okay, because it won GABF gold in 2017, 2016, and 2014, and silver in 2012, along with World Beer Cup gold in 2018. Alpenglow just might be the best weizenbock out there, with a big banana and clove character, a rich malt foundation and a dry enough finish to keep it drinkable.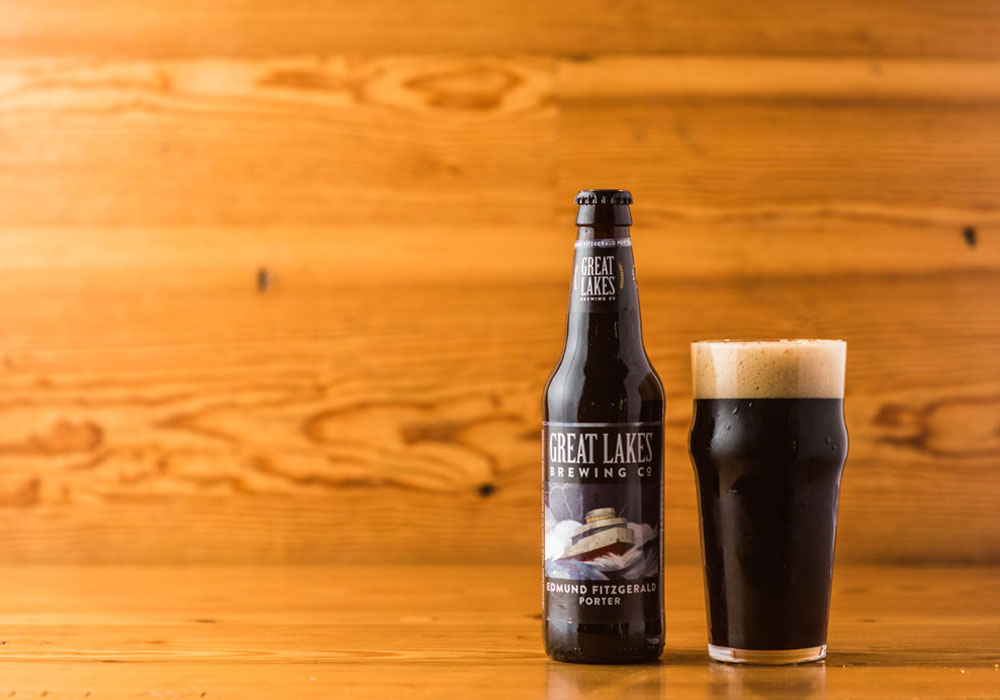 Great Lakes Brewing Company | Edmund Fitzgerald
One of the best and most decorated robust porters in American craft beer needs little introduction. Named for the ill-fated steel freighter that dove for the bottom of Lake Superior in 1975, Edmund Fitzgerald's namesake was closely tied to Cleveland's history. After being brewed for nearly 30 years, the beer is pretty tied to the city now as well. The Great Lakes brewpub in the historic Ohio City neighborhood has a beautiful mahogany bar where Eliot Ness once sat (and, if legends are true, was once shot at) and a fantastic food menu. Just be sure to save room for plenty of Edmund Fitzgerald Porter, as well as some taproom-only rarities.
Market Garden Brewery | Prosperity Wheat
Right around the block from Great Lakes sits Market Garden Brewery, who has seen several beers decorated at GABF, most recently their Prosperity Wheat. This hefeweizen is pretty much perfect, with assertive weizen yeast and a delicate balance between the lightly sweet wheat and pale malt and the dry, delicate finish. This beer also won Best In Show at the inaugural Ohio Craft Brewers Cup in 2018.
Other Cleveland-area beers to try: Noble Beast Murder Ballads Baltic Porter, Saucy Brew Works B.F. Hefe, Collision Bend Sixth City Alt, Willoughby Peanut Butter Cup Coffee Porter
Northern & Northwest
Heading west from Cleveland, skip the Ohio Turnpike and drive west along Lake Erie on Route 20 and Route 6 toward Toledo – it is one of the most scenic drives in the state. You can stop along the way to admire Ohio's own Great Lake and watch freighters crossing the expanse from Detroit to ports east. Before you reach Toledo, you'll cross a bridge across Sandusky Bay to your first northwest Ohio brewery.
(More: Form & Function: Brewery Visits with an Architect)
Twin Oast Brewing | Red Sun Saison
Twin Oast Brewing has one of the most idyllic properties of any brewery in the state. Located on a rural spread on Catawba Island (it's actually a peninsula, but was once an island) jutting out into Lake Erie, Twin Oast Brewing is part of an active fruit farm, and much of the produce makes it into their beers. Enjoy the beautiful pastoral property with a Red Sun Saison in hand. This visually and aromatically lovely beer is the perfect match for the agrarian surroundings.
Father John's Microbrewery | Dark Night of the Soul American Stout
Dr. John Trippy just wanted to save an old Methodist church built in 1867 in the small town and Bryan southwest of Toledo, as the building was falling into ruin. A brewery was never in the plans. But once he'd restored the stately structure, he had to find something to do with it. In 2012, he opened a brewery and restaurant in the former house of worship that now nourishes the body along with the spirit. Check out this gorgeous building filled with relics from all faiths, enjoy a hearty meal, and contemplate the eternal over a pint of Dark Night of the Soul. At the end of the night, you can stay in at the Stoned Goat Inn, an Airbnb lodging Father John's operates in the former church parsonage.
Other northern or northwest Ohio beers to try: Laxton Hollow Lord Badger Bitter, Moeller Brew Barn Frogtown IPA, Maumee Bay Total Eclipse Breakfast Stout, Earnest Brew Works Crunchy Hippie
Cincinnati
Take a three-hour drive down I-75, or a more scenic and leisurely one down U.S. 127, and conclude your Ohio tour in the state's largest metro area. Cincinnati might have the most robust and varied craft beer scene in the state, with over sixty breweries in its expansive and eclectic urban enclaves.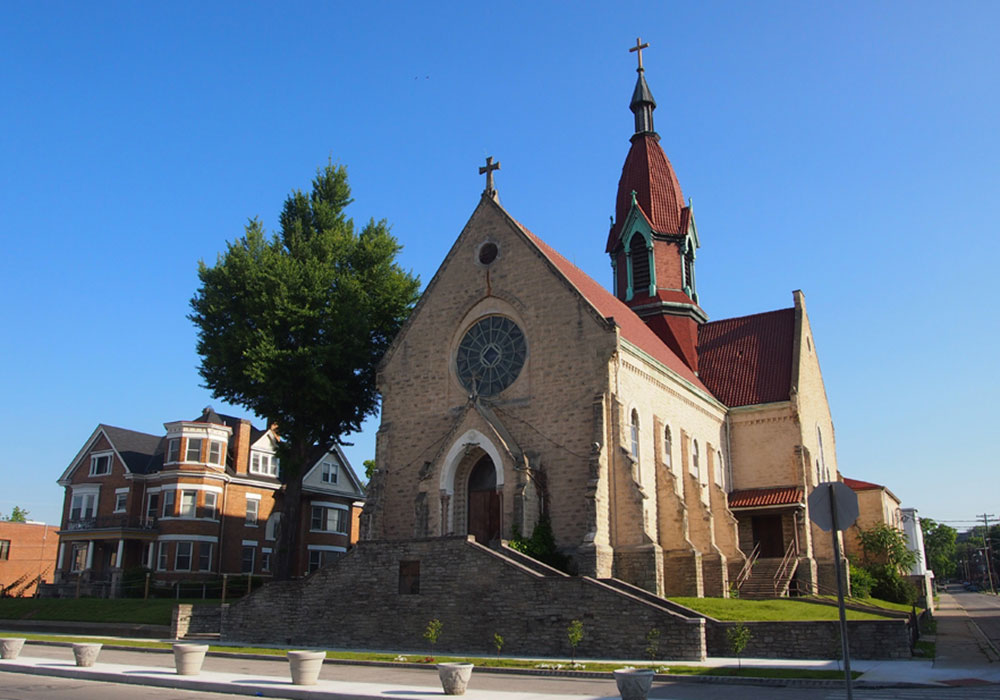 Urban Artifact | Paperweight
You're not done with churches yet! Urban Artifact occupies a beautiful former Catholic church built in 1873, and their beers are among the more unique in the state. They've carved out a niche for themselves by specializing in shelf-stable, heavily-fruited sour ales. Their flagship line is the Midwest Fruit Tart series, which utilizes a rotating cast of fruits to create approachable sour ales that offer bridges to fans of wine and mixed drinks while still satisfying the palates of sour beer fans. Paperweight is brewed with an obscene amount of apricots and offers a remarkable fresh fruit flavor balanced out by the beer's moderate acidity and 7.7% ABV strength.
MadTree Brewing | Happy Amber
Amber ales never get any love, but a well-made example can really be perfect in the right moment. MadTree's 2.0 taproom is big and has the beer list to prove it, with 32 of their beers on at all times. There are plenty of great options at one of Cincinnati's showcase brewery destinations, and you should definitely get a flight to try some of them. But don't sleep on Happy Amber, a beer that won gold at GABF in 2018 as the top Extra Special Bitter in the country (albeit one with a distinctly American hop character). It's endlessly drinkable and shows what this style can be in the right hands.
Brink Brewing | Hold the Reins
From one of Cincinnati's largest breweries, we head to one of its smallest, but one whose stature far exceeds its barrelage. Brink Brewing in the College Hill neighborhood on the north side has won back-to-back Very Small Brewery of the Year awards at GABF, and has never failed to medal in its three years of existence. You won't go wrong with Moozie Milk Stout, which has casually won consecutive golds at GABF, but I recommend the 4.6% ABV Hold the Reins English Mild. The beer has won three straight GABF medals, including two golds, and it's just…well, perfect. A small beer from a small brewery, but it's one of the best in Ohio, and the perfect way to finish out your beer tour of the state.
Other Cincinnati-area beers to try: Fretboard Vlad Pilsner, Fifty West 10&2 Barleywine, Listerman Team Fiona, Taft's Gustav Vienna Lager, Christian Moerlein OTR Ale, Rhinegeist Café Ink
CraftBeer.com is fully dedicated to small and independent U.S. breweries. We are published by the Brewers Association, the not-for-profit trade group dedicated to promoting and protecting America's small and independent craft brewers. Stories and opinions shared on CraftBeer.com do not imply endorsement by or positions taken by the Brewers Association or its members.