Very few things are better after a long day on the trail than a well-made craft beer. It's almost like beer was made for hiking. Cans and lightweight growlers make taking it along for the journey a breeze. The breweries are often laid-back, community-focused, and filled with beer and good food. It's everything you'd want in a post-hike atmosphere. For the ultimate hiking and beer experience, check out five long trails, ranging from 200-plus miles to 2,650 miles, and the breweries to visit along the way.
[newsletter_signup_box]
Appalachian Trail
The Appalachian Trail is the longest hiking-only trail in the world at 2,190 miles. More than 3 million people tackle the A.T. every year, winding through 14 states from Maine to Georgia. While portions of the trail are through towns and farmland, a majority of the route is rocky and wild. Day hikes and section hikes are options. Traveling the whole trail at once takes five to seven months.
Flora & Fauna: Black bears, rattlesnakes, wild boars, river otter; oak trees, maple trees
Lazy Hiker Brewing Company | Franklin, NC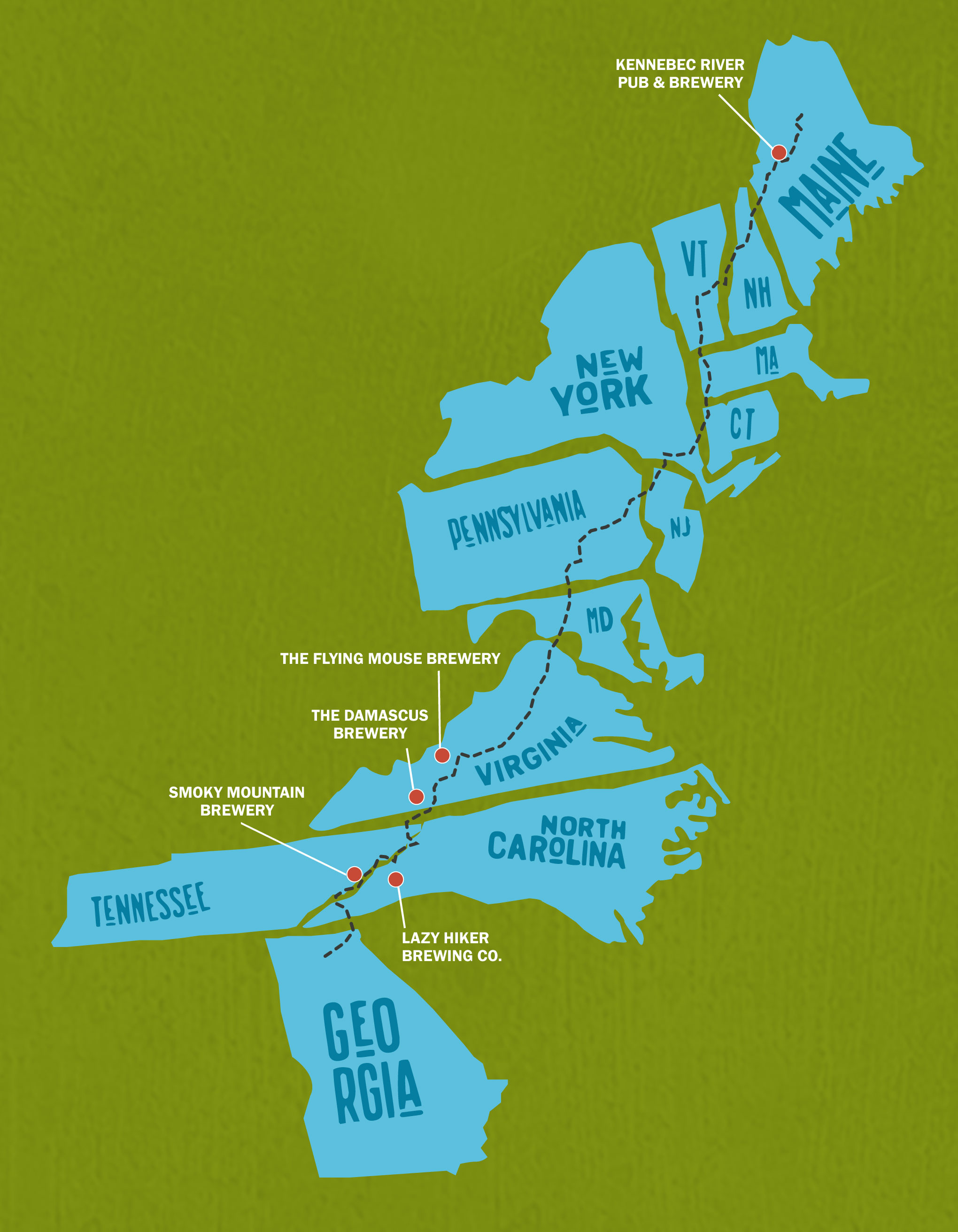 In the mountains of western North Carolina, 11 miles off the A.T. and only 3 miles off the Bartram Trail, sits Lazy Hiker Brewing. The name comes from the proximity to world-class hiking and a love for the outdoors, which also inspired the beers. Every beer has a name and imagery inspired by the trail. Trail Mate Golden Ale, Slack Pack IPA and Twenty Mile IPA, for instance. The Wesser Evil Porter is named after Wesser Bald, a peak that the Lazy Hiker Brewing team loves to hike. The Springer Fever Pilsner is described as the ultimate beer when you're ready to lace up your boots and start the journey of a lifetime from atop Springer Mountain — the southern trailhead of the A.T.
(TRAVEL: 8 Farm Breweries to Visit this Year)
Smoky Mountain Brewery | Gatlinburg, TN
Around mile 200, you'll find the oldest brewery in east Tennessee. Described as a cross between a ski lodge and a Bavarian beer hall, this spot is popular with A.T. hikers in addition to Smoky Mountain skiers and snowboarders. Named for what you might spot on the trail, the Black Bear Ale, a nutty brown beer, pairs with the fish sandwich. Try the Appalachian Pale Ale with the Kick Back Burger. Hearty brew grub is the perfect energy source before jumping back on the trail. Options include an ale steak marinated in the Cherokee Red Ale, spaghetti and meatballs, and a portobello philly sandwich. There are also gluten-free and vegetarian items.
The Damascus Brewery | Damascus, VA
Brewmaster Adam Woodson says that because The Damascus Brewery is the closest to the trail (around mile 486), almost every A.T. hiker stops in. "We love the exposure to our beer and brand because people from all over the world come to hike the trail," he says. Trail Daze IPL is specifically brewed for the Trail Days Celebration every year. The low-bitter Leaf-no-Trace Amber Ale is named after the outdoor movement to leave no trace on the trails, including trash as well as campfire impacts. If you're bringing your dog or kids along for the hike, The Damascus Brewery is pet- and kid-friendly.
The Flying Mouse Brewery | Troutville, VA
Located in the Blue Ridge mountains, easily accessible from the A.T., the brewery is focused on savoring craft beer as part of an outdoor adventure. Flying Mouse 3 is a Kolsch-style beer described as the "go-to brew" for the trail with a slightly sweet flavor and a low hop bitterness. The brewery offers detailed directions on how to get to it from different parts of the trail, and tells thru-hikers that if they are passing by when the brewery isn't open, just call and staff will try to welcome hikers in anyway. It even had trailblazers in mind when choosing packaging. "We don't serve anything in glass — it's heavy, difficult to carry. It doesn't keep beer cold, and it can easily break," says brewer Frank Moeller. Instead, you'll find stainless steel insulated growlers and lightweight plastic growlers as well as cans so a group of hikers can split them up at campgrounds. Moeller says he has allowed hikers to camp out on their site to enjoy the firepit in the evening.
(READ: Sustainable Brewing in the Heart of Wine Country)
Kennebec River Pub & Brewery | The Forks, Maine
Even though Kennebec River Brewery is just 1.5 miles off the trail, there is still a free shuttle for hikers offered from May through October. The brewery is part of the Northern Outdoors Adventure Resort, which has cabins as well as tent campsites. With free showers, a place to do laundry, and a drop off and pick up for UPS, this brewery is a must-stop. The biggest push of thru-hikers is September, says owner Jim Yearwood. "We are a popular place to refresh, recharge and resupply before the infamous 100 Mile Wilderness and the final push to Katahdin." For a light and refreshing brew, opt for the Big Mama Blueberry Ale, named after the biggest wave on the Kennebec River.
Colorado Trail
Colorado Trail connects 500 miles of the Rocky Mountains from Denver heading west to Durango. Trek from Denver to Durango, and you'll climb 89,354 feet traverse through six wilderness areas, six national forests, and experience diverse ecosystems. Prepare for higher elevation with most of the trail above 10,000 feet. The highest point is 13,271 feet. Most thru-hikers can complete the trail in six weeks.
Flora & Fauna: Elk, moose, mountain lions, osprey; douglas fir, ponderosa pine, huckleberry
Mad Jack's Mountain Brewery | Bailey, CO
Just 46 miles west of Denver, the first place you can sit back to refuel is Mad Jack's Mountain Brewery in Bailey. Rides are available to hikers who are headed to a trailhead or a local hostel. There's also a nearby laundromat. Whatever style brew you're craving, Mad Jack's has you covered. The Bring Your Own Lime is a Mexican-style amber lager, or try the refreshing grapefruit saison. One of the most popular items is the Platte Canyon Porter, aptly named for the region. Come hungry for the wood-fire oven cooked and massive mountain-style pizzas originated in Colorado. Stick around for a variety of activities — local bands, trivia, movies and even fly-fishing courses.
(READ: 9 Themed Beer Festivals Worthy of a Beercation)
Broken Compass Brewing Company | Breckenridge, CO
At least one or two hikers a day make an appearance at Broken Compass, says senior beertender and marketing manager Daniel Miller-McLemore. He says enjoying a beer is the perfect way to unwind. "There is really nothing like sipping a delicious IPA or pilsner or whatever your personal jam is after getting off a long hike," he says. If you're having trouble deciding which beer to order, go with the Belgian-style blonde. One dollar from every pour is donated to The Friends of the Dillon Ranger District, which helps maintain and improve the trail.
High Alpine Brewing Co. | Gunnison, CO
Sitting at 7,703 feet above sea-level, High Alpine Brewing Co., is in Gunnison, which is about halfway through the Colorado Trail. It's a great brewery to stop at if you want to experience what Colorado delights, because the brewery opts for local whenever possible. Sol's Espresso Stout is infused with espresso from Crowfoot Valley Coffee in Castle Rock. Every food item has a beer suggestion, and many items are made with beer. Try the spicy Thai pizza with the Green Gate IPA, the Bleu Buffalo pizza with Gunny Gold Kolsch, and the bruschetta with Anthracite Amber.
Periodic Brewery | Leadville, CO
Periodic Brewing's Night Run Russian Imperial Stout, Belgian Bitter and other beers are all brewed at 10,156 feet in Leadville, the highest incorporated city in North America. An entire series was produced devoted to Mount Massive, the second highest summit of the Rocky Mountains at 14,428 feet. The Belgian tripel was designed to taste great but not weigh you down so you can climb the peak. Grab a simple snack before jumping back on the trail, like red pepper hummus and pita chips, popcorn, sweet potato chips with beer mustard, and some sandwiches and tacos. Cozy couches, TVs, and free Wi-Fi are available in a huge upstairs area, making it an ideal place to relax.
Durango Brewing Co. | Durango, CO
What better way to end the epic trail than in scenic Durango and at the brewery that shares the city's name. Durango Brewing Co. has a relaxing atmosphere that is also kid-friendly. Beer names reflect the area, such as Four Corners Pale Ale. The Colorado Wheat is "meant to be enjoyed outdoors" with locally grown wheat. And the warm, sunny days in the beautiful San Juan Mountains that hikers just traveled through inspired the San Juan Saison.
(TRAVEL: 5 Epic Craft Beer Road Trips)
Vermont's Long Trail
The Long Trail cuts vertically through the center of Vermont spanning from the Canadian border to Massachusetts. The trail system is a 272-mile footpath with 166 miles of side trails and 70 backcountry campsites. Green Mountain Club built the trail from 1910 to 1930, making it the oldest long-distance hiking trail in the U.S.
Flora & Fauna: Peregrine falcons, moose, black bears; trillium, dutchman's breeches, trout lily
Long Trail Brewing Co. | Bridgewater Corners, VT
Inspired by the path through the Green Mountains, Long Trail Brewing is a must-visit while completing the trail that gave the brewery its name. All of the brews are trail-inspired — Thru-Hiker Summer Wheat, Trail Hopper IPA, Trail Vision Pale Ale or Under One Moon Dry-Hopped Sour Ale. The only thing better than beer for ending a long day of hiking is comfort food, which is plentiful here. The tomato basil soup, biscuits and gravy and  burgers are made with fresh and local ingredients.
Switchback Brewing Company | Burlington, VT
Take a break from the trail to head to Burlington — Vermont's most populated city. It's home to several colleges, restaurants and a handful of great breweries. Among them is Switchback Brewing Company, which brews staples like the Switchback Ale and Connector IPA. The taproom snacks are simple and perfect for a quick nosh before heading back to the trail. Hot dogs, beer brats, chili dogs and vegan chili are available. Or get some complimentary pretzels if you spent all your dough on high-end gear. For a bonus free activity, check out the no-cost tours on Saturdays.
Von Trapp Brewing | Stowe, VT
The Long Trail passes right over the top of Mount Mansfield and dips into the Nebraska Valley, both of which are just a 10 minute car ride from the Trapp Family Lodge, — yes, that famous singing family — which houses Von Trapp Brewing. The beers, like the golden helles and dunkel lager, are inspired by Austria. If you're looking for a break from campgrounds and the trail, you can rent a room right on-site. What may also appeal to hikers is the chance to stock up on any needed gear. "We have an entire Outdoor Center committed to all things outdoor sports related," says Sara Lory, director of marketing at the Trapp Family Lodge.
Lost Nation Brewing | Morrisville, VT
There's no better tagline for a brewery near the Long Trail than "we who wander are not lost." Wander in Lost Nation Brewing for fresh beer inspired by European styles — the Vermont Pilsner, Pitch Black Ale, saison, gose and more. The trail allows you to enjoy Vermont's famous scenery, but the food menu here gives you a chance what Vermont is best known for — cheese. Cabot cheddar, gouda, blue cheese, feta and more elevate the burgers, salads and sandwiches on the menu.
Prohibition Pig Brewery | Waterbury, VT
There is a style at Prohibition Pig Brewery for whatever hikers crave. Need a light, refreshing beer before returning to the trail? Try the Apricot Swine Cooler, a wheat ale with apricot. Ending your day and want a more high-alcohol brew? Go for the 8% ABV Bantam Double IPA. A protein-packed burrito is a great option to get some energy for the next portion of the trail. If you're hiking with a group, appetizers like chips and guacamole and salsa or jalapeno cornbread are good options.
(MAP: Craft Breweries Near Major League Baseball Stadiums)
Ice Age Trail
About 12,000 years ago, glacial ice sculpted the landscape across the state of Wisconsin. Once the ice melted, it left behind distinct features. This long trail is more than just a hike — it's a journey through the unique ways glaciation sculpted the planet. The 1,200-mile trail spans through 31 counties, national forests, state and city parks, and county forests.
Flora & Fauna: White-tailed deer, woodchuck, snowshoe hare; sugar maple, silver birch, orchid, wood violet
Delafield Brewhaus | Delafield, WI
Delafield Brewhaus has the ideal beer for exploring the ancient trail — Naga-Wicked Pale Ale, which is based on a centuries-old recipe. For something even lighter after a long day on the trail, try the refreshing strawberry ale or XPA citra pale ale. The traditional grub (nachos, pizzas and burgers) is great for hikers on a budget with all-you-can-eat nights and other specials.
Gray Brewing Co. | Janesville, WI
If you're trekking with the little ones, stop by Gray Brewing Co. for its gourmet soda to give them a treat. Orange cream, strawberry, ginger beer, grape and root beer are all available. For the adult treats, you've got the roasted toffee-like porter, a traditional Irish-style ale, and their medium-bodied flagship amber ale.
Hop Haus Brewing Co. | Verona, WI
If you're completing your Ice Age Trail journey in summer, Hop Haus Brewing Co.'s Sweet Sunglasses is your best bet. Considered a warm-day drinking beer, this light hopped, crisp beer is perfect to take with you. A Scotch Ale, IPA and Double IPA round out the staples that accompany a variety of rotating beers. When in the Dairy State, do as the cheese lovers do with fried cheese curds, bite-sized mac and cheese bites and a hot pretzel with, you guessed it, cheese for dipping.
Riverside Brewery | West Bend, WI
There's a good variety of beers at Riverside Brewery including Jerry's Cream Ale, Don't Worry Be Hoppy IPA and Bent River Berry Weiss. But the food is anything but your typical pub grub. If you want a break from trail mix and PB & J sandwiches with higher-end options, here's your chance. Various cuts of steaks are prepared with a peppercorn or Cajun crust. Seafood is also an option such as king crab legs or seared sea scallops. For veg-friendly fare, there's a handful of pasta dishes to choose from, too.
(VISIT: Craft Breweries Off the Beaten Path)
Pacific Crest Trail
The Pacific Crest Trail runs through California, Oregon and Washington from Mexico to Canada. While hiking the 2,650 miles, you can expect to pass through deserts, mountains and forests. What sets apart the Pacific Crest Trail even more is the entire trail is also open to horseback riders. The route passes through two mountain ranges (Cascade and Sierra Nevada), seven national parks and 25 national forests.
Flora & Fauna: Mountain goats, marmots, black bears; asters, joshua trees, beavertail cactus
Walking Man Brewery | Stevenson, WA
Brewery customers, referred to as "trail angels," can purchase "angel gift cards" to help thru-hikers purchase drinks or food, either held for a specific hiker or just a random act of kindness. Because you've been (or will be) putting thousands of miles under your belt, go with the Homo Erectus Northwest Double IPA, which was brewed in celebration of standing upright for 2 million years.
DRU BRU | Snoqualmie Pass, WA
The European-inspired beers from DRU BRU are all sessionable and brewed with unfiltered Snoqualmie Pass mountain water, so perfect for having a few on or off the trail. The space in the taproom was designed to encourage conversation so people will swap stories and tips with other hikers. The brewery doesn't have a food menu. But it can suggest many local restaurants and get your food delivered right to the brewery.
Thunder Island Brewing Co. | Cascade Locks, OR
Thunder Island Brewing Co. hosts a Trail Magic pint program where customers can purchase a pint for incoming hikers. Since 2014, they've given away more than 1,634 trail magic pints. If there are any unused pints from the program, they go to the Pacific Crest Trail Association in the form of a donation. The brewery also supports the crews with a free pint anytime they come after working to restore the trails.
Nickel Beer Company | Julian, CA
"We have a tradition for the last few years that we buy the first PCT hiker at the brewery a beer that usually gets paid forward throughout the entire hiking season," says Nickel Beer Company owner Tom Nickel. He says hikers are always made to feel welcome, even by other customers. The customers often buy beers for hikers, provide rides and even offer a place to pitch a tent. Take A Hike Extra Pale Ale is brewed with cascade, citra and mosaic hops. For something even lighter, Back Country Gold is a cream ale with less than 5% ABV.
Mammoth Brewing Company | Mammoth Lakes, CA
The trail and the local outdoor scene inspired the year-round beers, like the Golden Trout Kolsch, a Sierra-born fish. Yosemite Pale Ale is named after the famous national park, and according to the brewery's website, pairs well with fresh air and sore legs. The Double Nut Brown gives as much satisfaction as a cup of coffee in the morning in the Sierra wilderness.
These trail-worm breweries show make a name by bringing people together. Whether you're looking to wind down with a brew after a long day's hike or need encouragement to keep going, you'll find kindred travelers at these welcoming stops.
CraftBeer.com is fully dedicated to small and independent U.S. breweries. We are published by the Brewers Association, the not-for-profit trade group dedicated to promoting and protecting America's small and independent craft brewers. Stories and opinions shared on CraftBeer.com do not imply endorsement by or positions taken by the Brewers Association or its members.