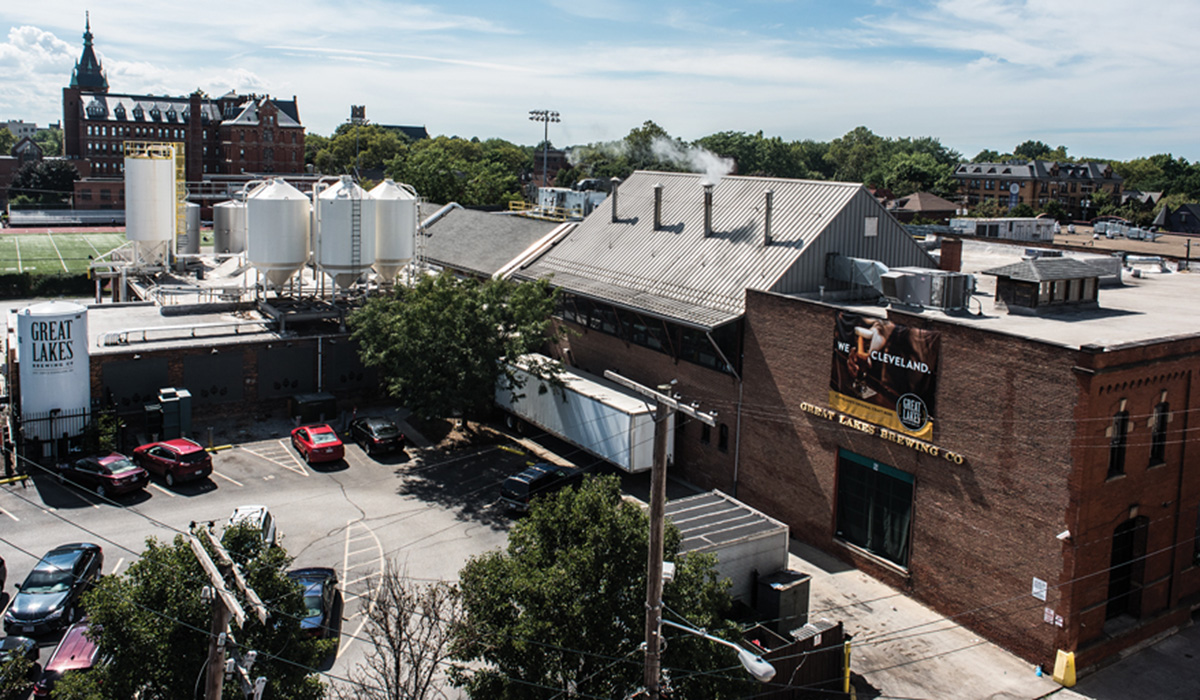 Great Beer, the Great Lakes and the Ties that Bind
The Great Lakes exist as a veritable natural-resource jackpot for the hundreds of breweries located along its shorelines and in its basin.
"We are sitting on the world's largest freshwater source [of surface water]. Truly water world. Love my glacial meltwater," said Clint Bautz, owner of Chicago's Lake Effect Brewing.
The remnants of an ice age that departed more than 10,000 years ago carved out an area bigger than the United Kingdom. The resultant water filled the valleys, creating the Great Lakes, which accounts for one-fifth of the world's freshwater supply according to the EPA.
The breweries found within the Great Lakes region are intrinsically linked by the water they share, both in the production of beer and by serving a community that's forever bound by the region's history, culture and climate.
(VISIT: Find a U.S. Brewery)
Great Lakes Culture and History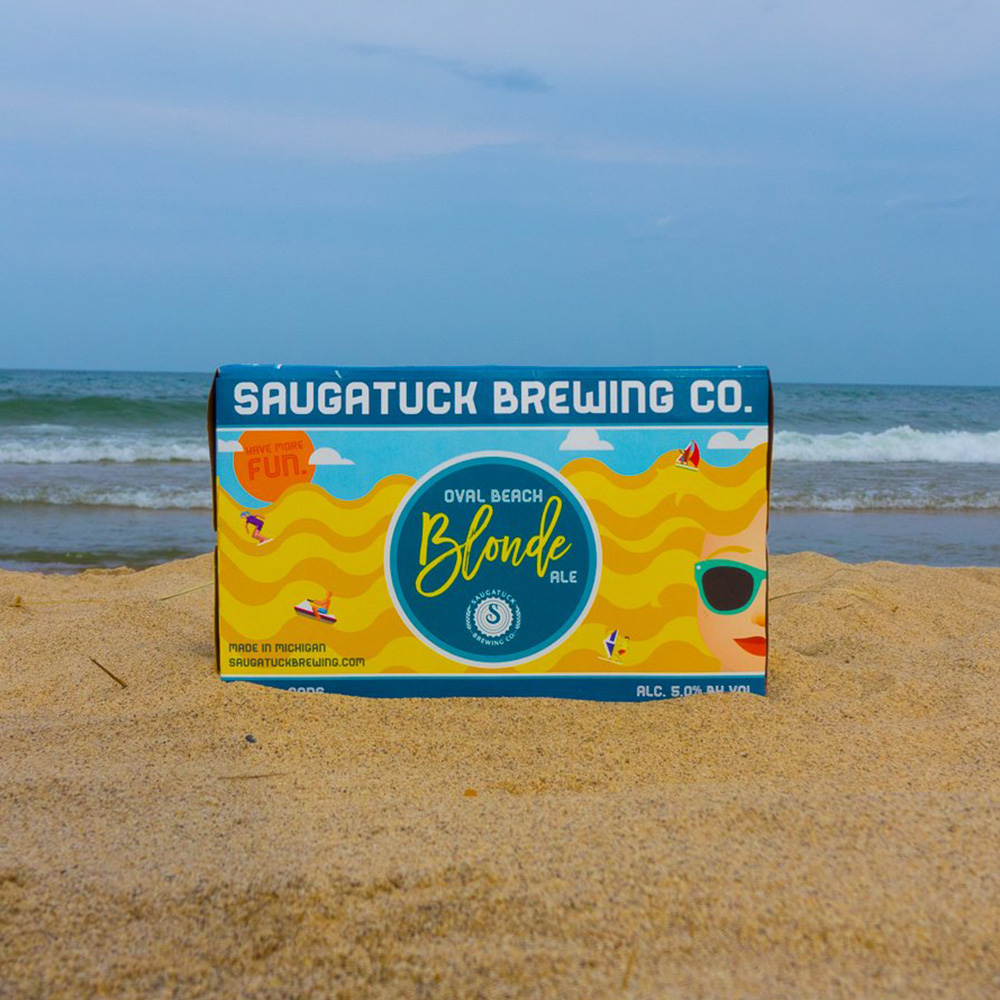 Town names, museums, lake effect snow, summertime breezes and municipal water battles all serve to reinforce the cultural bond among those who reside in the Great Lakes region.
Few have integrated that broader cultural link better than Great Lakes Brewing Company (GLBC). For instance, its five-time GABF medal-winning porter, Edmund Fitzgerald, pays tribute to the wreck of the SS Edmund Fitzgerald, which sank on Lake Superior during a fierce November storm in 1975. (Singer Gordon Lightfoot also released a hit song aptly titled, "The Wreck of the Edmund Fitzgerald.")
(READ: Inside Red Frog, the First Cruise Ship Brewery)
GLBC has its Commodore Perry® English-style IPA, named for Oliver Perry, the man who led the U.S. to victory over the British Royal Navy during the 1813 Battle of Lake Erie.
The War of 1812 also inspired New York's Sackets Harbor Brewery, located on the Lake Ontario shoreline, to brew an 1812 Amber Ale and Erie Brewing Co.'s (Pennsylvania) Misery Bay IPA, which brings attention to Lake Erie's Misery Bay and Graveyard Pond, where urban legends say many sailors perished during the war.
Of course, not all beers remark upon Great Lakes tragedies.
The Great Lakes Role in Brewing History
In addition, the role the Great Lakes played in our continent's history, pre-dating European arrival, the Great Lakes proved instrumental in developing American beer culture.
With every beer sipped at Big Ditch Brewing Co. in Buffalo, New York, one honors the souls of those who dug the Erie Canal during the 1820s. That canal connected New York to the Great Lakes. With that marine highway in place, incoming immigrants in places like Milwaukee could have hops shipped to them from the ports of Buffalo because, as noted by CraftBeer.com's Joe Baur in "New York State: America's Former Hop Capital." Baur writes New York had "attained national leadership in hop production in 1849, and was selling over 3 million pounds annually by 1855."
(LEARN: 75+ Craft Beer Styles)
Germans had found Milwaukee's climate and proximity to the cool Lake Michigan waters suitable for brewing lagers, and its ability to be stored longer made them an economically viable product.
But it's not just Milwaukee. Great Lakes Brewing Company (GLBC) Head Brewer Mark Hunger explains the significance of the Great Lakes and brewing history, including in Cleveland.
"There would not have been a lot of breweries a hundred years ago if we were not by the lake. The luxuries of modern day delivery systems do not necessarily make that a requirement anymore but it is always good to be a mile away from where your water is coming from," he says.
(READ: 9 Craft Breweries Worth a Detour)
Chicago's explosive growth in the late 19th century also bolstered that Great Lakes farm-to-brewery connection. According to the Chicago Department of Historic Preservation, by 1900, 64 Chicago breweries produced more than 100 million gallons of beer annually and beer advertisements dominated Chicago's newspapers.
Nothing ties that together better than Bell's Brewery's video about its Lager of the Lakes. The video interweaves visuals of crashing waves and Lake Michigan beaches while explaining how the beer harkens back to a time when immigrants first brewed delicious lagers.
Water Makes a Difference in Your Beer
Given that 90 percent or more of beer is comprised of water, it makes sense that the Great Lakes must also benefit a beer's taste. Otherwise, it would hardly be such a cherished resource.
"We say the 'Great Lakes make great beer' as the water source offers the purest most critical ingredient," says Tapistry Brewing owner Joe Rudnick.
"Generally speaking, I don't think the well water in the Midwest is all that great. There is a high sulfur content and so forth and it would need a lot of treatment. Rivers can have a lot of fluctuations in the chemistry based on the season, but the lake is great — a nice and stable water source," says GLBC's Hunger. "We have a nice stable water supply with a stable mineral content when it comes from the lake. We do some treatment of our brewing water with gypsum, but all in all, we do not adjust it very much."
Hunger adds, "The consistency of our beers speaks to the consistency of our water supply. We have made brews from all over the spectrum from hoppy to malty and light to heavy with great success."
(READ: How I'm Approaching Craft Beer in 2018)
Sustainability and the Fight to Keep the Lakes Clean
"I see this fresh water source as a national treasure, almost like it should be a national park — a living national park where human habitation and economic activities are harmonious with the natural environment. Top priority is [to] protect the water both quality and quantity. Other states would wage war to get the resource we have," says Clint Bautz of Chicago's Lake Effect Brewing.
Unfortunately, the urbanization and industrialization that dominated the 20th century led to a serious Great Lakes pollution problem that continues to require attention today, something to which small brewers are keenly aware.
It starts, first, with making sure the water is clean prior to getting used in the brewing process. "Bridgman has a quality water treatment plant at the water's edge and we also filter at our brewery. I always have concerns with environmental issues that affect our Great Lakes, but currently, the processing of our water source offers a defense for most of these concerns based on severity," explains Rudnick of Tapistry Brewing.
(READ: Science Behind the Beer Koozie)
A multitude of breweries now honor self-imposed water conservation standards, have attended the Great Lakes Water Conservation Conference and participated in the #SaveTheGreatLakes Campaign to help mitigate threats such as algae blooms, pollution, Asian Carp, and leaking oil from the six-decade-old Mackinac Oil Pipeline.
This past summer, the Illinois Brewers Guild actively sought to help the #SaveTheGreatLakesCampagin at its Welles Summer Fest by seeking signatures for a petition. Guild president, Danielle D'Alessandro explains, "Everyone should feel good about drinking local craft beer and signing a petition that says you support the Great Lakes!"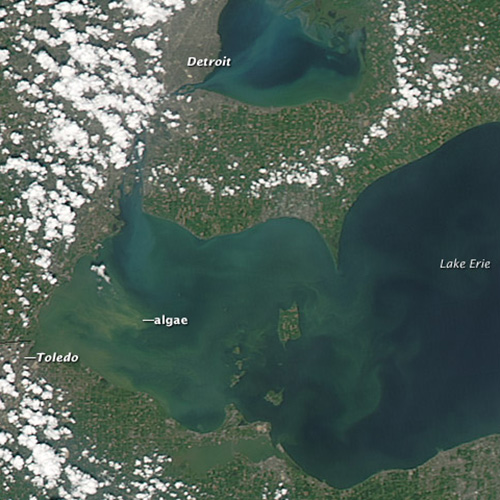 Brewers are not only concerned about making beer. GLBC Department of Sustainability Director Saul Kliroys explains:
"The primary issue is preserving our access to safe drinking water. The algae bloom issue is of some concern to us, because as the blooms increase in size and migrate from the western basin to the central basin, where we're located, there is potential for [the] occurrence of toxic compounds (primarily microcystin) in our source water. The water treatment facility has [the] ability to remove microcystin, but in a perfect storm in which it was able to bypass the water treatment facility, we would have a contaminated drinking water supply," Kilroys says.
"We also play an advocacy role to help Clevelanders understand what an amazing natural resource we have at our fingertips … While we're by no means experts in the research, we help facilitate public education on these topics. At a very basic level, we foster the connection of Clevelanders to the lakefront via our annual Burning River Fest," he says.
One Toledo, Ohio, brewery, Maumee Bay Brewing Co., went so far as to brew a batch of green-colored beer called AlGae Blooms to draw attention to the toxic algae that have been fouling Lake Erie.
You Need Good Water to Brew Good Beer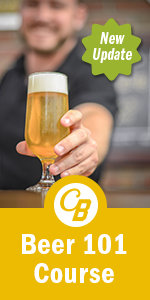 The need to preserve the quality of the water speak to its importance because the same thing that was true in 1855 is true today — you need good water to brew good beer.
It's also true that the lakes continue to serve a dual purpose for breweries, both in production and as a marine highway. For instance, as noted by the Northwest Indiana Times in 2016, Lake Michigan's Portage and Burns Harbor handled (in 2015) the second highest tonnage since 1994 (2.8 million tons of cargo), which included 36 beer fermentation tanks that often exceeded 20,000-gallon capacity.
GLBC's Kilroys summed it up best: "Other breweries' growth is at times constrained by access to fresh water. Our growth will not be constrained by availability of freshwater."
And as long as brewers continue to rely on the massive supply of water, they are also able to bring attention to its value and influence on all aspects of life.
CraftBeer.com is fully dedicated to small and independent U.S. breweries. We are published by the Brewers Association, the not-for-profit trade group dedicated to promoting and protecting America's small and independent craft brewers. Stories and opinions shared on CraftBeer.com do not imply endorsement by or positions taken by the Brewers Association or its members.