Is there anything that hits the spot after a day on the slopes than a beer? If you're looking for a destination that offers some of the country's best skiing and snowboarding and also happens to be a mecca for craft beer, look no further than Summit County, Colorado, better known as Ski Country, USA.
[newsletter_signup_box]
Home to Arapahoe Basin, Breckenridge, Copper Mountain, Keystone and Loveland ski areas, Summit County is a winter sports wonderland that also has easy access to Vail Mountain, making it a top destination for those looking for variety on the slopes. It also offers equal variety when it comes to craft breweries. No matter where you're staying in Summit County, or what kind of beer you prefer, there's bound to be a great option right around the corner.
Broken Compass Brewing
"Small and crafty" is the tagline of this Summit County jewel founded in 2014 and run by original co-founder Jason Ford and his wife Jo. With no plans for large-scale distribution, Broken Compass Brewing is able to experiment with small batches of inventive flavors on the regular.
Two of the brewery's mainstays – the Chili Pepper Pale Ale and Coconut Porter – are true labors of love. The Chili Pepper Pale Ale is basically a homebrew scaled up. Ford and his wife still prepare the peppers at home, slicing up approximately 70 pounds of peppers for a 20-barrel batch. A combination of Anaheim, habanero, jalapeno, poblano and serrano peppers, the pepper mix is heated, but not roasted, to start breaking down the cell walls and releasing the oils. Then the Fords pack them in coolers and take them to the brewery, where they're added to the fermenter after the yeast has already been removed, just before adding the carbonation. Ford says that makes the flavors easier to control and get right.
(EXPLORE: Kentucky Craft Breweries in Bourbon Country)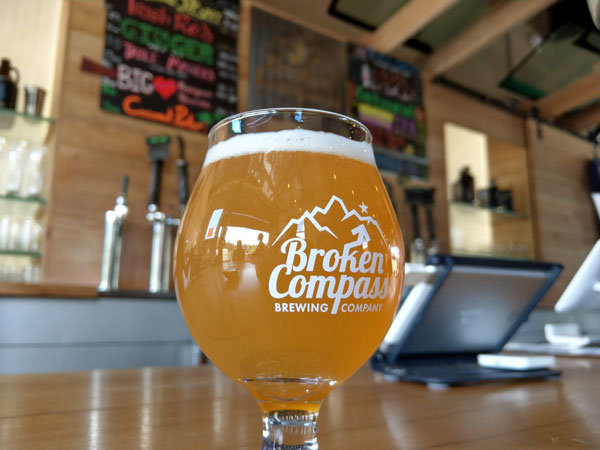 The result? A fresh pepper flavor unlike any beer you've ever had.
To brew the Coconut Porter, nearly 400 pounds of unsweetened, organic coconut flakes are hand-toasted at nearby Beaver Run Resort to take advantage of their commercial ovens. That's not something the Ford's oven at home can handle.
Broken Compass Brewing is a five-minute drive from Main Street in Breckenridge and offers a free shuttle for visitors. There's both indoor and outdoor seating at the brewery and the usual assortment of board games and small snacks, but you can also bring your own food. Try going on a Wednesday for Wacky One-Off Wednesdays to sample an experimental flavor that usually goes fast.
HighSide Brewing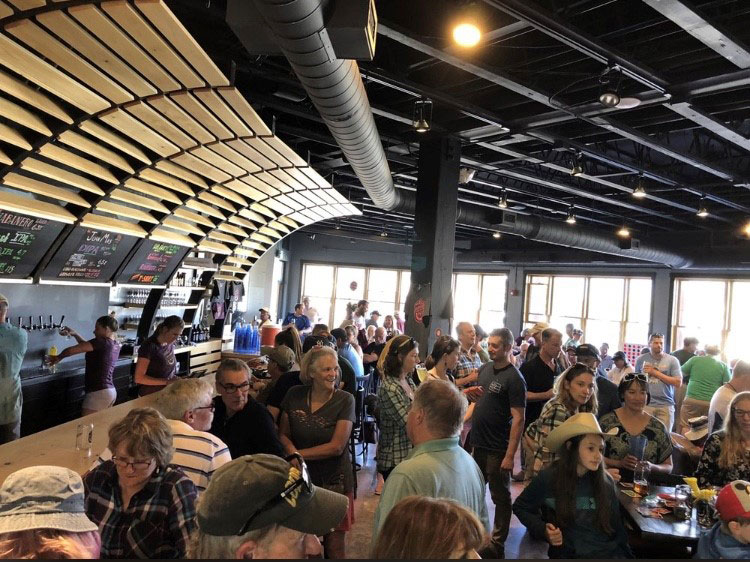 In 2018, original co-founder of Broken Compass Brewing David Axelrod sold his share to Ford and started a new brewery in nearby Frisco, HighSide Brewing. Occupying a space that was formerly Backcountry Brewing at the corner of Main Street and Summit Boulevard, HighSide opened in May 2018. The name serves as an ode to the local rafting scene – "highsiding" involves the shifting of bodyweight in a raft to keep from capsizing.
HighSide strikes a balance between more traditional brews and newer, more inventive varieties. It has something for everyone, from pilsners to IPAs to porters. Although taps continually change, the beginning months have seen varieties such as a Vienna Lager, Ghost Pepper Pilsner, Cucumber IPA and a Dry-Hopped Wheat.
(List: A Beer Geek's Travel Checklist)
HighSide Brewing has a kitchen that serves food like flatbreads, chicken fingers, a cheese board and pretzel knots. The taproom also regularly features live music.
Outer Range Brewing Co.
Also located in Frisco, Outer Range Brewing Co. is a more of a specialist, focusing exclusively on IPAs and Belgian-style beers. Even if you think you don't like IPAs, Outer Range is worth a visit because of the sheer variety from which to choose, which may just give you a taste of something that changes your mind.
In 2018, Outer Range finished second in USA TODAY's reader's choice awards for America's Best New Brewery. It owes its name to a Rudyard Kipling poem, "The Explorer": "Something hidden. Go and find it. Go and look behind the Ranges– Something lost behind the Ranges. Lost and waiting for you. Go!"
The brewery's motto is "Leave the Life Below." Founded by Lee and Emily Cleghorn, Outer Range's focus on Belgian-style beers comes naturally, as Lee lived in Brussels as a teenager. What began as a homebrew hobby grew into Outer Range in late 2016.
(More: 10 Beertography Tips from the Pros)
An intimate space filled with windows that look out over mountains in every direction, Outer Range is conveniently located next to a Mexican restaurant where you can grab food to bring over to the taproom or you can partake in the occasional visiting food truck.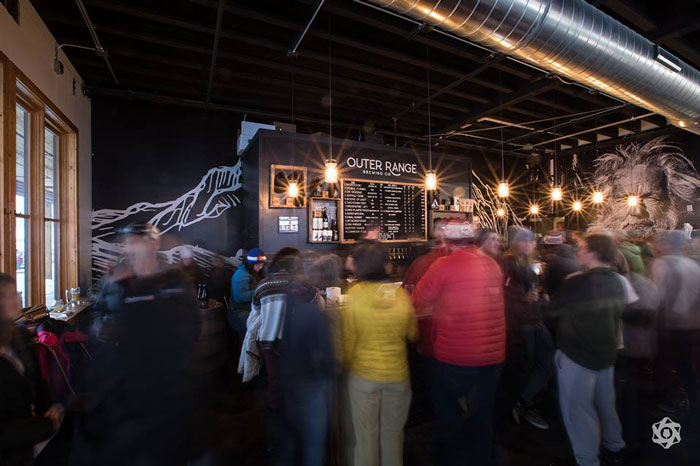 Angry James Brewery
Another relative newcomer to Summit County, Angry James Brewery opened in Silverthorne in early 2018. Owner and brewer A.J. Brinkerhoff says he focuses on traditional beers with a fun twist. For example, Angry James' Alpen Weiss is a traditional German-style wheat beer, but it is fermented at a cooler temperature than most brews. Angry James says the effort brings out different flavors.
Another example of a new twist on a traditional favorite at Angry James is the Norwegian Farmhouse. Brinkerhoff started with a Belgian saison recipe and then sourced Norwegian-style yeast, something few breweries use, to create a unique flavor.
(The New England Style IPA, The Anti-IPA)
Brinkerkhoff's father-in-law served as the general contractor on the Angry James facility and taproom. Doing most of the work themselves, the Brinkerhoffs purchased the lot after selling their house in Denver to finance the project. Thoughtful details like a gas fire pit on the outdoor deck creates an inviting atmosphere and locally-sourced food from an on-site kitchen is available for patrons.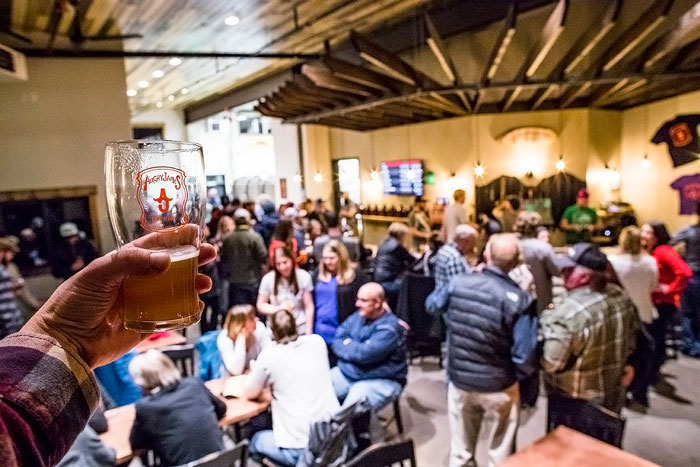 The Bakers' Brewery
Also located in Silverthorne, The Bakers' Brewery features a selection of session beers, some "big beers" (8% ABV and up), and guest taps. The restaurant on-site serves both lunch and dinner and, of course, as the name suggests, there are baked goods.
In the winter, you'll want to check out Winter is Coming, a black seasonal saison. The smell has been described as a winter forest. This beer starts sweet with notes of caramel, chocolate and graham cracker, but finishes light and dry. You might even get a subtle hint of spruce.
(Enjoy: Brewpubs with Impressive Menus)
Founded in 2015, one of the unique aspects of this brewery is the homemade baked goods like bread, rolls, pretzels and more. Come for the beer, stay for the bread. You need sustenance after a long day on the slopes.
Pug Ryan's Brewery
Pug Ryan's is one of the founders of not only Summit County's craft beer scene but was also ahead of the nationwide trend when it began brewing in 1996 (and serving its beer to the public in 1997). In fact, in 2003, Pug Ryan's become only the second craft brewery in Colorado to can its beers, using a manual process that required three people to operate.
The restaurant at Pug Ryan's predates the brewery, having been founded in 1986. That's probably why the beer rotation is dependent on seasonal menu changes. Staples like the Peacepipe Pilsner, Deadwood Dunkel and Hideout Helles are always favorites, but with each changing season comes new brews meant to complement the food offerings and keep locals and tourists alike intrigued.
(Seek the Seal: Post Your Photos on Instagram)
For the winter of 2018, Pug Ryan's will be debuting several barrel aged beers and Hey Pocky Way Double Brut IPA, which showcases a bold hop and is effervescence throughout.
Pug Ryan's is located in Dillon just steps from Lake Dillon and has a festive outdoor deck as well as plenty of seating indoors. In the summer months, it also runs a separate location on the lake, Pug Ryan's Tiki Bar. With a family-friendly atmosphere and full food menu, Pug Ryan's has staying power for a reason.
Dillon Dam Brewery
Dillon Dam Brewery, also located in Dillon, similarly focuses on the integration of its beer with its menu of regionally-sourced meats and produce. Having opened in 1997, Dillon Dam Brewery is the largest brewpub in Colorado, seating over 200 people inside the building and another 60 outdoors, weather permitting.
From pale ales and lagers to goses, hefeweizens, German Pils and IPAs, Dillon Dam has a plethora of options to choose from, assuring you'll find the perfect pairing for your meal. Many of the dishes on the menu also include beer right in the recipe, such as the Mountain Man Mac & Cheese with Dam Straight Lager and Asiago-Ale Dip made with the Extra Pale Ale.
(More: What is Craft Beer?)
If you want a little bison meat with your beer, this is the place for you. You can get bison meatloaf, bison tips, a bison burger or even bison sausage.
If you still haven't had enough craft beer, you can sample varieties from around Colorado without leaving Summit County at Breckenridge Tap House, which features 37 taps. And thanks to the Summit Stage and the Breck Free Ride, getting around the area is easy even without your own car.
So, no excuses. There's no place with more options, and easier access, than Summit County when it comes to snow sports and craft beer.
CraftBeer.com is fully dedicated to small and independent U.S. breweries. We are published by the Brewers Association, the not-for-profit trade group dedicated to promoting and protecting America's small and independent craft brewers. Stories and opinions shared on CraftBeer.com do not imply endorsement by or positions taken by the Brewers Association or its members.