I was a dinosaur nut as a kid. I knew all the polysyllabic names, read all the books, and had opinions about whether Tyrannosaurus rex was a predator or a scavenger. I spent most summer afternoons staring out at my boring lawn and imagining it spiced up with a few lumbering sauropods.
[newsletter_signup_box]
Now that I'm a certified grown-up, my afternoons of imagining dinosaurs trampling my dandelions usually involve a beer in hand. Judging by the wealth of beers with dinosaur names and artwork, I am not the only adult who still loves these "terrible lizards" (which is what "dinosaur" means in Greek, which I would have been eager to tell you a good decade and a half before I could legally consume any of these beers).
Sit back, imagine a Stegosaurus munching on the neighbor's hosta plants, and enjoy one of these dinosaur-themed craft beers.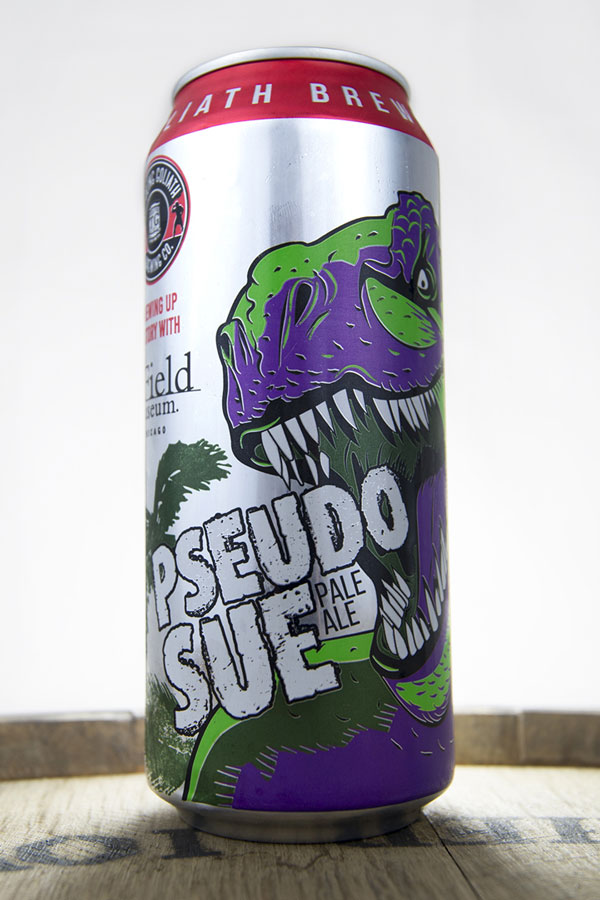 Pseudo Sue | Toppling Goliath Brewing | Decorah, IA
One of the most buzzworthy dinosaur beers out there almost wasn't a dino beer at all.
"PseudoSue was originally named pseudoTsu because it was a reimagining of our Tsunami Pale Ale," explains Clark Lewey, president of Toppling Goliath. "I liked the sound of the name on the brew data sheet but not the spelling."
(MORE: Hailstorm Brewing: Inside a GABF IPA Gold Medal Winning Brewery)
Lewey was fascinated by Sue, the massive Tyrannosaur skeleton at Chicago's Field Museum, and a simple respelling led to the sharp-toothed can art hopheads know and love today. Also? Lewey's mother is named Sue, so the change earned major brownie points with mom.
The art for this single-hopped Citra pale ale has gone through numerous changes over the years. "As each brand refresh and update has taken place, the art has become bolder and more focused on the face of the T. rex," says marketing director Sarah Hedlund. With a purple and green T. rex roaring this beer's merits, what else do you need?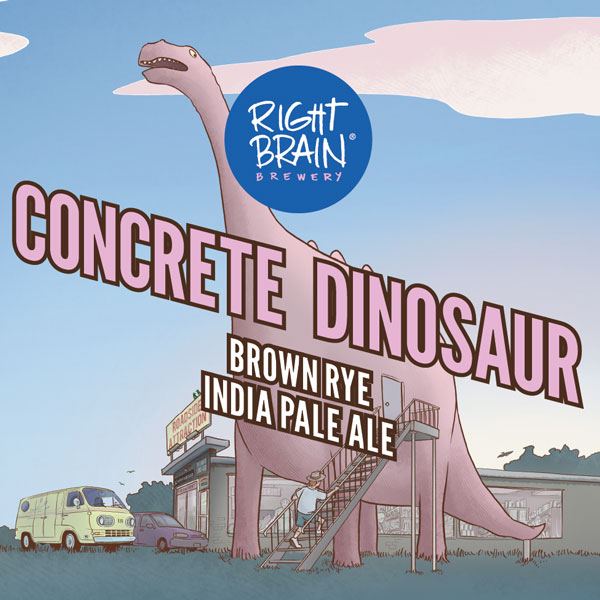 Concrete Dinosaur IPA | Right Brain Brewery | Traverse City, MI
Have you ever driven down a forgotten highway that had clearly seen more traffic in earlier decades and spotted one of those old tourist trap dinosaur parks crumbling into a field or forest? The dinosaur models are usually poorly sculpted, but they carry so much nostalgic charm.
The folks at Right Brain Brewery pay homage to these prehistoric memorials with the art for Concrete Dinosaur, a brown rye IPA with a big ol' Brontosaurus on the can. It was actually a different kind of concrete dinosaur that gave the beer its name though. When the brewery floor was being finished, an overpowered sander provided the inspiration.
"The masons left a rough blotch [on the floor] in the shape of a Brontosaurus," explains founder Russell Springsteen. The Mesozoic mistake gave art designer Andy Tyra the inspiration for his amusing label design, and the beer has since won a silver medal in the Rye Beer category at the 2015 Great American Beer Festival.
Megalodon Blonde | Fossil Craft Beer Company | Colorado Springs, CO
This Colorado brewery has a Stegosaurus skeleton as the background for their logo, but no actual dinosaur beer appears on their menu. Their Megalodon Blonde, named for a giant species of shark that existed at the time of the dinosaurs, is close enough.
The massive size and vicious reputation of this ancient predator is actually a bit of a joke on the part of Fossil Craft Beer Co. "I think we settled on 'Megalodon' because the fear that people have of sharks and the size of the Megalodon are almost ironic to how approachable this beer really is," explains owner and brewer Josh Mater of his 4.7% ABV blonde ale. "We consider it something that we could drink all day even at the beach, and that is when we started looking at aquatic animals to represent it."
Tricerahops | Ninkasi Brewing | Eugene, OR
This esteemed brewery in Eugene, Oregon, knew they needed a big beer if they were going to name it for a dinosaur. They settled on a double IPA and named it Tricerahops after the three-horned favorite of many a dino-loving child. This deceptively smooth hop monster is bursting with classic West Coast hop flavor and aroma from Chinook, Cascade, Centennial, Summit, and Palisade hops.
Tricerahops actually took its name from a vehicle Ninkasi co-founder and brewer Jamie Floyd built with friends for the Burning Man festival. It was first brewed to be poured at the Great American Beer Festival in 2007, well before seemingly every craft brewery was putting out a big, bold imperial IPA. That doesn't make this beer prehistoric though, and the hop character is as fresh as can be.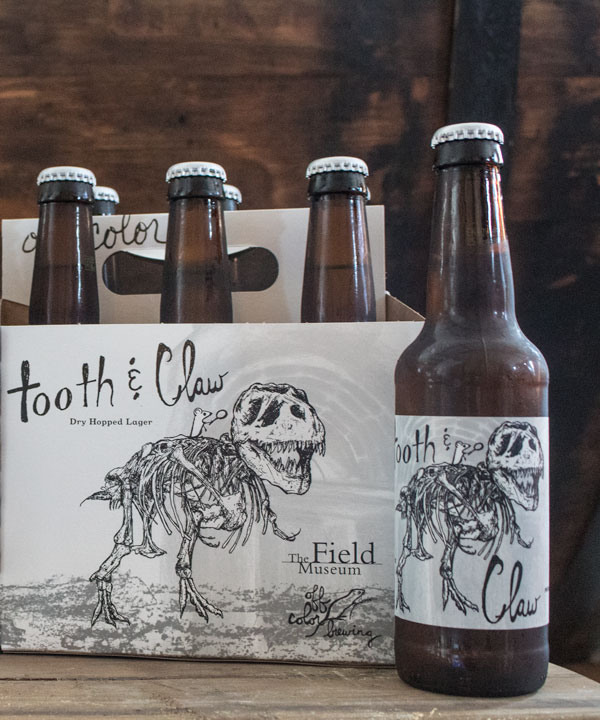 Tooth & Claw | Off Color Brewing | Chicago
The mischievous folks at Chicago's Off Color always have amusing beer labels. Their mascot is a tiny mouse and you can find the little fella popping up in strange places on every label. In the case of Tooth & Claw, one of several collaboration beers between the brewery and the Field Museum of Natural History, the rascally rodent is riding on the back of a skeleton of Sue the T. rex. Despite the name, Tooth & Claw is more mouse than monster—at 5.0% ABV and 35 IBUs, this crisp Pilsner isn't going to gobble you whole (though their 10.5% ABV Dino S'mores stout is best approached with a little more caution).
(READ: Untold Stories from Craft Beer Founders)
"In the case of the collaboration with the Field Museum, they're serious academics and they take their work and their exhibits seriously," explains Off Color's Ben Ustick. "As such, they did not want to have a cartoonish representation of Sue on the label, but preferred to instead work with our illustrator and designer to ensure an anatomically correct depiction."
While the beer is available across Off Color's distribution footprint, it is perhaps best enjoyed in the Field Museum's excellent cafe, The Field Bistro, for which is was first brewed.
Ichthyosaur "Icky" IPA | Great Basin Brewing | Sparks, NV
Ichthyosaurs were aquatic reptiles that prowled the prehistoric seas around the time of their better known land-based cousins, the dinosaurs. These toothy predators had plenty of bite, but Great Basin Brewing's IPA emphasizes hop aroma and flavor over a bitter, chomping finish. "Icky" IPA comes in at 46 IBUs, but packs plenty of flavor.
Some of the largest Ichthyosaur skeletons ever unearthed were dug up within a reasonable drive of the brewery's two brewpub locations in Reno. These aquatic terrors reached lengths of 50 feet and swam the former inland seas of central Nevada over 200 million years ago. Icky IPA is better enjoyed a bit younger than that, so Great Basin recommends grabbing some fresh six packs at the brewery and heading to Berlin-Ichthyosaur State Park to enjoy the beer around fossils of its namesake.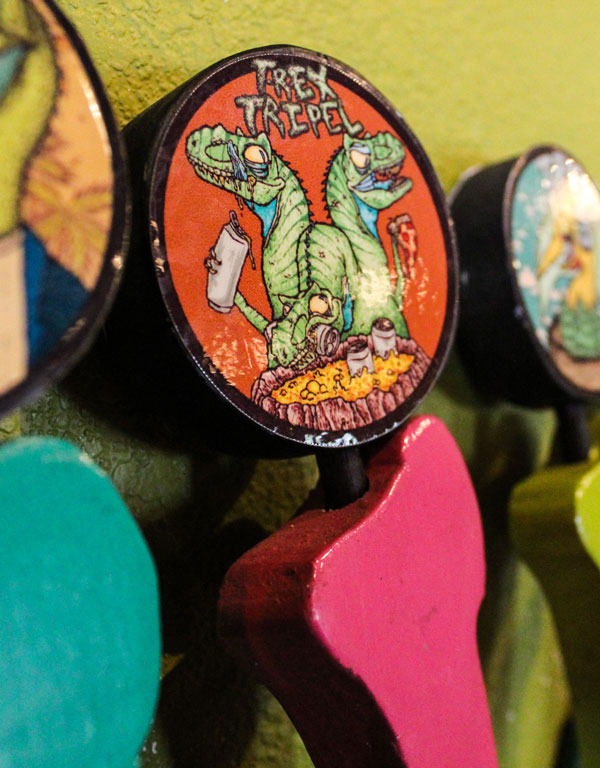 T-Rex Tripel | Fossil Cove Brewing | Fayetteville, AR
Fossil Cove Brewing takes its name from a fossil-laden inlet on Beaver Lake, the brewery's water source near Fayetteville, Arkansas. According to the taproom manager Andrew Blann, the king of Fossil Cove's beers is the T-Rex Tripel.
"The T-Rex Tripel has a perfect balance of sweetness, fruity banana and subtle pepper notes that blend for an incredibly drinkable experience," says Blann. "We release a barrel aged T-Rex Tripel each spring—T-Rex on Peaches—brewed with fresh Ozark peaches aged in bourbon and wine barrels."
UC Davis Masters Brewing Program graduate Ben Mills founded Fossil Cove in 2012, and the brewery has an eclectic feel. That attitude is echoed in Nick Shoulders' prehistoric can art. "His style is outside the box, colorful and a little funky," explains Blann. I think we can agree if a T. rex wants to be colorful and funky, you let it.
Allosaurus Amber | Vernal Brewing | Vernal, UT
Tyrannosaurus rex is the meat-eating dinosaur people are most familiar with. The T. rex is popularly viewed as the king of prehistoric predators, even though it wasn't the biggest of its kind, and certainly not the only one. There were many other apex predators in the Mesozoic era, and one that was almost as big as the T. rex was Allosaurus.
(TRAVEL: 5 Epic Craft Beer Road Trips)
Vernal Brewing in the fossil-laden state of Utah pays homage to this oft-neglected prehistoric killer with their Allosaurus Amber Ale, a medium-bodied copper-colored brew with a caramel malt foundation and floral hop flavors.
We sometimes forget about amber ales in the shadow of their flashier, hoppier cousins, but they've been here since the birth of American craft beer and have never stopped being delicious. Grab an Allosaurus Amber and read up on T. rex's kid brother (who could still have eaten you in one bite).
Pterodactyl Deathscream | Burnt City Brewing | Chicago
There is absolutely nothing subtle about this beer. Not its name, not its packaging, and definitely not the liquid itself. Pterodactyl Deathscream from Chicago's Burnt City Brewing is double dry-hopped with Citra, Simcoe, and Ekuanot hops to give this 9% ABV double IPA a volcanic eruption of tropical hop aroma and flavor.
Burnt City's can designs are visually loud, and for something with "deathscream" in the name, that makes total sense. This isn't the brewery's only prehistoric-themed offering. Megalodon DIPA is dry-hopped with Ekuanot and Mosaic and is closely related to our flying friend here, and Burnt City's Oktoberfest features a mechanical therapod wearing a German Alpine hat on the can.
For you purists out there, yes, I know Pterodactyls weren't actually dinosaurs. Don't tell that to the leather-winged beast on the can though—he looks kind of cranky.
Inner Dinosaur | Conshohocken Brewing | Conshohocken, PA
While many dino-loving brewers probably got some early inspiration from "Jurassic Park," Andrew Horne of Conshohocken Brewing in Pennsylvania got the name for Inner Dinosaur Rye IPA from an unlikely cinematic source: "Step Brothers."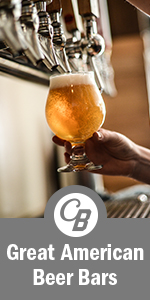 "There is a scene where Dale's dad is telling the boys to be true to themselves and he recounts how he used to pretend to be a dinosaur when he was younger," explains Horne. "It's a really stupid and funny way to say 'Be yourself.' I took that as 'Make the beer you want to make.' Don't lose your Inner Dinosaur."
(DISCOVER: Find a Brewery Near You)
The beer is an unfiltered IPA that shows off the spicy, sweet and tangy characteristics of flaked rye. For this unique take on a classic style, Conshohocken designed a can that displays a sense of quirky nostalgia.
"The inspiration is a shirt I wore as a kid," Horne says. "It was blue with a dinosaur on the front and just said 'Brontosaurus' in green font." They designed the can to match the shirt and slapped the crew's favorites dinos all over it.
Dankosaurus | Cedar Creek Brewery | Seven Points, TX
Ah yes, the mighty Dankosaurus, that familiar favorite of many a dino-obsessed child. It wandered the Jurassic swamps and jungles reeking of pine, citrus, and stone fruit from its diet of exclusively Apollo, Bravo, and Eureka hops. Its fellow dinosaur friends often said it was "pretty bitter, but approachable and pleasant nonetheless."
Okay, so dinosaurs couldn't talk, but fossilized hops have been found dating to the end of the Cretaceous period, so it's at least possible a few dinosaur species nibbled on the ancestors of our favorite lupulin-laden flowers.
Cedar Creek Brewery in Seven Points, Texas, doesn't get credit for discovering a new dinosaur species with their Dankosaurus IPA, but this 6.8% ABV, 65 IBU treat does offer the timeless fascination of classic West Coast hop aromas and flavors.
Who knows, maybe one of these days a craft beer-loving paleontologist will dig up a new dino and name it for her favorite drink!
CraftBeer.com is fully dedicated to small and independent U.S. breweries. We are published by the Brewers Association, the not-for-profit trade group dedicated to promoting and protecting America's small and independent craft brewers. Stories and opinions shared on CraftBeer.com do not imply endorsement by or positions taken by the Brewers Association or its members.