Walk into any brewery taproom, bar or restaurant and you'll likely overhear a beer fan ask: "What do you have on tap?" There's something special about beer fresh from the tap. Draft beer accounts for more than 40 percent of sales according to a recent report from the Brewers Association, publishers of CraftBeer.com.
[newsletter_signup_box]
(MORE: Glitter Beer Sparkles as Spring's Craft Beer Trend)
As much as you think about the taste of beer in your glass, we bet you haven't given a ton of thought to the world of beer keg management — and it's a complicated one. Kegs are expensive equipment, especially for small and independent breweries who operate on lean budgets. But they're also easily misplaced, lost, and sometimes even stolen. It's a pesky, costly life for stray beer kegs.
Beer Kegs Get Lost Easily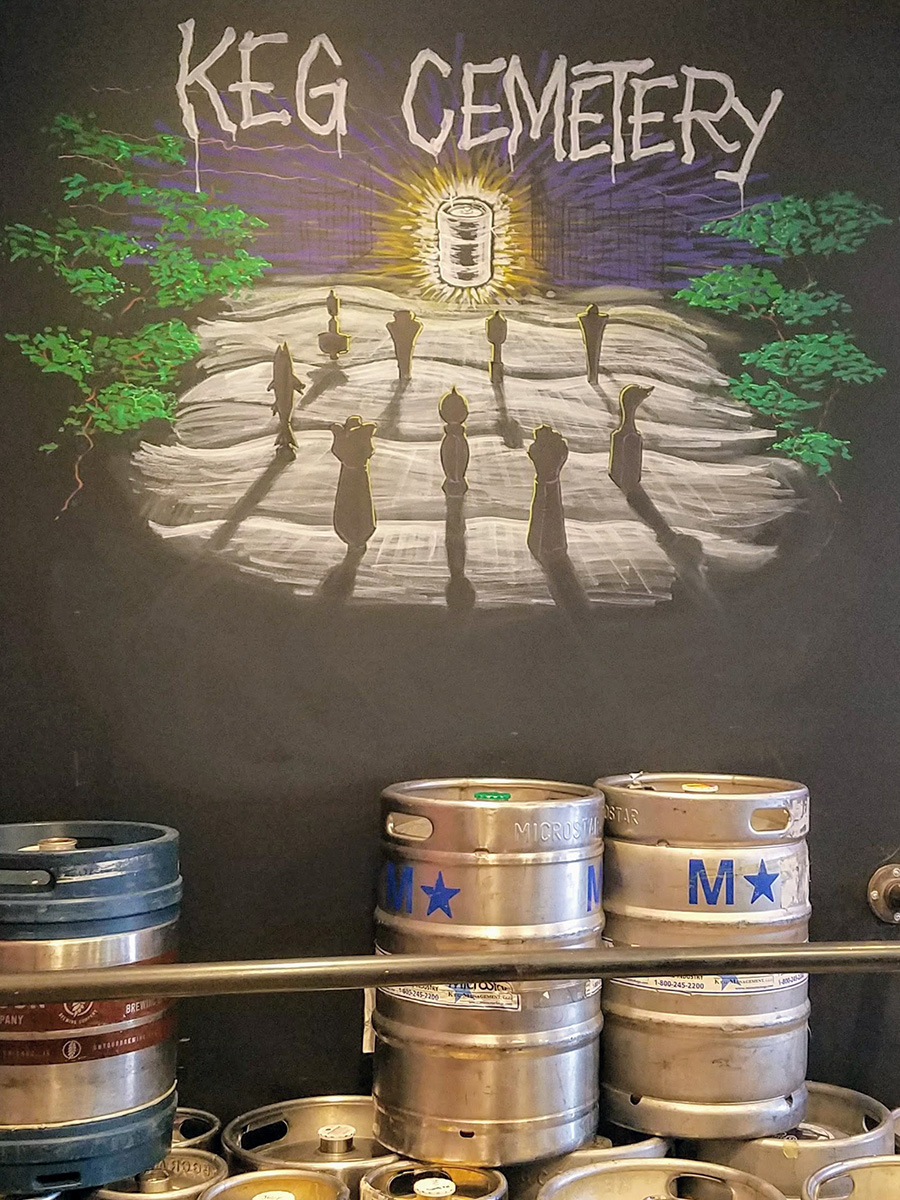 First, consider that new kegs can cost upwards of $100. A pallet of 18 half-barrel commercial kegs can run a brewery at least $2,000, if not close to $3,000. The constant rotation of kegs from brewery to bar and back again means a brewery must possess enough kegs to satisfy the needs of its many customers. In short, keg purchases comprise a sizable portion of a brewery's budget. That's why breweries treat kegs almost as prized possessions.
"Keg loss is a big deal," explains Dan Vorlage, vice president of marketing and business development at MicroStar Logistics. MicroStar is a Denver-based company that's spent 20 years helping manage keg needs for breweries.
"With craft beer sales north of 24 million barrels, that's an $11 million to $33 million hit each year," Vorlage says.
Ryan Rafferty, distributor sales support manager at Denver's Great Divide Brewing admits, "We have lost plenty of our own kegs over the years."
It might be easy to blame the brewery's infamous "Yeti," but Great Divide is not alone. Charlotte Bodden, the taproom manager at Only Child Brewing in Gurnee, Illinois, takes every step possible to prevent losing a keg.
"We'll rent kegs to individuals for parties, but we have them pay a substantial keg deposit," she tells us. "I take as much info as possible and make it very clear that we will not tolerate kegs not being returned."
Irresponsible renters is one thing, but how is it so easy for breweries and bars to misplace kegs? How can something get shipped from a brewery to a bar and never return?
"Kegs get lost any number of ways," Vorlage explains. "While sometimes theft is involved (kegs get turned into home-brew kits, lawn ornaments, coffee tables, etc.), often times simple mistaken identity is the culprit. A distributor grabs the wrong empty keg by mistake, sends it to the wrong brewer." Vorlage explained that by the time a brewery discovers it possesses a stray keg, it's already paid the $30 deposit for the keg.
Returning Stray Kegs
Tracking and returning kegs to the rightful owner, as well as buying, transporting and maintaining one's kegs, can prove costly for a brewery, which is where MicroStar intervenes.
"MicroStar works with the Brewers Association to find the biggest pools of these stray kegs … pays the deposits for these stray kegs, and coordinates their delivery to our facility in Green Bay. Once there, MicroStar does all the work to try to get the kegs back home," Vorlage explains.
And unlike many breweries where space is at a premium, the expansive MicroStar warehouse spans 100,000 square feet and, Vorlage adds, "We typically have around 200,000 kegs in our warehouse in Green Bay. Pretty crazy."
In 2015, the Brewers Association, the Beer Institute and MicroStar requested that eBay refuse to sell kegs without proof of sale. Unfortunately, at the time of writing this article, a quick check of Craigslist shows numerous kegs for sale, often with brewery names plainly visible on the photographs. (For that matter, there are entries that include MicroStar kegs for sale.)
Keg Management Strain on Small Brewers
Brewery growth and expansion leads to greater difficulty in managing and tracking its keg inventory.
"We had to decide: Do we want to manage chasing down kegs or do we want to make beer? So, we kept making beer and got [MicroStar] to chase down the kegs," says Oskar Blues' Jeremy Rudolf.
The next time you find yourself in a bar or brewery, look around at the kegs and you'll likely find kegs labeled with blue M-Star logos - there are 3 million of them. Vorlage noted that roughly 500 breweries, including Stone, Dogfish Head, Left Hand and Dark Horse, rely on MicroStar to transport, maintain, repair and handle the kegs. It's a workflow that many breweries don't have the money, staff, and other resources to handle.
(MORE: Kegs: You're Renting, Not Buying)
"For a business like Great Central [Chicago], which focuses on the production of craft beer for growing breweries as well as its own in-house brand of German-style beers, MicroStar offers some distinct benefits," explains Great Central Brewing's CEO and co-founder Dave Acram. "As a production facility we strive to achieve consistency, timeliness and efficiency in production and economics on behalf of our clients. Leasing kegs on a pay-per-fill basis allow breweries to invest in its people and operations rather than its cooperage. This means zero maintenance and replacement costs."
Acram explains that taking keg management off the plate of a small brewery helps his business and ensures available inventory, which prevents production delays and leads to on-time delivery and fresh beer.
MicroStar's Growth reflects Craft Beer Growth
"With the craft beer revolution going global, we're now working with breweries to get their beer overseas more efficiently than ever before," Vorlage says.
The influx of breweries and craft-friendly bars and restaurants leads to tremendous challenges for breweries regarding keg management. The genesis of MicroStar occurred at a time when the U.S. boasted of 1,500 breweries, a number that has ballooned to more than 6,000 in 2018. The company built its model on one question: "Could multiple breweries working together increase their efficiency and improve their sustainability?" Early returns point to a resounding "yes."
"When a brewer is on their own, they constantly have too many or too few kegs. Because MicroStar has 3 million kegs, it's easy for our customers to get the kegs they need, when they need them. We've also made major investments to assure supply including the acquisition of the largest Keg Quality center in North America," Vorlage says.
(MORE: Craftwashing is Happening in American Beer)
Dogfish Head has used MicroStar's services for nearly 20 years. Founder and CEO Sam Calagione notes in a December 2017 news release, "MicroStar has logistics superpowers. That's why we view them like an extension of our operations and one of the reasons we've been able to focus on what we love and do best: brewing off-centered ales for off-centered people."
While it may seem to make more sense for a brewery with a larger distribution footprint like Dogfish Head to rely on MicroStar, smaller breweries take advantage of its services, too.
"For smaller breweries who don't need our logistics support – brewers who only serve their beer onsite or within a single city for example – we can sell or rent them kegs," explains Vorlage. "When brewers use our kegs rather than owning their own, it reduces the distance empty kegs travel so it's more efficient and environmentally friendly."
Smaller Environmental Footprint
With more than 6,000 breweries operating in 2018, you can imagine how many cars and trucks are moving from breweries to bars and restaurants each day. When breweries are in charge of their kegs, breweries must make both trips, drop off and retrieval.
In contrast, with MicroStar, distribution trips are minimized. The company picks up the kegs, brings them to a bar, picks up some empties and brings them to the next brewery. And that is exceedingly efficient and environmentally friendly.
As Rob Todd, Allagash Brewing founder, explains, Allagash sells about 90 percent of our beer out-of-state. To haul kegs from its Maine location to places like Chicago, Atlanta and Los Angeles would require thousands upon thousands of miles of driving to deliver kegs, and then double that with a return trip. The logistics alone would prove to be a nightmare, but the environmental impact is one that goes against the ethos of of the craft beer industry.
(MORE: Craft Brewers Send a Message: Drink Beer Fresh)
MicroStar turned to PE International (now known as ThinkStep), an international group with Fortune 100 global customers to gage the efficiency for which it helped reduce greenhouse gases. The technical review, prepared by Christoph Koffler, PhD, offered MicroStar some favorable results.
"MicroStar's customers reduce their freight-related greenhouse gas emissions by over 3 million kg of CO2 each year," Vorlage says. "To put that in perspective, that's the same amount of greenhouse gases emitted by burning nearly 3 million pounds of coal. Pretty incredible."
Beer Keg Management Helps Brewers Focus
It is easy to take notice of trucks transporting beer or fixate on gorgeous tap handles, but without the keg, there's nothing to pour. Whether beer fans realize it or not, breweries understand the significance of keg management. As breweries grow, the daunting task of keg logistics and preventing keg loss is almost too much to bear for a brewery. MicroStar steps in and handles that significant aspect of brewing business, which helps a brewery concentrate on beer and helps the Earth remain beautiful.
So, the next time you inquire to what beer is on tap, don't take it for granted. The keg that held the beer is someone's prized possession.
CraftBeer.com is fully dedicated to small and independent U.S. breweries. We are published by the Brewers Association, the not-for-profit trade group dedicated to promoting and protecting America's small and independent craft brewers. Stories and opinions shared on CraftBeer.com do not imply endorsement by or positions taken by the Brewers Association or its members.