Given American craft beer's long and loving relationship with hops, as well as its renewed enthusiasm for lagers, a style that layers aromatic hops atop a clean, smooth lager should be the hottest style of 2019. But Italian-style pilsner hasn't supplanted IPA for tap list dominance–yet. It has made quite the impression on American brewers, though, and they can't wait to share their versions of this imported style.
Craft-brewed Italian pilsners in America can trace their family tree back to a single beer: Birrifico Italiano's Tipopils. Brewed in Limido Comasco, a small Italian town southwest of Lake Como, Tipopils may be the most influential beer Americans have never heard of.
It was the inspiration for Firestone Walker's revered Pivo Pils which debuted in 2012, and since then it's remained something of a well-kept secret among brewers. (At this past year's Firestone Walker Invitational Beer Fest, numerous brewers told me Tipopils was the beer they were most looking forward to tasting, as Birrifico Italiano attends the festival every year.) After tasting Pivo and Tipopils at festivals like the Invitational and Birrificio Italiano's Pils & Love, American brewers couldn't wait to return stateside and brew their own versions.
(TRAVEL: Remarkable Brewery Taprooms)
Characteristics of Italian-style Pilsners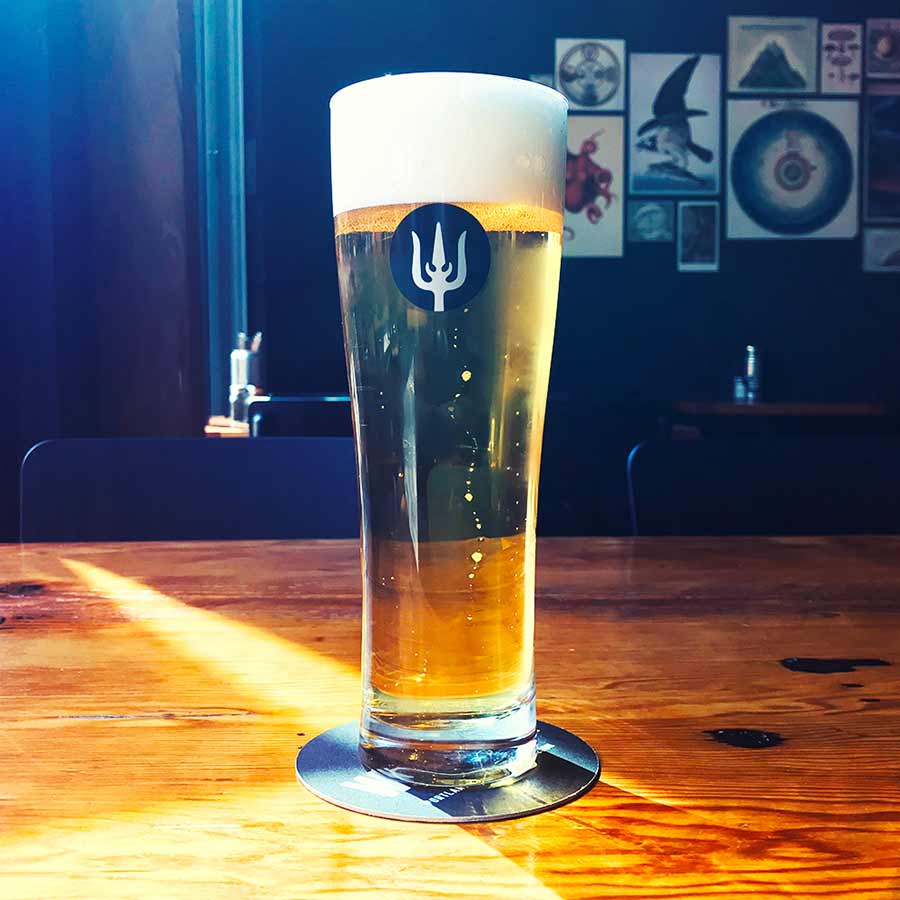 So, what makes an Italian pilsner an Italian pilsner if it's brewed in America?
The simple answer is that Italian pilsners are German-style pilsners that have been dry-hopped with European hops for maximum aroma. (Dry hopping is the process of adding hops to beer to maximize aroma without imparting bitterness.) Italian pilsners are dry, squeaky clean, and as Kevin Davey, brewmaster at Portland, Oregon's Wayfinder Beer puts it, should "punch you in the face with Noble hops."
Unlike some other lager styles, Italian-style pilsners are less about malt and all about the hops. Using German-grown Noble hops like Tettnanger, Spalt, Hallertau Mittelfruh, other German varieties like Polaris and sometimes Saaz hops from the Czech Republic, American brewers recreate a German-style pilsner–but with amplified, American levels of hop aroma.
"American brewers were really struck by the Italian pilsners because we all make a lot of pilsner, but theirs are so floral and interesting and use different hops than are normal for us," Davey says.
Italian pilsners made such an impression on him and his fellow American brewers from Modern Times and Heater Allen who attended Pils & Love that the three breweries vowed then and there to brew one together. Last fall, they teamed up to make a version called Terrifica. It's since become popular enough to warrant status as a rotating release from Wayfinder. ("I'd like it to be a regular release," Davey admits.)
(TREND: It's Not Wine–It's Brut Lager!)
Hop Choice is Crucial for Brewing Italian-style Pilsners
What's the secret to its appeal? Davey says the hop choice is crucial. Brewing a pilsner with citrusy hops like Mandarina Bavaria or fruity American hops like Citra won't recreate the slightly spicy, minty, verdant hop nose so crucial to Italian pilsners. And it's that super-charged, dry-hopped aroma that defines the style and made Tipopils such a revolutionary beer.
"Amazingly, dry hopping was not Reinheitsgebot-compliant," says Tim Adams, owner of Portland, Maine's Oxbow Brewing, which was the first to label its beer, called Lupulo, an Italian-style pilsner. "But here [Birrifico Italiano brewer] Agustino Arioli is in Northern Italy, close to Germany, so he learned very much the German way of brewing pils, but made it his own. It's a wonderful beer. The Italian brewers coming up after him were drinking Tipopils and loved it and were like 'Okay, this is what pils should be.' So it became the norm in Italy to dry hop their pils."
Given American drinkers' obsession with hop aroma, a hopped-up pilsner hasn't been a hard sell. Adams says sales of Lupulo have "taken off," especially after Oxbow began packaging it in cans. Lori Beck, co-owner of the venerated craft beer bar Holy Grale in Louisville, Kentucky, has high praise for Oxbow's version: "Oxbow is one brewery that I can say is incredibly passionate about Tipopils, and their beer pays real homage to it. They're not just jumping on the bandwagon and making a style that's hyped-up right now."
(LEARN: 75+ Beer Styles Made Simple)
Brewers are Smitten with Hoppy Italian-style Pilsners
Maybe Italian pilsners haven't become regular on draft lists yet, but drinkers are certainly ready for them. A recent batch of a collaboration Italian pilsner from Waunakee, Wisconsin-based Untitled Art Brewing and Minneapolis' Fair State Brewing Cooperative, sold out almost as quickly as it hit shelves.
"It's a good gateway beer because IPA is king right now, and craft lager is still steadily growing. It's a good in-between to bring IPA drinkers to the table. It's bitter; it's got a kick; it's got lots of aroma," says Untitled Art's head brewer Ben Knutson. "Even for the lager drinker, to get them into a more hoppy beer, it's the same thing. I think it's a cool bridge beer for people who prefer different styles."
"I think it's a cool bridge beer for people who prefer different styles." Ben Knutson, Untitled Art
Plus, Knutson adds, the fact that so many brewers are smitten with the style should tip drinkers off to how good it is.
"Italian-style pils is a challenge to brew and great to drink. The brewer has it in their face all day, so if they want to drink it then it's probably worth checking out."
Beck says Holy Grale will order "as much as it can" of unpasteurized, unfiltered kegs of Tipopils when it's available, trusting her enthusiastic staff will guide drinkers who are new to the style toward it.
"When we have beers that our staff gets behind because they love it, it's gone immediately," she says. "Tipopils reminds me of the Italian cooking philosophy: Less is more; pay respect to the ingredients."
(READ: These are the Experimental Hops Brewers are Testing Right Now)
While Tipopils can be elusive in the States, plenty of American breweries are trying their hand at the style. Besides versions from Wayfinder/Heater Allen/Modern Times, Oxbow, and Fair State/Untitled Art, other American-born Italian-style pilsners have come from Orange County, California-based Green Cheek; Madison, Wisconsin's Working Draft Beer Company; and a Brooklyn-born collaboration between Threes Brewing and Kings County Brewers Collective.
"I hope that if people are starting to get excited about Italian-style pils, they'll also explore some of the other Italian beers out there," Oxbow's Adams says. "Italy has made such a unique contribution to the beers of the world but I feel like it's not that well-known here in the States."
Looks like the secret's finally out.
CraftBeer.com is fully dedicated to small and independent U.S. breweries. We are published by the Brewers Association, the not-for-profit trade group dedicated to promoting and protecting America's small and independent craft brewers. Stories and opinions shared on CraftBeer.com do not imply endorsement by or positions taken by the Brewers Association or its members.