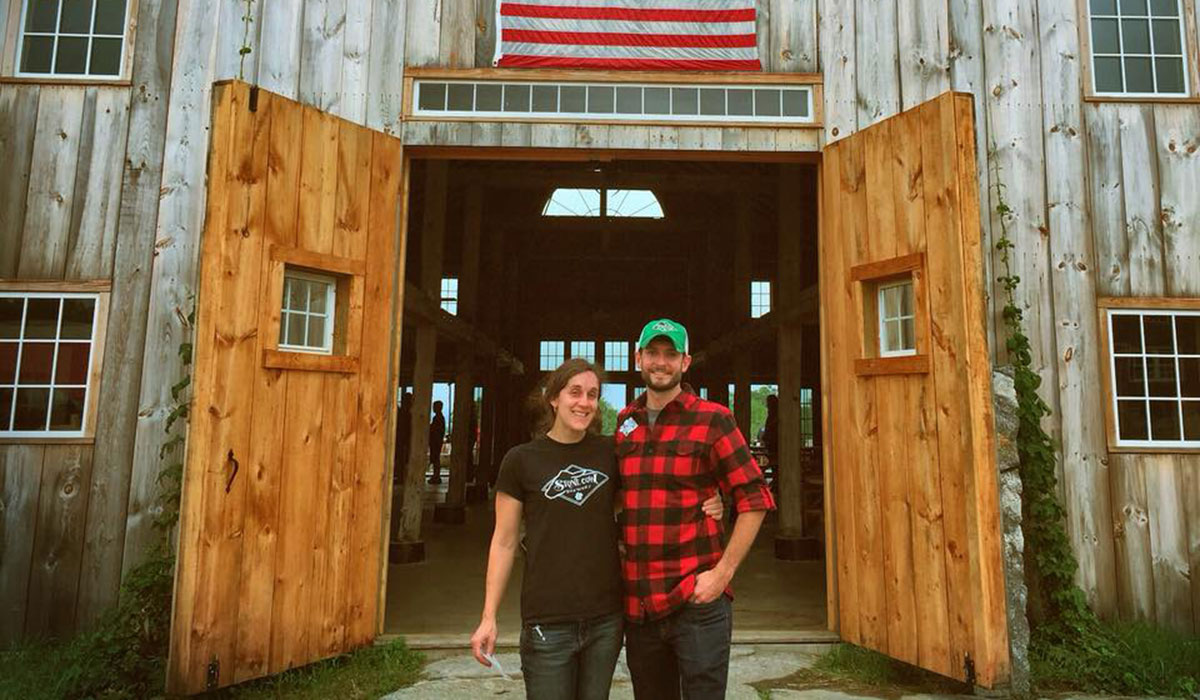 Craft Breweries Bring New Energy to Old Dairy Farms
Craft breweries are no stranger to restoring old buildings. Breweries and brewpubs open shop in former train stations, shuttered police stations and churches. Miles away from busy downtowns, there's another revival quietly happening in the countryside as families convert dairy farms into craft breweries.
Each of these dairy farm breweries has its own backstory — from a married couple trying to save the farm they love to a retired U.S. Air Force pilot restoring a landmark that's been part of the community for generations. All three of these breweries are witnessing how craft beer brings new energy to America's farming roots.
Craft Beer Rescues Couple's Dairy Farm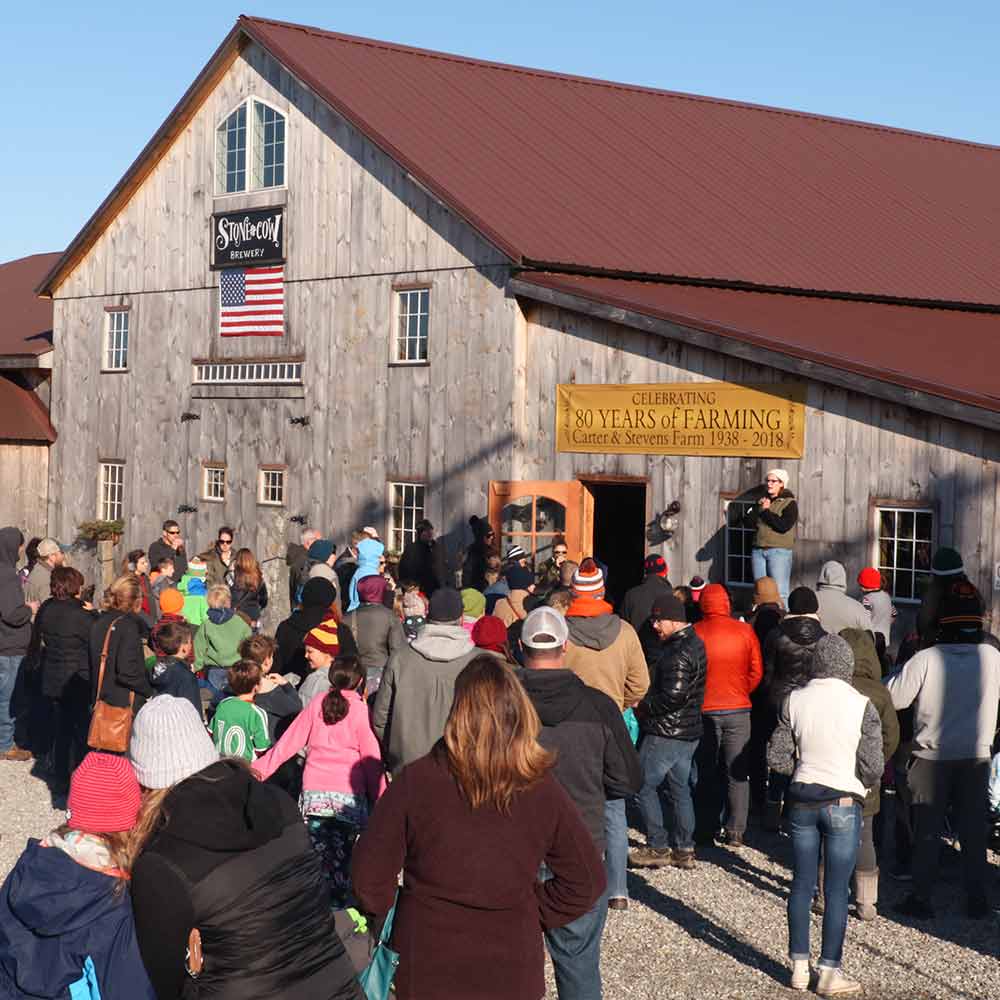 The U.S. dairy milk industry is seeing declining sales. So what do you do if you're a dairy farmer who's trying to maintain that way of life? If you're Sean DuBois and his wife, Molly Stevens DuBois, you open a brewery.
About 10 years ago, Sean and Molly fell hard for the craft beer scene. It started as a hobby until they learned that the large-animal veterinarian who works for them brews beer.
The vet invited the DuBoises to sample and brew with her, and they were hooked. The seed was planted to start their own brewery.
"At every brewery tour we took, they talked about the great relationship they had with dairy farms to get rid of spent grains," DuBois says. "Although we had always bought spent grains from breweries to feed our herd, not until we saw other breweries did we realize that we could be a one-stop shop, brewing beer and using the grain for our cows."
In 2016, the couple introduced the community in Barre, Massachusetts, to Stone Cow Brewing.
"We believe we're the only working dairy farm that's also a brewery," DuBois says. And it's not just him and his wife but also other members of his wife's family who run the farm. It's the largest pasture-raised dairy farm in Massachusetts. There are 200 cows in their herd, 100 of which are milked.
Although the couple were craft beer fans and longed to be part of the Northeast independent beer scene, there was an underlying motive: rescuing their dairy farm.
(VISIT: Find a U.S. Craft Brewery)
"We Love Our Way of Life"
"We opened the brewery so that we could continue milking cows, as we love our way of life," he says.
The dairy industry has slumped so much, he says, that it's tough to break even. Most years, they lose money. The family sought new ways to generate income, starting with a farm stand to sell their products, including maple syrup, vegetables and ice cream. They also opened a seasonal barbecue restaurant — June through September. It's become so popular they recently expanded to serve lunch in addition to dinner. Then came the brewery.
Sean and Molly have turned Stone Cow Brewery into a local experience. The brewery is inside a 250-year-old barn they got (for free) from their neighbors after the original barn they wanted to use on their property burned down.
They source all beer ingredients locally, including blueberries (for the blueberry sour) and hand-foraged dandelions and nettles for a beer called Spring Sting.
They also grow hops and host a hop-picking party late August. That beer, Can't Stop Wet Hop IPA, is released a few weeks later and people come from other states to sample it.
"That beer really connects with our local movement," DuBois says.
"The brewery has saved the farm." Sean DeBois, Stone Cow Brewery
Since opening, Stone Cow has expanded from eight to 42 employees. The brewery has become not just a beer destination but a family one, too. There is a sledding hill in winter, a playground for warmer months and ice cream all the time.
The brewing has paid off. "The brewery has saved the dairy farm," DuBois says.
(READ: In New York State, 'Farm Breweries' Aren't About Location)
Reviving a Retired Dairy Barn
Jack Waite traveled the world as an Air Force pilot. A beer lover, he was able to try a lot of styles, especially in Germany, Japan and Korea. He also took a course about the chemistry behind brewing. So when he decided to retire in Coldwater, Ohio, he opened a brewery in a dairy barn built in 1933. What once was Coldwater Dairy is now home to Tailspin Brewing.
Coldwater Dairy was once a thriving business. It's one reason the barn with an old stone silo — something you don't find much anymore — has become a local icon. Although it stopped being an active farm with dairy cattle in the early 1980s, it continued selling milk wholesale well into the 2000s. Then it sat idle for years.
As luck would have it, Jack Waite was looking at property with a real estate agent who showed him a picture of the barn. Waite knew it was meant to be.
"Because my wife was from Coldwater, we already knew the barn and had a natural affinity for it," he says.
"Part of Our Identity"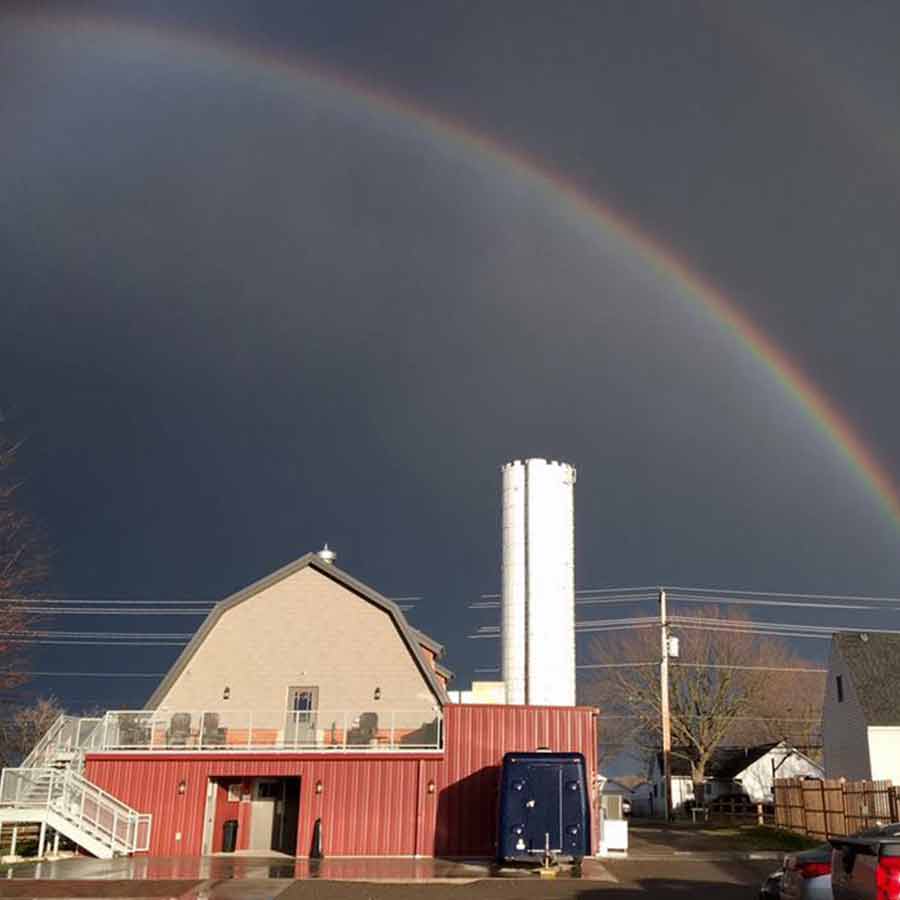 The farmer's family agreed to sell it to them, and the brewery was born, officially opening its doors in 2016. The former owners had taken such great care of the barn that Waite had little work to do to revamp it. Today, the barn serves the brewery well.
"It's as much a part of our identity as the beer," Waite says.
Locals often come in to talk about their memories of being at the barn when it was a dairy farm. Having local roots has also made the brewery more attractive to guests.
"Everyone loves to shop local when they can, and you can't get any more local than what we are," Waite says. "When you tie the history of the barn to the history of the town, we're really their brewery."
That's one reason you might find locals veering toward the Guernsey Gold Cream Ale, which pays homage to the brewery's history. The farm's now-deceased original owner used to call the milk from his Guernsey cattle "Guernsey Gold," and his daughters say he'd no doubt be greeting folks at the brewery if he were alive today.
(TRAVEL: New England Breweries Off the Beaten Path)
Serving Farmhouse Ales from the Farm
It's only fitting that Fox Farm Brewery in Salem, Connecticut, specializes in farmhouse beers. The 15-barrel brewery opened on a former 1960s dairy farm, and the brewery is now rewriting its history.
Zack Adams had started homebrewing more than 12 years ago and became enamored enough to consider a brewery. But the big question: Where to open one?
The barn is relatively young, but it shares the same story as other dairy farms. It was an active farm for about 25 years. Then the former owner passed away and the barn then fell into a state of neglect. That's when it caught the eye of Zack and his wife, Laura.
They heard that the farm's owner had passed away and they decided to put in an offer. Laura's parents not only have a vineyard down the street, she also grew up in the area and has fond memories of driving by this dilapidated barn.
"I don't think we would have opened a brewery if this wasn't the space," Zack Adams says. "It just spoke to us."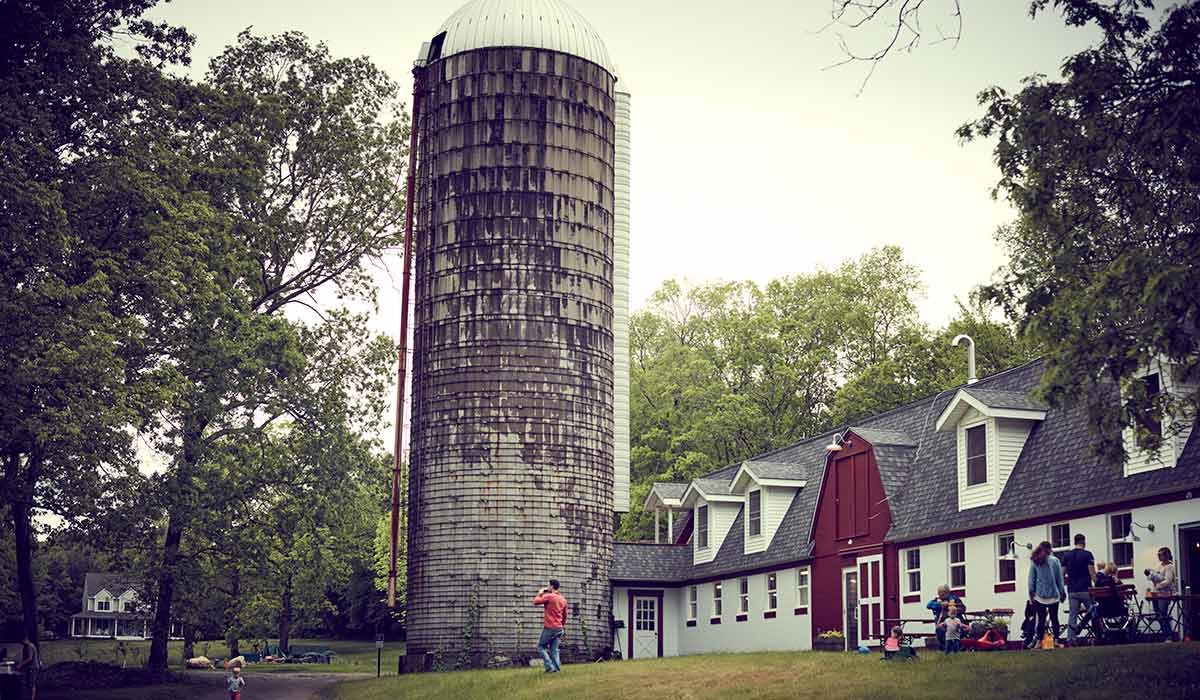 Barn Takes Shape
Although the barn had suffered significant deterioration, it was still structurally sound. The biggest renovation involved removing the old dairy barn floor and raising the ceilings. After doing that, the brewery began to take shape — literally.
"It's linear with a natural flow, making the space warm and welcoming," Adams says.
(RECIPE: Grilled Cheese & Beer Sandwich)
There were challenges, namely not having city sewer or water or natural gas. But the brewery brings guests into a bucolic setting. Greenery and food plants, like blueberries and cherries that serve an important purpose, surround the guests.
"We're dedicated to mixed culture fermentation and farmhouse beers that highlight local ingredients and have our own yeast character or fermentation profile," Adams says. "It reminds people that beer is an agricultural product and brings an increased awareness about the beer."
As Zack and the other founders of these dairy farm breweries have witnessed firsthand, craft beer really can breathe new life into old places. Yet they're not only rewriting history for these old farms, they're also preserving a way of life and local landmarks for generations to come, and that's worth raising a glass for.
CraftBeer.com is fully dedicated to small and independent U.S. breweries. We are published by the Brewers Association, the not-for-profit trade group dedicated to promoting and protecting America's small and independent craft brewers. Stories and opinions shared on CraftBeer.com do not imply endorsement by or positions taken by the Brewers Association or its members.