In any industry there is waste, and brewing is no different. Breweries are often left with what can be mountains of spent grain, and plenty of food scraps from brewpubs. What to do with it all? Breweries of all sizes are taking on the thoughtful work of finding ways to reuse and recycle rather than sending them to the landfill.
Stretching the Dollar for Spent Grain
Bell's is a brewery known for its classics such as Two Hearted and Oberon. Based in Kalamazoo and Comstock, Michigan, the brewer has grown to a production of nearly half a million barrels per year since its inception in 1985.
What does this mean in terms of spent grain? About 16 million pounds.
"It all becomes cow feed," says Kate Martini, sustainability specialist for Bell's. "We've partnered with a cattle farm for over 20 years. They've been scaling up along with us; they pick up our spent grain sometimes multiple times a day from the Comstock brewery."
Sending spent grain to a farm to use as livestock feed is common practice in the brewing industry, but some breweries get creative.
(Related: Reindeer Grains: Brewery Finds Use For Spent Grain)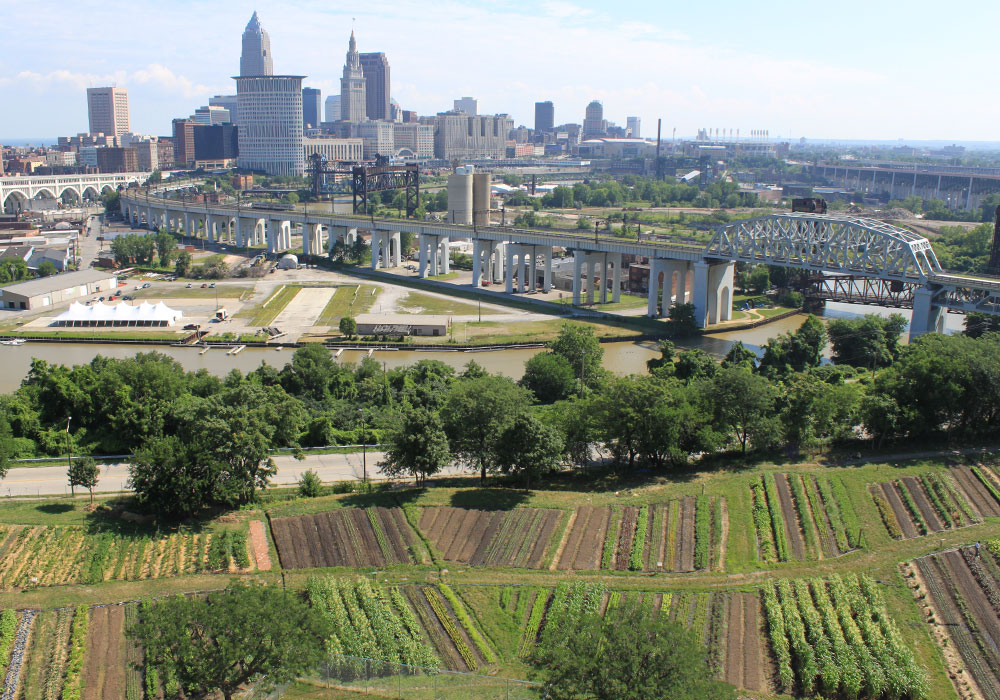 "I think we've repurposed spent brewer's grain in more ways than any brewery I can think of," says Saul Kliorys, sustainability manager for Great Lakes Brewing Company based in Cleveland. "We incorporate it into pretzels that we serve here in our restaurant. In 2010, we were a part of starting what was then known as the nation's largest urban farm, Ohio City Farm. We used spent brewer's grain there to build up the soil quality."
A particularly unique project that Great Lakes has experimented with in the past was partnering with a local mushroom cultivator, Killbuck Valley Mushrooms, to demonstrate the possibility of growing mushrooms on spent brewer's grain. At the same time, they also demonstrated the use of worms to decompose the spent grain and turn it into a soil amendment.
Reuse at Great Lakes does not end with spent grain. Any bottle of beer that is filled incorrectly–that is, 5 mL below or above the 350 mL line–can have a second chance for use as a mustard, barbeque sauce, or even ice cream.
"We've partnered with Mitchell's Ice Cream to make ice creams out of our Porter and our Christmas Ale, called Edmund Fitzgerald Porter Chocolate Chunk, and Christmas Ale Gingersnap. They're really good," Kliorys explains.
Composting Breweries Create Community
Brewery Vivant, located in Grand Rapids, Michigan, specializes in yeast-forward farmhouse style beers paired with delectable cooked-from-scratch eats. Owned by Kris and Jason Spaulding, the craft brewery has been a family endeavor ever since it opened in 2010, just nine days before the birth of their first son. From the start, they've held sustainability as a core value, exemplifying this priority to their community by becoming the very first Leadership in Environmental and Energy Design (LEED) certified brewery in the nation and a Certified B Corporation to boot–that's about as conscientious as you can get as a business. They send their spent grain to a nearby farm and have been composting their food scraps since day one, returning them to the ground for use as a rich soil amendment.
"I thought it was an important thing to have staff wrap their heads around right from the beginning," says Kris Spaulding, president. "If you're working somewhere and they're having you separate food scraps from waste–that is different. It pushes staff to see what sustainability looks like, and gives them a very active role in implementing our goals."
Food scraps don't break down in the landfill, and instead will generate the greenhouse gas methane. Less organic matter in the landfill means less space taken up, healthier soil and a cleaner planet. As for the impact on the larger community, Kris shares, "I hope that people see what we're doing and it makes them want to do better too. I love when our staff members take our values with them wherever they go within the industry or outside of it. I'll run into people and they'll tell me, 'I can't believe this place I'm working at doesn't compost and I'm trying to convince them to do it.' That is so awesome, right? That's what we hope happens. We plant these seeds and then they take sometimes."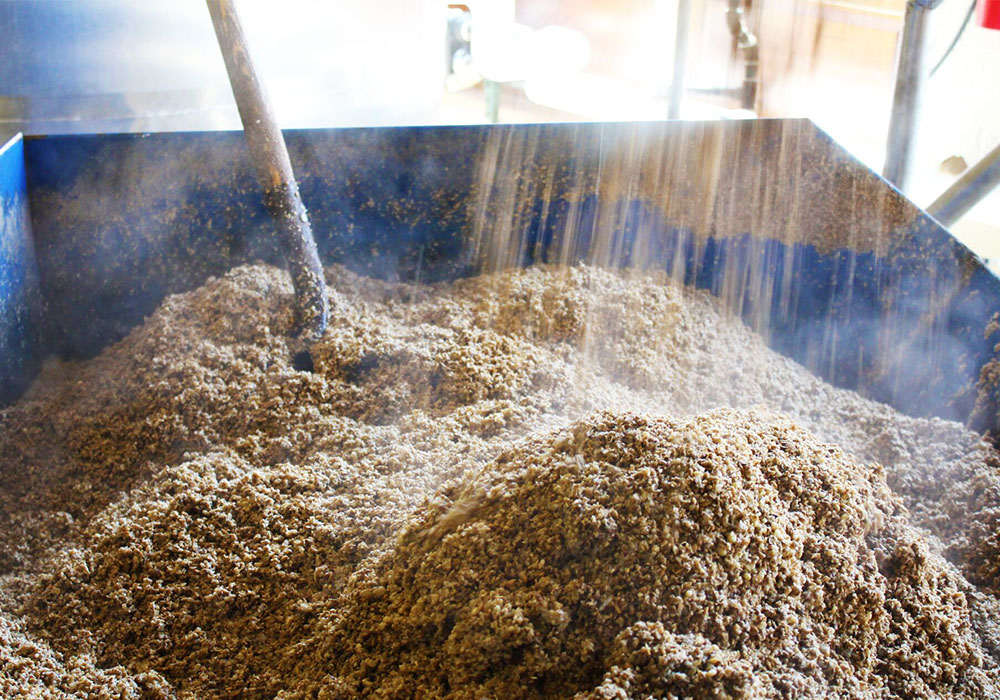 (Recipe: Spent Grain Granola)
How does a brewery go about starting to compost? For Bell's it started with a deep dive into their waste data. They were shocked to learn that they were sending more landfill waste from their Eccentric Cafe than they were from their main production facility. In order to compost, though, they had to justify the move financially.
"A lot of people struggle to make the case to start composting because it can cost more money, but when we started our industrial compost program we had to reduce our landfill enough to pay for it," says Martini. Landfill can be a huge operational cost to most breweries and restaurants.
The first step was finding out exactly how much of each type of material was being thrown away. "In the end, we had this pie," Martini explains, "here's our pre-consumer waste, post-consumer waste, here's how much we have in recycling, how much actually should have been in the dumpster all along. So then you ask yourself, do we have enough here that we want to engage with a farmer to do pre-consumer food scraps? Usually you can find a farmer who will take it for free. Right there is your savings. You don't have to pay for it to go to the landfill."
The next step is figuring out how to change your waste collection, Martini explains, "Engage with a farmer for livestock feed, or send things to an industrial composter."
Bell's had enough post-consumer waste that it wasn't viable for pig feed; it made the most sense for them to go with an industrial composter. To do that, they found another local business that was already composting to use as a resource. HopCat, a brewpub that has 19 locations throughout the Midwest, composts at each one of its restaurants. Carrie Veldman, sustainability manager, explains that it makes a big impact when a HopCat location opens in a new city.
"If we start a compost route, it makes it a lot cheaper for other people to do it," she says.
Breweries might also consider making incremental changes to the way they handle waste. In 2018, Great Lakes Brewing decided to compost all of the cinnamon and ginger from their Christmas Ale production, resulting in a surprising 16 tons of organic material diverted from the landfill. Now, they are looking at a partnership with the up-and-coming Rust Belt Riders, a Cleveland-based compost pickup service, to help them divert even more from their waste stream.
(Related: Livestock and Lager: Breweries Raise Animals and Agricultural Awareness)
For those wanting to do something productive with their food scraps, a lot can be gained from the camaraderie within the craft beer community.
"Anything leftover from events that people host here at Bell's, or events that we host for our employees, is sent to our local food bank. They serve it for meals or repackage it to send home with people," explains Caitlyn Pelfresne, sustainability associate at Bell's. With over 38 million people hungry in the United States (one in seven children), and an estimated one-third of our food supply being thrown into the garbage, businesses that are putting in this extra effort can really help to solve two issues at once. The Good Samaritan Food Donation Act protects businesses from liability when donating their surplus food. Local food pantries and shelters are also great resources for getting edible food into hungry bellies rather than a garbage can.
(Find a Brewery: Craft Brewery Map)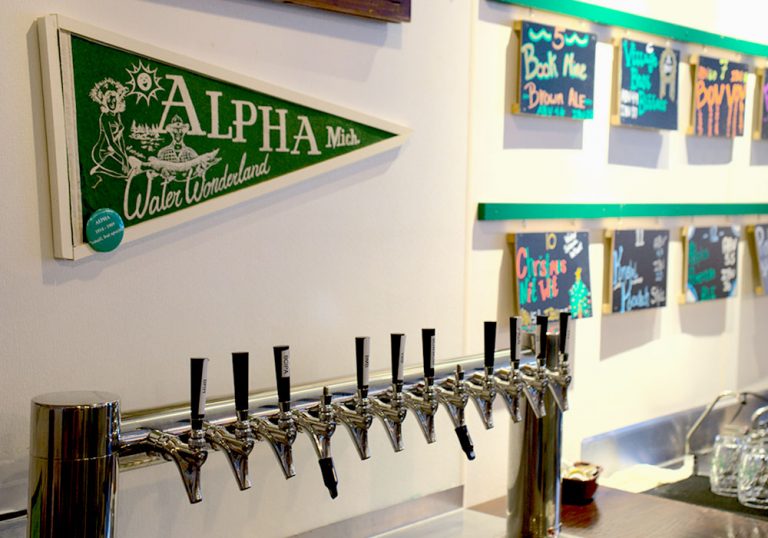 It can be challenging for urban breweries to find a farm to partner with that will consistently take their spent grain. A lot of times, a densely-populated region may be inundated with breweries, but lacking enough nearby farmland to be able to handle all of the byproduct. This is not an issue for Alpha Michigan Brewing Company. Alpha, located in Michigan's Upper Peninsula, has a population of 145 and is among the smallest villages in America (if not the smallest) with a brewery. The majority of downtown Alpha, including the brewery, exists on the town's tiny traffic circle. Yet with a community so small, it makes it even easier to forge connections.
"One of our club members picks up our grain and makes dog treats out of it that we hand out to any customers with dogs in their cars," says taproom manager Sarah Fredericksen.
Last October, Alpha Brewing had their second annual pig roast. "A few of our mug club members have kids that are part of our local Youth Livestock Market Association, and they were telling us, 'We really need some good food for our pigs.' In the summer when these kids are raising pigs, they come and pick up our extra grain, feed their pigs, rinse off the buckets and bring them back to us. This year we purchased two pigs at the Iron County Fair. We roasted one pig as a fundraiser for the Youth Livestock Marketing Association and Iron County 4H and charged a $20 donation. Along with $1 a pint, all the money we raised we gave back to the Youth Livestock Marketing Association and 4H so that any kid in Iron County who wanted to participate but couldn't afford to would have the joining fee waived. With the second pig, we did a roast for our mug club members as an appreciation party."
This kind of "circular economy" is the goal of sustainability efforts. Breweries of all production levels are diligently finding ways to reduce their waste output to better their community and lighten their load on the environment. Find out what your local brewery is doing to mitigate their impacts – then raise a glass!
CraftBeer.com is fully dedicated to small and independent U.S. breweries. We are published by the Brewers Association, the not-for-profit trade group dedicated to promoting and protecting America's small and independent craft brewers. Stories and opinions shared on CraftBeer.com do not imply endorsement by or positions taken by the Brewers Association or its members.