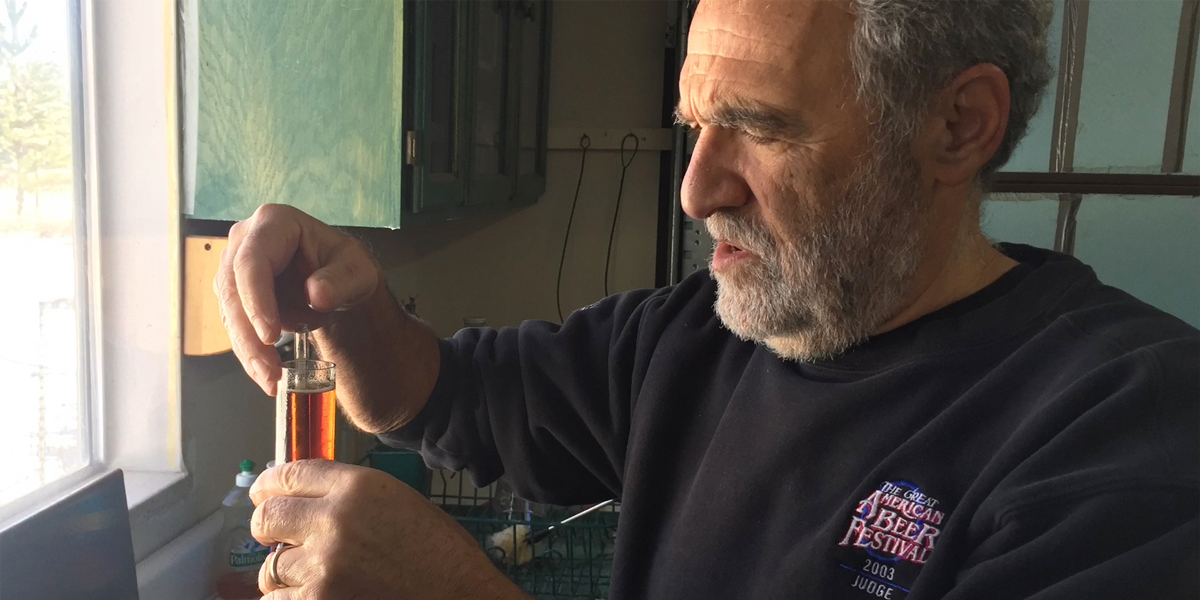 A Beer History Lesson from the Smithsonian's Victory Garden and the Godfather of Homebrewing
Hops have been recorded as an essential flavor and preservative in beer since 736 CE when Abbot Adelhard of the French Benedictine monastery of Corbie wrote about using wild hops to make beer and 400 years later when renowned German Abbess Hildegarde Von Bingen became the first to write about using hops for a preservative in beer. The most prominent hops for much of the last decade, a far cry from their original wild hops cousins, is the Cascade variety, a type now seen by many Washington, DC visitors growing on the National Mall in the Victory Garden at the Smithsonian's Museum of American History.
This year the Smithsonian's horticulturists did something quite special with their bounty of Cascade hops. They shipped the entire batch to Charlie Papazian, the legendary "Godfather of Homebrewing." With those hops Papazian – who will exit from the Brewers Association he founded in January after 40 years — is brewing a special beer of his choosing. Papazian, as it happens, also is the founder of National Pie Day from his early days as an elementary school teacher. Clearly his taste buds get a lot of work.
The Smithsonian's Victory Garden gives visitors the ability to see, touch, and smell everything in the gardens while learning about the importance of such gardens to America during both World War I and World War II. Hops are an integral part of that.
Origins of the Smithsonian's Victory Garden
The Victory Garden's story begins in 1917 with the National War Garden Commission initiating a war garden campaign, responding to the drastic drop in agricultural produce both here and in Europe from the devastation of the conflict and the manpower lost to military service. Over 5 million such gardens were created in the U.S. One marvelous poster, evidently written by somebody who enjoyed puns, quoted "Sow the seeds of Victory" and "Every Garden a Munition Plant."
(List: A Beer Geek's Travel Checklist)
The Victory Gardens of WWI bore a faint semblance to the volume in WWII, which the Smithsonian's garden emulates, when there were about 18 million such gardens—from window boxes to community plots—providing about one-third of all U.S. vegetables. Ogden Nash, the humorous poet, penned in 1943:
Today, my friends I beg your pardon,
but I'd like to speak for my Victory Garden.
With a hoe for a sword and citronella for armor, 
I ventured forth and became a farmer.
Brett McNish, a supervisory horticulturist with Smithsonian Gardens, says "Our Victory Garden is about learning. It's 'food deconstructed.'" McNish notes that "The plants are connected to displays and groupings inside." In this case, the museum's "FOOD: Transforming the American Table" exhibit.
(More: 10 Beertography Tips from the Pros)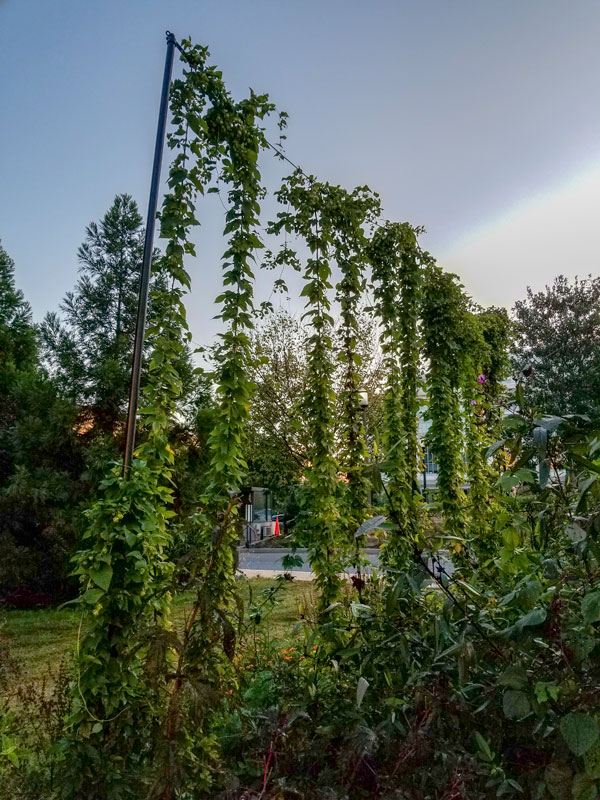 The Cascade hops and a nearby plot with Nugget hops were planted five years ago and are the focus of many garden visitors, especially homebrewers and other beer lovers. Joe Brunetti, the lead horticulturist relates that "Many of the visitors are impressed by the height of the plant, others are fascinated when a hop cone is pulled and they can smell the lupulin oils, and another group is simply fascinated by the entire plant."
Other flavoring plants in the Victory Garden that are used in beer include coriander, hot peppers, anise hyssop, roselle hibiscus, and jasmine. The Gardens also grow a variety of plants used for other alcoholic drinks: Agave (Tequila), Sugar Cane (Rum), Corn (Bourbon), Rye (Whiskey), and Potatoes (Vodka). Sadly, there is no special "Liquid Refreshment" tour.
The Smithsonian horticulturists, like the wizened old knight describing Indiana Jones drinking cup selection in the Last Crusade movie, "…have chosen…wisely." To brew a beer with their Smithsonian's Cascade hop crop the two horticulturists selected Papazian, the fabled brewer whose work has inspired millions to pick up the hobby of homebrewing. The man who literally "wrote the book" on homebrewing.
Smithsonian Honors Papazian's Place in U.S. Beer History
Charlie Papazian, a degreed nuclear engineer, self-published his original 40-page homebrewing book "Joy of Homebrewing" in 1976 and started giving homebrewing classes. His iconic next book "The Complete Joy of Homebrewing" (1984) spread homebrewing nationally, is now in its 4th edition having sold almost 1,000,000 copies, and is still the fundamental book on the subject. Papazian's catchphrase motto in the book, popularly known as the "home brewer's bible," still echoes today: "Relax. Don't worry. Have a homebrew."
(Related: Where Craft Beer and History Meet: Breweries Near World Heritage Sites)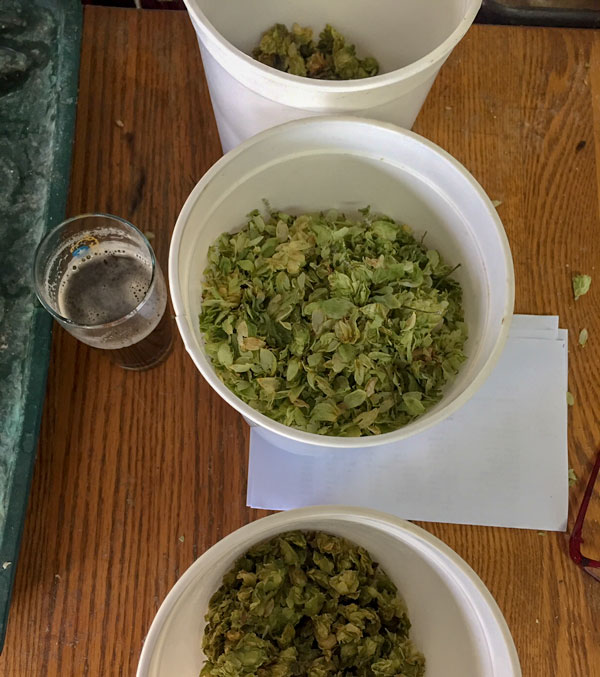 Papazian's influence in the homebrewing and brewing worlds includes starting the American Homebrew Association in 1978, which is about to have its 40th anniversary, publishing the homebrewing magazine Zymurgy starting the same year, and being the long-term president of the Brewers Association. And now there is a permanent Papazian link to the Smithsonian.
Papazian's well-used and well-stained wooden spoon, central to thousands of homebrews that became the backbone of his most famous book, is now part of the permanent collections at the National Museum of American History. The spoon will also become part of the exhibit "FOOD: Transforming the American Table" in fall 2019. Papazian is quoted as saying with a smile, "It makes for a stirring tale, doesn't it?"
The Museum's American Brewing History Initiative was created in 2016 to collect, document and preserve the history of craft brewers and explore how brewing connects to larger themes in American history. The Brewers Association, publishers of CraftBeer.com, are lead sponsors of the initiative — and initially what brought Papazian together with the Museum.
As part of the initiative, the "FOOD" exhibit will have a new section that highlights the rise of homebrewing and craft beer in the U.S. The Museum's collection also has Papazian's original 15-gallon brewing-adapted trash can which he used for his "pail ales," a copy of his original book, and the recipe for his original homebrewed beer, developed while he was an undergrad at the University of Virginia.
(More: 9 Remarkable Brewery Taprooms)
Papazian toured the Museum with his family earlier this year and on his visit to the Victory Garden he said to McNish and Brunetti, while looking at the tall Cascade hop bines, that "It would be cool to brew with these." A few months later his wish was granted.
Papazian's 'Smithsonian Porter'
Papazian received 10 sealed plastic bags filled with partly dried Cascade hops. Way too many for him to use alone so, as in the previous years with Smithsonian homebrewers, he shared them with his Brewers Association colleagues but keeping enough to brew a "Smithsonian beer." But what to brew?
The spark came to Papazian from his vivid and fond memories of a unique, for the time, Falstaff Brewery porter from the very first Great American Beer Festival in 1982. Falstaff, in the 1960s was the third largest brewery in the country and by 1982 owned both the Narragansett and Ballantine breweries. They called the beer Narragansett Porter. Papazian remembers that "Falstaff submitted two beers for that GABF, the other being a Ballantine India Pale Ale." He reminisces that both had "a perfect foundation of malt character that elevated what I would call 'old school' Cascade hop flavor and aroma."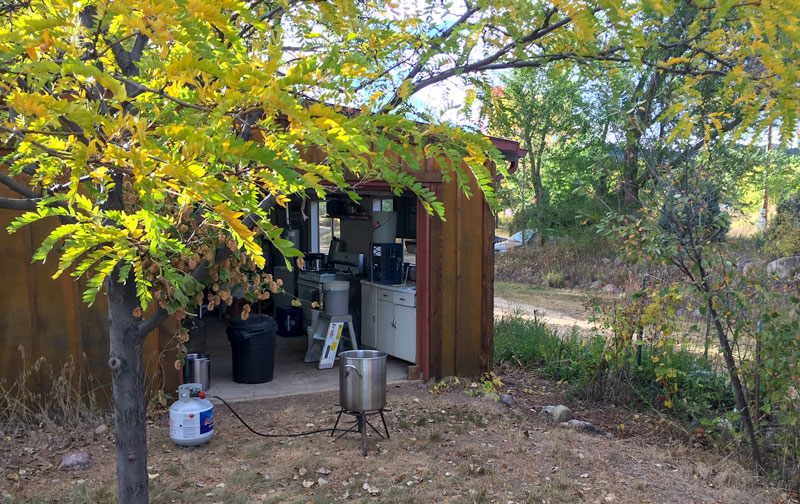 (GET THE HOMEBREW RECIPE: Charlie Papazian's Flubadub Gansett Porter)
The Smithsonian's Cascade hops bonanza brought to his mind that marvelous Narragansett Porter. It was one of the earliest brews that relied heavily on Cascade hops when Cascades were not in wide general use. Papazian recalls that "I didn't think a long time about selecting it. I really liked this beer and thought it would be perfect; unique, with Cascades, historical perspectives and offers a great story about a part of American craft brewing history."
Papazian notes, in publishing the recipe in the September/October issue of the homebrewer magazine Zymurgy, that Narragansett Porter was "a dark, medium-bodied porter with a balanced, roasted, toasted dark malt flavor. The lightness of corn and a medium malt body accented the flavor and aroma experience of dry-hopped Cascade perfectly. It struck me that this may have been the first modern-day American brewer beer that was dry hopped."
(Find: A US Brewery Near You)
Papazian has adapted the Smithsonian/Zymurgy recipe for a number of reasons. One is that the Cascade hops of today have evolved to a quite different character than that of the early 1980s. He recollects lots of citrus and pine. Another is finding a substitute for a difficult-to-find hop. Who better to analyze the porter's essential components and understand how to reshape them than the "Godfather of Homebrewing"?
Not only does his recreation of Falstaff's Narragansett Porter elevate the history and understanding of early craft brewing as Papazian intended, but now anyone can brew that porter, which remains so memorable to Papazian even after 35+ years and tasting zillions of beers in his more than 40 year brewing and consuming career, thanks to his recipe in Zymurgy and his long, fond memory.
CraftBeer.com is fully dedicated to small and independent U.S. breweries. We are published by the Brewers Association, the not-for-profit trade group dedicated to promoting and protecting America's small and independent craft brewers. Stories and opinions shared on CraftBeer.com do not imply endorsement by or positions taken by the Brewers Association or its members.