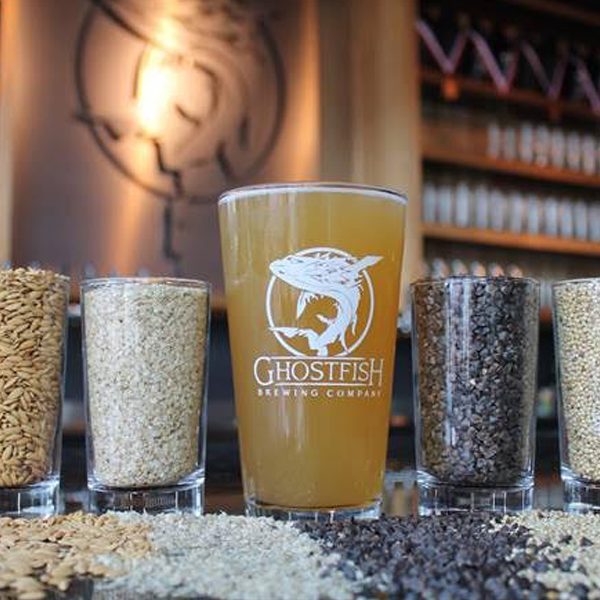 Ghostfish and Revelation Collaborate on Gluten-Free Sour Beer
Two craft breweries, Seattle's Ghostfish and Delaware's Revelation, are announcing the release of a big collaboration: a gluten-free sour beer.
Ghostfish focuses on totally gluten-free beer and, to be honest, they've been killing it, having won three medals in the past two years at the Great American Beer Festival.
On the East Coast, Patrick Staggs and Revelation, not even a year old, focus on boundary-pushing beers, which include mixed fermentation sour beers.
What brought together these two distinct breweries, which are on opposite sides of the country?
(MORE: A Sour Beer Pickle in American Brewing)
Brewers Collaborate to Craft New Option for Gluten-Free Beer Drinkers
Collaboration beers are a hallmark of the American craft beer scene. Brewers collaborate for different reasons despite often times being market competitors.
Most industries would not welcome competition into their R&D and share processes. So why do brewers do this? Well, for one, brewers collaborate because beer fans like collaboration beers, especially when they are fans of the breweries involved.
Nevertheless, it's not all about us. Granted, we reap the benefits of collaborations, but sometimes brewers collaborate with their buddies or perhaps to learn a new skill to add to their repertoire. Both reasons play into the recent brew and soon to be released collaboration between Ghostfish Brewing Company and Revelation Craft Brewing Company.
Both Stagg and Ghostfish's Brain Thiel worked together at beverage packaging company Crown Cork before each eventually decided to open his own brewery.
A collaboration between old friends was a given, and the opportunity to play off each breweries' disciplines; Ghostfish's expertise at using gluten-free grains and Revelation's aforementioned sour powers offered each brewery a skill they desired. The plan to brew something that had never been done before, a mixed fermentation, fruited, gluten-free sour was agreed upon and brewed at Ghostfish's Seattle brewery.
(MORE: Why Brewers Want You to Stop Stashing All Those Bottles)
Challenges in Creating a Gluten-free Sour Beer
If a gluten-free fruited sour seems challenging, you'd be right. And the desire to not only push boundaries in beer but to use processes that each brewer believes is the "right way" meant that additional cost and time is needed to produce a beer that both brewers would be proud to be associated with.
First of all, the gluten-free grains that Ghostfish uses is pricey. Secondly, since these are not typical brewing malts, the mashing process (the part where malts are mixed with hot water to activate the saccharification process) yields a mash with a much different consistency than beers brewed with malted barley and wheat. Staggs described the mix as "gravy-like."
While the dedication to Ghostfish's process proved challenging, Revelation's extended kettle souring process does not take short cuts either. It involves introducing lactic bacteria cultures to the gluten-free mash and holding the mash temperature at a higher range for a longer period than a normal mash schedule to provide the perfect environment for the acidifying bacteria to thrive.
(MORE: 14 Spring Beers Brewers are Excited to Release in 2017)
Co-Conspirator Apricot Sour
There is no doubt both sour beers and gluten-free options are growing trends in the craft beer world. Both processes have their shortcuts or alternative modes of operation that garner similar results, but each brewery in this collaboration wanted to make a point to say they pride themselves on solid processes that produce extraordinary beer quality. The result of these breweries' efforts is the combination of both trends in the release of the "Co-Conspirator Apricot Sour."
Ghostfish brewmaster, Jason "Igliashon" Yerger reported the Ghostfish version of the collaboration clocks in at 5.3% Alcohol by Volume. This beer received the addition of apricots at the end of its secondary fermentation, and will be available at Ghostfish and at limited accounts in the brewery's footprint around Seattle. Revelation will brew their version this week in the hopes that a beer will be available as thousands of craft brewers arrive in the area in time for the Craft Brewers Conference in Washington D.C. in mid-April.
Co-Conspirator encompasses three of the hottest trends in craft beer — collaboration beers, sours and gluten-free — but it's the process and attention to details that shine through this project.
"You can get together and throw a bunch of crazy fruits or adjuncts into a beer and get attention," explains Staggs, "but it's understanding and executing a solid brewing process to create a great beer that makes this notable."
CraftBeer.com is fully dedicated to small and independent U.S. breweries. We are published by the Brewers Association, the not-for-profit trade group dedicated to promoting and protecting America's small and independent craft brewers. Stories and opinions shared on CraftBeer.com do not imply endorsement by or positions taken by the Brewers Association or its members.