The sunset sky is glowing tangerine-orange when a man crosses the colorful beer garden to pick up a mic. People are sipping soft, flavorful IPAs and pilsners. A dozen patrons move closer to the stage, as local comedian Micheal Foulk announces the start of Greetings From Queer Mountain, an occasional storytelling event hosted at several venues around the country — including one brewery, Temescal Brewing in Oakland, California.
"This is the gay agenda," Foulk quips. "We're coming for all your stage time!" As the crowd laughs, he asks if there are any straight people present, provoking nervous giggles from those who raise their hands. "This is the reversal," he smiles, kindly. "This is how it feels."
A few parties moved indoors to continue their conversations. But most of the eclectic crowd was drawn into the heartfelt, sometimes humorous stories. The success of the unusual evening traces back to the brewery's intentions, hiring philosophy and one spectacular birthday party.
(More: Chicago Brewery's Wild Trip Down a Hazy IPA Rabbit Hole)
Temescal's soft-spoken founder, Sam Gilbert, has been thinking about diversity, inclusion and the community aspects of craft beer since before he launched the brewery in 2016. During construction, he offered free gallery space to Oakland artists. In its successful crowdfunding campaign, Temescal Brewing vowed to be welcoming for all, with "no jerks" as its creed.
That motto now glows neon pink above a seating nook opposite the bar, serving as a reminder for patrons and staff. But as Gilbert reflects, "Being nice isn't enough — you must be active."
One action Gilbert took was non-traditional hiring. While he rejects the thought of quotas, he wanted a brewery staff with ties to multiple communities. For many positions, he hired "on potential" as much as on related experience. Currently, he counts 10 of 22 employees as not "cis-male," a term for non-transgender men. Five identify as queer, while about a third are non-white, with crossover between categories.
Temescal's "Queer First Friday" Fills a Void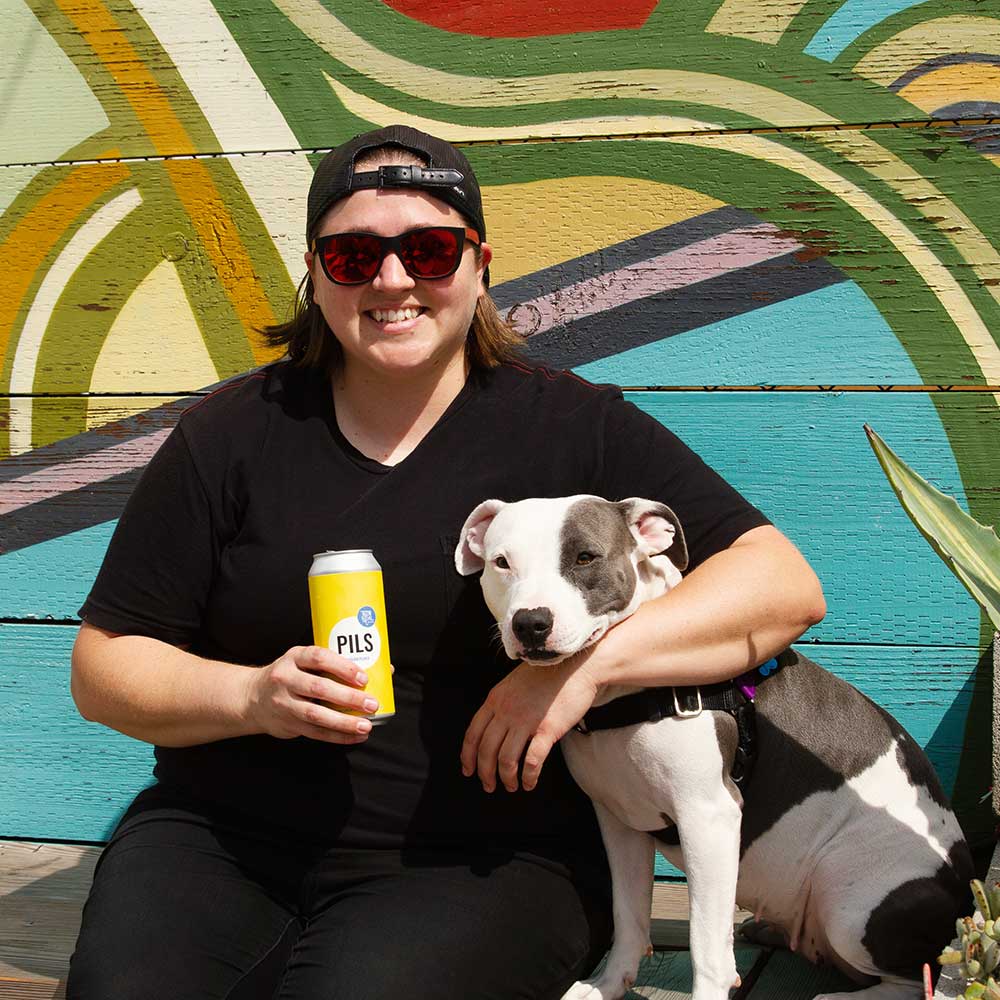 In the first year, Fridays at the taproom were busy, with one exception. On the first Friday of each month, thousands of revelers jammed Oakland's downtown galleries, bars and streets for the First Friday festival, a few miles away, while nightlife in the Temescal district was dead.
(More: Brewer Honors Grandfather's Legacy as WWII Navajo Code Talker)
So when taproom manager Theresa Bale, now head of operations, contemplated her upcoming birthday in the summer of 2017, she had a crazy idea. She wanted to go out with friends in the queer community without the expenses and late hours of club culture. What if she threw a party at Temescal Brewing on First Friday? She'd been learning to DJ and was eager to debut for friends and "all the performers, voguers and dancers" she knew.
Bale asked her straight, white, cis-male boss for a night off to host a party for her queer friends in Temescal's beer garden. Gilbert was struck by her point that on Oakland's big party night, there was no LGBTQ+ event. They agreed the brewery would publicize the celebration as "Queer First Friday."
"I was really worried that no one was going to come," Bale confided. "Because all we serve is beer! Everyone wants their cocktails and stuff."
(More: Arizona Breweries Rally Around Beer for Suicide Prevention Hotline)
Halfway through the evening, the bartenders got slammed. Bale was busy DJ'ing when she noticed Gilbert had made a run to buy plastic cups. She remembers thinking, "Sam's never going to let me do this again."
It was their busiest night ever outside the brewery's opening and anniversary. And Queer First Friday has continued since, with Bale at the helm.
When she visited Brooklyn, New York, Gilbert suggested checking out Threes Brewing, which he considers simpatico in its outlook. During Pride Month last June, she organized and DJed Queer First Friday at Threes, on the same day as Temescal's continued. Back home, Bale also teamed up with Berkeley's The Rare Barrel to create "Out for Beer" night in its taproom.
Temescal Wants to Have Tough Conversations
Last February, during SF Beer Week, Temescal Brewing announced Hella Halftones, an event calling for "real conversation between industry, the Black community, and Oakland stakeholders" about what the event listing described as craft beer's  "diversity problem."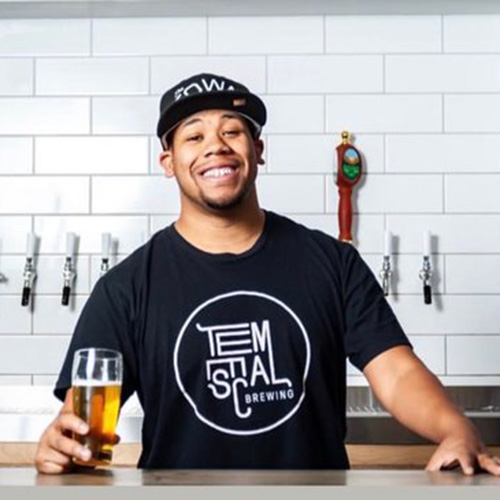 Joshua Diggs, East Bay native and long-time beer enthusiast, stepped forward from his role as bartender and events ambassador at Temescal to pull the evening together. Diggs and Gilbert sat on a panel with "Black People Love Beer" activists Teo Hunter and Beny Ashburn, of Crowns & Hops in Inglewood, California; and Seneca Scott of Oakhella, an Oakland cultural organization.
(Find: Breweries Near Me)
On a night featuring less challenging craft beer activities all around the Bay Area, Diggs was delighted with both the turnout and the diversity of the crowd that showed up. And after discussing tough topics such as gentrification and the dynamics of who feels comfortable in craft brewery taprooms, people stayed to party together. Diggs is brimming with ideas for future activities in conjunction with Oakland's Black community.
Temescal's SF Beer Week activities caught the attention of brewers who share goals of inclusion but haven't taken action. "The biggest comment is like, 'I don't know where to start,'" Gilbert said. "But also, 'I'm really busy. I don't have time.'"
While Temescal, too, is busy making and selling beer, Gilbert vows to bring in other communities and break down other barriers, to "take it to the next level." In the meantime, Oakland and the craft brewing world have a welcoming beer garden and an array of thoughtful beers to enjoy together — while learning what the next level will look like.
CraftBeer.com is fully dedicated to small and independent U.S. breweries. We are published by the Brewers Association, the not-for-profit trade group dedicated to promoting and protecting America's small and independent craft brewers. Stories and opinions shared on CraftBeer.com do not imply endorsement by or positions taken by the Brewers Association or its members.