"I like a good story," says Sumit Vohra of Lonerider Brewing Company in Raleigh, North Carolina. That is instantly apparent when you step into the brewery's Wild West-themed taproom, nicknamed The Hideout. Sumit grew up watching gritty spaghetti Western films, and his love for the genre is evident in every aspect of the brewery he founded in 2009.
[newsletter_signup_box]
"Every single beer has a story that I wrote behind it," he explains. "Shotgun Betty has a story. Sweet Josie Brown has a story. All these characters, we gave them stories to make them larger than life."
As I sat with Vohra in the small but airy Hideout on a sunny day in early spring, I sipped from a curvy vase of Shotgun Betty, a southern German-style Hefeweizen that won silver at the Great American Beer Festival in 2016.
(READ: Craft Beer Gets a Boost on Major Airlines)
The beer is named for a vigilante in a fictional Western town Vohra has created and populated with eccentric characters. Every beer is named for a character or event in the town, and they all fit together to form a single mythology. The brewery hopes to soon create comic books that tell the stories of these characters and use them as taproom beer menus.
Story Behind Lonerider Brewing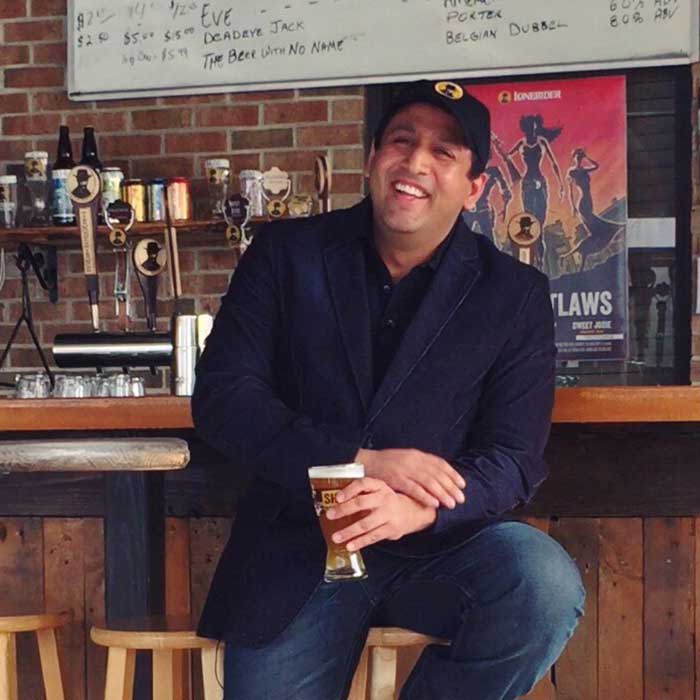 Vohra's got quite a story himself. "I'm a guy from Delhi, India, running a west Texas-themed brewery in Raleigh, North Carolina, making a German-style hefeweizen. It all makes sense," he says with a wry chuckle.
The "lone rider" idea is more than just a tribute to Vohra's favorite film genre. He looks at the craft beer industry as being full of individuals who see themselves as outlaws.
"If you walk into a crowded room, and you ask, 'Who here is a conformist?' I don't know how many hands are going to go up. There's a little bit of outlaw in all of us. We took that and ran with it."
Mottos like "Ales for Outlaws" or "Posses are for posers" on the brewery's cans and on posters throughout the Hideout drive home that outlook.
(MAP: Find Breweries Near Major League Baseball Stadiums)
Despite the rebel motif, Lonerider focuses on finely executing classic beer styles. "I would put our hefeweizen against any in the country and say, if you drink a good hefeweizen, drink ours," Vohra says. "We [brew] what might be confused with perfect representations of classic styles. Wild Wests are classics. I always say we're Clint Eastwood, not Roy Rogers."
That commitment to timeless quality has paid off in numerous awards. In addition to the Shotgun Betty medal, Sweet Josie Brown snared a gold at the 2010 Great American Beer Festival while Deadeye Jack Porter grabbed a silver the following year.
Philosophy of Craft
With his focus on the outlaw spirit of those old spaghetti Westerns, it's not surprising Vohra has a lot of thoughts on what it means to be an independent craft brewer. Above all else, he believes a commitment to quality and community are at its core.
"I used to say that there's going to come a time when the term 'craft beer' doesn't mean anything," reflects Vohra. "It's not going to mean anything, because anyone can say they're making it. In our industry, I think the question is more, what is the direction and the ethos of the company? Sometimes you have to make decisions that are for the best of the company, the best of the employees, the best of the craft beer community. To me, that's what running an independent craft brewery is. You're not always driven by profit line."
(READ: The Pesky, Costly Life of Stray Beer Kegs)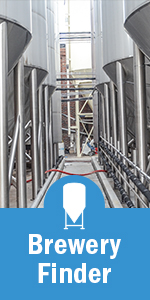 As we sat in The Hideout, both of us sipping on Vohra's clean, classic beers, he spoke to what it means to stay true to your passions while still maintaining a sustainable business in a crowded beer market.
"It's about certain key principles," he explained. "The first is, you never compromise the product. You never compromise quality. So you and your team know the beer and the quality is paramount. You don't start making a beer and think, it's got to stay below this price point. What you do is you say, I'm running a business and I'm going to charge an appropriate amount for this. But you make the best damn beer you can. If the passion is not there, the business will ultimately fail, because you don't really care about what you're doing."
Local Focus is Key
Vohra focuses on personal connections above all else when reflecting on what new breweries need to do to succeed.
"Figure out your community," he says. "Focus much more locally, and on how you integrate well into that community, rather than trying to bust out in distribution. Those days are kind of gone. It's not easy anymore," he cautions.
Life is never easy for outlaws. But when you've got Sumit Vohra's community mindset — not to mention Lonerider's killer beers — life sure can be fun. Maybe posses aren't for posers after all.
CraftBeer.com is fully dedicated to small and independent U.S. breweries. We are published by the Brewers Association, the not-for-profit trade group dedicated to promoting and protecting America's small and independent craft brewers. Stories and opinions shared on CraftBeer.com do not imply endorsement by or positions taken by the Brewers Association or its members.