To say Rusty Rail Brewing Company's brewpub in Mifflinburg, Pennsylvania, is big is a bit of an understatement. One-hundred-twenty-thousand square feet of space on three floors makes it the largest brewpub in the state, and a worthy destination for a beercation off the beaten path.
Mifflinburg is a small place to be home to such a big brewpub, but Rusty Rail has invested in the future of this central Pennsylvania town of 3,500 people by reviving its past.
The massive three-story structure Rusty Rail calls home was built in 1911 for the former Mifflinburg Body Works, a company that manufactured wood bodies for Model T trucks.
(More: Craft Breweries in Beach Towns)
After hiring contractor Rich Shrader to handle the renovation (he's now the brewpub's general manager), Rusty Rail embarked on a two year project to turn their century-old manufacturing building into a craft beer destination for locals and travelers alike.
And what a project it was.
"That was quite the experience," jokes Shrader. "We used a lot of local carpenters, local craftsmen, and a lot of Mennonite workers who have a history in this town, who understand the old buildings and how to work with them."
Preserving the Building's Legacy
When Henry Ford created the assembly line, this major local employer lost its main customer. After building military vehicles during World War II, the building was taken over by a cabinetry company who occupied it until 2007. Brothers Paul and Eric John bought it to use for their own cabinetry business, but they didn't need anywhere close to the complex's quarter million square feet. They wanted to use the rest of the property to preserve Mifflinburg's history and create something the community could be proud of. They settled on the idea of a destination brewery.
(More: 9 Train-themed Craft Breweries)
The John brothers and Shrader wanted to preserve the legacy of the building by restoring or repurposing as many of the original materials as they could.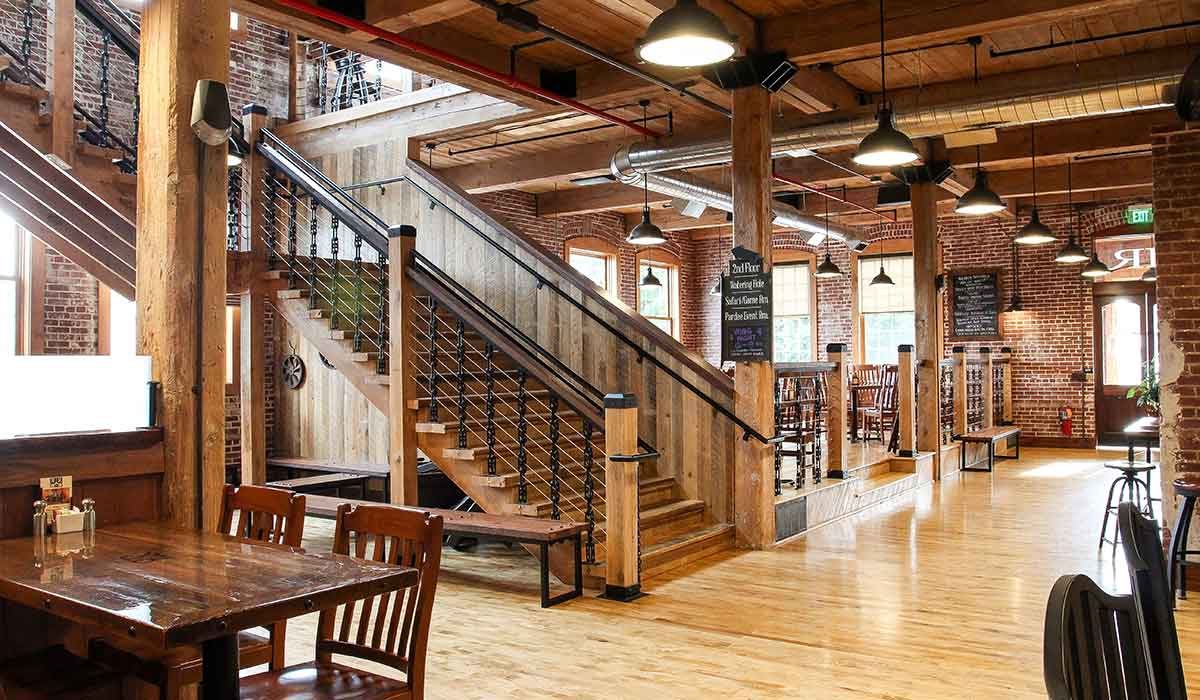 "A lot of the brick in this building is unique and you can't get it anywhere else," explains Shrader. "All the flooring and the beams, we'd pull all that out and collect it and then we'd look at it and say, what can we use this for?"
The rail ties from the old tracks were milled down and used for bar tops, while chains from the old assembly line were used to make handrails. Corrugated metal from the factory's original industrial ovens was used for partition walls.
"If we had choices to make during the renovation and we went to the owners, they would usually say, 'What would be as close to what would originally have been here as possible, and will it be here a hundred years from now?'" reflects Shrader.
Rusty Rail as a Destination Brewery
During the heyday of the Body Works, a spur line of the local railroad ran straight through the center of the factory to unload truck chassis for the wooden bodies to be mounted on, and then the finished trucks would be loaded back on the rail cars to be taken away to dealerships. Rusty Rail has been able to preserve this part of the building's history by fully restoring and displaying several Model T trucks that were built in the facility.
One was found three blocks away in an old barn, having never left the area. Another was purchased at auction.
(Seek the Seal: Brewers Association Independent Craft Brewer Seal)
"I told the woman who was selling it, whose father had owned it, that I was going to restore it and display it in our building, so any time she wanted a reminder of her father, she could come there and look at it," recalls Shrader.
One of these old trucks has been repurposed as a brewery event vehicle for festivals and town parades, and is retrofitted with working beer taps.
The large main floor of Rusty Rail's brewpub includes distinct dining areas and a music stage for concerts. Walls behind the bar area extend to the second-floor ceiling and feature large murals by local artist Jef McGreevy. The second floor has its own separate bar and kitchen, and features arcade games, shuffleboard tables, and 1923 Brunswick pool tables.
The expansive facility has become a popular destination for weddings. In addition to event space, the brewery has an events coordinator and a wedding planner on staff. Rusty Rail hosts 40 to 50 weddings a year, and they remodeled the top floor of their building into eight rustic luxury suites to give couples and their wedding parties a place to stay as they celebrate.
"We recently had a wedding booked from Hawaii," says Shrader. "We ended up doing a Skype interview and tour of the facility and they booked their wedding here off of that."
Fool's Gold Imperial Peanut Butter Hefeweizen
While it's easy to focus on the grandeur of Rusty Rail's historic building and the bustling events it hosts, the beer is no less impressive. Visitors can expect a diverse range of styles, including Fog Monster hazy IPA and Wolf King Warrior Imperial Stout. Perhaps their best-known beer is Fool's Gold, an imperial peanut butter hefeweizen. The 8% ABV beer combines subtle peanut butter with the banana notes of German weizen yeast to evoke memories of a popular childhood snack.
(Visit: Find a US Brewery Near You)
"We take pride in being ahead of the beer trends in our local area and introducing the local population to new beers," says brewery director Guy McCarty. "We feel like we have a really unique product with Fool's Gold that no one else is making."
Rusty Rail's facility allows the brewery to create a diversity of experiences under one roof. There are all-weather and outdoor patios, a restaurant, multiple bars, a game room, and lounge space. It's like taking half a dozen different taproom concepts and melding them together in one grand, historic space. Mifflinburg might be a small place, but Rusty Rail Brewing has put this former industrial town on the craft beer map.
CraftBeer.com is fully dedicated to small and independent U.S. breweries. We are published by the Brewers Association, the not-for-profit trade group dedicated to promoting and protecting America's small and independent craft brewers. Stories and opinions shared on CraftBeer.com do not imply endorsement by or positions taken by the Brewers Association or its members.