The railroad holds an important place in the American imagination. Trains became the global standard for long-distance land travel just as the Western frontier was opening in the United States, and the vast distances of the American prairies and Western scrub were laid with train tracks in the 19th century. The iron horse became an American symbol for opportunity, freedom and the new horizons that come into view when ingenuity is harnessed to good ol' hard work.
[newsletter_signup_box]
It's not surprising then that so many craft breweries use railroad names and images, since those same words and truths have defined the world of independent brewing in this country. Why not take a road trip this summer (with a designated driver, of course) to some of these craft breweries themed around the history and romance of the railroad?
(More: 10 Beertography Tips from the Pros)
Titletown Brewing Company | Green Bay, Wisconsin
Titletown Brewing Company occupies a former Chicago and North Western Railway station that was built in 1898. The depot was a once a major stop for the railroad's Lake Shore Division, and stories abound of famous persons who embarked to or from the beautiful brick station house with its still extant four-story clock tower.
While passenger service to the depot ceased years ago, Titletown's depot taproom does sit beside a busy freight track. "We're still on a Canadian National (CN) freight line and see anywhere from 10-15 trains a day," says brewery president and founder Brent Weycker. "Our bartenders blow a train whistle every time one goes by."
(List: A Beer Geek's Travel Checklist)
The depot was the location for Lon Chaney's final silent film, "Thunder," about a railroad engineer seeking redemption after a tragic train wreck, and also served as the embarkation and arrival point for several significant Green Bay Packers trips in the team's early days nearly a century ago, according to Weycker.
While waving at the CN trains, enjoy a Loose Caboose Belgian IPA or a 400 Honey Ale, named for the Peninsula 400, a legendary passenger train that used to service the station.
Railroad Brewing Company | Avon, Ohio
"We don't puke railroad collector items," says Railroad Brewing's Dave Lengyel, who wears a variety of hats for the brewery in Avon, Ohio. "We embrace railroad design."
Railroad-derived or -inspired items are tastefully implemented throughout the taproom about half an hour west of Cleveland. Purse and coat hooks are forged from railroad spikes, as are the handles for the brewery's twelve taps. The taproom's custom-built 30-foot light fixture is made with railroad track, and you can rest your boots on a railroad track footrest at the bar. A large community table in the shape of Ohio is made from railroad ties.
(Find: A US Brewery Near You)
While enjoying these accoutrements, sip on one of several train-themed brews, including Trainwreck IPA, Crooked Rail Maple Brown Ale, or Coal Train American Stout. Red Caboose is the brewery's flagship amber ale made with Nugget and Amarillo hops.
Railroad Brewing is located just a mile from the former Lakeshore Electric Railway that ran into downtown Cleveland, and after checking out the brewery, you can view an original station and electric train car in Avon.
Flossmoor Station Restaurant & Brewery | Flossmoor, Illinois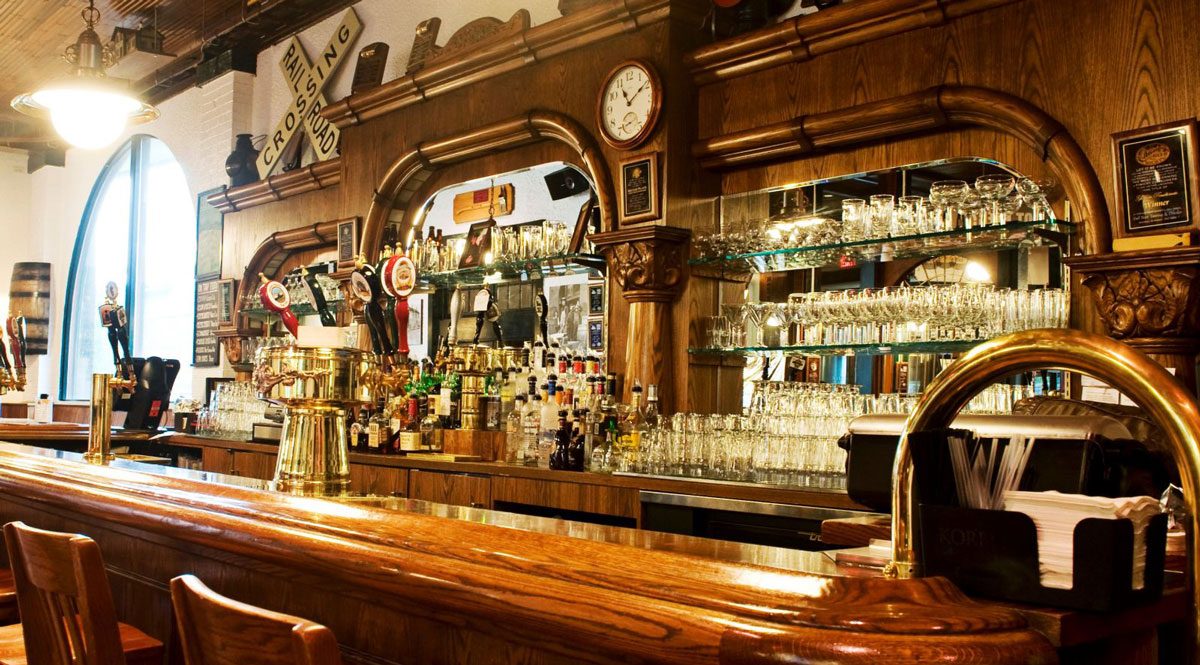 While Chicagoland is a mecca for craft beer fans today, Flossmoor Station Restaurant & Brewery has been around longer than most of the area's nearly 200 breweries. The brewpub was founded in 1996 in the charming downtown of Flossmoor in the city's south suburbs. Local residents Dean and Carolyn Armstrong didn't want to see the town's former train station, built in 1906, deteriorate and be demolished, so they purchased and renovated the structure and opened a brewery restaurant.
The beautifully restored station still sits directly beside a busy set of five train tracks and sees regular freight, Amtrak and Metra traffic. Train-loving diners and drinkers sitting at the bar or the outdoor patio can feast on the near-constant rail action along with Flossmoor's excellent pub fare. The bar area also features operating model trains running on tracks near the ceiling.
Flossmoor Station focuses on quality and drinkability for their award-winning beers, most of which carry railroad-themed names, like Station Master Wheat Ale, Gandy Dancer Honey Ale and Rail Hopper IPA. Their beers have garnered numerous awards, and in 2006 the brewery was honored as Best Small Brewpub at the Great American Beer Festival. Hop aboard a Metra train from downtown Chicago and climb off at this gorgeous brewing destination.
McMenamins Roseburg Station Pub & Brewery | Roseburg, Oregon
McMenamins operates dozens of brewpubs and boutique inns around Oregon, but their Roseburg Station location in the small town of Roseburg in the southwest region of the state will be of most interest to rail fans. The brewery and restaurant is housed inside a former Southern Pacific rail station built in 1912 that has been lovingly restored to its former glory.
(Enjoy: Brewpubs with Impressive Menus)
The taproom station features the original vaulted, 16-foot ceiling, tongue-and-groove fir wainscoting and marble molding. Pictures of the town's railroad history cover the walls. You can even download a PDF tour guide for the photos and a written history of the town's railroading past before you go.
An outdoor patio provides a peaceful setting to enjoy the brewery's beers, like Terminator Stout or 33rd State IPA. At least, it's peaceful most of the time. As the brewery's website warns, "When a train passes by –hold on to your beer!"
Steamworks Brewing Company | Durango, Colorado
Durango, Colorado, was founded in 1879 by the Denver & Rio Grande Railroad, and the town's history is intimately connected to the iron horse. Trains still run through this small Western mountain town, including one of particular interest to beer lovers. The Durango & Silverton Narrow Gauge Railroad & Museum offers numerous excursions aboard their historic train pulled by a restored steam locomotive, and one special ride offers local craft beer. The Durango Brew Train takes passengers on a stunningly scenic train ride through the mountains while they enjoy beers and talk with brewers from Colorado craft breweries, including Durango's own Steamworks Brewing.
(Learn: Beer & Food Course)
The Steamworks taproom is just a couple blocks from the museum, and several of their beers pay homage to the town's rail history. Steam Engine Lager has earned six Great American Beer Festival medals over the years in the American-style Amber Lager category, including golds in 1997, 2000, 2006 and 2007. Night Train Dark Lager just earned a World Beer Cup gold in April in the Dark Lager category.
Old Rail Brewing Company | Mandeville, Louisiana
Over a century ago, Mandeville was a lumber town, and trains were needed to haul the area's pine and hardwood away. A branch line from New Orleans snaked up to Mandeville on the north shore of Lake Pontchartrain, and while the rails are gone, the path it followed it is still there and has been converted into St. Tammany Trace, a walking and biking trail. Old Rail Brewing sits along this trail, allowing runners, hikers and bikers a convenient watering hole after a day enjoying a path once followed by lumbering steam locomotives.
(Seek the Seal: Post Your Photos on Instagram)
Old Rail tips a hat to the path's former use with beers carrying names like Hobo Helles, Pullman Porter, Cow Catcher Milk Stout, and Rusted Rail Ale. Rail-minded visitors will enjoy seeing these beers drawn from railroad spike tap handles while kicking their feet up on foot rests made from old train rails.
Ghost Train Brewing Company | Birmingham, Alabama
Like many American cities, Birmingham went through a rough patch in the 1970s and 1980s, but the creative, resilient spirit of the city is being felt again with thriving food and art scenes, and craft brewers are part of that rejuvenation. One icon of the city's former splendor that was lost at the outset of those grim decades was Birmingham Terminal Station, a hulking Byzantine structure that was demolished in 1969. Ghost Train Brewing pays homage to the lost building, which co-founder and brewer Taylor DeBoer calls "Birmingham's most beautiful ghost," with Terminal Station Brown Ale, which sits at a sessionable 4.5% ABV.
(Sip: Summer Craft Beers: IPAs, Lagers, Fruit Beers and More)
Other beers in the Ghost Train lineup serve as tribute to the railroad's history in Birmingham as well, including Switchman's Stash IPL and Dark Ride Belgian Style Strong Ale. All the Ghost Train beers can be enjoyed in the brewery's loosely railroad-themed taproom, which was the former location of Cahaba Brewing.
Rusty Rail Brewing | Mifflinburg, Pennsylvania
Rusty Rail's painstakingly restored building is big. Really big. It started life in 1911 as the Mifflinburg Body Works and manufactured parts and bodies for automobiles, carriages, and, during World War II, military equipment. The building's industrial past has been lovingly attended to throughout the sprawling brewpub space, with antiques and reclaimed materials used everywhere possible. This includes several fully restored antique Ford trucks, the parts for which were once manufactured in the building.
(More: What is Craft Beer?)
Rusty Rail takes its name from the spur line that once ran to the factory, bringing materials in and taking finished parts out. Old rail spikes have been fashioned into door handles, and many of the brewery's beers carry train-themed names, including Rail Spike IPA and Train Wreck Imperial IPA. Trail's End Pale Ale references the former rail line that has now been turned into a walking and biking trail running straight to the brewery.
The entire brewery experience is a tribute not only to the history of rail in the region, but to the industries the railroad serviced and made possible. According to their website, Rusty Rail's taproom is the largest brewpub in the state, and if you love history (and beer), you need to check it out.
Caboose Brewing Company | Vienna, Virginia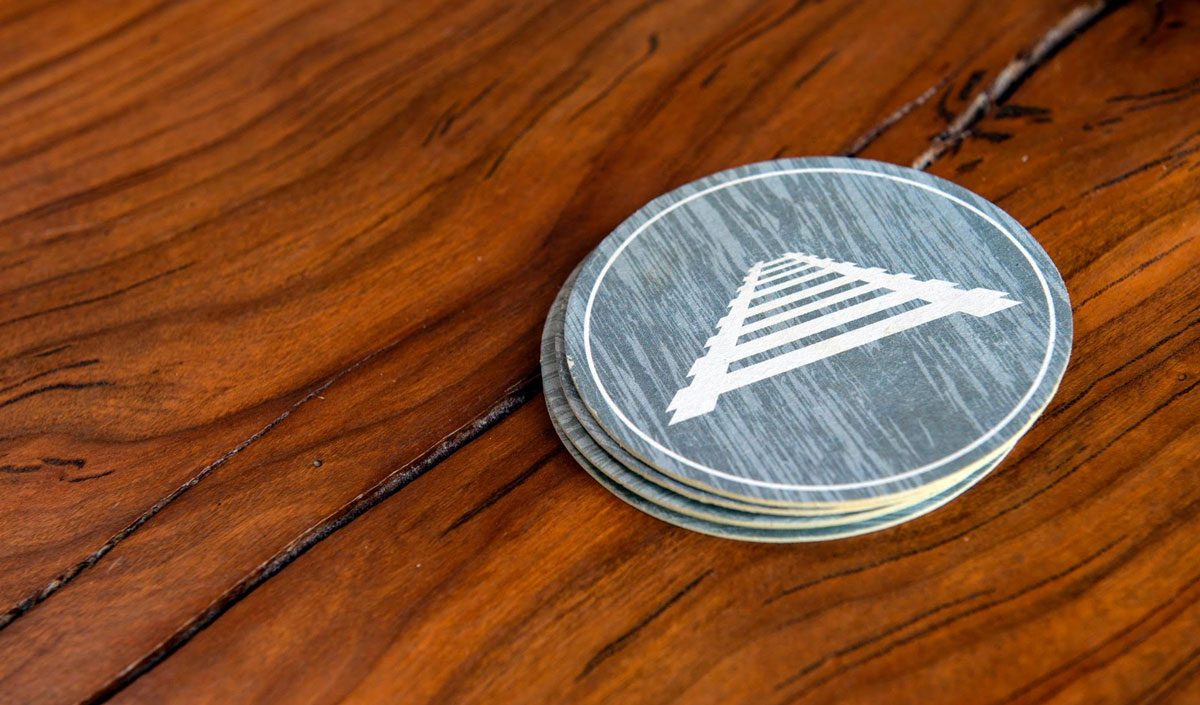 One of the landmarks of Vienna, Virginia, is the "Red Caboose," a former Washington & Old Dominion Railroad caboose that proudly sits in the middle of town on the former W&OD train line, now a biking and walking path. Caboose Brewing tips their cap to the town's railroad past and the town's pride in its big red icon by naming their brewery for the caboose, which sits less than half a mile from the brewery along the trail path.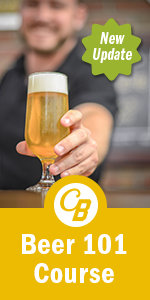 Caboose Brewing's taproom features railroad artwork and pours multiple beers with train names, including Boxcar Brown Ale, Sidetrack Saison, Crazy Train Tripel, Gandy Dancer Schwarzbierand Vanilla Hobo Stout.
If you come to Vienna on the right day, you might even get to watch some train action of the miniature variety. The Northern Virginia Model Railroaders have an elaborate model train set-up in the town's former train depot, and periodically host open houses to showcase their meticulously crafted layout. Keep an eye on their open house schedule so you can check out their trains in action, and then stop in at Caboose Brewing to taste beers inspired by the region's railroading history.
All Aboard
Trains might not be as prominent in American life as they once were, but many folks are working to preserve our railroad legacy – and judging from this list, quite a few of them love good craft beer, too. While you can get to any of these breweries in a car, you can even take a train to a few of them (or get reasonably close). Whatever your means of transportation, head out this summer to celebrate two testaments to American innovation: railroads and craft beer. All aboard!
CraftBeer.com is fully dedicated to small and independent U.S. breweries. We are published by the Brewers Association, the not-for-profit trade group dedicated to promoting and protecting America's small and independent craft brewers. Stories and opinions shared on CraftBeer.com do not imply endorsement by or positions taken by the Brewers Association or its members.