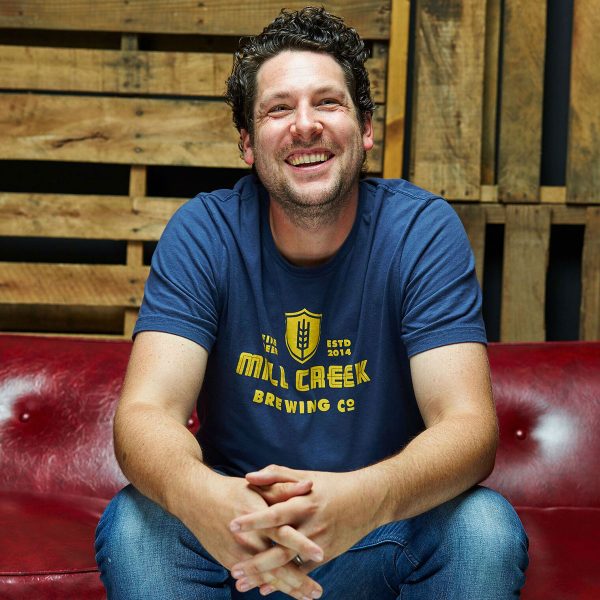 Young Brewery Finds Success by Keeping It Simple
The craft beer world is ever evolving; new breweries, new beers and new customers are the exciting aspects of the overall beer industry.
How can craft brewers plan to succeed in a crowded landscape? Chris Going, owner of Mill Creek Brewing in Nolensville, Tennessee, is keeping it simple by focusing on approachable styles.
The idea on the types of beers he wanted to brew struck him during a family vacation to the Smokey Mountains, where he converted his brother (who usually drank American light lagers) into a craft beer fan.
(READ: Maui Brewing Owners Named 2017 National Small Business Persons of the Year)
"My thought process was to dial down recipes I had already been brewing for a while — dropping the ABV on a saison, making a helles instead of a bock," he tells us. "That experience was eye opening for me and really shaped my thought process on what type of brewery I wanted to open."
Mill Creek just celebrated its first anniversary. Going talks to CraftBeer.com about his approach to running a successful small business, as well as more on that family trip that led to him opening the brewery.
Full Pour with Mill Creek Founder Chris Going
CraftBeer.com: What made you want to open a brewery?
Going: Honestly, I was at a point in my life at the time that I just wanted a career change. I had spent six years teaching guitar and was burned out. I started homebrewing about the same time I had begun teaching and it had become a creative outlet that I was really passionate about. When it came to thinking about what I wanted to move into next, it was a natural fit. The craft brewing industry at the time was also very "new" in Tennessee so there was a lot of excitement surrounding new breweries. I got really caught up by that wave … which was good because that fuel is what kept me going.
CraftBeer.com: Tell us more about the Smokey Mountain story and how it strengthened your resolve to start Mill Creek.
Going: In 2014, my extended family decided to go on a family trip to the Smokey Mountains in East Tennessee. It's the kind of thing where we were renting a cabin for a week, spending way too much time together but ultimately relaxing, having fun, etc. At the time, my brother-in-law was mainly a Bud Light guy. As kind of an experiment, I told him I was gonna brew all the beer for the trip. I promised him it would be stuff he'd like and went to work.
As we drank through them that week he fell in love with one beer in particular, "Silo," which is now our year round farmhouse ale. I'd already decided I wanted to open a brewery, but this gave me a focus.
We like to call ourselves an "approachable craft beer company" and I think two words in that statement really were awakened from that experience in the mountains. We're inherently craft in the fact that we use high-quality ingredients, don't cut corners on quality in any way, and focus a lot on making flavorful beers. But we always balance those philosophies with an intentional focus on drinkability whether that's through lower ABVs, subtle and restrained ingredient choices, and recipe design that creates a beer overall that just drinks really well and, hopefully, makes you crave a second.
(MORE: Craft Beer Newbie? 5 Activities to Take You from Beer Beginner to In-the-Know)
CraftBeer.com:  Now with your first year in the books, what is the one thing you wish you had known in 2014 when you started the brewery?
Going: In 2014 when I started the brewery on paper, I was pretty wide-eyed and a dreamer. Obviously, along the way, I've learned a lot of stuff the way many entrepreneurs do: the hard way.
The thing that stands out to me as my biggest lesson is something I consistently talk about with our team. Running a brewery is a manufacturing business on one hand, and is a B2B and CPG business on the other. To be successful in this business, you have to treat it that way. Focus on quality, process, efficiency on the manufacturing side, while recognizing you are also running a business that focuses on sales relationships with both your wholesalers and accounts in addition to presenting your brand to consumers. You have to have your hand in all three.
Realizing that at some point in our first year of operating was huge for me. I think initially we probably didn't have time to focus on all those aspects or didn't have the people in place to deploy it properly, but I'd say that's where the biggest learning and pivot in our business has come. The more we continue to invest in all three aspects of those foundations, the house we're building together is getting stronger.
CraftBeer.com: You made a focus, from the start, to be in grocery stores and other off-premise markets. Why was that important to Mill Creek?

Going: When we first opened, we went straight into cans and draft with our four year-round beers. We worked really hard with our local distributor to gain access into a lot of off-premise retailers both big and small. We felt — and still do to this day — that our focus on approachability is something that matched well with the off-premise/retail world.
I think the hard thing our industry is facing right now is with the market getting crowded by lots of different breweries there is a lot of choice for consumers. We felt we could set ourselves apart a bit by making everyday craft beers at an everyday price point and selling them in places where everybody could access them.
(READ: Why Can't I Buy that Special Release Beer Year-Round?)
CraftBeer.com: You mentioned your Mill Creek team members were huge craft beer fans. What are the beers from your fellow breweries you're drinking?
Going: We are big fans of our friends Blackstone and Yazoo as well as some of the newer guys like Southern Grist —  those guys make some ultra-creative stuff that we all just totally dig.
Outside of Nashville, the guys at Casey in Colorado put out some of the best sours in the country. We all had a mind blowing experience the first time we popped the cork on one of their bottles. Always big fans of the guys at Prost and whenever anyone asks for a brewery recommendation in Denver that's always top on the list.
Last Sips
While the craft beer game might be changing, small, independent brewers are finding ways to stand out. Mill Creek looks poised to carve out new territory.
Thanks to Chris Going for taking the time to talk with CraftBeer.com and congrats to Mill Creek Brewing on their one-year anniversary.
Save
Save
CraftBeer.com is fully dedicated to small and independent U.S. breweries. We are published by the Brewers Association, the not-for-profit trade group dedicated to promoting and protecting America's small and independent craft brewers. Stories and opinions shared on CraftBeer.com do not imply endorsement by or positions taken by the Brewers Association or its members.