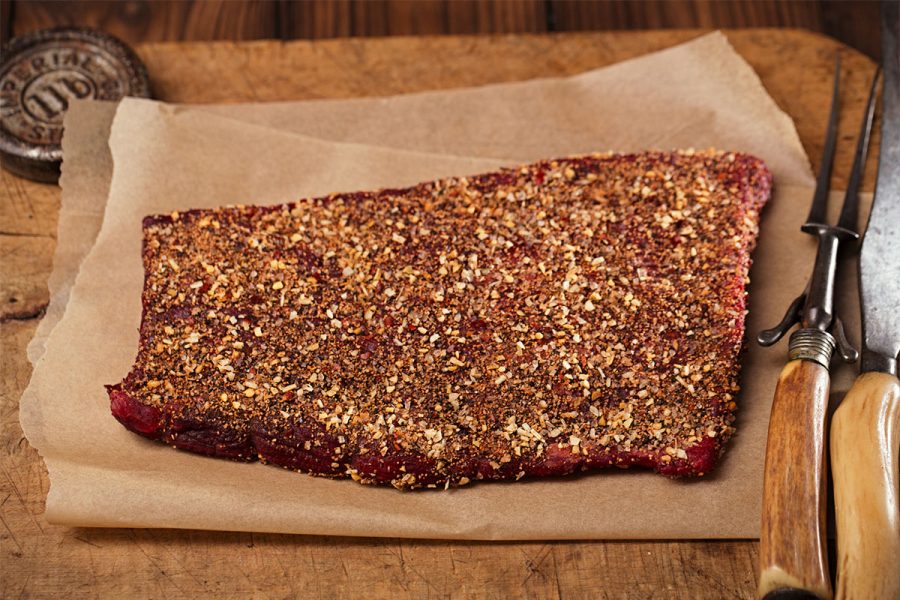 Sirloin steaks marinated in dark beer, Worcestershire and Tabasco sauce are rubbed with coffee and spices before being grilled to perfection.
Ingredients
12 ounces stout (or other dark beer)
1/4 cup Worcestershire sauce
1 Tbsp Tabasco
4 boneless strip steaks (about 2 pounds), trimmed of fat
3 Tbsp finely-ground espresso or coffee
1 Tbsp pure chile powder
1 tsp ground cumin
1 tsp sugar
1/2 tsp cayenne, or more to taste
1 tsp salt
1/2 tsp ground black pepper
---
Directions
Mix together stout, Worcestershire and Tabasco in large sealable container. Place steaks in container, cover, and chill in refrigerator overnight or for at least six hours.
Then mix remaining ingredients in small bowl. Remove steak from marinade and discard marinade. Pat steaks dry with paper towels, then scatter spice mix over steaks, patting it in with your fingers.
Heat grill to high and let rack get good and hot. Brush and oil rack, then grill steaks until darkly crusted and done the way you like, about 3 minutes per side for medium-rare (about 145°F on an instant-read thermometer), or 4 to 5 minutes per side for medium (about 160°F on an instant-read thermometer).
Let meat rest off heat 5 minutes to redistribute juices before cutting into them. Top each steak with a little butter to finish them off. Enjoy!