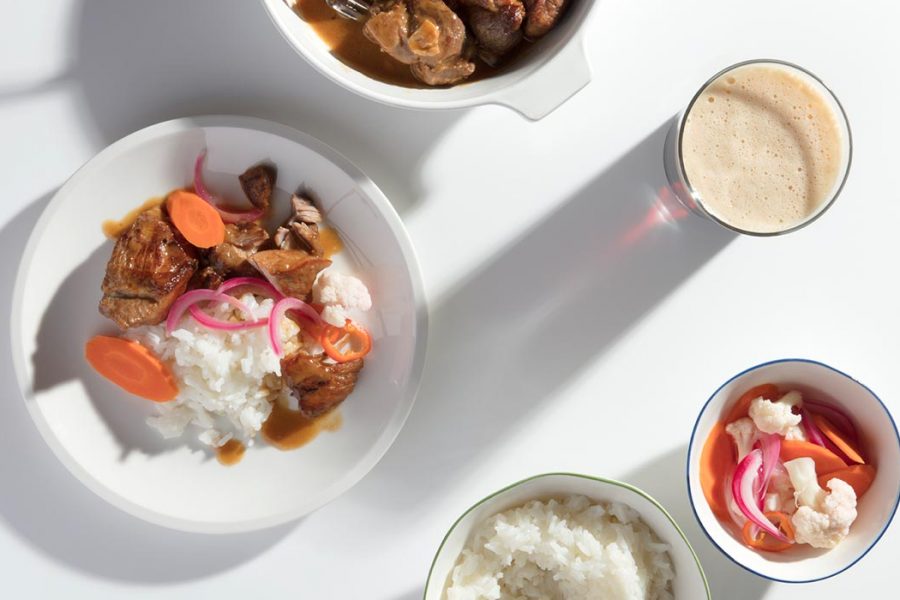 After growing up in the Midwest, where thick and sticky barbecue sauce coats all braised and pulled pork, it was refreshing to learn this less cloying, more umami-driven recipe from chef Carlo Lamagna at Clyde Common in Portland, Oregon. Tangy adobo is a big flavor, and the pickled vegetables that accompany this dish are used to bring out the vinegar and add some texture to each bite. This dish, inspired by Carlo's Filipino heritage, is best served family style right out of the Dutch oven with plenty of jasmine rice to go with it. When you pair this dish with an IPA, you help your palate learn how hops and bitterness pair well with a little bit of spice as well as the acidity of a pickling process.
Ingredients
1 cup rice vinegar 
2 cups water
10 garlic cloves, 2 sliced and 8 smashed
Kosher salt
1 tablespoon granulated sugar
1 head cauliflower, cut into small florets
1 red onion, thinly sliced
1 Fresno chile, seeds removed, sliced (or ¼ teaspoon red pepper flakes)
1 carrot, peeled and thinly sliced in rounds
2 to 3 pounds boneless pork shoulder, cut into 2-inch pieces
2 bay leaves
1 teaspoon black peppercorns
½ cup soy sauce
2 tablespoons canola oil
½ cup white vinegar
2 cups chicken stock or water
Steamed jasmine rice, for serving
---
Directions
In a medium saucepan, bring the rice vinegar, the water, sliced garlic, 1 teaspoon salt, and the sugar to a boil. Place the cauliflower, onion, chile, and carrot in a heatproof bowl and pour the hot liquid over. Let cool to room temperature, then cover and chill for at least 2 hours or overnight.
In a large bowl, combine the pork, smashed garlic, bay leaves, peppercorns, and soy sauce. Let rest at room temperature for 10 to 15 minutes.
Heat the oil in a Dutch oven or large saucepan over high heat. Working in batches if necessary (don't overcrowd the pan), add the pork and any leftover marinade and brown on all sides. Transfer to a plate and repeat until all the meat is seared, then return the pork to the Dutch oven and add the white vinegar and chicken stock. Cover the pot, lower the heat, and cook the pork at a gentle simmer, stirring every 20 minutes or so, until tender, 75 to 90 minutes. While braising, if the level of liquid falls below half the height of the meat, add more stock or water. If the liquid level is too high, uncover the pot and allow some to reduce. Remove from the heat and let rest for 10 to 15 minutes.
Use two forks to shred the pork into large chunks. Divide the rice among plates or bowls, top with the pork and some of the braising liquid, and serve with the pickled vegetables.
This recipe and accompanying photo have been republished from "The Beer Pantry: Cooking at the Intersection of Craft Beer and Great Food" by Chef Adam Dulye with Michael Harlan Turkell.