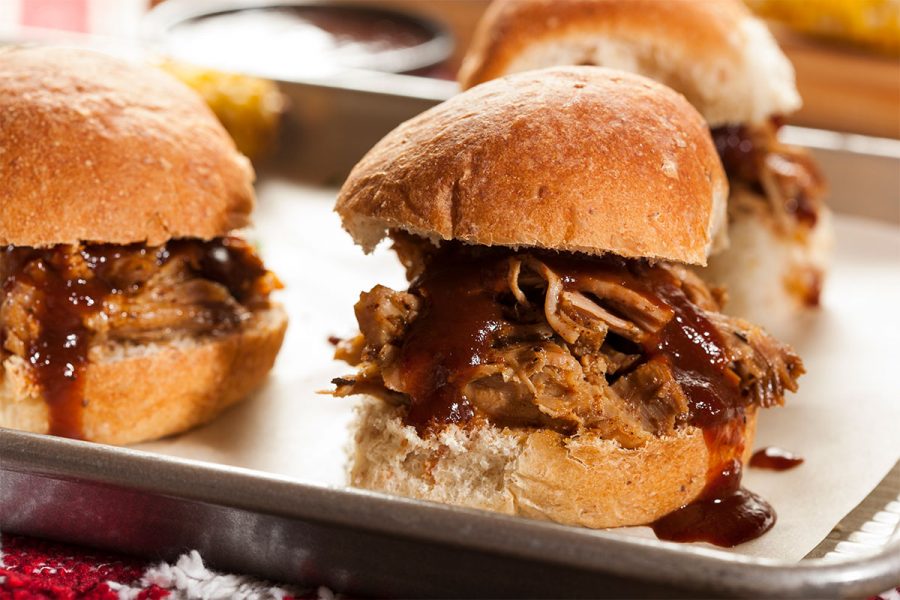 Jill Sites, author of Eat It. Drink It., often looks to her "glorious beer fridge" for inspiration in the kitchen. Her muse for these pulled pork sliders was Founders Brewing Company's Breakfast Stout.
Ingredients
Pulled Pork
One 4lb pork roast
Two 12 oz bottles Founders' Breakfast Stout (or comparable beer)
2 Tbsp chipotle in adobo (just sauce)
salt and pepper
1/4 cup Herbs de Provence
2 Tbsp light oil (I used soy)
2 medium apples, sliced thick
1 medium onion, sliced thick
6 cloves garlic, chopped
5 sprigs rosemary
5 sprigs thyme
1 cup chicken stock (enough to just almost cover meat)
BBQ Sauce
One 12oz bottle Founders' Breakfast Stout (or beer used in meat)
1 Tbsp olive oil
1 small apple, chopped fine
1 shallot, chopped
2 garlic cloves, chopped
1 cup ketchup
1/4 cup molasses
1/4 cup dijon mustard
2 Tbsp hot sauce
1 chipotle in adobo, chopped
2 Tbsp Herbs de Provence
1 Tbsp Worcestershire sauce
2 Tbsp honey
salt and pepper
---
Directions
Pulled Pork

Measure your roast to the size of your dutch oven or roasting pot. If you need to cut, do so now. I had to cut mine into four huge chunks.
Season pork liberally with salt and black pepper.
Place roast in a large tupperware or huge resealable bag. Pour stout and adobo sauce over, massaging into meat. Seal, place in fridge for 8-24 hours. I seriously recommend the longer time. Turn meat once, halfway through time.
When ready to cook, remove meat from marinade and place on board. Set marinade aside. Dry meat completely and allow to come up to room temp, at least 30 minutes. Season liberally again with salt, pepper, and Herbs de Provence.
Preheat oven to 325°F, and heat oil in a dutch oven on medium-high heat. When oil is rippling, brown meat in sections, not crowding the pan. Allow meat to brown fully on each side, approximately 15 minutes total. Remove meat, set aside.
In drippings, add apple and onion, season with salt and pepper. Stir and allow to soften, about four minutes. Add garlic and herbs, stir.
Stir in marinade, scraping up all burned bits from bottom. Bring to a boil and let boil for three minutes.
Add meat, stirring. Add in chicken stock until just almost covers the meat.
Place lid on pot and place in bottom third of oven for three hours, or until meat is literally falling apart.
When meat is done, remove from heat, and allow to rest on board at least 15 minutes. Shred with fingers or forks, dress with barbecue sauce, and serve.

BBQ Sauce

Sauté apple, shallot and garlic in olive oil in a sauce pot, over medium heat. Season with salt and pepper. Let sauté five minutes, or until softened and translucent.
Add all remaining ingredients, bring to a boil.
Reduce to very low, cover, and allow to simmer 1 1/2 hours, stirring occasionally.
Taste along the way, adding sweetness or salt and pepper as needed.
Toss over pulled meat, and then drizzle over meat or sliders when serving.